Rewiew of University Volunteer Scheme for Youth Empowerment and Development of Papua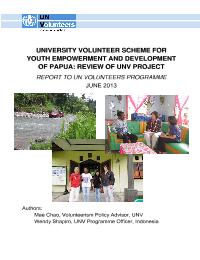 Evaluation Plan:

Evaluation Type:

Final Project

Planned End Date:

06/2011

Completion Date:

06/2013

Status:

Completed

Management Response:

Yes

Evaluation Budget(US $):

10,000
Title
Rewiew of University Volunteer Scheme for Youth Empowerment and Development of Papua
Atlas Project Number:
Evaluation Plan:
2011-2014, UNV
Evaluation Type:
Final Project
Status:
Completed
Completion Date:
06/2013
Planned End Date:

06/2011

Management Response:
Yes

Focus Area

:
Corporate Outcome and Output (UNDP Strategic Plan 2018-2021)

1. Civil society, including civil society organizations and voluntary associations, and the private sector contribute to the MDGs in support of national planning strategies and policies

Evaluation Budget(US $):

10,000

Source of Funding:
SVF
Joint Programme:
No
Joint Evaluation:

Yes

Evaluation Team members:

| Name | Title | Nationality |
| --- | --- | --- |
| Mae Chao | Volunteerism Policy Advisor | |
| Wendy Shapiro | UNV Programme Officer | |

GEF Evaluation:

No

Key Stakeholders:
UNV/ UNDP
Location of Evaluation:

Country Level

Countries:

PAPUA NEW GUINEA

Comments:
Lessons for volunteer infrastructure in other countries.
View report for recommendation
Management Response:
[Added: 2016/12/30]
A Management Response was not completed at the time of evaluation and is being addressed now, in 2016. This evaluation and associated recommendations are from 2013 and their current relevance is limited, specificallly due to the new UNV Strategic Framework 2014-17 guiding our current work. However, as part of a planned meta-analysis of UNV evaluations this evaluation and all associated recommendations will be consolidated and an overall lessons learned product will be developed from past evaluations.
Key Actions: