Terminal Evaluation West Pacific Oceanic Fisheries Management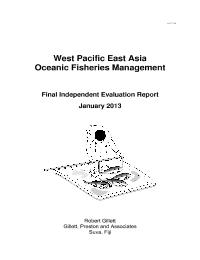 Evaluation Plan:

Evaluation Type:

Final Project

Planned End Date:

03/2013

Completion Date:

01/2013

Status:

Completed

Management Response:

Yes

Evaluation Budget(US $):

22,796
Title
Terminal Evaluation West Pacific Oceanic Fisheries Management
Atlas Project Number:

00071925

Evaluation Plan:
2012-2018, Philippines
Evaluation Type:
Final Project
Status:
Completed
Completion Date:
01/2013
Planned End Date:

03/2013

Management Response:
Yes
Corporate Outcome and Output (UNDP Strategic Plan 2014-2017)
Evaluation Budget(US $):

22,796

Source of Funding:
Project funds
Joint Programme:
No
Mandatory Evaluation:
No
Joint Evaluation:

No

Evaluation Team members:

| Name | Title | Email | Nationality |
| --- | --- | --- | --- |
| Robert Gillett | | | |

GEF Evaluation:

Yes

| | |
| --- | --- |
| Evaluation Type: | |
| Focal Area: | International Waters |
| Project Type: | MSP |
| GEF Phase: | GEF-3 |
| PIMS Number: | 4084 |

Key Stakeholders:
DA-BFAR
Countries:

PHILIPPINES
Recommendations
1
It is recommended that GEF and UNDP prepare awareness material on the need for, and value of, their various M&E requirements (such as that for a detailed M&E plan) that is suitable for ordinary stakeholders ? who otherwise may feel that requirements are excessive.
2
It is recommended that to achieve desired project outcomes, project managers should strive to obtain consultant input of the highest quality, rather than what is just adequate. In this regard, two factors may be more important to consultants than the financial compensation: (a) advance planning (i.e. identifying/notifying individuals long in advance of period required), and (b) to the extent possible, encouraging their involvement in aspects of project design or fine tuning ? as was done on the WPEA Project. By involving the range of stakeholders (including commercial interests) in various project activities, the WPEA project in effect established a constituency aware of the need to see that some key outcomes are sustained ? and evidently willing to push for such continuation. In many cases this was done at little or no cost to the project, simply by inviting the range of stakeholders to relevant meetings and workshops. It is recommended that this type of intervention (i.e. stakeholder-related mechanisms to reduce sustainability risks) be considered in the implementation of similar projects
3
It would seem logical that a follow-up project should be at least partly oriented to reinforcing those outcomes established for the WPEA Project where risks to sustainability are greatest. In this respect, there are five outcomes where the evaluation judged the risk to outcome sustainability as ?moderately likely at present, decreasing to moderately unlikely at the end of a follow-up project ? Improved knowledge of oceanic fish stocks and related ecosystems ? Reduced uncertainty in stock assessments ? National capacities in oceanic fishery monitoring and assessment strengthened ? National laws, policies and institutions strengthened to implement applicable global and regional instruments ? National capacities in oceanic fisheries management strengthened Of the activities associated with the above outcomes, it is recommended that the tuna monitoring (especially the port sampling and annual catch estimation) be considered as top priority. This is because the monitoring has implications for many outcomes ? as well as affecting stock assessment in the entire western and central Pacific Ocean and even global environment benefits. As part of any follow-up dealing with this subject, in addition to project support for actual tuna monitoring, there should be considerable attention paid to developing mechanisms to assure that the governments of the three project countries will pick up the monitoring after GEF support ends. Following from the above, it is recommended that a cost-benefit study of tuna monitoring in the three countries be carried out. This would portray the expense of items such as port sampling and an observer programme against the value of, for example, the trade with the EU, which could be lost without government monitoring efforts. There are numerous advantages of having the private sector involved in the study, not the least of which is so they are well aware of the cost consequences should their governments neglect monitoring responsibilities. Also with respect to tuna monitoring, consideration should be given to expanding the coverage. This includes the scale (i.e. including artisan tuna fishing), the species (i.e. including neritic tuna), and the geographic area (i.e. including archipelagic waters)
4
Knowledge management was not a strong point of the WPEA Project. It was largely limited to creation of national e-mail address lists and a listing of project reports with a few dozen of those placed on the WPEA portion of the WCPFC website. This hardly equates to what was stated in the GEF and UNDP project documents: ?Widely publicize project findings and results to raise awareness on importance of oceanic fisheries management and highlight new information? and ?Results from the project will be disseminated within and beyond the project intervention zone through a number of existing information sharing networks and forums.? More could and should be done in this area in a successor project It is recommended that, early in the life of a follow-up project, a consultant communications professional be employed to formulate a communications strategy to be closely followed by the project
1. Recommendation: It is recommended that GEF and UNDP prepare awareness material on the need for, and value of, their various M&E requirements (such as that for a detailed M&E plan) that is suitable for ordinary stakeholders ? who otherwise may feel that requirements are excessive.
Management Response:
[Added: 2014/02/28]
We are aware that the perceptions of the stakeholders on various M&E requirements are quite burden and to some extent excessive. We agree with the recommendation, but should not be limited to awareness material, since all these requirements can be seen online but rather constant capacity building and IEC on these requirements to our stakeholders.
Key Actions:
Key Action

Responsible
DueDate
Status
Comments
Documents

Improve IEC on M&E requirements of UNDP and GEF to project stakeholders




[Added: 2014/02/28]

[Last Updated: 2017/06/27]

UNDP

2014/12

Completed

to be initiated in successive WPEA project
2. Recommendation: It is recommended that to achieve desired project outcomes, project managers should strive to obtain consultant input of the highest quality, rather than what is just adequate. In this regard, two factors may be more important to consultants than the financial compensation: (a) advance planning (i.e. identifying/notifying individuals long in advance of period required), and (b) to the extent possible, encouraging their involvement in aspects of project design or fine tuning ? as was done on the WPEA Project. By involving the range of stakeholders (including commercial interests) in various project activities, the WPEA project in effect established a constituency aware of the need to see that some key outcomes are sustained ? and evidently willing to push for such continuation. In many cases this was done at little or no cost to the project, simply by inviting the range of stakeholders to relevant meetings and workshops. It is recommended that this type of intervention (i.e. stakeholder-related mechanisms to reduce sustainability risks) be considered in the implementation of similar projects
Management Response:
[Added: 2014/02/28]
UNDP fully agrees with the recommendation on widening the range of experts / stakeholders to be involved in future project implementation
Key Actions:
Key Action

Responsible
DueDate
Status
Comments
Documents

Ensure that next phase project would involve a more wider range of stakeholders




[Added: 2014/02/28]

[Last Updated: 2017/06/27]

UNDP / WCPFC

2014/12

Completed

To be initiated in successive WPEA project
3. Recommendation: It would seem logical that a follow-up project should be at least partly oriented to reinforcing those outcomes established for the WPEA Project where risks to sustainability are greatest. In this respect, there are five outcomes where the evaluation judged the risk to outcome sustainability as ?moderately likely at present, decreasing to moderately unlikely at the end of a follow-up project ? Improved knowledge of oceanic fish stocks and related ecosystems ? Reduced uncertainty in stock assessments ? National capacities in oceanic fishery monitoring and assessment strengthened ? National laws, policies and institutions strengthened to implement applicable global and regional instruments ? National capacities in oceanic fisheries management strengthened Of the activities associated with the above outcomes, it is recommended that the tuna monitoring (especially the port sampling and annual catch estimation) be considered as top priority. This is because the monitoring has implications for many outcomes ? as well as affecting stock assessment in the entire western and central Pacific Ocean and even global environment benefits. As part of any follow-up dealing with this subject, in addition to project support for actual tuna monitoring, there should be considerable attention paid to developing mechanisms to assure that the governments of the three project countries will pick up the monitoring after GEF support ends. Following from the above, it is recommended that a cost-benefit study of tuna monitoring in the three countries be carried out. This would portray the expense of items such as port sampling and an observer programme against the value of, for example, the trade with the EU, which could be lost without government monitoring efforts. There are numerous advantages of having the private sector involved in the study, not the least of which is so they are well aware of the cost consequences should their governments neglect monitoring responsibilities. Also with respect to tuna monitoring, consideration should be given to expanding the coverage. This includes the scale (i.e. including artisan tuna fishing), the species (i.e. including neritic tuna), and the geographic area (i.e. including archipelagic waters)
Management Response:
[Added: 2014/02/28]
UNDP agrees and in the next phase WPEA OFM Project the sustainability and improvements in tuna monitoring be given due attention. Suggested study on cost-benefits and expansion of coverage in tuna monitoring would really depend on the countries involved but UNDP will consider bringing this as part of the next phase
Key Actions:
Key Action

Responsible
DueDate
Status
Comments
Documents

Ensure sustainability of WPEA OFM Project outputs in next phase project




[Added: 2014/02/28]

[Last Updated: 2017/06/27]

UNDP / IP / countries

2014/12

Completed

Sustainability measures are included in new WPEA project
4. Recommendation: Knowledge management was not a strong point of the WPEA Project. It was largely limited to creation of national e-mail address lists and a listing of project reports with a few dozen of those placed on the WPEA portion of the WCPFC website. This hardly equates to what was stated in the GEF and UNDP project documents: ?Widely publicize project findings and results to raise awareness on importance of oceanic fisheries management and highlight new information? and ?Results from the project will be disseminated within and beyond the project intervention zone through a number of existing information sharing networks and forums.? More could and should be done in this area in a successor project It is recommended that, early in the life of a follow-up project, a consultant communications professional be employed to formulate a communications strategy to be closely followed by the project
Management Response:
[Added: 2014/02/28]
UNDP will accommodate the communication specialist or any mechanism to develop communication strategy of new WPEA OFM Project
Key Actions:
Key Action

Responsible
DueDate
Status
Comments
Documents

Improvement in Knowledge management System




[Added: 2014/02/28]

[Last Updated: 2017/06/27]

UNDP / IP / countries

2014/12

Completed

to be ensured in successive WPEA project

Include in project workplan hiring of communication specialist




[Added: 2014/02/28]

[Last Updated: 2017/06/27]

UNDP / IP

2014/12

Completed

Included in PIF for new WPEA OFM Project