Evaluation Report For the Terminal Evaluation (TE) of the Suriname Coastal Protected Area Management (PIMS 4370) Project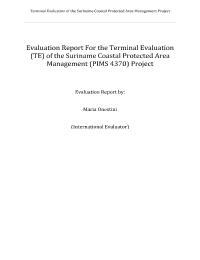 Evaluation Plan:

Evaluation Type:

Final Project

Planned End Date:

07/2015

Completion Date:

11/2015

Status:

Completed

Management Response:

Yes

Evaluation Budget(US $):

15,000
Title
Evaluation Report For the Terminal Evaluation (TE) of the Suriname Coastal Protected Area Management (PIMS 4370) Project
Atlas Project Number:

00077607

Evaluation Plan:
2012-2016, Suriname
Evaluation Type:
Final Project
Status:
Completed
Completion Date:
11/2015
Planned End Date:

07/2015

Management Response:
Yes

Focus Area

:
Corporate Outcome and Output (UNDP Strategic Plan 2018-2021)

1. Output 1.4. Scaled up action on climate change adaptation and mitigation across sectors which is funded and implemented

Evaluation Budget(US $):

15,000

Source of Funding:
UNDP & GEF
Joint Programme:
No
Joint Evaluation:

No

Evaluation Team members:

| Name | Title | Nationality |
| --- | --- | --- |
| Maria Onestini | International evaluator | ARGENTINA |

GEF Evaluation:

Yes

| | |
| --- | --- |
| GEF Project Title: | |
| Evaluation Type: | Terminal Evaluation |
| Focal Area: | Biodiversity |
| Project Type: | MSP |
| GEF Phase: | GEF-4 |
| GEF Project ID: | 4180 |
| PIMS Number: | 4370 |

Key Stakeholders:
Ministry of Foreign Affairs, Ministry of Finance and Ministry of Zonal Planning, Forestry and Land Management
Countries:

SURINAME

Comments:

Lyes Ferroukhi, the Regional Hub RTA for this project advised that in light of closure date of 30 June 2015, it might not be appropriate to do the mid-term evaluation by end of 2014. Midterm evaluations are no longer mandatory for Medium Size GEF projects and seeing as the country context no longer required a midterm evaluation the country office concurred in consultation with National Implementation Partner.
Recommendations
1
In order to generate or drive catalytic effects from the products generated within the SCPAM Project, there should be an impulse for these to be appropriated by other projects or institutions that could make use of them in other projects or programs.
2
Beginning at design, projects need to have a clear strategic path for implementation, following a pattern of consultations, development of products, piloting and full implementation, with logical linkages between expected outputs/products and expected results.
3
Interventions of this type should clearly have as an objective the generation and strengthening of national individual and institutional capacities, taking into account and appraising existing capacity but also needs within the country?s institutions.
4
Governance structures (boards, steering committees) within projects need to have clear proactive roles set from the outset and be realistic as to their composition
5
An analysis of evaluations of similar implemented projects in Suriname could be generated in order to determine whether there is a pattern in issues that arise out of project implementation, and what are the strengths and weaknesses of the country office vis-à-vis projects dealing with environment and development issues. If such a pattern emerges, an exploration could be done in order to understand whether concerns that manifest themselves at the project ? level have a broader root cause.
6
Communication within a project is an important strength and it should be promoted in order to improve implementation aspects. Communication should entail interaction between governance mechanisms of a project (board, steering committee), implementing agency and national implementing partner, as well as with project management unit. It should be agile and promote accountability, transparency and ?as an ultimate goal?the search for effects and outcomes.
7
Knowledge management inputs and outputs should be promoted throughout the implementation stage of a project, promoting learning not only from in ?country experiences but also from regional experiences (for instance, between similar UNDP implemented /GEF Funded projects in the same subject area(s) in Latin America and the Caribbean).