Iraq - Support to the Rule of Law and Justice Project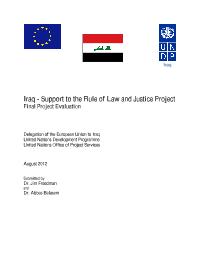 Evaluation Plan:

Evaluation Type:

Final Project

Planned End Date:

09/2012

Completion Date:

07/2012

Status:

Completed

Management Response:

Yes

Evaluation Budget(US $):

100,000
Title
Iraq - Support to the Rule of Law and Justice Project
Atlas Project Number:

00060142

Evaluation Plan:
2011-2015, Iraq
Evaluation Type:
Final Project
Status:
Completed
Completion Date:
07/2012
Planned End Date:

09/2012

Management Response:
Yes

Focus Area

:
Corporate Outcome and Output (UNDP Strategic Plan 2014-2017)

1. Output 2.1. Parliaments, constitution making bodies and electoral institutions enabled to perform core functions for improved accountability, participation and representation, including for peaceful transitions
2. Output 2.2. Institutions and systems enabled to address awareness, prevention and enforcement of anti-corruption measures across sectors and stakeholders
3. Output 2.3 Capacities of human rights institutions strengthened
4. Output 2.4. Frameworks and dialogue processes engaged for effective and transparent engagement of civil society in national development
5. Output 2.5. Legal and regulatory frameworks, policies and institutions enabled to ensure the conservation, sustainable use, and access and benefit sharing of natural resources, biodiversity and ecosystems, in line with international conventions and national
6. Output 2.6. Legal reform enabled to fight discrimination and address emerging issues (such as environmental and electoral justice

Evaluation Budget(US $):

100,000

Source of Funding:
Project
Joint Programme:
No
Joint Evaluation:

No

Evaluation Team members:

| Name | Title | Email | Nationality |
| --- | --- | --- | --- |
| James Freedman | Team Leader | | |

GEF Evaluation:

No

Key Stakeholders:
Iraqi Chief Justice, Minister of Justice and Chairman Iraqi Bar Association
Countries:

IRAQ

Comments:
end-of-project evaluation of the the 14 million dollar IRAQ - Support to the Rule of Law and Justice Project. It has been implemented in a partnership between the Government of Iraq and two United Nations agencies, UNDP and UNOPS, with funding from the European Commission.
Recommendations
1
In order to identify common ground for future collaboration, it is recommended that the UN agencies deliberately and strategically embark on a campaign to build a greater level of trust than exists at present with judiciary partners in Iraq, identifying areas of common concern that will address shared priorities for increasing the efficiency and fairness of the justice system.
2
The emphasis be placed on ways of achieving substantive reforms (as opposed to providing material resources) giving gender equity and human rights greater attention and addressing ways for the disadvantaged to have greater access to legal services. The acquisition of material resources and equipment is perhaps better left to the Government of Iraq.
3
In the medium term, while a greater level of trust is being established, it is recommended that possibilities be explored for support to the judiciary in two areas: 1. Targeted funding for pedagogical resources, specific research endeavors, and development of course syllabi within the Judicial Training Institutes ? one in Baghdad and another in the planning stage in Erbil; 2. Replication of the helpdesk established in Erbil in two other court premises, one in KRG and the other in south and central Iraq.
4
Contracting with international NGOs should be carefully scrutinized and, where possible, national NGOs should be contracted instead, especially where national NGOs are able to more effectively facilitate implementation regionally or locally.
5
The elements of this project have focused largely on the judiciary, specifically on training and facilitating the work of judges in specific courts. Further engagement with the justice sector would benefit by placing an increased emphasis on prosecutors and civil society elements of the justice sector.
6
In the design of future projects, whether they be Rule of Law projects or otherwise, care should be taken to build objectives and activities around a singular focus with coherent and self-reinforcing components avoiding the temptation to cover as many bases as possible.
7
In the event that a project manager post is vacant, responsibilities of a project manager may be assumed by a programme manager but only in exceptional circumstances. The conflation of programme and project managers should in general be avoided.