UNDP Outcome Evaluation on: Enhanced rule of law, protection and respect for human rights in line with international standards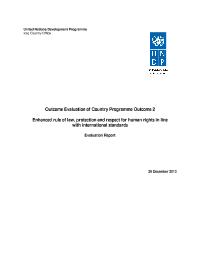 Evaluation Plan:

Evaluation Type:

Outcome

Planned End Date:

12/2013

Completion Date:

12/2013

Status:

Completed

Management Response:

Yes

Evaluation Budget(US $):

160,000
Title
UNDP Outcome Evaluation on: Enhanced rule of law, protection and respect for human rights in line with international standards
Atlas Project Number:
Evaluation Plan:
2011-2015, Iraq
Evaluation Type:
Outcome
Status:
Completed
Completion Date:
12/2013
Planned End Date:

12/2013

Management Response:
Yes

Focus Area

:
Corporate Outcome and Output (UNDP Strategic Plan 2014-2017)

1. Output 2.3 Capacities of human rights institutions strengthened
2. Output 2.5. Legal and regulatory frameworks, policies and institutions enabled to ensure the conservation, sustainable use, and access and benefit sharing of natural resources, biodiversity and ecosystems, in line with international conventions and national

Evaluation Budget(US $):

160,000

Source of Funding:
Projects
Joint Programme:
No
Joint Evaluation:

No

Evaluation Team members:

| Name | Title | Email | Nationality |
| --- | --- | --- | --- |
| Richard Langan | Mr. | richard.h.langan@gmail.com | |

GEF Evaluation:

No

Key Stakeholders:
High Judicial Council, HJC-KRG, MoJ, MoHR, MoI, MoE, MoD, MoLSA, High Commission on Human Rights, NGOs Ministry Women Affairs, NGOs
Countries:

IRAQ
Recommendations
1
UNDP must move to immediately adopt a more strategic approach to its rule of law and human rights programming in Iraq. Programme documentation and proposals should be based upon a firm footing, including detailed ascertainment research, assessments and analysis of the sector.
2
UNDP must seek to include the GoI at a much earlier stage in the development of projects and also include representatives from all Iraqi rule of law stakeholders?especially with regard to UNDP?s initiatives for legal aid. UNDP should programme with traditional authorities and religious leaders in Iraq to explore ways in which to better align traditional mechanisms of dispute resolution with Iraq?s international human rights obligations.
3
UNDP should draw upon its global practice policy in transitional justice, reconciliation and peace consolidation (principally UNDP BCPR) and inform its programming with updated conflict and political analysis.
4
UNDP should pursue a multi-pronged approach for its legal aid initiatives that disaggregates the Constitutional duty of the Iraqi State to provide free legal aid to a limited set of criminal defendants and a broader system of legal aid for criminal defendants accused of minor crimes, as well as the general class of civil litigants and disputants who require legal aid and counselling.
5
UNDP should urgently increase its components on youth CSOs in Iraq. Among the youth CSOs interviewed by the Evaluation there was wide enthusiasm for UNDP to initiate a small grants scheme specifically aimed at youth CSOs to enable them to compete for small grants to conduct work on specific issues facing youth.