Terminal evaluation - Removal of Barriers to Energy Efficiency in the Steel Re-Rolling Mill Sector in India (PIMS 1515)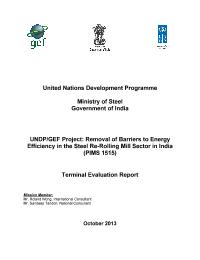 Evaluation Plan:

Evaluation Type:

Final Project

Planned End Date:

01/2014

Completion Date:

10/2013

Status:

Completed

Management Response:

Yes

Evaluation Budget(US $):

20,000
Title
Terminal evaluation - Removal of Barriers to Energy Efficiency in the Steel Re-Rolling Mill Sector in India (PIMS 1515)
Atlas Project Number:
Evaluation Plan:
2013-2017, India
Evaluation Type:
Final Project
Status:
Completed
Completion Date:
10/2013
Planned End Date:

01/2014

Management Response:
Yes

Focus Area

:

1. Environment & Sustainable Development

Corporate Outcome and Output (UNDP Strategic Plan 2018-2021)

1. Development plans and programmes integrate environmentally sustainable solutions in a manner that promotes poverty reduction, MDG achievement and low-emission climate-resilient development
2. Local and national authorities have the capacities to access and integrate multiple sources of public and private environmental financing in support of sustainable human development, including gender equality and poverty reduction

Evaluation Budget(US $):

20,000

Source of Funding:
Joint Programme:
No
Joint Evaluation:

No

Evaluation Team members:

| Name | Title | Nationality |
| --- | --- | --- |
| Mr. Roland Wong | International Consultant | |
| Mr. Sandeep Tandon | National Consultant | |

GEF Evaluation:

Yes

| | |
| --- | --- |
| Evaluation Type: | |
| Focal Area: | Climate Change |
| Project Type: | FSP |
| GEF Phase: | GEF-3 |
| PIMS Number: | 1515 |

Key Stakeholders:
Countries:

INDIA
Recommendations
1
Use remaining resources of the SRRMP (assumed to be available to December 31, 2013) towards enabling the nominated technological information resource and facilitation center (TIRFAC) to continue technical assistance and financial support to the SRRMs after the end of the Project.
2
After completion of SRRMP and using post-project resources available from UNDP and co-financing from MoS, implement the training programme for all SRRM staff members and for building the capacity of NISST as the succeeding TIRFAC agency
1. Recommendation: Use remaining resources of the SRRMP (assumed to be available to December 31, 2013) towards enabling the nominated technological information resource and facilitation center (TIRFAC) to continue technical assistance and financial support to the SRRMs after the end of the Project.
Management Response:
[Added: 2014/02/11]
[Last Updated: 2014/02/11]
Agree - see key actions planned towards this. The 15th PAC meeting of September 3 recommended NISST as the best option for a TIRFAC. As such, the Project should focus its attention and remaining resources on the key actions listed below.
Key Actions:
Key Action

Responsible
DueDate
Status
Comments
Documents

(i) Providing technical assistance in close collaboration with NISST towards design and implementation of EE measures for the entire SRRM sector. This would include: (ii) a technical consultancy focus towards measures that have been demonstrated by the 31 model units as well as those that have excellent benefit cost potential but have not been replicated on a large scale ; (iii) implementation support for complex high-end Eco-Tech options ; (iv) Setup of a program for the training of all SRRM staff levels notably shop-level personnel through an industry cluster mapping approach in which 30 to 40 units within a 100 km radius are covered; (v) Implementing building capacity activities of the TIRFAC with Performance Improvement Training (PIT) and 5S training with implementation support, and more workshops on SOP, SMP and electrical audits.




[Added: 2014/02/11]

[Last Updated: 2017/06/23]

Ministry of Steel

2015/06

Completed

Exit strategy was prepared. NISST has been approved to be the agency on exit in 20th PSC. However, in the meantime, UNDP Trac 2 chose to support the upscaling of energy efficiency in secondary steel through a project titled ?Upscaling Energy Efficient Production in Small Scale Steel Industry in India? [in short ?Steel Upscaling?]. It was agreed at the Project Steering Committee that the PMU-steel upscaling act as the window similar to earlier UNDP-GEF PMU and after the end of Steel Upscaling project, NISST takes over. Project focus during remainder period vis-à-vis key actions recommended is as given below; (i) The new steel upscaling project has been providing technical assistance. It is involving NISST in providing technical assistance in a greater way so that their capacities are built to take over completely from the project by the end of the steel upscaling project. (ii) By the end of the UNDP-GEF project the total number of model units was 34. Further an impact assessment study was commissioned which was conducted by SAIL Consultancy wing, a reputed agency in steel sector. They have surveyed 300 units. They reported, 166 of these units [55% of surveyed units] have replicated Energy Efficiency measures. This is a significant achievement when the total population of the SRRM units is about 1800 in India. (iii) The new window of UNDP- trac 2 will provide technical assistance to about 300 SRRM units. (iv) Under the steel upscaling project, 12 clusters have been mapped. The new project will focus interventions in the units in these new clusters. Training and capacity building of shop floor, plant supervisors is an integral component. The training is open for both participating [those who are chosen among 300 new units that will receive technical assistance from UNDP funds and small financial assistance from Ministry of Steel] and non-participating units. (v) A comprehensive exit strategy has been developed for sustaining the project activities which focuses on support to the industry mainly through technical consultancy, implementation support & capacity building mechanism. (vi) On exit of the upscaling steel project, the project assets including the knowledge products developed will be handed over to NISST. Capacity building, training programmes and implementation of best practices like 5-S, SOP/SMP etc have already been considered under the scope of upscaling steel project and also as scope of service for the succeeding agency.

History
2. Recommendation: After completion of SRRMP and using post-project resources available from UNDP and co-financing from MoS, implement the training programme for all SRRM staff members and for building the capacity of NISST as the succeeding TIRFAC agency
Management Response:
[Added: 2014/02/11]
[Last Updated: 2014/02/11]
Agree - see key actions planned towards this
Key Actions:
Key Action

Responsible
DueDate
Status
Comments
Documents

(i) The activities to build the capacity of NISST should be designed through consultations with experts and SRRM trainers; (ii) Capacity building activities should include analysis and identification of SRRM needs, identification of SRRMs willing to be industrial representatives, how the succeeding agency will build SRRM capacity through various modes (i.e. classroom, on-the-job training, training of trainers, etc.) and collecting feedback on capacity building activities for improvements; (iii) NISST TA activities should be de-centralized to more than 6 clusters making the TA accessible to all SRRMs throughout India. The current two resident missions in Nagpur and Mandi Gobindarh are clearly not sufficient to affect market transformation of the SRRMs; (iv) The Bureau of Energy Efficiency (BEE) needs to be included as one of the stakeholders in the post-SRRMP project. Their presence and experience will accelerate the advancement of S&L for the numerous SRRM equipment and appliances, and possibly provide assistance in its enforcement of the S&L initiative; (v) Improve the MRV capacities of the MoS notwithstanding the difficulties of obtaining accurate data from SRRM enterprises. If energy and production data is monitored, verified and reported by 200 SRRMs, the sector can achieve a 90% confidence in its GHG reduction reporting that can be replicated in other industrial and commercial sectors in India. Thus far, the Project has managed to obtain this data for over 31 SRRMs with another 40 in the pipeline; (vi) With the assistance of UNDP, NISST should carefully evaluate its options on investing more efforts on ESCOs with SRRMs. There does not seem to be any indication from the SRRM stakeholder meetings of May 2013 that an ESCO would be successfully engaged to implement EE measures for SRRMs. Given the lack of ESCO operations in India, nature of SRRM?s commercial operation, significant risks are involved in the use of UNDP resources to develop an ESCO implementation model even with the extension of Project activities to December 2014. (vii) Many of these considerations are consistent with the PWC Exit Strategy. With the availability of USD 1.575 million from UNDP resources to the end of 2014 (an additional 12 to 18 months after EOP), NISST may develop sufficient capacity to undertake a nation-wide program to transform the SRRM sector into a viable energy efficient industry. However, if possible, additional resources should be secured to ensure appropriate capacity building activities for NISST.




[Added: 2014/02/11]

[Last Updated: 2017/06/23]

Team of Steel Upscaling project funded through Trac2

2015/06

Completed

(i) The exit strategy developed by reputed agency PWC and approved. This lists capacity building activities required for NISST. This list was prepared in consultation with experts, and key stakeholders. (ii) Analysis has been carried out as part of Exit Strategy. Exit strategy also details out the action plan for ?succeeding agency?. The new steel upscaling project has taken note of these and will be implementing them in 300 more units and NISST will further be involved in expanding them to other SRRM units. The capacity building includes; class room, on-job called performance improvement training, and training of trainers. It also aims to train Energy auditors who can reach out independently to steel units and thus accelerate penetration of EE in SRRM. (iii) NISST has presence in Kolkata and Raipur in addition to Mandi and Nagpur. NISST is open to have more missions depending on finances available to them. During UNDP project NISST had set up temporary field office in Chennai. (iv) The Bureau of Energy Efficiency (BEE) was already part of the PSC. Communication with BEE was initiated to develop S&L for the SRRM equipment. Benchmarking study is now concluded. We will share the findings and pursue S&L for SRRM equipment. (v) The UNDP-AusAID-MoS project aims to upscale the energy efficient production in 300 SRRM units of the country. Baseline and post commissioning measurements are part of the implementation plan. This will increase the database and improve confidence levels. (vi) The UNDP-GEF-MoS project made significant efforts towards ESCO implementation for the sector. There was no uptake for ESCO mode of operation from the SRRM sector; presumably SRRMs lack confidence in sharing the data and exact savings with others. However, the purpose of market mechanism for EE penetration is compensated by variety of market development activities such as training all the supply chain such as equipment suppliers, consultants, to include energy efficient equipments and large scale awareness to SRRM on the same. (vii) M/s NISST has been identified as the ?Succeeding Agency? in exit-strategy report prepared for the UNDP/GEF Project (Steel). The Steel upscaling project aims to upscale energy efficient production to 300 SRRM units in the country. Since it is time bound, UNDP-MoS have decided that this is done through Direct Implementation Modality by UNDP and through a dedicated Project Management Unit. During the project implementation period, it was also agreed that efforts will be made to include NISST as major partner and thereby increase their capacities and be ready to take on after project exits. THE RECOMMENDATION WAS EXAMINED BY BOTH MOS AND UNDP. WHILE IMPLEMENTING THE PHASE 2 OF THE PROJECT, NISST WAS INVOLVED SIGNIFICANTLY. THEY WERE DIRECTLY INVOLVED IN IMPLEMENTING ENERGY EFFICIENT TECHNOLOGIES IN 2 CLUSTERS NAMELY NAGPUR AND GUWAHATI. NISST ALSO CONDUCTED ABOUT 150 ENERGY AUDITS. MOST OF THE TECHNICAL EXPERTS WERE GIVEN ADD-ON TRAINING. SO THAT SUBSEQUENTLY THEY WERE ABLE TO TRANSFORM THE SECTOR IN REDUCING THEIR ENERGY CONSUMPTION AND ITS ASSOCIATED GHG EMISSIONS. HOWEVER, NEWLY EMERGING TECHNOLOGIES SUCH AS WASTE HEAT BASED POWER GENERATION, SOLAR POWER GENERATION WILL REQUIRE CAPACITY BUILDING OF NISST.

History