CPD Outcome Mid-term Evaluation: Inclusive Growth and employment creation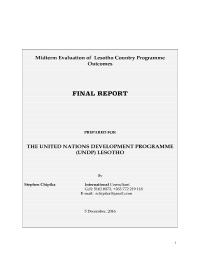 Evaluation Plan:

Evaluation Type:

Country Programme Evaluation

Planned End Date:

11/2016

Completion Date:

12/2016

Status:

Completed

Management Response:

Yes

Evaluation Budget(US $):

50,000
Title
CPD Outcome Mid-term Evaluation: Inclusive Growth and employment creation
Atlas Project Number:

80377,60396,60726,61736

Evaluation Plan:
2013-2018, Lesotho
Evaluation Type:
Country Programme Evaluation
Status:
Completed
Completion Date:
12/2016
Planned End Date:

11/2016

Management Response:
Yes

Focus Area

:

1. Poverty and MDG
2. Others

Corporate Outcome and Output (UNDP Strategic Plan 2014-2017)

1. Output 1.1. National and sub-national systems and institutions enabled to achieve structural transformation of productive capacities that are sustainable and employment - and livelihoods- intensive
2. Output 2.4. Frameworks and dialogue processes engaged for effective and transparent engagement of civil society in national development
3. Output 3.3. National institutions, systems, laws and policies strengthened for equitable, accountable and effective delivery of HIV and related services
4. Output 7.2. Global and national data collection, measurement and analytical systems in place to monitor progress on the post 2015 agenda and sustainable development goals

Evaluation Budget(US $):

50,000

Source of Funding:
Core
Evaluation Expenditure(US $):

20,000

Joint Programme:
No
Joint Evaluation:

No

Evaluation Team members:

| Name | Title | Email | Nationality |
| --- | --- | --- | --- |
| Stephen Chipika | Consultant | schipika@yahoo.com | |

GEF Evaluation:

No

Key Stakeholders:
Government of Lesotho, ILO, private sector, civil society
Countries:

LESOTHO
Lessons
1.

The complexity of binding constraints that deter the acceleration of inclusive growth requires innovative approaches, robust programme design by UNDP, to enable redeployment of the resources of government, other development partners, the private sector and CSOs within the framework of a networked approach involving a great variety of stakeholders.



2.

There are some many 'pockets of actions' by stakeholders, which are not coordinated in Lesotho, demonstrating no evidence of delivery of results. The fragmentation of the national support system for supporting measures to accelerate inclusive growth calls for new innovative, more coordinated mechanism, to ensure synergy of interventions to achieve the desired outcomes. The UNDP is in a position to lead in coordination of the national support system, especially at macro and meso level, affecting downstream activities at micro level.



3.

The establishment of an enabling environment for inclusive private sector development (much of which involves targeting the growth of MSMEs, the domestic private sector and measures to increase competitiveness overall is central to acceleration of inclusive growth. The UNDP support to the OBFC is centred on enabling inclusive private development, incorporating support to MSMEs.



4.

The transformation of the political environment, inclusive and democratic governance structures are necessary to address the binding constraints to accelerating inclusive growth, reducing poverty.



5.

5. The establishment of results-based management and results oriented performance monitoring, with penalties for non-delivery and rewards for good performance is necessary to facilitate a much needed leadership and cultural change in governance, with transparent accountability structures.



Findings
1.

Relevance

All the programme components are sufficiently linked with the NDSP. Overall the CO programme has supported priority projects in an effort to accelerate development of an inclusive private sector in Lesotho, especially in relation to business development services (BDS) needs of micro small and medium enterprises (MSMEs), many of which are presumed to be run or managed by women and youth.
Through platforms established during project implementation and thereafter, the work supported by the UNDP has contributed to heightened awareness of the need for inclusive private sector development, in particular, financial services, in the public-private fora.
There is growing interest geared towards investment in the private sector through public private partnerships, involving government, the private sector and some international development cooperating partners.
CP design needed to 'unpack' in a more substantive manner, what inclusive growth means, in view of the fact that 75 percent of the population reside in rural areas, with 60 percent of the country's population is poor
The design of some of the major interventions, for example, Support to Financial Inclusion Lesotho (SUFIL), did not correctly assess the situation on the ground in recommending specific interventions, in particular, at the micro level (UNDP, 2015). The project document assumed existence of a microfinance sector capable of improving and deepening access to financial services in the event of being strengthened through capacity development initiatives.
The UNDP Lesotho has a well-established programme planning process, which follows the UNDAF, and with the CPD implementation period aligned with that of the NSDP (2012/13 – 2016/2017). Overall, there is a fair level of alignment between the CO programme components, the UNDAF and the NSDP, other sectoral policies and strategies. Although the actions within the context of the UNDP country programme are widely acknowledged and appreciated by key stakeholders as useful, in the absence of major changes by the state in the manner of doing business, it is inconceivable how the outcomes can be achieved, to a large extent.
The evaluation can conclude that in some way, the objectives are not stated in a way that is SMART (specific, measurable, achievable, relevant and time-bound); presumption that the objectives as stated can be achieved in a measurable way during the CPD period may not be grounded in the reality of the country; the indicators are also not fully spelt out, against the background of well acknowledged data gaps across all sectors in the country; baselines are largely non-existent for most indicators because of capacity constraints
The coverage of so much policy work is relevant and appropriate in view of the policy level bottlenecks, which have resulted in limited progress in this focus area in terms of achievement of the outcome. Appropriate policy development is central to creation of an enabling environment which facilitates realisation of the objectives of accelerating inclusive growth.



2.

Efficiency

On the basis of indicative evidence that shows adherence by the CO to the existing UN financial and procurement procedures, rules and regulation, which have been largely followed, during the CPD period, it can be concluded that there has been an economic use of resources, human and financial, time and equipment
Human resource capacity constraints within the UNDP have constrained achievement of the outputs to the extent that is desirable. This is reflected in constraints associated with follow-up of key actions with implementation partners
Overall, although there is room for improvement, especially in fast-tracking, planned activities that have lagged behind, with possible resource re-allocation during the remaining period of the CP, overall expenditure to date is satisfactory to fair



3.

Sustainability

Although a large number of policies have been developed, through UNDP support, many are still in draft form and have been so for many years. Discussions with most stakeholders point to lack of coordination between different sector ministries within government. Lack of government ownership continues to affect the work of UNDP, in virtually all focus areas, including that of inclusive growth, with a dire need for leadership and cultural change in governance and the slow pace of doing business in Lesotho.

A cross cutting challenge with UNDP supported interventions is how to move from the 'project phase' to mainstreaming the support services, within government implementing partners, in a sustainable manner within the different sectors engaged:

oftentimes, the interventions have been heavily scaled down, because of human and budgetary constraint

Given the state of resource allocation in government, there may not be adequate resources, human and financial to sustain the momentum generated on MSME development through UNDP support

Whilst it is UNDP's strategic position to leave the post-policy development and policy implementation phase, for government to handle makes sense, it only applies under normal circumstances, peculiarities that are country-specific, small state status, combined with bottlenecks in governance, leadership, capacity coordination and culture are major. Challenges in leadership, coordination and capacity on the part of government have compromised the sustainability of many of the interventions supported by the UNDP.

The implementation of the UNDP CP is also linked to capacities within sector ministries. The implementation plans for ministries, prepared by the MoDP, policy and strategic planning department, to implement the NSDP, were reportedly done without consultation of line ministries – hence have not been accepted or 'owned' by relevant MDAs. There is lack of harmonization of planning, implementation, monitoring and reporting; lack of harmonisation of indicators and targets in the National Strategic Development Plan (2012/13 – 2016/17) and sectoral plans, no alignment of indicators and targets with those of the MoDP Strategic Plan.



4.

Parterneship Strategy

The UNDP CO has a partnership strategy with Civil Society Organisations, which has seen representatives of CSOs participating various fora. The CSOs engaged during the evaluation highlighted that the UNDP is not utilising existing partnerships, to the extent that is desirable, the potential of CSOs, choosing to remain 'too focused on government

The evaluation, notes that most CSOs are staffed by fresh graduates who need mentoring and capacity building. Capacity within CSOs also needs to be strengthened, partly because of low funding base, apart of human resources challenged, complement government in delivery of the development outcomes.

There is fragmentation in the BDS market place, with too many players acting in isolation from each other, whcih does not favour achievement of substantial level of outputs, in the medium to long term. This reduces the potential to achieve the expected outcome. UNDP has not been visible in facilitating a more coordinated mechanism of the BDS market, to ensure a more results - based approach in support to inclusive private sector development in Lesotho

Efforts made by the UNDP in supporting BDS provision through SUFIL are acknowledged, as a step in the right direction, and need to be scaled up to strengthening coordinated support for broad-based BDS provision, in a country with weak business developments services.



5.

Gender

Lesotho is finalising a new National Gender Policy, with the old one having expired in 2003. Consultations with stakeholders in Lesotho show that the implementation of gender outcomes faces changes, especially in the area of economic empowerment. UNDP does not have a formal cooperation agreement, letter of understanding with the MGYSR
Although women economic empowerment (WEE) is stated in the CPD as an area of intervention, evidence shows that there is no substantial collaboration on WEE support between MGYSR and UNDP or any other UN agency during the CPD reference period. There is a challenge with linkages between coordination on gender equality and the UNDP country programme
The sustainability of support for WEE interventions in the country is low due to low national budget allocation, which is assessed as highly inadequate

The implementation of the UNDP CP is also linked to capacities within sector ministries; lack of harmonization of planning, implementation, monitoring and reporting; lack of harmonisation of indicators and targets in the National Strategic Development Plan (2012/13 – 2016/17) and sectoral plans, no alignment of indicators and targets with those of the MoDP Strategic Plan affects integration of these in theh CP implementation

.



6.

Effectiveness

The effectiveness of the Country Programme shows mixed outcomes at the macro, meso and micro levels; except in a few cases, many Government Ministries, Departments and Agencies are not taking the leadership expected of them as envisaged in the country program document.

Lesotho does not have an inclusive private sector development strategy, a gap in accelerating inclusive growth. Whilst many national policy and strategy documents have been developed, most of them remain as 'drafts' and are yet to be formally adopted. Evidence of increased government and private sector capacity is shown by a well- functioning One-Stop Business Facilitation Centre (OBFC), which has invested in understanding company law, and advising potential private sector beneficiaries, from small, medium to large, on how to expedite registration of their companies

Evaluation assesses that many of the expected outputs have been delivered according to expectations, demonstrating a good level of progress in the production of the deliverables. Whilst the outputs generated are substantial and commendable, the link between the outputs and the outcomes needs critical analysis;

There is lack of data for planning and monitoring.

Baseline data is missing in key outcome indicators, such as gender disaggregated data on inclusive private sector development, employment creation for women and youth

UNDP was pivotal in supporting the national research on youth development, designed to facilitate evidence-based policy making. The report has been used as a baseline to build up support in specific youth issues by government and other development partners.

No accountability mechanism has been built between the MoDP and other Ministries and Departments, with the MoDP having not properly designated mandate to oversee other government Ministries on delivery of results and use of public resources. UNDP ought to have factored substantially more this national challenge in the design of its CPD, constraints which ought to have been well known from previous engagements in other programmes



Recommendations
1

UNDP Country Office needs to consider a number of strategic areas to support. An analysis of its in-house capacity, first to design and structure a well-resourced CP with higher prospects to be a game changer in the complex country's context; secondly in strengthening the capacity of the GoL as the main IP, in managing change processes

2

A high level strategic decision to initiate and sustain dialogue with the GoL and other development partners (at the highest levels), with a view to finding a common ground to tackling the binding constraints to accelerating inclusive growth, which are at the policy and institutional levels is required. UNDP technical support can be deployed in areas with binding constraints with a view to fast-track implementation of policies, strategies, legal frameworks, development of actionable implementation plans that can be also be linked to existing capacities of MDA. This should include also provision of timely and quality TA support to implementing partners, at all stages, from design, strategic planning, implementation, monitoring and evaluation, reviews and reporting.

3

The UNDP CO reinvigorate Public-Private Sector Dialogue: A lesson learnt from previous UNDP supported dialogue shows high level of expectations among stakeholders, and possibility of using Forum as a game changer in accelerating inclusive private sector development in Lesotho. In supoprt to the high level forum (HLF), (involving UN Reps, Heads of DP Organisations and Office of the PM) and other institutional mechanisms, intiate and support publication of quarterly/half-yearly bulletins and policy papers not only dealing with issues of Inclusive Growth but other critical issues affecting Lesotho's development agenda; with a view to strengthening capacity for policy coherence, policy implementation and coordination in the area of accelerating inclusive growth. This can be backed up by evidence based prioritised thematic research, analysis and presentations to the policy dialogue forum.

4

UNDP needs to reposition itself to facilitate in a more focused manner, transformational processes at policy and institutional levels, linked to the implementation of national interventions for acceleration of inclusive growth. Focus, more strongly on strengthening of coordination of a range of development partners, from government, private sector, CSOs and representative organisations of different groups of beneficiaries, including the most marginalised

5

Ensure improved planning, prioritization of 'priorities of priorities', implementation of Results-Based Management Framework. On the basis of lessons learnt with the MDGs in Lesotho, anchor this on a yet to be established and what is presumed to be a more accountable M & E mechanism for the SDGs. Stronger engagement by the UNDP CO of the Office of the Prime Minister or Chief Government Secretary is necessary.