Evaluation on deepening decentralization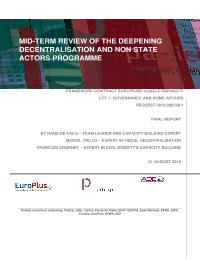 Evaluation Plan:

Evaluation Type:

Project

Planned End Date:

12/2015

Completion Date:

09/2015

Status:

Completed

Management Response:

Yes

Evaluation Budget(US $):

50,000
Title
Evaluation on deepening decentralization
Atlas Project Number:

00070161

Evaluation Plan:
2013-2018, Lesotho
Evaluation Type:
Project
Status:
Completed
Completion Date:
09/2015
Planned End Date:

12/2015

Management Response:
Yes

Focus Area

:
Corporate Outcome and Output (UNDP Strategic Plan 2014-2017)

1. Output 3.2. Functions, financing and capacity of sub-national level institutions enabled to deliver improved basic services and respond to priorities voiced by the public

SDG Goal

Goal 1. End poverty in all its forms everywhere
Goal 16. Promote peaceful and inclusive societies for sustainable development, provide access to justice for all and build effective, accountable and inclusive institutions at all levels
Goal 5. Achieve gender equality and empower all women and girls

SDG Target

1.a Ensure significant mobilization of resources from a variety of sources, including through enhanced development cooperation, in order to provide adequate and predictable means for developing countries, in particular least developed countries, to implement programmes and policies to end poverty in all its dimensions
16.7 Ensure responsive, inclusive, participatory and representative decision-making at all levels
5.5 Ensure women's full and effective participation and equal opportunities for leadership at all levels of decision-making in political, economic and public life

Evaluation Budget(US $):

50,000

Source of Funding:
core
Joint Programme:
No
Joint Evaluation:

No

Evaluation Team members:

| Name | Title | Email | Nationality |
| --- | --- | --- | --- |
| EuroPlus Consulting & Management | Lead Consultant | hansdefacq@europlus.sk | |

GEF Evaluation:

No

Key Stakeholders:
Countries:

LESOTHO
Recommendations
1

? Strengthen support to the government on legal and regulatory framework to guide the decentralisation process ? Continue supporting capacity building interventions to assist the government to transfer functions ? Given limited time remaining before the end of the programme, the cycles of the Local Development Grant (LDG) should be cut from three (3) to two (2). ? Local Government Association should be supported
1. Recommendation:

? Strengthen support to the government on legal and regulatory framework to guide the decentralisation process ? Continue supporting capacity building interventions to assist the government to transfer functions ? Given limited time remaining before the end of the programme, the cycles of the Local Development Grant (LDG) should be cut from three (3) to two (2). ? Local Government Association should be supported
Management Response:
[Added: 2015/09/28]
[Last Updated: 2017/09/26]
Based on the recommendations from the Review, the project plan and budget were reprogrammed to reflect proposes changes relative to timeframe. The reprogramming workshop was held on the 6th and 7th of October 2015. An addendum on the budget and workplan was prepared and submitted to the EU.
Key Actions:
Key Action

Responsible
DueDate
Status
Comments
Documents

DDP management team will lead the process of reprogramming for the planning of the implementation of the recommendations. A new work plan and log frame will be developed with revised budgets




[Added: 2015/09/28]

[Last Updated: 2017/09/26]

DDP Manager & UNCDF Regional Technical Advisor

2017/09

Completed

DDP was reprogrammed in accordance with the recommendations of the Mid-term Review of September 2015. EU approval budget revisions that came as a result of reprogramming/ revision of activities. The project was granted a no-cost extended until October 2017.

History