Mid-Term Evaluation of Support to the implementation of the Resolution 80/NQ-CP on directions of Sustainable Poverty Reduction 2011-2020 and the National Targeted Program on Sustainable Poverty Reduction 2012-2015 (PRPP) project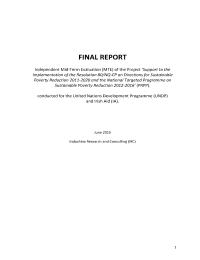 Evaluation Plan:

Evaluation Type:

Mid Term Project

Planned End Date:

03/2015

Completion Date:

03/2015

Status:

Completed

Management Response:

Yes

Evaluation Budget(US $):

41,700
Title
Mid-Term Evaluation of Support to the implementation of the Resolution 80/NQ-CP on directions of Sustainable Poverty Reduction 2011-2020 and the National Targeted Program on Sustainable Poverty Reduction 2012-2015 (PRPP) project
Atlas Project Number:

00083792

Evaluation Plan:
2012-2016, Viet Nam
Evaluation Type:
Mid Term Project
Status:
Completed
Completion Date:
03/2015
Planned End Date:

03/2015

Management Response:
Yes

Focus Area

:
Corporate Outcome and Output (UNDP Strategic Plan 2014-2017)

1. Output 1.1. National and sub-national systems and institutions enabled to achieve structural transformation of productive capacities that are sustainable and employment - and livelihoods- intensive

Evaluation Budget(US $):

41,700

Source of Funding:
Costsharing Irish Aid
Joint Programme:
No
Joint Evaluation:

No

Evaluation Team members:

| Name | Title | Email | Nationality |
| --- | --- | --- | --- |
| Babul Azad | M&E Officer | babul.azad@undp.org | |

GEF Evaluation:

No

Key Stakeholders:
MOLISA
Countries:

VIET NAM
Recommendations
1
Evaluation Recommendation 1: Focus support upon the design of the next generation of poverty reduction policies after 2015 1.1) Focus attention and resources upon supporting the redesign of policies and programmes for poverty reduction for the next phase of poverty reduction programming after 2015; 1.2) Support the design of a policy framework to maximise synergies and avoid overlaps between policies and programmes for poverty reduction, social assistance, and rural development; 1.3) Strengthen the coordination and oversight roles of MoLISA and CEMA in PR policy making and supervision of PR policies, PR for ethnic minorities; 1.4) Support the institutionalization of the MDP approach through developing the MDP Masterplan and a legal framework for operationalizing the MDP approach. Ideally, this institutionalization of the MDP approach should be made in relation to the next programming of PR policies; 1.5) Provide support to develop a platform for partnership between the GoVN and DPs in the next phase NTP SPR and implementation of MDP approach in the future PR policies.
2
Evaluation Recommendation or Issue 2: Focus support upon the integration of PR resources and the further development and institutionalization of innovative poverty reduction models at the sub-national level 2.1) Strengthen the capacity of PRPP pilot provinces to consolidate and integrate poverty reduction resources and target chronic poverty more effectively. To ensure success with limited resources and within a short timeframe, this should be prioritized to some potentially ?champion? provinces (such as Tra Vinh and Quang Ngai). In addition, collaboration with other PR projects in the PRPP provinces, especially NMPRP2, GNTN, IA support to P135 communes, or IFAD-supported projects is recommended to leverage on these significant resources and promote experience sharing and cooperation toward a synergy; 2.2) Institutionalize best practice models for poverty reduction in block grant development (in a more conventional meaning of block grant), commune investment ownership and participatory SEDP planning); 2.3) Consider piloting results-based funding allocation in PRPP provinces (to improve efficiency and effectiveness, accountability and transparency). This is a challenging task in the current context but would be important demonstration of result-based management for the next programming of PR policies
3
Evaluation Recommendation or Issue 3: Further enhance the capacity of poverty reduction officers and local people (and women in particular) to increase their agency in, and sense of ownership of the poverty reduction process. 3.1) Intensify the project?s capacity building efforts with local officials and local people through clearly linking capacity building support to other ongoing activities of the project; 3.2) Intensify the project?s capacity building efforts with local officials and local people through clearly linking capacity building support to other ongoing activities of the project; 3.3) Build the sense of ownership of local people of GoVN resources and programmes (through supporting participatory planning, M&E and building on the successes of local policy forums); 3.4) Promote the participation of women in poverty reduction processes through having an explicit gendered target for each project activity that goes beyond the number of women that attend a course or meeting.
4
Evaluation Recommendation or Issue 4: Concentrate effort and resources on developing more effective communication and advocacy between the project?s central level and sub-provincial levels 4.1) Support activities that strengthen the ability of provinces to advocate for policy change to the national level, (through supporting their research, documentation, dissemination and advocacy capacity of good practice, and further developing networking and experience sharing activities). This is to strengthen the link between the national and sub-national levels in fostering policy changes, which was found relatively weak in practice.
5
Evaluation Recommendation or Issue 5: Strengthen and improve project activities and work planning processes 5.1) Consolidate and reduce the number of activities at both central and sub-national levels and focus upon key strategic activities that are clustered, or joined up, either to other national level activities, or to sub-national ones, and which can effect a ?critical mass? for change; 5.2) Improve the provision of Technical Assistance to sub-national PMU?s in particular, who require better TA support to produce better quality outputs and processes (through for example the network of consultants, INGOs and researchers envisaged in the PD); 5.3) Ensure the end users of project TA are fully involved in identifying the output expected from the project TA during the ToR drafting process; 5.4) Strengthen the M&E system to ensure the project is operating at the requisite strategic level by deciding on a very selective list of key performance indicators for monitoring and at the same time, simplifying the current reporting requirements ? which are relatively surveillance-oriented.