Evaluation of the Outcome: Populations vulnerable to environmental risks and climate change become more resilient and relevant institutions are more effective in the management of natural resources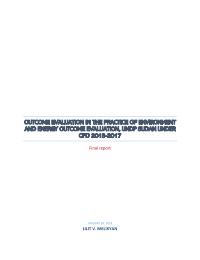 Evaluation Plan:

Evaluation Type:

Outcome

Planned End Date:

03/2018

Completion Date:

02/2018

Status:

Completed

Management Response:

Yes

Evaluation Budget(US $):

50,000
Title
Evaluation of the Outcome: Populations vulnerable to environmental risks and climate change become more resilient and relevant institutions are more effective in the management of natural resources
Atlas Project Number:

87168,80570,78764,57783,75263

Evaluation Plan:
2013-2017, Sudan
Evaluation Type:
Outcome
Status:
Completed
Completion Date:
02/2018
Planned End Date:

03/2018

Management Response:
Yes

Focus Area

:
Corporate Outcome and Output (UNDP Strategic Plan 2014-2017)

1. Output 1.1. National and sub-national systems and institutions enabled to achieve structural transformation of productive capacities that are sustainable and employment - and livelihoods- intensive
2. Output 1.4. Scaled up action on climate change adaptation and mitigation across sectors which is funded and implemented
3. Output 1.5. Inclusive and sustainable solutions adopted to achieve increased energy efficiency and universal modern energy access (especially off-grid sources of renewable energy)
4. Output 5.2. Effective institutional, legislative and policy frameworks in place to enhance the implementation of disaster and climate risk management measures at national and sub-national levels

Evaluation Budget(US $):

50,000

Source of Funding:
XB
Evaluation Expenditure(US $):

22,400

Joint Programme:
No
Joint Evaluation:

No

Evaluation Team members:

| Name | Title | Email | Nationality |
| --- | --- | --- | --- |
| Lilit V. Melikyan | Senior Consultant | lilit.melikyan@yahoo.co.uk | |

GEF Evaluation:

No

Key Stakeholders:
UNDP, UNEP, Higher Council for Environment and Natural Resources (HCENR), and Directorate of International Cooperation (MIC)
Countries:

SUDAN

Comments:

A solid baseline for future interventions in the new programme cycle to be conducted in November 2017.
Recommendations
1

Evaluation Recommendation or Issue 1: Ensure that the fast growth of the EECC portfolio is commensurate with the staff capacity at UNDP, together with more stringent practices for risk monitoring and preparatory work under the projects' inception phase

2

Evaluation Recommendation or Issue 2: Enhance the support for the current project management of the "Solar Pumps" project in the part related to the establishment of the PV Fund to ensure that its design is adequate (institutional structure, financial plan) and measures to ensure lending is affordable for the poor are in place;

3

Finance (CRF) project needs a major overhaul, assign an international Chief Technical Adviser (CTA) for 6 months to ensure that the project is brought back on track, with the roles and responsibilities under the Weather Insurance scheme clarified and the system (re)operationalized adequately, based on the recommendations of the recent Midterm Review
1. Recommendation:

Evaluation Recommendation or Issue 1: Ensure that the fast growth of the EECC portfolio is commensurate with the staff capacity at UNDP, together with more stringent practices for risk monitoring and preparatory work under the projects' inception phase
Management Response:
[Added: 2018/04/17]
Management Response:
Expand current structure of Sustainable Livelihood Unit as well as re-assign responsibility of Programme Analysts and Associates (who should do what)
Key Actions:
Key Action

Responsible
DueDate
Status
Comments
Documents

1.1. Expand current structure of SLU a. Recruit a programme analyst (project based) and manage climate change adaptation project activities b. Put in place Chief Technical Advisor positions in upcoming CCA, NRM and RE projects (GCF, KOICA and GEF Red Sea) c. Put in place at least one UNV in SLU




[Added: 2018/04/17]

[Last Updated: 2018/07/31]

a. UNDP, SLU b. UNDP, SLU c. Senior Management

2018/12

Completed

Under negotiation Update: According to the budget constraint and CO restructuring that took place recently it has been difficult for the unit o create new position/s. however the existing team has managed to distribute these additional tasks fairly among them.

History

1.2 Re-assign responsibility of Programme Analysts and Associates (who should do what) a. Reviewed the ToR and revised the ToR up to 20% and agreed with incumbent




[Added: 2018/04/17]

[Last Updated: 2018/07/31]

UNDP Human resources (HR)

2018/07

Completed

Under negotiation Update According to the budget constraint and CO restructuring that took place recently it has been difficult for the unit o create new position/s. however the existing team has managed to distribute these additional tasks fairly among them.

History
2. Recommendation:
Evaluation Recommendation or Issue 2: Enhance the support for the current project management of the "Solar Pumps" project in the part related to the establishment of the PV Fund to ensure that its design is adequate (institutional structure, financial plan) and measures to ensure lending is affordable for the poor are in place;
Management Response:
[Added: 2018/04/17]
Management Response: Programme Advisor to support technical assistance and ensure establishment of the National PV Fund by the end of 2018
Key Actions:
Key Action

Responsible
DueDate
Status
Comments
Documents

2.1. Conduct technical feasibility study for National PV fund a. Recruit national consultancy firm and recommend possible way to establish the NPVF b. Conduct national level stakeholder workshop, present finding of the report and reach consensus among stakeholders (MFIs, Government agencies, Farmer and Pastoralist Unions and others) c. Submit the proposed model to the Ministry of Water Resources Irrigation and Electricity and facilitate to get approval by the Cabinet




[Added: 2018/04/17]

[Last Updated: 2018/07/31]

a. UNDP, SLU b. UNDP, SLU c. UNDP, SLU

2018/07

Completed

Workshop planned

History

Recruit an international consultant and prepared institutional structure, financial plan, rules and regulation




[Added: 2018/04/17]

[Last Updated: 2018/07/31]

UNDP, Sustainable livelihoods unit (SLU)

2018/12

Completed

Started the recruitment process Update it is completed with gov counterparts as of yesterday 31 July 2018.

History
3. Recommendation:

Finance (CRF) project needs a major overhaul, assign an international Chief Technical Adviser (CTA) for 6 months to ensure that the project is brought back on track, with the roles and responsibilities under the Weather Insurance scheme clarified and the system (re)operationalized adequately, based on the recommendations of the recent Midterm Review
Management Response:
[Added: 2018/04/17]
Management Response: To recruit a CTA and restructure of the project team for the efficient and effective management on the rest of the project life
Key Actions:
Key Action

Responsible
DueDate
Status
Comments
Documents

Restructure of the project management team a. Recruit a CTA for 8 months b. Recruit 8 international consultants c. Review the project management unit and re-structure




[Added: 2018/04/17]

[Last Updated: 2018/07/31]

UNDP, Sustainable Livelihoods Unit

2018/07

Completed

Under recruitment process Update: the unit failed for two times to find and or identify a consultant with the required managerial and technical expertise. However a task force has been formed-up by UNDP and counterparts to closely follow up and maintain the intended delivery of the project (ref to the CRF)>

History