Evaluation of the Regional Programme for Africa (2008-2013)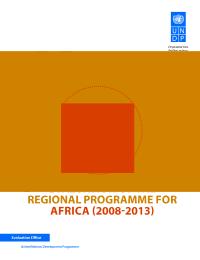 Evaluation Plan:

Evaluation Type:

Regional Programme

Planned End Date:

06/2013

Completion Date:

04/2013

Status:

Completed

Management Response:

Yes

Evaluation Budget(US $):

180,000
Title
Evaluation of the Regional Programme for Africa (2008-2013)
Atlas Project Number:
Evaluation Plan:
2009-2013, Independent Evaluation Office
Evaluation Type:
Regional Programme
Status:
Completed
Completion Date:
04/2013
Planned End Date:

06/2013

Management Response:
Yes
Corporate Outcome and Output (UNDP Strategic Plan 2018-2021)
Evaluation Budget(US $):

180,000

Source of Funding:
Joint Programme:
No
Joint Evaluation:

No

Evaluation Team members:

| Name | Title | Nationality |
| --- | --- | --- |
| Angela Bester | | |
| Gaston Gohou | | |
| Oliver Chapeyama | | |

GEF Evaluation:

No

Key Stakeholders:
Recommendations
1
Recommendation 1. The regional programme should continue to focus on interventions where a regional approach brings the greatest value added. First priority should be given to strategic initiatives, undertaken in consultation with other United Nations partners, that strengthen the capacity of regional institutions and support the implementation of their priority frameworks. In the case of multi-country programmes, the regional programme should focus primarily on the provision of expertise, facilitation of cross-country exchanges and knowledge management, with country programmes implementing national or subnational activities. Where it is appropriate for the regional programme to implement countrylevel activities, this should be done in close collaboration with country offices, with a view to eventually incorporating these activities into country programmes.
2
Recommendation 2. RBA should develop a results-oriented strategy for engagement with regional institutions.
3
Recommendation 3. The regional programme and projects should be designed from the outset in consultation with stakeholders, in particular the African Union and RECs and, to the extent possible, national governments and country offices, to ensure ownership.
4
Recommendation 4. With respect to its strategic initiatives and projects, the regional programme should sharpen its focus and articulate in the RPD a limited number of outcomes and outputs. In addition, RBA could consider identifying a few unifying cross-cutting themes highly relevant to Africa in the coming years that can be mainstreamed across interventions to give additional coherence and visibility to the programme.
5
Recommendation 5. With respect to technical and advisory services, the UNDP global policy bureaux and RBA should ensure an integrated strategy for the provision of a necessary range of regional advisory and technical support services to country offices. The management should monitor the effect of services provided by the regional advisers and take decisions based on the need for, and the efficacy of, support in helping country offices to realize development results.
6
Recommendation 6. RBA, the Bureau for Development Policy (BDP) and the Bureau for Crisis Prevention and Recovery (BCPR) should strengthen monitoring and follow-up by the regional service centre for learning, knowledge management and effectiveness.
7
Recommendation 7. RBA, through the regional programme, should further enhance the development and dissemination of regional knowledge and knowledge products.