Inclusive Participation in Governance Programme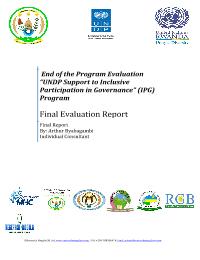 Evaluation Plan:

Evaluation Type:

Final Project

Planned End Date:

12/2013

Completion Date:

12/2013

Status:

Completed

Management Response:

Yes

Evaluation Budget(US $):

30,000
Title
Inclusive Participation in Governance Programme
Atlas Project Number:
Evaluation Plan:
2013-2018, Rwanda
Evaluation Type:
Final Project
Status:
Completed
Completion Date:
12/2013
Planned End Date:

12/2013

Management Response:
Yes

Focus Area

:
Corporate Outcome and Output (UNDP Strategic Plan 2014-2017)

1. Civil society, including civil society organizations and voluntary associations, and the private sector contribute to the MDGs in support of national planning strategies and policies
2. Electoral laws, processes and institutions strengthen inclusive participation and professional electoral administration
3. Access to information policies support accountability and transparency
4. National, regional and local levels of governance expand their capacities to reduce conflict and manage the equitable delivery of public services
5. Legislatures, regional elected bodies, and local assemblies have strengthened institutional capacity, enabling them to represent their constituents more effectively

Evaluation Budget(US $):

30,000

Source of Funding:
UNDP (project)
Joint Programme:
No
Joint Evaluation:

No

Evaluation Team members:

| Name | Title | Email | Nationality |
| --- | --- | --- | --- |
| Arthur Byabagambi | lead consultant | | RWANDA |

GEF Evaluation:

No

Key Stakeholders:
Government, Development Partners, UN agencies, Civil Society
Countries:

RWANDA
Recommendations
1
Evaluation issue and Recommendation 2: Capacity building activities 2.1 Expand the BRIDGE training Program to political parties, media and sector level for better understanding of electoral cycles, procedures and requirements 2.2.Increase inclusion of middle class citizens in urban areas in civic and voter education training Programs 2.3 Diversify and tailor the YPLA training to include the non-educated class of citizens who also have an important role to play in Rwanda?s political space. 2.4 Redesign the YPLA training to address and emphasise gender in its design and implementation strategy. 2.5 Prioritise the induction training of 80 new parliamentarians emphasising their roles in citizen representation and consultation.
2
Evaluation issue and Recommendation 1: Program design, implementation arrangements, reporting and M&E 1.1. Improve synergies between IPs on linked and cross-cutting activities. 1.2. Undertake a Program wide RBM and FM training for IPs? focals and all relevant technical staff involved in the IPG using a coaching and on-job mentoring approach. 1.3. Develop IP specific results based M & E frameworks to be able to establish the impact and contributions of IP specific actions. 1.4. Introduce a report format that disaggregates physical progress reporting by Program components, financial reporting aligned to project components, procurement progress and a narrative of lessons learnt and challenges faced in each quarter. 1.5. Introduce interim audits/monitoring missions to take stock of faults and challenges faced by the IPs.
3
Evaluation issue and Recommendation 3: Strengthening project activities 3.1 Improve the efficiency of the electoral management process by increasing use of technology. 3.2 Develop synergies between IPs engaged in research for policy and Program development with professional research institutions such NISR, IRDP and NUR. 3.3 Undertake a survey of decisions made by parliamentary committees to identify what policies and Programs need amendment. 3.4. Advance the current research approach and focus to include exploration of best practices both locally and internationally and not only identification of local challenges
4
Evaluation issue and Recommendation 4: Support media sector development 4.1 Mobilise development partners and the civil society to contribute towards the media sector development basket fund. 4.2 . Provide technical assistance to MHC in elaborating the institutional strategic plan embedding priority IPG Program support areas.