LA EVALUACION FINAL DEL PROGRAMA DEL PAIS PNUD GUINEA ECUATORIAL 2013-2017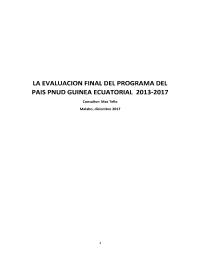 Evaluation Plan:

Evaluation Type:

Country Programme Evaluation

Planned End Date:

03/2018

Completion Date:

12/2017

Status:

Completed

Management Response:

Yes

Evaluation Budget(US $):

20,000
Title
LA EVALUACION FINAL DEL PROGRAMA DEL PAIS PNUD GUINEA ECUATORIAL 2013-2017
Atlas Project Number:
Evaluation Plan:
2013-2018, Equatorial Guinea
Evaluation Type:
Country Programme Evaluation
Status:
Completed
Completion Date:
12/2017
Planned End Date:

03/2018

Management Response:
Yes

Focus Area

:

1. Poverty and MDG
2. Democratic Governance
3. Crisis Prevention & Recovery
4. Environment & Sustainable Development
5. Cross-cutting Development Issue
6. Others

Corporate Outcome and Output (UNDP Strategic Plan 2014-2017)

1. Output 1.1. National and sub-national systems and institutions enabled to achieve structural transformation of productive capacities that are sustainable and employment - and livelihoods- intensive
2. Output 1.3. Solutions developed at national and sub-national levels for sustainable management of natural resources, ecosystem services, chemicals and waste
3. Output 2.1. Parliaments, constitution making bodies and electoral institutions enabled to perform core functions for improved accountability, participation and representation, including for peaceful transitions
4. Output 3.1. Core functions of government enabled (in post conflict situations) to ensure national ownership of recovery and development processes

Evaluation Budget(US $):

20,000

Source of Funding:
GOV
Evaluation Expenditure(US $):

25,000

Joint Programme:
No
Joint Evaluation:

No

Evaluation Team members:

| Name | Title | Email | Nationality |
| --- | --- | --- | --- |
| Max Tello | | | |

GEF Evaluation:

No

Key Stakeholders:
Min. Asuntos Exteriores
Countries:

EQUATORIAL GUINEA

Comments:

Para el actual programa, se prevee una evaluación final del CPD.
Recommendations
1

Recommendation 1: El siguiente Programa debe alinearse al Mandato de PNUD. Debe ser más estratégico y más sustantivo. Hacer actividades que son útiles para el país. Apoyar en gobernabilidad, derechos humanos, medio ambiente.

2

Recommendation 2: El próximo programa debe ser menos central, más dirigido al interior del país, a beneficiar a la población con menor inclusión en la sociedad. Ser muy claro en la población objetivo de los proyectos, la cual debe desglosarse por género y estratos socioeconómicos a fin de focalizarla y abrirle posibilidades de protección social.

3

Recommendation 3: Género debe ser transversal a todos los proyectos, sin embargo, debe enfatizarse en la integración del enfoque de género en grupos parlamentarios, funcionarios y servidores públicos, los jóvenes y el sistema educativo, los sistemas de salud.

4

Recommendation 4: Debe continuarse el apoyo al PNDES Horizonte 2020, continuarse el reforzamiento del sistema estadístico nacional, empoderamiento económico de la juventud.

5

Recommendation 5: El Proyecto nacional de desarrollo local para la descentralización, por su importancia estratégica para el desarrollo del país, debe reorientarse basándose en evidencia. La reforma administrativa debe ser vista en el contexto de la gobernabilidad.

6

Recommendation 6: Apoyar la protección de áreas protegidas, energía sostenible para todos, respuesta al VIH, apoyo a la agenda 2030, lucha contra la corrupción.

7

Recommendation 7: La información, educación y protección de los derechos humanos debe ser transversal. Empezar en la escuela, alcanzar los hogares, continuar en la educación superior, estar presente en el trabajo y las relaciones laborales y ser central en la participación de la ciudadanía en el país.

8

Recommendation 8: Hay que trabajar derechos humanos, acceso a la justicia, transparencia, corrupción, empleo juvenil, trabajo decente, crecimiento económico equitativo, industria.

9

Recommendation 9: Siendo Guinea ecuatorial un país de jóvenes, la estrategia debe enfatizar en el beneficio de la juventud: ya sea enfatizando en una educación y cultura de género, equidad y derechos, empoderando económicamente a la juventud, fortaleciendo sus habilidades sociales, técnicas y profesionales.

10

Recommendation 10: En el próximo Programa es importante enfatizar en capacitar en función de resultados y necesidades, no capacitar por capacitar. Capacitar para construir capacidades.

11

Recommendation 11: Los proyectos de medio ambiente, como el de energías renovables y el de áreas protegidas, deben ser potenciados en sus actividades y ser muy claros en sus beneficios a las poblaciones locales.

12

Recommendation 12: Hay que reforzar el apoyo a la coordinación y seguimiento de las actividades del desarrollo del UNDAF

13

Recommendation 13: Hay que revisar la normativa respecto a over head o costos por administración de fondos por parte del PNUD a fin de hacerla transparente para las contrapartes y aclarar las dudas que pudieran existir al respecto.

14

Recommendation 14: Diseñar el próximo programa como un todo integrado en el que la teoría de cambio vincule los ejes del Programa con los proyectos y estos con necesidades de la población basadas en evidencia.

15

Recommendation 15: Continuar el apoyo a la Implementación y ejecución del Plan Nacional de Desarrollo social y económico Horizonte 2020.

16

Recommendation 16: Diseñar proyectos con metas e indicadores específicos y relevantes.

17

Recommendation 17: Continuar el apoyo a proyectos de Medio Ambiente prioritarios para el PNDES H2020 y la agenda de PNUD como el de áreas protegidas y el de energías renovables.

18

Recommendation 18: Enfatizar en la relevancia de productos estadísticos tales como la encuesta Nacional de Hogares o el análisis de la data set del Censo.

19

Recommendation 19: Enfatizar en la relevancia de actualizar la línea de pobreza del país.

20

Recommendation 20: Incidir para que Guinea Ecuatorial ratifique la convención internacional de lucha contra la corrupción.

21

Recommendation 21: Apoyar las nuevas instituciones que refuerzan la gobernanza del país, tal como la Defensoría del Pueblo. Y por otro lado apoyar en el desarrollo de gobernanza al Parlamento.

22

Recommendation 22: Cubierto el nivel de desarrollo institucional, los proyectos deben enfatizar en los beneficiarios, en la mejora de la calidad de vida de la población.

23

Recommendation 23: Buscar una metodología más eficiente de promover los derechos humanos, la transparencia y la lucha contra la corrupción. No basta con formación de servidores públicos, se requiere concientización de los ciudadanos y evaluación permanente de la calidad de los servicios como evidencia del impacto de este tipo de programas.

24

Recommendation 24: Demostrada la eficacia y eficiencia en el apoyo a la respuesta nacional al HIV/SIDA, es preciso generar mejores condiciones logísticas para el almacenamiento y distribución de medicinas e insumos.

25

Recommendation 25: Todos los proyectos deben incluir un componente de monitoreo y evaluación que se enfoque en el beneficiario final y el impacto del proyecto en el mismo. El impacto debe medirse en cambios de conducta, actitudes y conocimientos de la población.

26

Recommendation 26: Justificar el desarrollo de capacidades desde necesidades definidas basadas en evidencia. Y capacitar pensando en medición del impacto de la capacitación en beneficiode la población.

27

Recommendation 27: Evaluar los cambios que se producen en la calidad de los servicios y en las percepciones de la población después de la capacitación de los funcionarios.

28

Recommendation 28: Revisar la metodología del proyecto de apoyo a los Gobiernos Locales a fin de hacerlo más orientado al trabajo de campo y el beneficio de las poblaciones del interior del país.

29

Recommendation 29: Implicar a los técnicos de los diversos proyectos en las diferentes etapas de diseño y ejecución de los mismos. Los técnicos son la memoria viva de los proyectos y persisten más allá de los cambios en las autoridades de los mismos.

30

Recommendation 30: En los futuros programas de país se puede reforzar la eficacia del apoyo al programa manteniéndose en la línea de los programas y actividades apropiados a PNUD.

31

Recommendation 31: Desarrollar acuerdos y mecanismos con el Gobierno que eviten el retraso en los desembolsos a los proyectos y su consecuente beneficio.

32

Recommendation 32: Evitar circunstancias en las que valiosos recursos como computadoras y equipos electrónicos terminen almacenados y sin uso por falta de recursos para su distribución a los beneficiarios finales, tal como se produjo en el Proyecto de apoyo al Programa Nacional de Desarrollo Local.

33

Recommendation 33: Revisar si el actual cuadro de personal en el área de programas de PNUD es suficiente para manejar el portafolio del proyecto del nuevo programa.

34

Recommendation 34: Para fortalecer las estrategias de salida y sostenibilidad es preciso fortalecimiento institucional y desarrollo de capacidades.

35

Recommendation 35: Para promover la sostenibilidad a largo plazo es preciso fortalecer el componente de Gobernabilidad a fin de garantizar un real rol del Gobierno en el manejo del Programa. Igualmente puede ser útil una mayor participación del sector Privado empresarial a manera de responsabilidad social. Y una mayor participación de ONGs locales, a fin de fortalecer el sector privado de desarrollo.

36

Recommendation 36: Enfatizar en el apoyo a programa Nacional de la Reforma Administrativa, el cual es trascendental para fortalecer los recursos locales en términos de sostenibilidad.

37

Recommendation 37: Promover la sostenibilidad del proyecto de tecnologías de información y comunicación, el cual tuvo mucho éxito y utilidad entre la población, modificó indicadores nacionales y requiere apoyo tanto del Gobierno como de PNUD.

38

Recommendation 38: Participar en proyectos como el de áreas Protegidas que no sólo tienen el compromiso gubernamental, sino también el interés de organizaciones internacionales, lo cual refuerza la sostenibilidad de este tipo de proyectos que son prioritarios en la agenda de PNUD y para el PNDES.