Evaluation of the role of UNDP in supporting national achievement of the Millennium Development Goals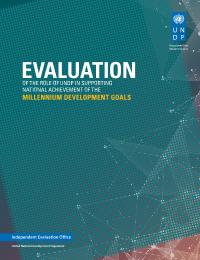 Evaluation Plan:

Evaluation Type:

Thematic

Planned End Date:

06/2015

Completion Date:

06/2015

Status:

Completed

Management Response:

Yes

Evaluation Budget(US $):

350,000
Title
Evaluation of the role of UNDP in supporting national achievement of the Millennium Development Goals
Atlas Project Number:
Evaluation Plan:
2014-2017, Independent Evaluation Office
Evaluation Type:
Thematic
Status:
Completed
Completion Date:
06/2015
Planned End Date:

06/2015

Management Response:
Yes
Corporate Outcome and Output (UNDP Strategic Plan 2014-2017)
Evaluation Budget(US $):

350,000

Source of Funding:
Joint Programme:
No
Joint Evaluation:

No

Evaluation Team members:

| Name | Title | Email | Nationality |
| --- | --- | --- | --- |
| | | | |

GEF Evaluation:

No

Key Stakeholders:
Recommendations
1
UNDP should organize a last round of Millennium Development Goal country reports (end-line reports) in 2016-2017 to measure progress over the entire period of the Goals, establish baselines for the sustainable development goal era and identify lessons learned and good practices. This will allow UNDP to establish programmes on a strong empirical basis of what forms of support worked and did not work during the Millennium Development Goal era. UNDP should continue support to the ?unfinished Goals? even after 2015, by helping to focus development efforts on the poorest countries as well as pockets of deprivation within middleand high-income countries.
2
UNDP should continue to provide United Nations Member States and organizations with guidance and thought leadership at the level of the entire sustainable development goals agenda, on how to translate the post-2015 agenda to the national and subnational levels by establishing clear local priorities, while maintaining some degree of comprehensiveness and coherence with the global agenda.
3
While the post-2015 global agenda presents new challenges, the ?roles? UNDP played during the Millennium Development Goal era will remain useful and should be carried forward and enhanced for greater effectiveness
4
UNDP support to countries and local governments in tailoring, planning and implementing the sustainable development goals at the national and local levels should take into systematic consideration key local factors known to influence the effectiveness of goal-based development planning, so as to minimize tokenism and focus assistance onto countries and regions with good prospects for implementing their sustainable development goal-based plans and policies.
5
In order to support country programmes and learn from field-level experiences in implementation of the sustainable development goals, UNDP should establish and maintain over time a strong, stable cadre of dedicated advisors at headquarters and in regional hubs, able to support the regional bureaux and country offices? work related to the sustainable development goals over the long term, bring coherence to the overall effort and maintain some institutional memory. UNDP should document the varied approaches that will be used at the country level in a more systematic and objective way than has been the case so far. Resource mobilization and the management of trust funds also need to be brought into a more coherent framework to support country-level activities.