Evaluation of UNDP Contribution to Anti-corruption and Addressing Drivers of Corruption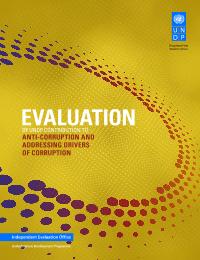 Evaluation Plan:

Evaluation Type:

Thematic

Planned End Date:

09/2016

Completion Date:

12/2016

Status:

Completed

Management Response:

Yes

Evaluation Budget(US $):

350,000
Title
Evaluation of UNDP Contribution to Anti-corruption and Addressing Drivers of Corruption
Atlas Project Number:
Evaluation Plan:
2014-2017, Independent Evaluation Office
Evaluation Type:
Thematic
Status:
Completed
Completion Date:
12/2016
Planned End Date:

09/2016

Management Response:
Yes

Focus Area

:
Corporate Outcome and Output (UNDP Strategic Plan 2014-2017)

1. Output 2.1. Parliaments, constitution making bodies and electoral institutions enabled to perform core functions for improved accountability, participation and representation, including for peaceful transitions
2. Output 2.2. Institutions and systems enabled to address awareness, prevention and enforcement of anti-corruption measures across sectors and stakeholders
3. Output 2.4. Frameworks and dialogue processes engaged for effective and transparent engagement of civil society in national development
4. Output 2.5. Legal and regulatory frameworks, policies and institutions enabled to ensure the conservation, sustainable use, and access and benefit sharing of natural resources, biodiversity and ecosystems, in line with international conventions and national
5. Output 2.6. Legal reform enabled to fight discrimination and address emerging issues (such as environmental and electoral justice

Evaluation Budget(US $):

350,000

Source of Funding:
Evaluation Expenditure(US $):

350,000

Joint Programme:
No
Joint Evaluation:

No

Evaluation Team members:

| Name | Title | Email | Nationality |
| --- | --- | --- | --- |

GEF Evaluation:

No

Key Stakeholders:
Recommendations
1

Prioritize support to addressing corruption risks to development. Develop an anti-corruption programme strategy that more explicitly links the UNDP anti-corruption approach to other development programming.

2

Address regional variations in anti-corruption support and prioritize support to regions that are underrepresented.

3

Consider prioritizing support to anti-corruption and governance risk assessments and measurements.

4

Increase support for local-level initiatives to strengthen demandside accountability, particularly concerning access to information and social accountability initiatives.

5

Further strengthen global and regional anti-corruption projects to support country programmes and enable UNDP to contribute to regional and global policy debates and advocacy. Global and regional projects should be used to develop key streams of programme support at the country level.

6

Enhance fund mobilization for anti-corruption support, championing select areas of anti-corruption and accountability initiatives.

7

Strengthen staff capacities at the global and regional levels to address the need for specialized policy and technical services for anti-corruption programming.
Management Response Documents