Midterm Evaluation - Poverty-Environment Initiative - Phase 2 (ESIA, IPD, and NERI)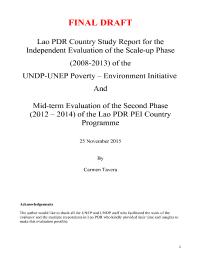 Evaluation Plan:

Evaluation Type:

Mid Term Project

Planned End Date:

11/2015

Completion Date:

11/2015

Status:

Completed

Management Response:

Yes

Evaluation Budget(US $):

5,000
Title
Midterm Evaluation - Poverty-Environment Initiative - Phase 2 (ESIA, IPD, and NERI)
Atlas Project Number:

00068327, 00068328 and 00068329

Evaluation Plan:
2012-2016, Lao
Evaluation Type:
Mid Term Project
Status:
Completed
Completion Date:
11/2015
Planned End Date:

11/2015

Management Response:
Yes

Focus Area

:
Corporate Outcome and Output (UNDP Strategic Plan 2014-2017)

1. Output 1.3. Solutions developed at national and sub-national levels for sustainable management of natural resources, ecosystem services, chemicals and waste
2. Output 7.6. Innovations enabled for development solutions, partnerships and other collaborative arrangements
3. Output 7.7 Mechanisms in place to generate and share knowledge about development solutions

SDG Goal

Goal 15. Protect, restore and promote sustainable use of terrestrial ecosystems, sustainably manage forests, combat desertification, and halt and reverse land degradation and halt biodiversity loss
Goal 16. Promote peaceful and inclusive societies for sustainable development, provide access to justice for all and build effective, accountable and inclusive institutions at all levels

SDG Target

15.9 By 2020, integrate ecosystem and biodiversity values into national and local planning, development processes, poverty reduction strategies and accounts
16.7 Ensure responsive, inclusive, participatory and representative decision-making at all levels

Evaluation Budget(US $):

5,000

Source of Funding:
UNDP/PEI Lao PDR
Joint Programme:
No
Joint Evaluation:

No

Evaluation Team members:

| Name | Title | Email | Nationality |
| --- | --- | --- | --- |

GEF Evaluation:

No

Key Stakeholders:
NERI, MPI for PEI Research; IPD, MPI for PEI Investment Management and DESIA, MONRE for PEI ESIA
Countries:

LAO PEOPLE'S DEMOCRATIC REPUBLIC

Comments:
The midterm evaluation is for the three projects of Poverty Environment Initiative. The field work of this midterm evaluation was done in October 2014 at the same time with the regional evaluation of PEI programme Phase I. The consultant was contracted by UNDP Laos to do the evaluation for PEI phase II of Lao. The report can only be ready in February.
Recommendations
1

Immediately pit in place a success strategy if the current PEI STA is leaving at the end of 2015 to avoid project implementation disruption at theis critaical stage and to secure a smooth transition to possible next phase.

2

Prioritise the finalisation and formal approval of all strategic developments and tools, in particular the national and provincial investment strategies and the investment compliance database. MPI managers should take the lead in ensuring that the required high-level consultations and endorsement of the national strategy takes place as soon as possible. MONRE managers should take the lead in ensuring the completion and formal adoption of all EIA/IEE technical tools.

3

Design a financial sustainability strategy for investment compliance monitoring under the leadership of IPD and with the involvement of the Ministry of Finance. In the absence of a predictable and adequate budget for regular investment monitoring centrally and in the provinces the likelihood of investors' compliance with national legislation and contractual requirements is low.

4

Provide support for the finalisation of a data sharing agreement between MoNRE (environment and social safeguards database) and IPD (investment compliance database). Clarify what information may be accessed by provincial authorities, other line ministries and by the general public. Provide support to ensure that the databases are populated with theinformationn collected through the monitoring processes and continue supporting joint monitoring efforts on the ground to ensure experience is gained and quality reports are proeduced, triggering actions or responses to ensure compliance. The proposed annual investment compliance report to the National Assembly would be very useful but in the absence of a database reporting system to reduce the burden of preparing such report it may not be feasible or sustainable. Ease of mandatory reporting is the most important incentive fore staff to mainatain the database. Adding geo-referencing capabilities to the database would be very useful.

5

Continue building the baseline on both the quality of EIA for agriculture projects and the quality of the EIA report by government. Completing this work is important to help assess whether the government's capacity to approve good EIA has increased.

6

Continue building the baseline information to assess changes/improvements on quality of investments and compliance. This involves continued support to build the capacities of NERI to conduct and disseminate high-quality policy-relevant economic research and analysis that considers social and environmental issues. The investment compliance database is a useful tool to access and manage data and information on investment but periodic in-depth analysis of cumulative impacts of investment in regions and sectors should be performed by NERI.

7

Given the exponential growth of contract farming and its impact on local communiteis and the local environment PEI may continue helping the government to moniotr its effects particularly on women and disadvantage groups.

8

Once the NIS is approved, assist the government to further identify and address conflicting mandates or gaps and prepare specific suggestions to revise the mandate of the entities involved up to the departmental level.

9

The 8th NSEDP is to be outcome oriented. Research supported by PEI under component 5 has provided evidence that FDI performance significantly affects the development outcome of the NSEDP. Ideally, there should be one or more indicators relevant to P-E to specifically track FDI performance in the NSEDP M&E framework. The data to track the indicator(s) would be part of the DESIA/DPI environmental and social safeguards and investment compliance databases; therefore, no additional data would need to be collected.

10

Intensify the delivery of training including by scaling up TOT in the pilot provinces and beyond. It was suggested that 3 regional hubs be created to expand the training effort. Co-financing and technical support from other development partners should be sought. A training strategy and detailed work plan should be developed and implemented if a PEI phase IIImaterialisee. A more robust method to assess the results of capacity building and trainng needs to be developed and implemented.

11

Strengthen ownership of tools and processes among a critical mass of staff at IPD. The ability to update and adapt the tools on the basis of experience or for consistent with new legislation is an important component of PEI's sustainability.

12

Adjust as appropriate the component related to green growth investment profiles in the provinces. Explore the possibility of securing UNEP's technical and financial support for this activity to meet national stakeholders' demand for increased knowledge on green growth investment opportunities in various sectors, technologies, patents and legal issues, access to credit, fiscal incentives, among others. As a short-term measure, if the GEF small Grants Programme (SGP) reinitiates operation in Laos PDR, assess the opportunity to align the SGP national strategy to pilot community green growth and sustainable livellihood initiatives and negotiate their possible co-financing with PIP or other resource avalaiable to the Provicne.

13

Expand the support to the NA for P-E mainstreaming and in particular assist the NA to implement third party verification of investment monitoring and compliance. This is a very promising avenue to improve te quality of investments and achieve high standards of investment management in Lao PDR.

14

Strategically use the development of the new UNDAF cycle to enlist other UN agencies to help achieve some of the P-E outcomes in the 8th NSEDP

15

Enhance communications, in particular dissemination of research results. The PEI Lao website requires an update to ensure all recent publications and communications materials are posted.

16

Make strategic use of the Programme Board, with more frequent and focused meetings to clear bottlenecks and address implementation challenges.

17

The work to upgrade the MPI website needs to be completed. This website is up but still having incomplete information on the investment process which may have a negative repercussion on potential investors's interest. English test editing is needed.

18

Develop an exit/sustainability strategy in parallel with the development of a subsequent Phase 3 (2016-2020). Such a strategy should clearly identify the key drivers that would lead to the desired impacts of the programme in Lao PDR. The development process of the new ProDoc needs to reassess whether the risk and assumptions identified in the Phase II Prodoc still hold. The RRF for the next Phase should commit IPD and DSEIA to specific targets in terms of quality investment and enforcement of investment agreements.

19

Describe in one document the entire set of processes and tools related to FDI management with a summary of their status and further action to ensure all processes are operational. It was difficult for the evaluator to have a full appreciation of progress and the effectiveness of the system being put in place in the absence of such document. The document would also be useful to share the LAO PDR experience with other countries. PEI's website, with the authorization of the Lao PDR Government, may include a section showcasing a selection of tools that may have broader applicability and enabling visitors to download the tools for use or modification.

20

Continue the work on corporate social responsibility. This is an important topic that would reinforce the work done on improving the quality of FDI. The main investors in the country are from neighbouring nations where few companies have probably been exposed to CSR approaches. UNDP and UNEP HQ and regional offices may be called upon to provide support.

21

The PEI modus operandi in Lao PDR offers a foundation to implement the new directives for UNDP programming at country level, breaking the silos and strengthening inter-disciplinary work to support the government address priority development challenges. This could inform the processes in other UNDP COs. At the same time PEI's implementation in Lao PDR offers a good example of how UNEP can deliver its services at country level in a more effective manner.

22

Improving FDI management performance in the entire region is important to avoid investors moving into countries where standards for investments and compliance are low. The PEI regional team should explore whether it can further expand its support in this field to other countries or Develop Strategic Partnerships ,with organisation in the region to address this transboundary aspect.

23

Explore how to take advantage of new opportunities emerging from the National Assembly strategic Support Project under the Governance Unit of UNDP to mainstream P-E in other aspects of the government agenda, for example, issues related to public participation, decentralisation, information disclosure, access to justice, including an effective system for presenting grievances and for redress in cases where there have been serious negative impacts on communities from private investments.

24

While consolidation is the priority, the next phase could explore addressing the "general business" investments managed by Ministry of Industry and Commerce because these could have a major impact. Currently there are no guidelines for these investments and contracts are almost non-existent.

25

Future evaluations of PEI in Lao PDR to interview national and foreign investors to consider the private sector perspective