Mid-term evaluation of the project Initial implementation of accelerated HCFC Phase Out in the CEIT Region PIMS 4309 FSP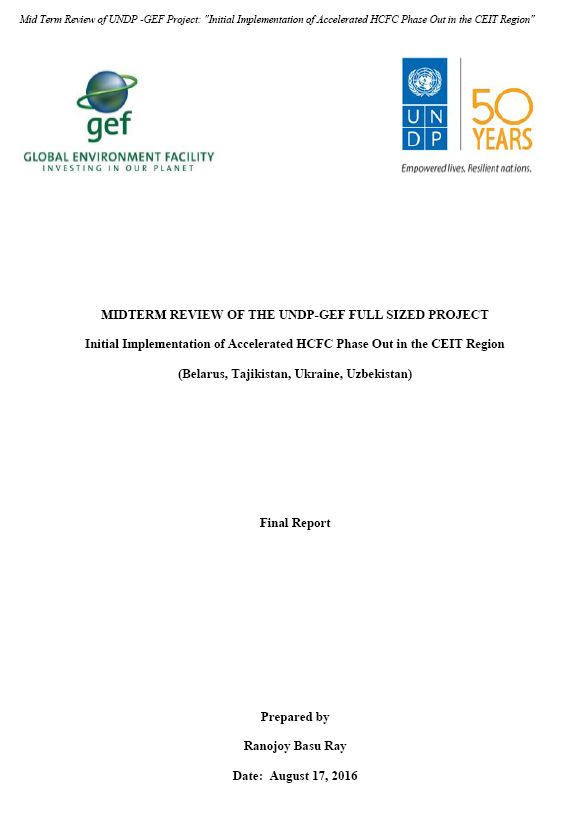 Evaluation Plan:

Evaluation Type:

Mid Term Project

Planned End Date:

03/2016

Completion Date:

08/2016

Status:

Completed

Management Response:

Yes

Evaluation Budget(US $):

60,000
Title
Mid-term evaluation of the project Initial implementation of accelerated HCFC Phase Out in the CEIT Region PIMS 4309 FSP
Atlas Project Number:

00066255

Evaluation Plan:
2014-2017, RBEC
Evaluation Type:
Mid Term Project
Status:
Completed
Completion Date:
08/2016
Planned End Date:

03/2016

Management Response:
Yes

Focus Area

:

1. Environment & Sustainable Development
2. Others

Corporate Outcome and Output (UNDP Strategic Plan 2014-2017)

1. Output 1.3. Solutions developed at national and sub-national levels for sustainable management of natural resources, ecosystem services, chemicals and waste

SDG Goal

Goal 12. Ensure sustainable consumption and production patterns
Goal 9. Build resilient infrastructure, promote inclusive and sustainable industrialization and foster innovation

SDG Target

12.2 By 2030, achieve the sustainable management and efficient use of natural resources
12.4 By 2020, achieve the environmentally sound management of chemicals and all wastes throughout their life cycle, in accordance with agreed international frameworks, and significantly reduce their release to air, water and soil in order to minimize their adverse impacts on human health and the environment
9.4 By 2030, upgrade infrastructure and retrofit industries to make them sustainable, with increased resource-use efficiency and greater adoption of clean and environmentally sound technologies and industrial processes, with all countries taking action in accordance with their respective capabilities

Evaluation Budget(US $):

60,000

Source of Funding:
GEF
Evaluation Expenditure(US $):

43,866

Joint Programme:
No
Joint Evaluation:

No

Evaluation Team members:

| Name | Title | Email | Nationality |
| --- | --- | --- | --- |
| Ranojoy Basu Ray | Evaluator | ranojoy.basuray@sympatico.ca | |

GEF Evaluation:

Yes

| | |
| --- | --- |
| GEF Project Title: | HCFC Phase Out in the CEIT Region PIMS 4309 FSP |
| Evaluation Type: | Mid-term Review |
| Focal Area: | Ozone Depleting Substances |
| Project Type: | FSP |
| GEF Phase: | GEF-4 |
| GEF Project ID: | |
| PIMS Number: | 4309 |

Key Stakeholders:
UNDP, GEF
Recommendations
1

General: The UNEP documents to be translated into Russian should be identified and work started as soon as possible, particularly the resources for RAC technical documents.

2

General: In Uzbekistan and Ukraine, UNDP and government need to come to some arrangement on how grant equipment procured under the project can be transferred without any financial repercussions to the beneficiaries.

3

General: Sustainability of training of technicians can become an issue once the project is over. The training institutions should develop and put in place plans to recover costs from future trainees.

4

General: In Tajikistan and Uzbekistan (if ODS destruction project funds are to be used for Demonstration projects), where the pilot retrofit/replacement incentive program studies are to be started the approach to take within the funding available should be completed quickly and some project(s) initiated.

5

Customs: Countries may want to consider discussing with Customs about ODS import documents being approved by NOU/responsible body of environment before Customs releases consignment. The data from each transaction can be entered into a database maintained by the environment body and reviewed regularly to see how a company is performing vis a vis it's annual quota.

6

Legislation/Regulations: Following Legislation/Regulations should be considered to be put in place:

a. Countries should consider bans on import of single use cylinders. In Belarus, legislation has been put in place to ban import of single use cylinders and it has come into effect from January 2016. A follow up should be maintained to ensure that importers are aware that their purchase orders for refrigerant include this requirement, particularly from Chinese suppliers.

b. All countries should implement a ban on equipment containing or working on ODS at the earliest possible to reduce the service tail for HCFCs.

c. Current regulations address ODS only when issuing operating licenses to companies.The regulation should be amended to include all refrigerants, since hydrocarbons, ammonia and other flammable refrigerants will/are coming into the market.

d. Regulations related to waste from production and use should be amended to include End of Life (EOL) equipment.

7

Follow Up: All countries are facing problems importing HCFC standards for their gas analysers. It is believed that Turkey has been able to develop a methodology for import of these standards. The information should be obtained and disseminated to all the partner countries.

8

Follow Up: In Belarus, close follow up should be maintained with MAZ-Kupava, the company which is implementing a foam project, to ensure that payments are made to the equipment supplier on time and the equipment is installed and commissioned before the end of the year.

9

Follow Up: The demonstration projects in all countries should be followed till completion and documentation made of the technical issues and resolutions and lessons learnt for wider dissemination nationally and with other countries in the region.

10

Follow Up: Maintain a follow up on the Recovery/Recycling centers to find out how they are operating and have them report on the quantities recovered and recycled on a quarterly/half yearly basis.