Evaluation finale du projet "Gestion durable de Corridor de Faune"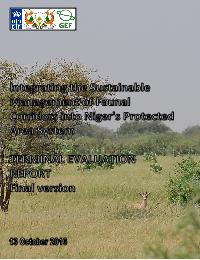 Evaluation Plan:

Evaluation Type:

Final Project

Planned End Date:

07/2016

Completion Date:

11/2016

Status:

Completed

Management Response:

Yes

Evaluation Budget(US $):

30,000
Title
Evaluation finale du projet "Gestion durable de Corridor de Faune"
Atlas Project Number:

00061202

Evaluation Plan:
2014-2018, Niger
Evaluation Type:
Final Project
Status:
Completed
Completion Date:
11/2016
Planned End Date:

07/2016

Management Response:
Yes

Focus Area

:

1. Environment & Sustainable Development
2. Others

Corporate Outcome and Output (UNDP Strategic Plan 2014-2017)

1. Output 1.3. Solutions developed at national and sub-national levels for sustainable management of natural resources, ecosystem services, chemicals and waste

SDG Goal

Goal 13. Take urgent action to combat climate change and its impacts

SDG Target

13.1 Strengthen resilience and adaptive capacity to climate-related hazards and natural disasters in all countries
13.3 Improve education, awareness-raising and human and institutional capacity on climate change mitigation, adaptation, impact reduction and early warning

Evaluation Budget(US $):

30,000

Source of Funding:
PNUD/GEF
Evaluation Expenditure(US $):

16,756

Joint Programme:
No
Joint Evaluation:

No

Evaluation Team members:

| Name | Title | Email | Nationality |
| --- | --- | --- | --- |
| Drs. Floris Deodatus | International Consultant, Protected area management expert | fd@fdeodatus.nl | |

GEF Evaluation:

Yes

| | |
| --- | --- |
| GEF Project Title: | Gestion durable de corridor de faune au Niger |
| Evaluation Type: | Terminal Evaluation |
| Focal Area: | Biodiversity |
| Project Type: | FSP |
| GEF Phase: | GEF-4 |
| GEF Project ID: | |
| PIMS Number: | 3943 |

Key Stakeholders:
PNUD/Gouvernement
Countries:

NIGER

Comments:

Evaluation finale du projet "Fauna Corridor"
Lessons
1.

The project design was mainly based on experiences from the Programme Antilopes Sahélo-Sahariennes (ASS) coordinated by NOÉ, IRSNB and CMS (section 3.1.7, page 26) which was funded by the Fonds Français pour l'Environnement Mondial (FFEM) through the French cooperation (AFD). This applies particularly to the approaches related ecological monitoring, antipoaching and co-management.
The generation of revenues is essential for the local support to conservation, therefore activities that benefit local populations needs to be promoted.
Involvement of local people in the collection of information on illegal activities appears effective as social networks of these people may be very valuable and they know the area well as well as the people using it.



Findings
1.

The Project Niger Corridor Faune is a highly relevant project for biodiversity conservation as it targets ecosystems of significant value with a number of very rare species threatened with extinction such as Addax, Dama gazelle and Cheetah. Threats to the area are increasing due to the spread of firearms related to insecurity issues in this part of Africa, oil exploitation, increasing pressure from livestock, and the expansion of agricultural land occupation in the south of the area.
The arid ecosystems of northern Africa have so far less benefited from conservation efforts as other ecological zones. Becoming aware of the biological value of the arid part of the country, the Government of Niger has recently decided to increase its conservation efforts here with support from conservation NGOs such as SCF and NOE. The initiatives have attracted some funding from donors such as EU, UNDP, GEF and AFD, and which was of great support to the current management team of the Protected Area Division which is well qualified and committed. However, the funding from Government and donors are as yet far from sufficient to cover the conservation costs of these vast inaccessible areas and it is still the question if the current efforts will be enough to save the animal species mentioned above from extinction.
The evaluation of PNFC should be considered in relation to other partner initiatives and project in the area, particularly those involving the development partners SCF and NOE and funded by various donors, activities which have been ongoing for a decade now. Significant achievements of the PNFC in this context have been so far: (i) the revision of the legislation; (ii) the introduction of the concept of ecological connectivity and corridors; (iii) the first steps in development of collaborative management of natural resources in the area; and the development of protection infrastructure in the area.
The main constraints were : (i) insufficient resources compared to the size of the area; (ii) insufficient mid-management staff with the right qualifications for community participation and ecological monitoring; and (iii) pressure on natural resources from other sectors, particularly agriculture, livestock and mineral resources.



Recommendations
1

The RNNTTT Management Unit is based in Tesker, while the Reserve Conservator is based in Zinder, about 300 km from the base; This configuration does not allow effective management of the protected area. Generally, the staff assigned for the positions of monitoring and community development are young and have insufficient experience yet to work independently. The living conditions of this base are rather precarious.

The main corrective action to be taken which could have significant impact on the final result is a replacement of part of the management team of RNNTTT, including the conservator, and the experts for ecological monitoring and community development.

The living conditions at this base needs to be enhanced by providing furniture, satellite TV and sufficient accommodation facilities to create a motivating environment for the staff.

2

The results of monitoring and ecological monitoring activities stored in the project database are not always available to partners and donors.

The communication of the results from monitoring activities stored in a data base need attention and should be presented in an accessible way to the stakeholders and donors in the form of a report/publication and on the website. A reflective exercise on the specific indicators of the ecological monitoring system would be useful.

3

The ecological monitoring and monitoring system has weaknesses as the eco-guards recruited by the PNCF project have not been equipped with smartphones and GPS.

To introduce and implement a proper monitoring/reporting system for Eco-guards, including the provision and use of satellite telephone and GPS.

4

The project's current communication strategy focuses exclusively on environmental education.

Development of a communication strategy supporting directly conservation objectives and targeting crucial audiences such as military, local authorities and pastoralists, in addition to the current strategy which particularly focusses on environmental education.

5

The protocols of agreement on congestion of natural resources have been signed but are still not implemented.

To proceed the development of co-management with technical assistance support. It would not be wise to interrupt the current process and therefore it should be considered to continue developing this aspect under other current projects, or alternatively, under funding which can be readily mobilized.

6

The corridor management plan is not developed, which is a weakness because it is the only framework defining the stakeholders, resource users, spatial organization of the use of natural resources.

To elaborate a management plan for the corridor area defining stakeholders, resource users, spatial organization of natural resource utilization and collaborative monitoring;

7

The budget allocated each year by the State for the management of the protected areas is 100 000 000 FCFA which does not seem sufficient to ensure an effective surveillance.

The Government should give high priority to the allocation of sustained budget for field operations, including fuel and maintenance of cars, as well as payment of fees/salaries to eco-guards.