Terminal Evaluation: Implementing the Nagoya Protocol on Access to Genetic Resources and Benefit Sharing in Bhutan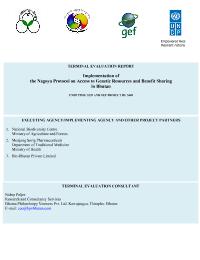 Evaluation Plan:

Evaluation Type:

Final Project

Planned End Date:

02/2019

Completion Date:

04/2019

Status:

Completed

Management Response:

Yes

Evaluation Budget(US $):

25,000
Title
Terminal Evaluation: Implementing the Nagoya Protocol on Access to Genetic Resources and Benefit Sharing in Bhutan
Atlas Project Number:

00075692

Evaluation Plan:
2014-2018, Bhutan
Evaluation Type:
Final Project
Status:
Completed
Completion Date:
04/2019
Planned End Date:

02/2019

Management Response:
Yes
Corporate Outcome and Output (UNDP Strategic Plan 2018-2021)

1. Output 1.1.1 Capacities developed across the whole of government to integrate the 2030 Agenda, the Paris Agreement and other international agreements in development plans and budgets, and to analyse progress towards the SDGs, using innovative and data-driven solutions
2. Output 1.1.2 Marginalised groups, particularly the poor, women, people with disabilities and displaced are empowered to gain universal access to basic services and financial and non-financial assets to build productive capacities and benefit from sustainable livelihoods and jobs
3. Output 1.2.1 Capacities at national and sub-national levels strengthened to promote inclusive local economic development and deliver basic services including HIV and related services
4. Output 2.1.2 Capacities developed for progressive expansion of inclusive social protection systems

Evaluation Budget(US $):

25,000

Source of Funding:
GEF
Evaluation Expenditure(US $):

7,877

Joint Programme:
No
Joint Evaluation:

No

Evaluation Team members:

| Name | Title | Email | Nationality |
| --- | --- | --- | --- |
| Nidup Pejor | Consultant | ceo@bpv.com | |

GEF Evaluation:

Yes

| | |
| --- | --- |
| GEF Project Title: | Implementing the Nagoya Protocol on Access to Genetic Resources and Benefit Sharing in Bhutan |
| Evaluation Type: | Terminal Evaluation |
| Focal Area: | Biodiversity |
| Project Type: | FSP |
| GEF Phase: | GEF-5 |
| GEF Project ID: | 5448 |
| PIMS Number: | 5239 |

Key Stakeholders:
National Biodiversity Centre, Ministry of Agriculture and Forests
Countries:

BHUTAN

Comments:

Planned End date has been moved to end of February 2019 as the final report completion and management response is likely to take longer than expected.
Recommendations
1

It is recommended to commission an economic analysis of the commercial aspects of the project outputs to provide costs involved, pricing, sales and profitability of the commercial products and shed light in the appropriateness of the benefit sharing proportions defined in the pilot ABS agreements and how soon or late actual benefits would practically arise.

2

It is recommended to carry out documentation of lessons learnt in the upscaling implementation process to advice on upscaling.

3

It is recommended that the communication and awareness materials as well as the report on experiences of pilot ABS may be made available online through the website of NBC to continue the good effort that the project has made in creating awareness and to promote bioprospecting.

4

It is recommended to pursue the consideration of the Biodiversity Bill by the Parliament at the earliest. However, due to the change in the Parliament, it is suggested that awareness and sensitization of Parliamentarians on ABS and on the bill be conducted prior to submitting the bill to the parliament. This recommendation is made to ensure understanding of the bill in the right context before it is passed or is subjected to further delays. Hence, it may not be submitted to the first session of the 3rd Parliament.
Management Response Documents