Terminal Evaluation: Joint UNDP-UNEP Poverty-Environment Initiative 2013-2017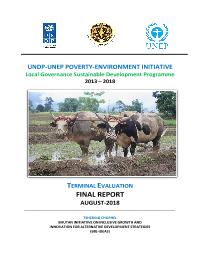 Evaluation Plan:

Evaluation Type:

Final Project

Planned End Date:

02/2019

Completion Date:

01/2020

Status:

Completed

Management Response:

Yes

Evaluation Budget(US $):

10,000
Title
Terminal Evaluation: Joint UNDP-UNEP Poverty-Environment Initiative 2013-2017
Atlas Project Number:

00075132

Evaluation Plan:
2014-2018, Bhutan
Evaluation Type:
Final Project
Status:
Completed
Completion Date:
01/2020
Planned End Date:

02/2019

Management Response:
Yes

Focus Area

:
Corporate Outcome and Output (UNDP Strategic Plan 2018-2021)

1. Output 1.1.1 Capacities developed across the whole of government to integrate the 2030 Agenda, the Paris Agreement and other international agreements in development plans and budgets, and to analyse progress towards the SDGs, using innovative and data-driven solutions
2. Output 1.1.2 Marginalised groups, particularly the poor, women, people with disabilities and displaced are empowered to gain universal access to basic services and financial and non-financial assets to build productive capacities and benefit from sustainable livelihoods and jobs
3. Output 1.3.1 National capacities and evidence-based assessment and planning tools enable gender-responsive and risk-informed development investments, including for response to and recovery from crisis
4. Output 1.4.1 Solutions scaled up for sustainable management of natural resources, including sustainable commodities and green and inclusive value chains

SDG Goal

Goal 17. Strengthen the means of implementation and revitalize the Global Partnership for Sustainable Development

SDG Target

17.16 Enhance the Global Partnership for Sustainable Development, complemented by multi-stakeholder partnerships that mobilize and share knowledge, expertise, technology and financial resources, to support the achievement of the Sustainable Development Goals in all countries, in particular developing countries
17.18 By 2020, enhance capacity-building support to developing countries, including for least developed countries and small island developing States, to increase significantly the availability of high-quality, timely and reliable data disaggregated by income, gender, age, race, ethnicity, migratory status, disability, geographic location and other characteristics relevant in national contexts
17.9 Enhance international support for implementing effective and targeted capacity-building in developing countries to support national plans to implement all the Sustainable Development Goals, including through North-South, South-South and triangular cooperation

Evaluation Budget(US $):

10,000

Source of Funding:
UNDP-UNEP
Evaluation Expenditure(US $):

5,604

Joint Programme:
No
Joint Evaluation:

No

Evaluation Team members:

| Name | Title | Nationality |
| --- | --- | --- |
| TSHERING CHOPHEL | | |

GEF Evaluation:

No

Key Stakeholders:
Department of Local Governance/MOHCA and local governments
Countries:

BHUTAN

Comments:

The budget for evaluation has been reduced from USD 25,000 to USD 10,000 based on the need assessment.
Recommendations
1

PEI to take a programmatic approach and strengthen focus on a result-oriented activities. For example, integrating P-E linkages into the 12 Five-Year Plans of LGs by reviewing the draft 12 Five-Year plans of 20 Dzongkhags from GECDP lens would be a good support area. While 12th FYP guideline requires GECDP mainstreaming of the Plan, there is no specific framework or processes to implement this guideline.

2

Make use of PEI tools consistent and sustainable by developing practical tools along with reference materials or manuals. Periodic sensitization and orientation on these tools would be critical to help sustain capacity building of different sectors.

3

Reinstitute policy guidelines and practice of carrying out periodic PEER/CPEIR and GRBP with clear description of GECDP components from the planning stages and tagging green budget codes in the budget and accounting system. PEI or GECDP mainstreaming processes should be clearly linked and integrated within the National Monitoring and Evaluation System (NMES) to make it a real-time information for effective planning and budgeting.

4

Revival of central MRG is deemed critical, to maintain consistency in providing coordination, guidance and technical support to local MRGs' activities. Central MRG can be revived by either restoring existing members with improved coordination mechanism, identifying new members from relevant agencies and supporting with their capacity-building, or mandating PPD's as mainstreaming agencies with PPD Heads as MRG members. Outsourcing or partnering with a training institute is also an option.

5

Stakeholders' consultation at the local level pointed out that effective monitoring and reporting system would help maintain consistency and momentum of GECDP mainstreaming. Local MRG works are not governed by any requirement to make periodic reporting of the progress or share their experiences, lessons learned and challenges. A rapid assessment of the activities implemented and results produced would have help in replicating the best practices or improving the future activities. Stakeholders submitted that a clear guideline on periodic reporting system with rapid assessment of the progress and results of local MRG activities would help maintain consistency and momentum of GECDP mainstreaming at the local level

6

Implement recommendations from the fiscal decentralisation study and build support around the ecotourism project to complement the project activities on pro-poor growth and environment conservation. Likewise, support to implement recommended action-plans from SEA should be pursued.