Sound Management of POPs containing waste in Mexico (EvMT)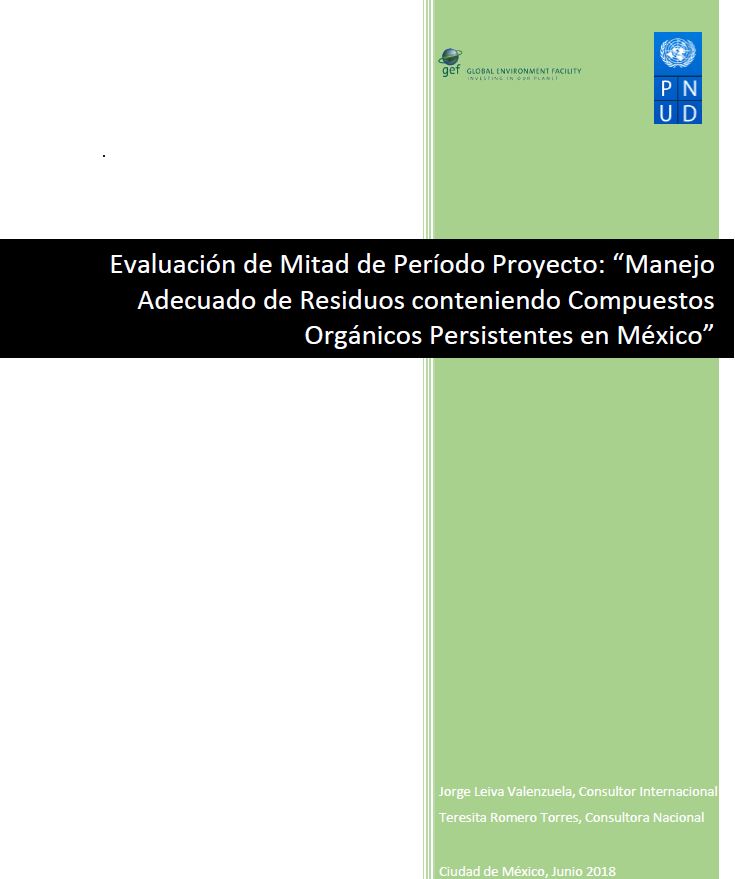 Evaluation Plan:

Evaluation Type:

Mid Term Project

Planned End Date:

04/2019

Completion Date:

07/2019

Status:

Completed

Management Response:

Yes

Evaluation Budget(US $):

20,000
Title
Sound Management of POPs containing waste in Mexico (EvMT)
Atlas Project Number:

00084929

Evaluation Plan:
2014-2020, Mexico
Evaluation Type:
Mid Term Project
Status:
Completed
Completion Date:
07/2019
Planned End Date:

04/2019

Management Response:
Yes

UNDP Signature Solution

:
Corporate Outcome and Output (UNDP Strategic Plan 2018-2021)

1. Output 2.1.1 Low emission and climate resilient objectives addressed in national, sub-national and sectoral development plans and policies to promote economic diversification and green growth

SDG Goal

Goal 12. Ensure sustainable consumption and production patterns
Goal 9. Build resilient infrastructure, promote inclusive and sustainable industrialization and foster innovation

SDG Target

12.5 By 2030, substantially reduce waste generation through prevention, reduction, recycling and reuse
12.8 By 2030, ensure that people everywhere have the relevant information and awareness for sustainable development and lifestyles in harmony with nature
9.3 Increase the access of small-scale industrial and other enterprises, in particular in developing countries, to financial services, including affordable credit, and their integration into value chains and markets

Evaluation Budget(US $):

20,000

Source of Funding:
Evaluation Expenditure(US $):

32,400

Joint Programme:
No
Joint Evaluation:

No

Evaluation Team members:

| Name | Title | Email | Nationality |
| --- | --- | --- | --- |
| Jorge Leiva | Evaluador | jleiva@greenlaneconsultores.com | |
| Teresa Romero | Evaluador | t.romero23@gmail.com | MEXICO |
| Jorge Leiva Valenzuela | International consultant | jleiva@greenlaneconsultores.com | ECUADOR |
| Teresa Romero | National consultant | t.romero23@gmail.com | MEXICO |

GEF Evaluation:

Yes

| | |
| --- | --- |
| GEF Project Title: | Sound Management of POPs Containing Waste |
| Evaluation Type: | Mid-term Review |
| Focal Area: | Persistent Organic Pollutants |
| Project Type: | FSP |
| GEF Phase: | GEF-5 |
| GEF Project ID: | 5179 |
| PIMS Number: | 4686 |

Key Stakeholders:
Countries:

MEXICO
Recommendations
1

1. Extend the project an additional year and stop ongoing and scheduled activities

2

2. It will take 1-2 months to understand the logic and plan project focus and organization. It is desirable to hire the project designer as a consultant (1-2 weeks) to explain exactly the objectives, scope, activities, etc., to the Project Coordination Unit. The project designer may have a role as an external project advisor.

3

Reorganize PCU to have a Project Coordinator and two Thematic Specialists, one for pesticides and the other for E-waste. These specialists should be under the supervision of the Project Coordinator and may organize and coordinate related aspects to their expertise and according to specific Terms of Reference. The Project Coordinator should have an extensive and recognized experience in the waste field and will have to coordinate large-scale projects, along with a great capacity to communicate and interact with high-level authorities. Thematic Specialists should be recognized as experts in their respective fields (pesticides and E-waste).

4

Include local coordinators in the pilot states, which should have an effective dialogue with state and municipal authorities, as well as an effective interaction with local and private stakeholders (electronic and recycling and reuse companies, farmers' organizations, etc.).

5

Reorganize project national technical committees: define formal work agendas, which should be clear in desired objectives, activities, and deadlines. Moreover, define stakeholder roles and the scope and attributions of these committees (e.g. carry out specific TORs consultations, review partial reports and collaborate to ensure outputs quality, etc.).

6

Consider technical committees' establishment at state/local level, which should have the same logic as the national committees aforementioned.

7

A mission of Panama UNDP's Regional office in Mexico would be very positive. UNDP Mexico and the Regional office should explain the objectives, main project outputs and outcomes to new federal and state authorities at the highest possible level.

8

Give urgency to activities/products that lead to POPs elimination/reduction, such as pilot demonstration projects in the formal recycling sector, state management plans, and disposal of 96 tons of pesticides identified (as a progress sign).

9

Assess the convenience of retaking the TV recovery plan derived from the analog switch-off, once the legal resolution against the federal government is resolved during the project implementation time, and electronic waste can be mobilized.

10

Carry out a technical evaluation of the project's main outputs, (for example, inventories and management plans for E-waste and pesticides) considering the Prodoc, and proposed reorganization for PCU. Plan adjustments to the already work to focus on the project main approach: POPs in WEEE and pesticides, their good management and disposal/elimination, good practices adoption and lessons learned).

11

Consider the project output strategy elaboration at least 1 year before its completion.

Develop and design a project gender strategy immediately.

12

Begin a strategy replication development during the last year of the Project

13

Establish a simpler M&E system focused on achieving results rather than develop activities, with field visits plan, ad-hoc indicators, internal reports, and consultancies follow-up

14

Improve the AOP through supporting documents development that clearly explain the strategies to address different project outcomes and outputs, established priorities and relative importance of each output and activity, as well as establishing their logical sequence for each one.

15

Implement a reporting system for co-financing contributions from the different institutions. It is suggested to generate a similar system that the one implemented by the UNDP-Uruguay project "Environmental Sound Life-Cycle Management of Mercury-Containing Products and their Wastes".