RBA Regional Programme Midterm Review/Evaluation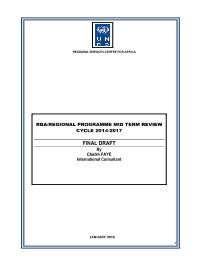 Evaluation Plan:

Evaluation Type:

Others

Planned End Date:

03/2016

Completion Date:

01/2016

Status:

Completed

Management Response:

Yes

Evaluation Budget(US $):

150,000
Title
RBA Regional Programme Midterm Review/Evaluation
Atlas Project Number:
Evaluation Plan:
2014-2017, RBA
Evaluation Type:
Others
Status:
Completed
Completion Date:
01/2016
Planned End Date:

03/2016

Management Response:
Yes

Focus Area

:
Corporate Outcome and Output (UNDP Strategic Plan 2018-2021)

1. Output 1.1. National and sub-national systems and institutions enabled to achieve structural transformation of productive capacities that are sustainable and employment - and livelihoods- intensive
2. Output 2.1. Parliaments, constitution making bodies and electoral institutions enabled to perform core functions for improved accountability, participation and representation, including for peaceful transitions
3. Output 2.2. Institutions and systems enabled to address awareness, prevention and enforcement of anti-corruption measures across sectors and stakeholders
4. Output 4.1. Country led measures accelerated to advance women's economic empowerment
5. Output 4.3. Evidence-informed national strategies and partnerships to advance gender equality and women's empowerment
6. Output 4.4. Measures in place to increase women's participation in decision-making
7. Output 5.2. Effective institutional, legislative and policy frameworks in place to enhance the implementation of disaster and climate risk management measures at national and sub-national levels
8. Output 5.3. Gender responsive disaster and climate risk management is integrated in the development planning and budgetary frameworks of key sectors (e.g. water, agriculture, health and education)
9. Output 5.5. Policy frameworks and institutional mechanisms enabled at the national and sub-national levels for the peaceful management of emerging and recurring conflicts and tensions
10. Output 7.1. Global consensus on completion of MDGs and the post 2015 agenda informed by contributions from UNDP
11. Output 7.3. National development plans to address poverty and inequality are sustainable and risk resilient
12. Output 7.4. Countries enabled to gain equitable access to, and manage, ODA and other sources of global development financing
13. Output 7.5 South-South and Triangular cooperation partnerships established and/or strengthened for development solutions
14. Output 7.7 Mechanisms in place to generate and share knowledge about development solutions

Evaluation Budget(US $):

150,000

Source of Funding:
Regional Programme
Evaluation Expenditure(US $):

30,000

Joint Programme:
No
Joint Evaluation:

No

Evaluation Team members:

| Name | Title | Nationality |
| --- | --- | --- |
| Check Faye | International Consultant | SENEGAL |

GEF Evaluation:

No

Key Stakeholders:
Comments:
This is a formative evaluation of the entire Regional Programme.
Lessons
1.

The Regional Programme has very high relevance in an African context where regional bodies in need of support are operating.

Africa is fortunate to have a major continental organization, which can furthermore be supported by sub-regional entities. These bodies are in charge of managing issues of common interest for their member states. To be efficiently handled, many matters, such as peace and security and other critical development issues, have to be considered regionally. In addition, this valuable institutional ground across the continent has very weak means and shows low capacity level. The Regional Programme has therefore a major niche to insert in, providing highly needed support to regional institutions to deal with issues prevailing at regional level.



2.

The programme is also, for UNDP, a great opportunity to position or reinforce its visibility on emerging and other key issues in the continent.

The work done on social protection resulted into a decision issued by the African Union Executive Board committed to giving the issue due position in the African development priorities. By doing so, AU recognizes also UNDP as a key regional actor on social protection policies. The same is happening about the key issue of extremism and radicalization, emerging priorities on which UNDP can build know-how and reputation. Through the programme, UNDP has also managed to consolidate its positioning on more classic area such as gender. With the UN Women and UN Economic Commission for Africa (UNECA) being part of the context, it was difficult for UNDP's voice to be well heard on gender issue. The AUC gender-based project, and its high level anchoring to the Cabinet of the AUC President, helped a lot in this regard.



3.

But the sudden lack of resources, without any institutional communication on such unexpected constraints, tends to weaken UNDP image in the continent.

The programme managed to build strong and valuable relationships between UNDP and the continent at regional and sub-regional level, based on the awareness that there are critical issues that are best tackled at those levels. But the internal context of UNDP, at corporate level, could impair these advantages. UNDP restructuring impacted on the programme cuts in budget and staff, which resulted into putting on hold or slowing down some outputs African partners were expecting. The problem is not so much about UNDP internal context, but the absence of proactive communication towards the recipients. The programme should benefit from providing feedback to African partners on any adjustments or constraints experienced in the programme, to prevent speculations and frustrations.



4.

The programme demonstrates that creativity can overcome tough constraints, namely budget-related constraints.


The programme really tries to overcome its financial constraints. A resource mobilization strategy is available and being implemented. It is informed by a mapping of donors and types of resources potentially available to Africa. Five round tables have been performed with donors, and followed up as well. The marketing of the programme is being renewed. The programme content is being translated into specific thematic project documents. Donors are approached with those much focused on investment frameworks, taking into account what they are interested in as thematic resources providers. Such approach begins to generate quite good results, in terms of donors funding the programme or expressing interest to do so: private sector is already funded while extremism and radicalization, migration, social protection, are on the verge.



Findings
1.

Relevance: The programme is overall relevant. It is well aligned on both the AU 2063 agenda and the Millennium Development Goals (MDG) and Sustainable Development Goals (SDG) priorities. It is also consistent with the UNDP Strategic Plan. The programme has also strong institutional relevance. The specific support it provides is perceived by recipients as fairly suitable to their needs. Only the logical framework is subject to relevance questioning. The way the outcomes are formulated, except outcome 4, is inadequate compared to what one single programme can achieve. Considering the first outcome, for instance, it is obvious that the regional programme cannot alone be held accountable for making "African growth inclusive and sustainable." Rather than being textually copied from the UND/SP, the outcomes of the programme should have been reformulated to fit in with the expectations of a single programme working at institutional level.



2.

Effectiveness: The programme managed to deliver key outputs, despite the lack of time and resources. The resources are less than what was planned in the Prodoc. From an initial budget of 106 million USD, only less than 20 million USD were available. Time was not enough either. As 2014 was a restructuration period, most of the projects effectively started in 2015. Taking into consideration this specific context, what was delivered stands as follow: Institutional bodies or mechanisms have been set up or enhanced: APRM's leadership was renewed; A Country Human Right commission was anchored to the African Human Right commission for better coordination both at regional and national levels; Member states of regional economic communities – Economic Community of Central African States (ECCAS) and West African Economic and Monetary Union (WAEMU) are reinforced and supported in the ownership of their regional fiscal and budgetary provisions.
Policies documents and frameworks have been produced in critical development areas: Private sector development strategy; Social protection policy papers; Peace-security strategy for the Great Lakes region; African negotiators to the Conference of Parties (COP21) supported in elaborating a participative paper; regional climate change and resilience strategies built at sub-regional level; regional policy document on extractives resources produced; sustainable energy policy or mechanism finalized. Key development issues have been investigated through studies, workshops and research networking: SDG, social protection, extremism and radicalization, sustainable energy, private sector, innovative funding, gender mainstreaming, etc.



3.

Efficiency/value for money: The programme has experienced significant cuts in its operating costs, that is the overall resources consumed in delivering outputs. Except the coordinator, there is no staff specifically and exclusively dedicated to the programme. Moreover, the clusters responsible for implementing the programme activities have seen their staff significantly reduced by UNDP restructuration. Thus, the RP could have enhanced its efficiency in terms of cost-benefit analysis. But this important budget adjustment has also hampered its ability to deliver outputs: planned outputs have not been delivered, while others are delivered without being completed. Nevetheless, the programme is still being creative enough to mitigate the side effects of this budgetary context: it manages to articulate some of its thematic issues to specific marketable projects. Donors start showing interest in supporting these projects: private sector, extremism and radicalization, migration, domestication, social protection, etc. This trend, which is evidence of programme's flexibility and creativity, could help to reduce its budgetary constraints.



4.

Sustainability: As the programme is under direct implementation, all conditions are secured for strong deliveries, which is a key prerequisite to any sustainability. Stakeholders met at the review of the African Union Commission reported that what their organization and sub-regional bodies were getting from UNDP, while insufficient in quantity, was of high quality. This opinion is corroborated by the fact that the programme's outputs are regularly endorsed by the beneficiaries who take action on this basis. However, even if the institutional gains from the programme are rooted on valuable outputs, maintaining them in the very long term requires good ownership as well. This issue of partnership is still questionable, due to evident lack of capacities on the African organizations' side.



Recommendations
1

Maintain the Regional Programme as it addresses the needs for intervention beyond the country level

The relevance of the programme in the African context is unquestionable. There is a well-furnished landscape of regional entities that are politically strong and willing to rely on their member states to impulse a development originating from the African Union and more broadly from the international community. These bodies need institutional support to strengthen their abilities. The programme should be maintained in this niche and preserved to complement what the country offices of UNDP are doing at country level. Some issues are to be addressed at local level, while others need to be inserted in a cross-border approach.

2

Proceed with flexibility and with an approach on resources mobilization

While maintaining the programme, it is needed to strengthen its flexibility and capabilities in resources mobilization. Its survival is at this price. Flexibility enables the programme to regularly adjust to the context, by focusing on specific issues that are topical in Africa and meaningful to donors. Mobilizing external resources offers a sustainable alternative to the continued decline of UNDP core funding.

3

Revise the programme portfolio and focus on limited key areas

The programme doesn't have enough time and resource to deliver what it was initially committed to deliver. 2014 was almost lost due to the restructuring going on. The start of the programme in 2015 unfortunately coincided with the introduction of budget cuts. Thus, for the remaining 2 years, with only one third available out of the initially planned budget, it is obvious that original targets cannot be met anymore. Therefore, there is strong need to adjust the programme and centre it on key issues adaptable to the priorities of the African context and marketable to the donors.

4

Enhance the communication and information sharing with stakeholders