Mid-Term Evaluation for the Energy, Environment & Natural Resource Management (EENRM) Cluster in Sierra Leone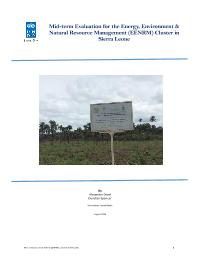 Evaluation Plan:

Evaluation Type:

Outcome

Planned End Date:

05/2018

Completion Date:

09/2018

Status:

Completed

Management Response:

Yes

Evaluation Budget(US $):

16,462
Title
Mid-Term Evaluation for the Energy, Environment & Natural Resource Management (EENRM) Cluster in Sierra Leone
Atlas Project Number:

00042426

Evaluation Plan:
2015-2019, Sierra Leone
Evaluation Type:
Outcome
Status:
Completed
Completion Date:
09/2018
Planned End Date:

05/2018

Management Response:
Yes
Corporate Outcome and Output (UNDP Strategic Plan 2018-2021)

1. Output 1.4.1 Solutions scaled up for sustainable management of natural resources, including sustainable commodities and green and inclusive value chains
2. Output 2.1.1 Low emission and climate resilient objectives addressed in national, sub-national and sectoral development plans and policies to promote economic diversification and green growth

Evaluation Budget(US $):

16,462

Source of Funding:
M&E Plan
Evaluation Expenditure(US $):

16,462

Joint Programme:
No
Joint Evaluation:

Yes

Evaluation Team members:

| Name | Title | Email | Nationality |
| --- | --- | --- | --- |
| Alexandre | Diouf | alexdiouf@hotmail.com | |
| Dunstan | Spencer | | |

GEF Evaluation:

No

Key Stakeholders:
EPA, DMD, GEF, EPA, NPAA, DMD, ONS, MLCPE, MMMR
Countries:

SIERRA LEONE

Comments:

An outcome evalution in 2018 would enable the assessment of progress made towards achieving the targets as outlined in the CPD and provide constructive feedback to inform further interventions.

This Evaluation has been changed to a Mid-Term Evaluation since the project is still on-going.
Lessons
1.

Lesson 1: Importance of community mobilisation and buy-in

Social mobilisation, although a gruelling process, has been instrumental in the smooth running of operations in in the woodlots project. A lot of time was spent in mobilising and informing residents about their roles in the project before actual implementation began. This is not a one-off activity as had been envisaged but is a continuous process throughout the project cycle. As such, when budgeting this should be considered. Second, it is important to fully include community members at all levels of project implementation. The full participation of public institutions in project implementation has allowed them to be fully aware of all the project components and performance. With beneficiary communities, however, limited participation in implementation has not allowed them to be fully aware ofall projects aspects.

Lesson 2: Importance of a good community structure, joint planning, and an effctive communication strategy

A good community organisation structure is a major boost to successful community project implementation, especially when it puts community members at the core. Such a structure gives mandate and legitimacy to a group to represent residents. In the EENRM projects, such structures have not been put in place. This creates a problem when information is to be passed on to the community or formal negotiations are to be held regarding the implementation of the projects.

Lesson 3: Public and community contribution is key component in project sustainability

Where communities are contributing labour and even monies to pay for initial or running costs, there is a greater sense of ownership and responsibility. The projects that are promoted by UNDP–SL EENRM request beneficiary communities to provide limited resources that can help in the sustainability. In contrast, the support to public institutions does not request government participation, which does not promote ownership and can weaken the sustainability of the projects. It is important to request government financial participation in all the projects that aim to support government actions or provide services.

Lesson 4: Streamlining gender issues in project design, implementation, and M&E Gender issues must be addressed in project planning, implementation, and monitoring.

To do this, EENRM should provide gender analysis training to its staff. This will provide the tools staff need to be able to analyse the effects of gender on project planning and implementation, and take mitigation measures to reduce or eliminate negative outcomes. Gender will be taken into account through the design of appropriate M&E tools that allow for sex-disaggregated data. EENRM and partners will then be able to monitor the effects of project activities on women's workload to ensure that the project is reducing rather than adding to it. By increasing gender awareness, EENRM will be able to take mitigation measures using appropriate means such as discussions with implementing partners, community leaders, and IEC campaigns.

Lesson 5: The compliance assessment can be a starting point to build partners' capacity and assess its importance UNDP has conducted a partner assessment for all the public institutions it is planning to work with. The assessment was part of the compliance assessment process that is required before funds can be transferred to them for project implementation. The assessment made clear that when strengths and weaknesses are known and expectations and visions are shared, both UNDP and partners can grow in the programme and become more effective. The option to let several directorate and ministries lead the implementation of some of the EENRM activities is a direct result of the partner capacity assessment that has been done.

Lesson 6: Comprehensive M&E systems are needed for programme implementation and performance measurement
During the MTE it became clear that EENRM projects do not have adequate M&E systems in place. The situation of projects that have received external funds was nonetheless better because they had an M&E section in their proposals. EENRM has invested little into putting in place adequate M&E systems for its projects. Given the multiplicity of the activities undertaken, an M&E system must be in place either for each project or at cluster level. Failure to have such a system will likely lead to a misinterpretation of the change brought about by the projects and result in inadequate use of resources.

Lesson 7: The need for careful selection of project performance indicators and targets during the design
Although some of the projects have log frames, they are struggling to use the performance indicators that were selected during the design. Not only are those indicators difficult to measure, e.g the level of green house gas emission, but there is also no methodology that was shared to teach project actors how to measure and report them. In most cases, the projects are using a new set of indicators that look easier to measure or they are only monitoring output delivery. Selecting an appropriate set of indicators that would truly measure project performance during implementation, and are measurable using planned project resources, is necessary.

Lesson 8: With the right system, projects can be appropriately implemented using government staff
The projects are using some government staff during implementation. This arrangement seems to be working very well across the board. We can thus report that the use of government staff in project implementation can help to increase project efficiency and sustainability since it reduces costs and helps to build local capacity.

Lesson 9: The extent to which UNDP EENRM projects streamline accountability principles, depends on the origin of their funding
Defining projects' theory of change is important for accountability purposes and is a critical part of the monitoring and evaluation system. EENRM projects that are funded with internal resources never get a detailed description of their ToC, while those that have been funded with external funds always describe their theory of change and identify the outcomes they want to achieve. Pushing for more utilization of external funding will likely result in more accountability from EENRM and the ministry of mines has, for example, welcome the establishment of a library that facilitates access to mining information for all actors. EENRM has established that library within the ministry.



Findings
Recommendations
1

Irrespective of the source of the funding, UNDP–SL EENRM should ensure that all interventions are linked to a strategic direction and have a clear background analysis, including a omprehensive gender analysis. EENRM should also ensure that its projects are environmentally sound and put in place adequate measures for participation of marginalised/vulnerable people.


2

It is important for all the projects implemented with support from UNDP–SL EENRM that a comprehensive M&E system be put in place in order to follow project performance and allow adequate, timely decisions to be made. M&E systems start with the establishment of a good ToC and results framework for each project. The second step is to identify good performance indicators with associated baseline and target values.


3

The financial participation of either the government (when it comes to support provided to public institutions) or communities (when it comes to projects that are directly implemented at community level) should be integrated as a key strategy to ensure participants' buy-in and project sustainability.


4

Pilot projects are meant to demonstrate a concept or build a body of evidence that can be used to advocate for more support or attract interest from external actors. EENRM has a number of those projects. It should rethink the strategies around them and develop an additional set of activities for their scale-up.


5

The option to subsidise the improved cookstoves in the current GEF project will certainly increase the number of households who will purchase them. After the project ends, the private sector actor will no longer be able to offer the stoves at the subsidised price; this may bring the situation back to what it was before the project. We recommend that EENRM work with financial service providers during implementation to put in place an adequate financial product that poor households will be able to use in order to continue to have access to those cookstoves.

6

The most important objective of a pilot project is not its implementation per se but the quantity and depth of information it generates. Therefore, it is important that all pilot projects build in a good knowledge management protocol attached to its M&E system. UNDP–SL EENRM should ensure that the results from the pilot projects are published and shared among project staff as well as partner communities and institutions to inform future programme decisions.

7

UNDP participation in good governance starts with the compliance assessment that has been done on the public partners. As the projects are developed and implemented, responsibilities should be given to the public partners based on their behaviour with the management of the resources and their adherence to the principles of good governance. That should be continued.

8

It is important for staff to keep in mind and be constantly reminded of the importance of doing a full gender analysis. Such an analysis helps to identify the roles and responsibilities of both men and women in the activities that are supported and detect any impact—positive or negative—that they may have on the established gender balances in the institutions and communities to be supported.

9

Discrimination against people based on their origin, politics, or religious background may sometimes exist in Sierra Leone. It is important that EENRM staff be sensitised to the possibility of discrimination, and make sure they do not participate in its perpetuation. The projects that are supported by UNDP–SL EENRM should be explicit regarding anti-discrimination and fully ensure the participation of people of all origins and political, ethnic, or religious affiliation. Like the gender analysis, a detailed analysis on the role of vulnerable people in target institutions/communities should be conducted. The potential impacts of the interventions should be identified prior to project implementation and monitored throughout.

10

UNDP–SL EENRM should lead the establishment of a platform that will include all the UN agencies, partner institutions, and relevant public directorates interested in the EENRM issues at country level. That platform could support a sector-wide diagnosis that will help to identify the most important activities and pull resources together to maximise their benefits.

11

The following thematic interventions should be explored for future interventions:
- Establish a database of all the EENRM-related policies and creation of an online "one-stop shop" for interested parties.
- Support the updating of the EENRM-related policies and advocate to include the thematic areas that are important to UNDP (UNDAF).
- Continue to strengthen the institutional and organisational capacity of the public institutions.
- As the work under policy development is particularly important, take the opportunity to integrate UNDP strategic options and priorities in government policies.
- Identify appropriate entry points and support the development of guidelines for private sector engagement in promotion of alternative/efficient sources of energy (cookstoves, solar, biogas, etc.)
- Implement support to activities specified in the Nationally Determined Contribution framework.
- Ensure effective implementation of the Climate Change Act and relevant regulations.
- Promote environmental communication and awareness-raising.
- Implement support to the Nationally Appropriate Mitigation Action Framework.
- Support climate mainstreaming at local councils and other MDAs.