UNDAF Terminal Evaluation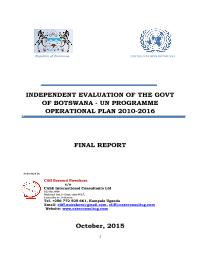 Evaluation Plan:

Evaluation Type:

UNDAF

Planned End Date:

08/2015

Completion Date:

10/2015

Status:

Completed

Management Response:

Yes

Evaluation Budget(US $):

100,000
Title
UNDAF Terminal Evaluation
Atlas Project Number:
Evaluation Plan:
2015-2016, Botswana
Evaluation Type:
UNDAF
Status:
Completed
Completion Date:
10/2015
Planned End Date:

08/2015

Management Response:
Yes
Corporate Outcome and Output (UNDP Strategic Plan 2014-2017)
Evaluation Budget(US $):

100,000

Source of Funding:
UNCT cost share
Joint Programme:
No
Joint Evaluation:

Yes

Joint with

All UN Agencies

Evaluation Team members:

| Name | Title | Email | Nationality |
| --- | --- | --- | --- |
| Cliff Bernard NuwakoraCASE International c/o Consultants Ltd | INDEPENDENT EVALUATION OF THE GOVT OF BOTSWANA - UN PROGRAMME OPERATIONAL PLAN 2010-2016 | cliff.nuwakora@gmail.com, cliff@caseconsultug.com | UGANDA |

GEF Evaluation:

No

Key Stakeholders:
Government of Botswana, Non State Actors
Countries:

BOTSWANA
Lessons
1.

Joint programming and alignment of the GoB UN POP: The Bot UN POP Programme has been designed in tandem and alignment with the GoB national policy strategy NDP10. The current cycle of government medium term strategic planning and visioning beyond 2016 is also aligned to national goals and national priorities which addresses critical gaps.



2.

UN Comparative Advantage: The UN has learnt that there is need to refocus and position itself relevantly on its mandate within the country especially by exploiting its comparative advantage. The GoB strategic policy and visioning process also presents an opportunity for the UN to retool and re-strategize its interventions based on its comparative advantage of tested and tried TA, human and logistical strengths , innovative programming rather than being viewed as a donor within Botswana.



3.

Enhancing DaO principles: With DaO as the over-arching operational model; to enhance the UN processes and systems, harmonization, alignment, joint programming etc there is need to bring to the forefront programming instruments such as RBM, HACT and HRBA. Hosting the majority of the UN agencies in one UN building has also proved effective in coordinating UN business with the government as well as efficient utilization of resources for example FAO is also housed in GoB premises. The role of RCO as One Leader empowered to coordinate the UNCT has led ownership of the GoB UN POP program . For the UNCT to further realize and fulfil the DaO SOPs there is need to harmonize programming and operations systems and procedures such as harmonized procurement. This will reduce parallel processes and the subsequent transaction costs thereby enhancing the coordination and planning, and the resultant realization of the value for money and return on Investments. UN has also picked a lesson that in order to DaO, there is need to harmonize and simplify programming and operations processes such as M&E, results based Management as a
self-starter country.



4.

M&E and Reporting Instruments: Though structures are in place the UN GoB has learnt that without bringing to the forefront the UN M&E programming instruments and building capacities in those respective areas like RBM, HRBA, and HACT as well as monitoring principles the program implementation will always not be delivered to its full expectations. Another lesson by the UN GoB has been for structures to function well there is need to build the right skills as well as have the right tools supported with ICT.



5.

Focus on downstream capacity gaps: The implementation of the GoB UN POP has also revealed to the partners the existence of glaring capacity gaps at the various government structures especially at the Director and levels below as a result of centralized ministries which end up taking on many roles and overwhelmed by government business. There is no deliberate empowerment of the downstream district structures at Local Government in implementation government programs since decentralization policy has not been operationalized. The UN should explore opportunities to bridge this downstream gap by providing matching TA



6.

Partnerships and synergies: For those UN agencies who are thin in terms of structures and staffing such as FAO, experience has revealed that they have been able to reap from the synergies provided by the other sister agencies by benefiting from the human resources as they implement their programs. This has also led to improved coordination and reduction in time factor as well as duplication of resources. Another lesson in terms of partnerships and synergy has been in the value to exploit South to South Cooperation based on its advantages and level of building capacities especially in LED related interventions.



7.

Need for up to date national data and statistics: Dealing with outdated data and statistics in terms of long intervals between various government surveys and inaccuracies has also been pointed as a lesson discovered along the path in proper planning and programming which later curtails the measurement of impact on government service delivery.



8.

Staff motivation and incentives: To improve on results reporting mechanisms the UN-GoB has realized that there is need to introduce progressive incentives and disincentives for the members of the management and implementation structures which will improve efficiency.



Findings
1.

Programme Governance is well structured in a manner that promotes effective participation of all stakeholders which is potentially important for promoting, programme effectiveness, efficiency and sustainability. This is because programme governance is shared between the government and the UN agencies; a factor that has facilitated joint programming and management hence efficient resource utilization. Through the established governance structures, stakeholder participation and ownership of the programme has been enhanced hence contributing to likelihood of programme sustainability.



2.

Composition of governance structures is adequate and facilitates implementation as senior level officers are the ones overseeing programme implementation through various structures to which they are members. There is satisfactory coordination among the UN agencies which in turn has promoted team work and harmonized interventions in responding to Botswana's national development priorities. The level of coordination evidences that there is impressive progress towards Delivering as One. However, while there has been great success in designing and implementing One Programme as evidenced by the current GoB UN POP, other pillars of DaO; one leader, one budget



3.

Delivering as One is a well thought through approach with tremendous efficiency and effectiveness gains not only to the UN but also to the government of Botswana. This is because of the avenues of skill sharing, joint resource mobilization, programme coherence, streamlined coordination and enhanced voice that are provided under the DaO approach.



4.

On the government's side, the UN interventions are coordinated in the offices of Deputy Permanent Secretaries while from the UN side, the office of Resident Coordinator. While this coordination arrangement has facilitated smooth policy formulation and implementation, the delegated government coordinating structures (Office of Deputy PS) is quite busy which to some extent hampers effective execution of coordination functions. It was reported that many times meetings have been rescheduled on the account of non-availability of government officials.



5.

GoB UN POP governance, coordination mechanisms and reporting structures have exhibited key strengths in promoting inter and intra agency partnerships, programme alignment with government priorities, and synergies across sectors among others.



6.

Direct programme implementation has heavily rested upon the shoulders of implementing partners yet glaring capacity inadequacies are still prevalent among most IPs especially those at lower levels. This in isolated instances delayed programme activity implementation and realization of expected results. Whilst the philosophy used by the UN of providing technical assistance for upstream programme activities has worked well as the technical assistance provided is well filtering through a number of policies and action plans that have been developed, capacity gaps among lower level IPs is hindering the achievement of the outcome indicators.



7.

Achievement of most programmatic outcome indicators is still low with some indicators like HIV/AIDS prevalence, government effectiveness, youth unemployment and maternal mortality rate having declined below the baseline indicators. Despite the slow progress towards achievement of outcome indicators, the evaluation noted that the major achievement registered during this UNDAF cycle has been establishment of a conducive policy environment and capacity strengthening. This therefore conveys a ray of hope over enhanced programme outcome achievement in the long run.



8.

The evaluation further noted that while the outcome indicators are clearly stated in the result matrices, the means of verification were not clearly specified at the design stage. This deprived the programme of clear direction in making contribution towards ensuring systematic and timely data capture and analysis to reflect programme outcome level achievements. As such, programmatic reporting has been limited to activities and outputs. Nevertheless, the evaluation established that the interventions implemented hitherto have impressively created a supportive environment exemplified by policy clarity, capacity strengthening and creation of structures and it is apparent that next period will witness significant programme outcomes should the implementation processes keep up or scale up the pace.



9.

There is a very well-established unique structure with clear leadership, linkages and roles in relation to the programme thematic areas reviewed, right from the UN to GoB level through line ministries to the service delivery points. The RGs co-chairs have got to play a significant role in ensuring enhanced coordination mechanism between UN and GoB as well as in enhancing IPs in being accountable in program implementation



10.

The programme governance structure promotes effective participation of all stakeholders hence fostering inter and intra partnerships among UN agencies on one hand and other development partners on the other. This has facilitated sharing of skills and expertise leading to efficient programme implementation and management.



11.

The division of roles and responsibilities among the various governance structures has effectively promoted government ownership of the interventions as the UN is only portrayed as an enabler. This is potentially important for programme benefit continuity beyond the implementation period.



12.

The programme governance arrangements gives the implementing partners considerable responsibilities along the programme implementation path but some reportedly lack sufficient technical capacity yet UN's technical assistance is concentrated at upstream policy formulation. Lack of adequate capacities detrimentally impends effective implementation and realization of expected results.



13.

The programme governance structure has facilitated the UN and government to effectively work together at strategic level. Subsequently there has been proper alignment of UN interventions with national development priorities hence streamlined UN contribution to national development. However, while delays were notably minimal at upstream policy formulation levels, lower level implementation has been in many instances been marred with delays; a case in point being the delayed implementation of the planned gender mainstreaming activities as well as climate change and environment projects and scale up of out of school education.



14.

The technical assistance that the UN has been providing is well filtering through a number of policies, strategies and action plans that have been formulated. This has facilitated the integration of global development ideologies and concepts for example sustainable development, and Human Rights Based Approach into the planning and development processes of Botswana. As such Botswana's capacity to meet her international and regional obligations has impressively been enhanced.



15.

GoB UN POP has effectively achieved enhanced coordination among UN agencies in contribution to national development priorities while capacitating government structures to manage direct implementation. This has promoted programme relevance, effectiveness, efficiency and sustainability hence qualifying as an international best practice.



Recommendations
1
The current governance structure, coordination and management as already indicated should be maintained as it is represents all key stakeholders and encourages full and active participation by both the GoB and UN both horizontally and vertically in GoB UN POP implementation. Further still the GoB should engage more with higher level offices like Presidents Office and ministers in enforcing that the good policies formulated are also implemented by the government institutions within their respective mandates. On the UN side there is need to fast track the fulfilment of the DaO principles in line with the DaO SOPs framework.
2
Strengthening M&E and reporting mechanisms through RBM, HRBA and PBM: A strong and committed, leadership, accountability and a concrete work plan specifying clear responsibilities, M&E mechanism and communications plan are essential to sustain the functionality of Result Groups in reporting up to the result/outcome level.
3
Harmonization of UNDP, UNICEF and UNFPA CPDs: For the UN to remain relevant in a MIC like Botswana and in an effort to consolidate its leadership role in terms of GoB National visioning and NDP process and alignment programs to the GoB, the UNCT should ensure that their harmonized CPDs focus on key strategic result issues such as reducing income inequalities through multisectoral poverty reduction programs which focus and target vulnerable groups such as children, women, youth and PWDs; human rights and governance deepening, economic diversification especially mineral and agricultural diversification; identification of innovative hubs as precursors for GoB economic and investment niches as well as environmental sustainability. HIV/AIDS remains a serious concern with rate of new infections among adolescents still high and requires coordinated focus by UN.
4
UN strategic SDG interventions: The UN should also strategize and support GoB in systematically ensuring that over time the mainstreamed SGDs in the forthcoming NDP11 and National Vision beyond 2016 are achieved through specific UN targeted interventions.
5
Communication and knowledge sharing: The UN Communication Group as part of management structure should enhance the communication and knowledge sharing especially on the planning, programming and reporting aspects of the GoB UN POP in order to secure a buy in from various stakeholders and increase on the visibility.
6
Streamlining Accountability systems with PBM: There is a need to reinforce and enhance governance and coordination structures with clear specification of shared responsibilities and accountability between the UN and the Government by introduction of PBM.
7
There is need for Capacity Needs Assessments (CNA) to develop suitable strategies that contribute to the strengthening of the institutions and systems and such skills could be in strengthening M&E reporting mechanisms through RBM, HACT and HRBA; UN program processes and operations and finally strategic planning and management.
8
There is a critical need to allocate adequate resources to data collection functions and ensure that adequate data is timely collected and analyzed to reflect programme performance. This is important for timely detection of performance variances hence guiding the design and implementation of corrective measures in time.
9
There is also need to increase the role of Civil Society through CSOs and their networks to participate fully in the design and delivery of programmes that allows for flexibility at the community level thereby addressing the peculiar social cultural contexts.
10
Urgent attention is needed to reduce youth unemployment while ensuring that they have skills that labour market needs.
11
Since a great proportion of households are headed by women and raise children policies and programmes that lifts them out of poverty are critical.
12
Design programmes that take into account multi-dimensional nature of poverty
13
Improved data collection, analysis and timely dissemination.
14
Advocacy for affirmative action towards improving participation of marginalized groups such as women, youths, children, PWDs in public policy formulation is critical if impressive results are to be achieved.
15
The UN GoB should also carry out a Capacity Needs Mapping of the government institutions from both upstream and downstream levels as well as thorough identification of strategic drivers of change analysis in order to determine capacity gaps and strategic technical assistance entry points. This would also look at the development terrain of Botswana in the context of the MIC.
16
For the next roll out of UNDAF-GoB UN POP, there is need for an institutional Capacity Development Plan/framework in place with a clear exit strategy supported with clear targets for effective sustainability.
17
The articulation of the UN?s comparative advantage should be clearly identified and brought to the forefront especially if the GoB UN POP and its attendant JRMPS is to be more relevant within the context of MIC amidst its situation in the SADC region, the UN should put into operational context the merits of the South to South Cooperation for example the Commonwealth Local Government forum and the engagement in Local economic Development aspects.
18
The UN should also undertake a Knowledge Management assessment at the UN Country level in order to deepen its understanding of Botswana?s national development process in its quest for realistic transformational shift of strategic UN business.
19
In order for the UN to reap maximum strategic results for its technical assistance there is need to revisit its placement of TA advisors into strategic policy entry points like NSO office