Assessment of South Sudan's Crisis and Recovery Mapping and Analysis (CRMA)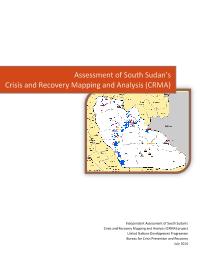 Evaluation Plan:

Evaluation Type:

Final Project

Planned End Date:

08/2014

Completion Date:

08/2014

Status:

Completed

Management Response:

Yes

Evaluation Budget(US $):

001
Title
Assessment of South Sudan's Crisis and Recovery Mapping and Analysis (CRMA)
Atlas Project Number:

00081066

Evaluation Plan:
2012-2016, South Sudan
Evaluation Type:
Final Project
Status:
Completed
Completion Date:
08/2014
Planned End Date:

08/2014

Management Response:
Yes

Focus Area

:
Corporate Outcome and Output (UNDP Strategic Plan 2018-2021)

1. Output 6.2. National and local authorities /institutions enabled to lead the community engagement, planning, coordination, delivery and monitoring of early recovery efforts

Evaluation Budget(US $):

001

Source of Funding:
BPPS
Joint Programme:
No
Joint Evaluation:

No

Evaluation Team members:

| Name | Title | Email | Nationality |
| --- | --- | --- | --- |
| | | | |

GEF Evaluation:

No

Key Stakeholders:
South Sudan National Bureau of Statistics
Countries:

SOUTH SUDAN

Comments:
The Assessment was completed in August 2014. The assessment was fully funded by UNDP Bureau for Crisis Prevention and Recovery (BCPR), now BPPS
Recommendations
1
Expand the use of data analysis in decision making, planning and programming, ensure a stronger strategic profile for the platform, ensure fiscal and operational sustainability in Phase II of the CRMA successor project
2
Explore new technological platforms for collection, dissemination of data
1. Recommendation: Expand the use of data analysis in decision making, planning and programming, ensure a stronger strategic profile for the platform, ensure fiscal and operational sustainability in Phase II of the CRMA successor project
Management Response:
[Added: 2015/05/08]
The CRMA project supported by EC has been completed and has been operationally and financially closed. The recommendations including on expanding the use of data analysis in decision making, planning and programming, ensuring effective coordination with other development partners are intended to inform the development of Phase II of the successor CRMA project.
Key Actions:
Key Action

Responsible
DueDate
Status
Comments
Documents

The project document of the successor project, Support to Development Information Management has incorporated the finding and the same will be operationalized once the successor project is initiated upon securing the funds from the donors




[Added: 2015/05/08]

[Last Updated: 2015/10/31]

UNDP

2016/07

No Longer Applicable

The CRMA successor project was not implemented due to lack of funding. The recommendation was therefore not implemented
2. Recommendation: Explore new technological platforms for collection, dissemination of data
Management Response:
[Added: 2015/05/08]
UNDP in collaboration with NBS contracted ESRI NORTH AFRICA to develop a new technological platform for online information sharing. The full fledged operationalization of the recommendation will be conditional on securing of funds for the successor project to CRMA as noted earlier.
Key Actions:
Key Action

Responsible
DueDate
Status
Comments
Documents

UNDP internal resources and funds from Canada are being used to set up the online platform through ESRI, a global leader in building online data sharing portals in collaboration with NBS. Currently, work is in progress.




[Added: 2015/05/08]

[Last Updated: 2016/06/09]

UNDP

2015/12

Completed

The internet installation has been completed and the portal is currently being accessed internally by staff of the NBS Geographic Information System department. Maps and other data on health and education infrastructure can be printed.

History