Concentrated Solar Power Technology Transfer for Electricity Generation in Namibia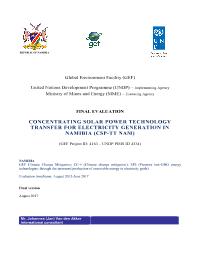 Evaluation Plan:

Evaluation Type:

Final Project

Planned End Date:

08/2017

Completion Date:

08/2017

Status:

Completed

Management Response:

Yes

Evaluation Budget(US $):

15,000
Title
Concentrated Solar Power Technology Transfer for Electricity Generation in Namibia
Atlas Project Number:

72612

Evaluation Plan:
2014-2018, Namibia
Evaluation Type:
Final Project
Status:
Completed
Completion Date:
08/2017
Planned End Date:

08/2017

Management Response:
Yes
Focus Area:

1. Environment & Sustainable Development
2. Others

Corporate Outcome and Output (UNDP Strategic Plan 2014-2017)

1. Output 1.5. Inclusive and sustainable solutions adopted to achieve increased energy efficiency and universal modern energy access (especially off-grid sources of renewable energy)

Evaluation Budget(US $):

15,000

Source of Funding:
GEF
Joint Programme:
No
Joint Evaluation:

No

Evaluation Team members:

| Name | Title | Email | Nationality |
| --- | --- | --- | --- |
| Johannes van den Akker | | | |

GEF Evaluation:

Yes

| | |
| --- | --- |
| GEF Project Title: | Concentrated Solar Power Technology Transfer for Electricity Generation in Namibia (CSP) |
| Evaluation Type: | Terminal Evaluation |
| Focal Area: | Climate Change |
| Project Type: | MSP |
| GEF Phase: | GEF-4 |
| GEF Project ID: | |
| PIMS Number: | 4334 |

Key Stakeholders:
UNDP; MME;NAMPOWER;NEI;ECB
Countries:

NAMIBIA

NAMIBIA

Comments:

This evaluation is on course, to be commissioned out in August 2017.
Lessons
1.

The results frameworks (log-frames) need to be well-designed if to be used for sequencing and programming of project activities and to assess project performance. If circumstances and conditions change, UNDP should take the liberty to update the results framework according to the facts on the ground and report on this to the GEF, so that the progress in implementation and results can be presented in a more realistic and accurate way;
In the case of grid-connected renewable (CSP) energy, it is important to distinguish between small systems (e.g. from 1 to 10 MW), medium-sized facilities (10 to 50 MW) and large plants (over 50 MW). It is important in the concept design to distinguish between the various market segments (each segment having different market players) that face different gaps and barriers, have different technical and financial support needs and in which investment decisions take place according to different timelines. The project design should state clearly what market segment is targeted and served with what type of policy and financial instruments. If the target groups change over time, project design or implementation should not stay the same, but activities should be changed in accordance with the needs of the (new) target group;
The timeframe of large utility-scale renewable energy (RE) investments can be quite large from concept to actual construction and operation, depending on market segment and technology, sometimes longer than the timeframe of a typical GEF project. One should take this carefully into account when formulating the direct and post-project emission reduction expectations.



Findings
1.

FINDINGS: progress towards outcomes

To what extent have the expected outcomes and objectives of the project been achieved?

What outputs and outcomes has the project achieved (both qualitative and quantitative results, comparing the expected and realized end-project value of progress indicators of each outcome/output with the baseline value)?
Is the project on track to deliver its expected outputs?

For each of the five project components, as mentioned in paragraph 1.2, this section assesses the progress in the implementation of the project's outcomes and outputs, following the 'project results framework' format and information provided as given in the UNDP Project Document and as reported by the |Project Management Unit (PMU) in the annual UNDP/GEF Project Implementation Reports (PIRs) of 2015 and 2016, the Mid-Term Evaluation report (March 2015) and the overview of Progress made against all CSP-TT NAM Outputs (Dec 2016)

In terms of wording, the exact formulation of outputs and corresponding indicators the Evaluator follows of the last PIR (2016). This section tries to provide a quantitative and descriptive overview on achievements of outputs and outcomes, as a preparing the ground for the discussion on design (Chapter 4) and implementation (Chapter 5)) with Chapter 6 will provide a re-assessment of results in terms of attainment of the objective and outcomes and the project's longer-term impacts.

The reader should note that the in the Boxes 7 to 10 in this Section, the numbering of outcomes, outputs and indicators corresponds to the numbering system of Box 4. The numbering of Outcomes (1, 2, etc.) and Outputs (1.1, 1.2, 2.1, etc,) is the same as the numbers given in the Project Document and CEO ER. For easy comparison, the numbering of Indicators (1, 2, etc.) follows the numbering given in the MTR report. The numbering of Activities under each output (i., iii, etc.) is according to the 2016 progress report. The baseline and target values of the Indicators are taken from the project's logical framework (as reported in the ProDoc and PIRs), while the achievements (i.e. indicator value at project's end, June 2017) is compiled from the 2016 PIR, 2016 progress report as well as own from observations during the mission (including interviews with respondents) and analysis of the outputs and reports produced during 2015-2017.

Box 6 Description of outcome, outputs and activities, Component 1

Output

Activities

Description of achievement

1.1

Finalized technology partnership agreement

Promotion and information

100xPromotional project posters, 3x pull-up banners, 50x USB, 50X Pen, 100x T-shirts, 100x Caps, 1000x brochures designed and produced and distributed;
A 30 minutes Video and 5min Video Trailer CSP TT NAM Promotional Video Produced and being screened at promotional events;
CSP Week in July 2016

Two TV Business Programmes interviews on NBC TV promoting CSP investments in Namibia conducted on GMN and Business Today;
Two public lectures on CSP Technology and Opportunities in Namibia were conducted by renowned CSP international experts.at NUST and UNAM;

CSP TT NAM promotional article inked and being finalised for placement in international publication CSP Today

i. Scoping and due diligence analysis of global CSP players using some of the networks created through the CSP Pre-feasibility Study and TREE project CSP Seminar;

ii. Formulation and establishment of partnership MOU agreements with at least two partners: South- South and North-South to facilitate technology transfer;

Technical specifications and design completed to set up and maintain database link of interested global and local stakeholders on the NEI website (interactive database where stakeholders can load information)
CSP promotion and networking:

With MITSD in North-South and South-South Partnership in Japan;
At CSP Today events in Dubai and Cape Town (exhibition stand)
Five local trade fairs

About six potential partnerships had been match-made and in process of reviewing the draft partnership agreements in the areas of manufacturing/assembling components, construction, academia, R&D, etc. in the supply/service chain for CSP market development.

iii. Capacitating NEI to serve as a National Technology Transfer Coordinating Body (NTTCB).

Needs assessment (report) for NEI[1] to serve as CSP National Technology Transfer Co-ordination Centre completed and findings presented to stakeholders during July, followed by an Implementation Plan

1.2

Enhanced knowledge of applicable CSP applications in Namibia

i. Conducting a capacity needs assessment for industry players

Needs Assessment for Industry Conducted 2015 and consequent training programmes in July 2016

ii. Designing and setting up a curriculum to address capacity needs with topics ranging from energy policy and planning to manufacturing requirements of CSP industries and financial and economic evaluation of CSP projects

Designed Curriculum on CSP modules for the UNAM[2] M.Sc. (Renewable Energy programme), finalized during June 2016. Pending the academic programme approval process, starting in 2017 or 2018
Designed CSP Professional Training Module to cater for specialized CSP training (e.g. short Courses) in the country by institutions such as VTCs, NEI and universities and also to cover aspects not covered in the UNAM curriculum

iii. Delivery of CSP capacity building workshops by knowledgeable professionals;

Namibia CSP Professional Technical Training Manual finalised and distributed to local academic institutions and key stakeholders
5-Day Short Course (July 2016) was attended by 40 CSP designers, engineers and trainers in academia[3]
Networking/collaboration arrangements with IUM, UNAM and NUST on Student Internships and Capacity Development (since project start till Dec 2016), mentoring 12 students

iv. Collecting feedback on the effectiveness of the workshops by the participants, and improving the subsequent workshops based on the feedback.

Workshops Evaluation Template is developed and used at relevant workshops and trainings for evaluation

Outcome 1: Local entrepreneurs are engaged in the manufacturing, supply and installation of CSP systems

Baseline

Target

Achievement

Mid-2017

Description

3. Number of government-endorsed CSP partnerships established by year 3 (yr3)

0

5

2

The Government developed partnerships with companies (engineering, installation)

to develop CSP market supply chain (i.e. enhance preparatory knowledge and technology transfer in preparation for when actual CSP plant construction commences)

4. Number of local CSP engineering design firms with CSP design experience established and operational by yr3

0

7

4

There are a number of engineering firms that can be involved in CSP development. Local firms have participated in feasibility and EIA studies study (e.g. Afromach and Aurecon Namibia) and measurements (Hungileni). Work thereafter will clearly specify local participation requirements in EPC and operation of the CSP facility to ensure this capacity is developed.

5. Number of local CSP-related manufacturing, supply and installation companies by yr3

0

10

5

There are local firms and they can develop capacity but it is difficult to do so in the absence of clear demand for what abilities and expertise are needed

The Project has involved local engineering and consulting companies in collaboration with foreign companies on DNI ground measurement stations installed in the country (see Outcome 2), the EIA study and the Techno-Economic study (see Outcome 3). A CSP Professional Technical Training Manual has been formulated, CSP modules incorporated in the UNAM science curriculum. Reportedly, over 200 stakeholders have received project-supported training, in which five Namibian manufacturing companies have benefited from technical assistance[4]. Collaborations have been put in place to assist with solar mapping and EIA studies.

However, the real proof of the pudding is in eating it. Going beyond the theoretical exposure in training and workshops (which can be documented, in terms of numbers of events and of participants), it is difficult to assess the outcome of in terms of capacity built. In the absence of any CSP facility yet, there is only on-the-ground experience with preparatory work, such as solar measurements and data assessment. The first CSP plant (at Arandis) has not yet reached the stage of detailed designs, so it is difficult to assess what the local participation of consulting and engineering companies can, will or should be in construction and engineering, and how the project's activities have strengthened local capacity in practice to have a visible role in design, construction, operation and future expansion of the CSP programme in Namibia. However, one can assume that the above-mentioned activities have put a certain basis of technical know-how and knowledge in CSP. The tender documents for the Arandis (and future) CSP plants should clearly specify local participation requirements to ensure that this capacity developed is not lost and is further strengthened in 'learning by doing'.

Box 7 Description of outcome, outputs and activities, Component 2

Output

Activities

Description of achievement

2.1

Investment grade solar resource data

i. Select suitable ground measurement spots (that are less than 3 km from the 5 top CSP sites in Namibia as determined by the July 2012 CSP Pre-feasibility report

ii. Finalize the site to be selected for CSP development through consultation with all stakeholders

Sites (Auas, Arandis, Kokerboom, Gerus and Orumbu) selected in 2015 in consultation with stakeholders with Arandis as the most promising

iii. Prepare plans for the continuance of ground solar measurements at other promising CSP sites;

iv. Carry out ground measurements for the 5 top CSP sites in Namibia over one year (merged with Output 2.4)

Training provided to NEI on ground measurement processes, maintenance, data analysis and reporting during Sep 2016
Equipment of NEI with the relevant IT equipment for data monitoring purchased in 2015 and installed at the three sites.
Almost one year of installed measurements at Auas, Kokerboom and Arandis (installation reports available) started in 2015 and ongoing. Analysis of first year data analysis (DNI, direct normal irradiance; GHI: global horizontal irradiance) completed in Aug/Sep 2016[5]. NamPower is continuing with measurements for at least 3 years to obtain investment grade solar data.

2.4

RSI (Rotating Shadowband Irradiometer) stations in place for remote sites to obtain investment grade solar resource.

i. Purchase appropriate instruments that will provide the required on-site ground measurements (merged with Output 21)

2.2

CSP planning and implementation mechanisms established within MME

i. Preparation of detailed information of the most promising CSP sites (including hybridization options with natural gas and biomass)

ii. Conducting a policy dialogue with national stakeholders according to a working agenda agreed upon with partner organizations.

Report on the CSP potential for power and heat applications for Namibia[6] in Aug 2016 (highlighting the opportunities for CSP investment)
Inputs provided on CSP for key reports on energy produced in Namibia (Update of the National Energy Policy, Renewable Energy (RE) Policy, National Integrated Resource Plan (NIRP), IPP Policy Framework. The NIRP was finalised in Sept 16. Other drafts were finalised in Oct 2016 All have been approved by MME and endorsed by the Cabinet (except for the IPP Policy which is awaiting Cabinet endorsement).[7]

2.3

Approved and enforced regulations for promoting development and operation of CSP plants in Namibia.

iii. Defining the legal status of a private CSP operator in the modality of an IPP

iv. Resolutions regarding land tenure and water use rights for CSP projects.

v. Research and determine the regulations concerning environmental constraints and management of CSP

Has been assessed as part of the EIA Study that was conducted for the first CSP plant at Arandis (see Output 3.2)

ii. Identification of financial incentives and options for local financing institutions with regards to risk mitigation for CSP investments.

Part of the Macro-Economic Study[8] (draft report submitted Dec 2016) and also as part of the CSP Techno-Economic Study (draft report submitted 2017, see Output 3.2)

vi. Creating streamlined procedures for permits and concessions for CSP electricity generation and distribution.

The new Policy for IPP
Consultations to assess possible replication viability in CSP procurement frameworks were conducted with the DBSA and RSA Department of Energy on their successful implementation of the RSA REIPPP framework and possible suitability for Namibia;
Follow up workshop on the implementation of the REIPPPP in RSA was organised in July 2016 (hosted by the RSA IPP Office and attended by MME, ECB and NamPower officials), followed by Presentation to Namibian stakeholders (Windhoek, Oct 2016)

Outcome 2: Increased investments in CSP technology applications in Namibia

Indicator

Baseline

Target

Achievement

Mid-2017

Description

6. Number of sites where investment-grade solar resource data is available by Year 2

0

5

3

The figure confirms the actual ground measurement stations (3) installed by the project. The project extension (up to June 20170 has allowed the analysis of one full year of measurement (a minimum needed to obtain investment-grade data)

7. No. of CSP investments facilitated by the CSP development guidelines by Year 3 that are streamlined with REPM outcomes

0

1

0

Only the first part of the full feasibility study (FFS) for the CSP plant is finished (Phase 1) by the end of the GEF/UNDP project in June 2017(see Outcome 3), So, no real investments will be made before the end of the project, but might take place thereafter, provided that project can reach financial closure (after the post-project completing Phase 2 of the FFS)

8. Number of planned and approved CSP technology application projects that are funded by local financing institutions by EoP and in line with REPM outcomes

0

2

1

Currently, there are no planned projects, other than the Arandis CSP. The Namibia IRP however includes specifically CSP in its scenarios.

It is the Evaluator's view that the Indicators 7 and 8 are inappropriate for measuring outcomes of Component 2 and are in fact indicators of Outcome 3 (preparatory activities that lead to particular investments). Indicator 8 forms actually a subset of Indicator 9. Proper indicators should have been constructed measuring progress with respect to the outputs on progress in the policy-regulatory enabling environment (the reader is referred to the next Chapter 4 and section s).

At the same time, the Government has advanced in the formulation of the policy framework and regulations for renewable energy, such as the National Integrated Resource Plan (NIRP), National Energy Policy (NEP), National Renewable Energy Policy (NERP) and the policy regarding Independent Power Producers (IPPs). Although these documents have not been formulated as part of the project activities as such, the project staff and partners have provided essential inputs regarding the role of CSP and ensured that CSP has been anchored as an important RE option to be considered in Namibia's energy policy and energy investments. Regarding impacts of CSP, two studies have been completed on the CSP Heat and Power Potential in Namibia (Afromach, 2016) and the Study of the Macroeconomic Impact of a CSP for Namibia (NamPower, 2017). Thus, the project has contributed significantly to the outcome of Component and has been instrumental for a conducive environment for (future) CSP investments to be in place.

1.2.3 Component 3 Facilitation of the first CSP plant in Namibia

Box 8 Description of outcome, outputs and activities, Component 3

Output

Activities

Description of achievement

3.1

Completed feasibility study of selected CSP sites

i Ranking of the best CSP technologies and their reference costs (based on the 2012 CSP Pre-Feasibility Study)

(moved from with Output 2.3)

i. Validation of CSP technologies to be deployed on site including solar technology (tower or trough), dry cooling system specifications and storage systems based on solar technology selected

MCDM Study conducted with key stakeholders participating in an evaluation workshop (Oct 2016). See Phase 1 – MCDM Final report (MottMcDonald, Dec 2016)

ii. Setting up and utilization of a thermodynamic model for a selected plant configuration to optimize generation of electricity[9];

iv. Finalization of the plant configuration prior to a detailed engineering phase using model results[10];

v. Incorporation of field information into project design that may include specific geological information for foundations, and identification of areas with optimal DNI;

vi. Formulation of a rough implementation plan that will include equipment procurement, site preparation, equipment installation, commissioning and O&M

vii. Full financial model, including determination of plant revenue streams and rates of return, as well as recommended optimal capital structure.

Activities have been carried out as part of the full feasibility study (FFS) of the first CSP plant. Techno-Economic Report (MottMcDonald, 2016) and Macro-economic report (NamPower, 2017), but detailed engineering design and business planning and financial engineering (Phase 2) is still pending

3.2

Completed environmental impact assessment.

i. Comprehensive review of existing legislation, policies and guidelines;

ii. Identification and establishment of the baseline conditions (physical, biotic and social/cultural);

iii. Definition of the main project components of CSP;

iv. Assessment of potential impacts (social and physical) during construction and operation;

v. Development of a suite of appropriate mitigation and enhancement measures;

vi. Development of a plan for public consultations;

vii. Development of an Environmental and Social Management Plan, including a Monitoring Plan

Environmental impact assessments (EIA) has been completed as part of the feasibility study (FFS) for the most promising first CSP 125MW (with storage) at the Arandis site (report submitted in Aug 2016 and approved[11]).

3.3

Approved institutional, financial and business arrangements for initial CSP plant development

iii. Development of specific plans for improving MRV capacity and the feasibility of accessing specific carbon funds

Workshop conducted to train MME and NEI on MRV and GHG Data Collection and Analysis processes during September.

ii. Design specific financial mechanisms to finance the first CSP plant with concessional financing from development banks and private equity[12].

Being done as part ongoing CSP full feasibility study (draft report submitted 2017): see Techno-Economic Report (MottMcDonald, 2016) and Macro-economic report (NamPower, 2017)
In seeking post-project financing options; PMU interacted with the Green Climate Fund (GCF) to assess potential Namibia CSP Plants financing options (Q1 2016), and with the Development Bank of South Africa (Q2 2016)

i. Setup a special purpose entity (SPE) dedicated towards engineering, constructing and operating the initial CSP plant;

iv. Where possible, mainstreaming of the outputs and financial arrangements mentioned above into NERL regulations and REPM outcomes for future procurement of large-scale RE plants.

i. Preparation of detailed engineering plans with sufficient detail for an EPC contractor to prepare tendered bids for CSP plant construction

Will be done as part of the (post-project) Phase 2 of the CSP Full Feasibility Study (July-Dec 2017)

3.4

Signed EPC contract and commencement of CSP construction.

ii. Preparation of an EPC tender and contract that will foster participation of local companies in the supply chain (of technology, engineering, financial, technical and managerial services);

iii. Obtaining all legal permits;

iv. Setup tendering process for the construction of the CSP;

v. Opening of tenders, and negotiating and signing the EPC contract;

vi. Preparing and managing implementation plans for constructing the CSP plant.

These activities will be part of Phase 2 of the Arandis full feasibility study after July 2017 (post project)

3.5

Workshops to disseminate lessons learned in the development of CSP

i. Present at least 1 project implementation lessons learned workshops to key stakeholders.

(note: overlaps with Output 4.2)

CSP TT NAM researched and produced a Report on CSP Socio-Economic and Environment Impacts

Outcome 3: Increased installed capacity of CSP plants in Namibia

Indicator

Baseline

Target

Achievement

Mid-2017

Description

9. Number of planned, approved and financed CSP projects that replicate the first CSP investment by EOP

0

2

1

Indicator 8 is actually a subset of this Indicator 9

10. Cumulative installed power generation capacity from CSP plants by EOP

0

50 MW

0

An EPC or IPP tender may be launched in the 2nd half of 2017 after positive decisions by NamPower/MME.

11. Set of specific regulations promoting the development and operation of CSP plants that are, in turn, mainstreamed into the NERL and REPM guidelines

0

1

n/a

General regulations in draft IPP policy. Specific regulations as part of the FFS activities for the Arandis CSP.

Since the Mid-Term review (2015), the project's pace of producing outputs has increased markedly. In 2015 the Government announced its intention to raise the capacity of the first planned CSP plant from 50 MW to 125 MW and go ahead with the preparatory activities. A full feasibility study (FFS) was planned to be completed for the first CSP facility at Arandis and this was one of the reasons for the CSP-TT NAM project being given a 1.5-year extension to June 2017 to be able to finalise the FFS.

The full feasibility study of Namibia's first CSP facility is now halfway:

< >Solar radiation measurements of at least one year have been completed (2015-2016) at three sites (Arandis, Kokerboom and Auas) and the solar data have been analysed, as reported in the CSP GmbH (2016) and Solargis (2016) report (see Annex E for details)

The potential of sites with alternative CSP technology was analysed and assessed in the multi-criteria report (MCDM) and the techno-economic feasibility study (both by MottMcDonald, 2016) that recommend a 135 MW CSP plant to be developed in the Arandis area with thermal storage (to provide baseload energy) with slight preference for molten salt tower over parabolic trough technology.Component 4 Project management: Learning, evaluation and adaptive management

Output

Activities

Description of achievement

4.3

Lessons learned documented and disseminated

i Networking and workshops

ii. lessons learned and

A summary of monitoring and evaluation (Output 4.1) and management (Output 4.3) is presented in Section 5.3 on M&E and adaptive management, respectively.

---

[1] NEI as CSP Technology Transfer Coordinating Body, Final Report (Afromach, August 2016)

[2] CSP Academic Curriculum, Final Report (Afromach Investment, August 2016).

[3] Professional Training Course on CSP Technology, Detailed Courses Outline (July 2016)

[4] Socio- economic and environment Impact Project Analysis on a 125MW CSP plant (Afromach, 2016)

[5] See the reports on solar data (Site Adaptation of Solargis Data) at the three sites (Solargis, 2016) and the 2016 CSP GmbH reports (Site Assessment of Solar Resource)

[6] CSP Heat and Power Potential in Namibia, Final Report (Afromach Investment, 2016)

[7] See list of national policy documents in Annex C.

[8] Study of the Macroeconomic Impact of a CSP Plant for Namibia (NamPower, 2017)

[9] The model will be built from a software package for CSP projects (such as the privately developed SunBD model or the NREL-developed SAM model) and can be used for future operations by plant owners and operators to determine plant electricity outputs with more precision and confidence.

[10] This will involve optimization of the plant layout, and specific locations of the heliostat fields, heat exchanger, heat storage, and power plant.

[11] Socio- economic and environment Impact Project Analysis on a 125MW CSP plant in Namibia (Afromach Investment, Aug 2016) and Amended Environmental and Socio-Econ Impact for a CSP Facility near Arandis (Aurecon, 2016)

[12] The financial mechanism will likely contain a negotiated fixed tariff, debt incentives and tax exemptions



2.

This Chapter looks first at the project relevance and country drivenness (at project design), e.g. as evidenced by its links with national and development. Second, it looks at the design logic (in the framework of outcomes and objectives to reach the objective) and how the design framework was formulated, including definition of indicators and target values for outcomes and outputs.

The questions in the pink-coloured boxes in this and other Chapters, are the show which questions from the Evaluation matrix (Annex D) correspond to a particular section in this report.

Are project outcomes contributing to national development priorities and plans in accordance with the national local policy legal and regulatory frameworks?

(see Annex D)


Relevance and country drivenness

Relevance and country drivenness

Section 2.1 briefly introduced the energy context in which the UNDP/GEF Concentrated Solar Power Technology Transfer in Namibia (CSP-TT NAM) project was conceived. Energy security challenges have become urgent for Namibia over the past decade, arising from South Africa's inability to meet its own domestic demand, and its diminished capacity to export power to other countries in the southern African region. Against this background, the country has been making proactive efforts to develop this resource and develop its renewable energy industry.

Consistency with the GEF focal areas in Climate Change/operational program strategies of the GEF CC and with the UN and UNDP country programming in Namibia?
Is the project aligned with the thematic focus of the UNDP Strategic Plan?
How is the project relevant with respect to other donor-supported activities? Were lessons from other relevant projects properly incorporated in the project design?"

(Annex D)


At the time of writing the Project Document (ProDoc), Namibia had committed to the development of its renewable energy resources as articulated in the White Energy Paper of 1998, in which the Government further recognizes the important role renewable energy and particularly solar energy can play in the primary energy mix and energy security. The National Development Plan III (2007-12) set a target for 10% of the national energy demand to be sourced from renewable energy by 2012. Renewable energy power generation options are prioritised for the country's development agenda not only to address the lack of security of electricity supply but also as an important element in poverty eradication programmes, because energy is key to socio-economic development in the country and rural development in particular. Finally, during CSP-TT's implementation from 2014 to 2017) Namibia has further mainstreamed renewable energy as an important option in its energy policy and planning, as evidenced by the recent formulation and official endorsement by the Cabinet of the national (renewable) energy policies and electricity power plans (the reader is referred to Annex E.5 for a description of these recent policy and planning documents).

The UNDP Country Program Document (CPD) and United Nations Partnership Assistance Framework (UNPAF) 2014-2017 of the Government of Namibia and UNDP/UN identify 'energy and environment for sustainable development' as a key strategic point to support Namibia's long-term development aspirations. and that directly contributes to the attainment of the Sustainable Development Goals (SDGs) and sustainable energy for all (SE4ALL). Under the UNPAF, the UNDP-specific support for sustainable energy falls under "Environmental Sustainability and Climate Change" and it is mentioned that it will "focus on creating enabling conditions, and individual capabilities, synergistically and complementary, with existing national initiatives, for safeguarding Namibia's renewable and non-renewable resources to ensure that Namibia remain and sustain international and regional competitiveness by capitalizing on a nature-based economy".

The project, which aims at mitigating the impacts of climate change through the promotion of on-grid renewable energy in developing countries, is an element of the GEF-4 Resource Allocation Framework. The project idea responds directly to the aim of the Global Environment Fund (GEF) to promote low-GHG energy technologies, through the increased production of renewable energy in electricity grids.

UNDP comparative advantage

UNDP has been a trusted partner in Namibia in the design and implementation of sustainable energy projects in Namibia. From 2005-2010, the Government of Namibia initiated the UNDP/GEF Namibia Renewable Energy Programme (NAMREP), in order to accelerate the renewable energy market development, focussing on solar photovoltaics (on-grid, off-grid, solar pumping) and solar water heating. The project has contributed to the passage of new regulations supporting renewable energy (RE), to increased public awareness on RE, as well as to the establishment of financial products and platforms for consumer financing of RE technologies. NAMREP collaborated with the DANIDA-funded REEECAP (Renewable Energy and Energy Efficiency Capacity Building Program), implemented by the Polytechnic of Namibia. REEECAP worked on strengthening the capacity of its Renewable Energy and Energy Efficiency Institute (REEEI), efficient use of energy in low-cost housing, and capacity building on renewable energy, energy efficiency, and rural development. UNDP was also the GEF implementing agency of the Namibia Energy Efficiency Programme in Buildings (NEEP), which was jointly carried out by the MME and the of the Polytechnic of Namibia[1].

Linkages between project and other interventions

Before commencement of the project concentrated solar power (CSP) technology as a power generation option to mitigate Namibia's power supply shortages and security was relatively unknown. The emergence of CSP as part of Namibia's power supply options, and one that can be activated within a relatively short period is based on various interventions supported by Namibia's development partners, such as DANIDA, GIZ, and UNDP.

Lessons from other relevant activities or project

With support from the Energy and Environmental Program with Southern and East Africa (EEP S&EA), a Pre-feasibility Study for the Establishment of a Pre-Commercial Concentrated Solar Power Plant in Namibia was carried out by a consortium led by Gesto for the Polytechnic-REEEI on behalf of MME (Gesto, 2012). Based on the analysis of satellite irradiation and local data, the potential for CSP is assessed and suitable sites were identified. The study mentions that "CSP is a mature technology that can take advantage of Namibia's exceptional solar resource". Key elements in this pre-feasibility study were used in the formulation of the CSP-TT NAM project document.

The project design must also be seen in the framework of efforts to pursue CSP projects in the region, At the time for formulating CSP-TT NAM, a South African 100 MW CSP project was implemented by Eskom with funding from the World Bank, African Development Bank with further scaling up of CSP facilities being planned, while Botswana was undertaking a feasibility study on a 200 MW CSP plant (see also Annex E.1).

The design (and subsequent implementation) of CSP-TT NAM can be described as being a slow process. After the first concept was received by GEF in Nov 2009, it was included in its Work Program in May 2010 and got CEO endorsement in Dec 2012. It then took some time for the Project Document to be signed (July 2013), and a further year for the Project Manager to be hired and implementation to start in 2014.

Were the project's objectives and components clear, practicable and feasible within its time frame?
Does the project have a clear thematically focused development objective, the attainment of which can be determined by a set of verifiable indicators; Was the project was formulated based on the logical framework (project results framework) approach;
Was the project's design (logframe) adequate to address the problems at hand? Was the project internally coherent in its design? Have any amendments to the assumptions or targets been made or planned during the Project's implementation? M&E design. Did the project have an M&E plan to monitor results and track progress towards achieving project objectives?

(Annex D)


Analysis of the project logic and strategy

Analysis of the project logical framework

Target value of main indicators in the results framework and the project timeline

In the CEO Endorsement Request (CEO ER) and UNDP/GEF ProDoc, the emission reduction indicators' key target is not direct emission reduction (as a consequence of realised investments in the project period), but the target is achieving post-project emission reduction (that is, emission reduction as a consequence of construction and operation of a CSP in the post-project period). However, not all indicators in the log-frame reflect this. For example, realising investments in the project is still the target of Indicator 7. The PIR 2016 mentions that the progress indicators for this project (as listed in Box 4) were "in fact from an old version of the project logframe - one that should have been (but was not) updated to reflect subsequent discussions with the GEF Secretariat during the lengthy project preparation phase". This is a surprising statement as indeed there would have been sufficient time by UNDP during the protracted project preparation phase to sufficiently amend indicators to reflect a more realistic project design.

Also, the Mid-term Review (MTR, 2015) mentions that the indicators are overly ambitious. Given the typical size of the average commercial CSP project and the project preparation period (from concept, measurements, feasibility study, financial engineering to reach financial closure, detailed design, and construction, commissioning, to finally the production of the first kWh) is in the order of many years. The ProDoc itself thus already admits that to achieve construction of a large CSP plant in a three-year time frame as indicated in Box 16 is not possible and that no direct CO2 reductions cannot be expected. In Chapter 5, arguments will be presented to show that even reaching the stage of financial closure in such a short period of 2014/15-2016/17 would be very optimistic for a project the size of 50-150 MW that employs a novel commercial technology, such as CSP, which would need site-specific solar data measurements of at least one year. The MTR rightly proposes to extend the project period with a year from 2016 to June 2017 to allow a full feasibility study to be finalised, but this seems to be based more on UNDP's expectations of the maximum extension period agreeable to the GEF Secretariat, rather than a realistic estimate of the timeframe needed to finalise a full feasibility study (including partnering, financial planning, contract and licence negotiations).

Outcomes and output indicators

If guided only by the Indicators of Box 4, the rating of results would be 'unsatisfactory' with the full feasibility study (including financial and business plan) of the first CSP only being halfway, with no construction of CSP starting immediately after CSP-TT's end, and with no other CSP projects even in the planning phase. However, this evaluation reports will argue that the target value where unrealistically defined and should have been corrected during project implementation to more realistic values and the report will demonstrate in Chapter 6 that the project has much more satisfactory achievements than what can be reported according to the initial log-frame's progress indicators.

A more fundamental flaw in the log-frame, apart from the target values, is that the type and definition of the indicators themselves is not sufficient to adequately describe project progress. The results of a project occur at various levels, i.e. impacts (higher-level changes aimed to be brought about with support by the project), outcomes (mid-level results, that are influenced by the project's efforts) and outputs (results what the project can and should deliver). The log-frame mainly gives indicators for the higher-level results, for example, GHG emission reduction (indicator 1) and financed or approved CSP plants (indicator 10), % share of CSP in the RE mix (indicator 2) and cumulative CSP power generation (indicator 11). Thus, the project design shoots itself in the foot by only reporting results whose realisation it does not or only indirectly influences. Also, the indicators are dependent on one another; if there is no CSP plant yet, that means that no investment has taken place, there will be no cumulative CSP power generation and obviously the % share of CSP in the energy mix will be zero. Many indicators can be derived from each other.

The log-frame would have been benefitted from indicators that reflect the different levels and stages in the project cycles process rather than just the end of the process. For example, a) number of sites with solar radiation data measurements (GNI, GDI), b) number of sites with pre-feasibility study (techno-economic, c) number of sites a full feasibility stage (detailed design, business plan), d) number of sites at financial closure and authorisation, e) number of sites at construction stage, f) number of sites with operational plants.

Mixing up components, outcomes, and outputs

Apart from the choice and quantification of indicators, equally troublesome in the design is that the placement of outputs under outcomes and that of outcomes under components seems hopelessly mixed up. For example, Component 2 deals with 'policy frameworks', while the associated outcome 2 of 'increased investment' does not refer to policy framework, and is closely linked with Outcome 3 'increased installed capacity', while Outcome 3 is put under Component 3 'financial capacity', which in terminology seems to be more linked with Component 2 (enabling environment). Component 1 is on 'CSP investment partnerships', while the progress reporting details activities that are more on capacity building (curriculum development) than on partnerships.

Of the important capacity building activities, the log-frame only gives one corresponding output (1.2: enhanced knowledge of applicable CSP) and which is actually more of an outcome than output and does not come with progress indicators. Not surprisingly, the real contribution of the project to CSP technical capacity building (curriculum development, technical manuals, workshops and number of participants) goes quite underreported in the PIRs.

Regarding the policy and regulatory framework, output 2.2 refers to 'planning and implementation in MME' and here, one would expect indicators regarding renewable energy policy formulation (and the role of CSP therein) and electric power planning. Instead, the ProDoc vaguely talks about selecting promising CSP sites, which is actually part of the site selection and solar data measurement outputs (2.1 and 2.4). To make the whole even more incomprehensible, the corresponding Indicator (#11: set of specific regulations promoting the development and operation of CSP plants) is put in Outcome 3.

Definition of indicators

Many indicators are not defined in an unambiguous way or are defined in such a way that do not make sense Some examples:

< >Indicator 3 "Number of government-endorsed CSP partnerships established". Why should these be government-sponsored? What partnerships are we talking about? NamPower and a partner to jointly implement a CSP plant? Partnering of a Namibian with foreign academic institutions? Partnering of Namibian companies with foreign engineering or consulting companies? Indicator 8 reads' # of planned and approved projects approved by local finance institutions'. Why 'local' finance' and not any source of finance? Indicator 9 is worded slightly differently, but essentially means the same as indicator 8.Indicator 7 mentions '# of CSP investments facilitated and that are streamlined with REPM outcomes. What does 'facilitated' means and by whom? The ProDoc refers to REPM and NERF without clearly explaining what these concepts mean (and does not include these in the list of acronyms and abbreviations). Only when digging through the ProDoc, the Evaluator found that NERF stands for New Energy Regulatory Framework (NERF). Box 9 Summary of the project objective, outcomes, and outputs in the first concept (PIF, 2010)

Project Components/ Outcomes

Project outputs

GEF budget (USD)

Objective:

To increase the share of renewable energies in the Namibia energy mix by developing the necessary technological framework and conditions for the successful transfer and deployment of CSP technology for on-grid power generation

Component 1: Establishment of CSP technology industry.

Outcomes:

Technology partnership agreements are finalized foreign technology providers and Namibian partners including private sector, academia and government
Enhanced knowledge of applicable CSP applications in Namibia

1.1 National Technology Transfer Coordinating Body (CTTCB) is operationalised

1.2 Partnership agreements in place with at least two partners: (a)South- South and (b) North-South

50,000




Component 2: Market Policy Framework for CSP technology

Outcome 2:

Approved policies supportive of CSP technology
A thriving CSP market in Namibia

2.1 Approved CSP investment guidelines

2.2 Approved CSP technical guidelines for grid quality

125,000

Component 3: Business Model and Financing Framework for CSP projects

Outcomes:

Financing institutions/banks providing loans to CSP project
Increased number of CSP installations in the country

3.1 Approved package of financial incentives for CSP projects;

3.2 Tailored financing packages for CSP technology;

3.3 Established and enforced national CSP promotion strategies

125,000

Component 3: CSP Pre- Commercial demonstration plant

Outcomes:

Improved confidence of the government and citizenry on the techno-economic viability of CSP
Several replications of the CSP plant

4.1 Detailed techno-economic feasibility reports

4.2 Demo CSP plant (5MW) built

4.3 O&M and performance reports

4.4 Technical performance manuals

4.5 Trained local technicians on the design and operation of CSP plants

4.6 Engineering curricula that incorporate CSP technology design and applications

4.7 Approved monitoring indicators for baseline mid and end-of-project analysis

4.8 Documented and disseminated project results

Project Management / M&E

171,588

Total

1,718,000

To conclude, in the conundrum of the vaguely described design framework, it is difficult to report on the achievement of outputs and how these have contributed to achieving outcomes in a transparent and clear, well-defined way.

Capacity building vs. investment project

Maybe one reason for the confusing project results framework is that project designers have not had a clear focus. It is instructive to have a look at the original concept (PIF), of which the main elements are given in Box 9. The whole concept is centred on the idea of having a small 5 MW demonstration unit and the concept seems to assume that these type of small CSP units can then be replicated in a commercial way, provided that the regulatory framework has been strengthened, local finance mobilised and technical capacity built. Although not specifically mentioned, the idea is that local companies (with local financiers) could lead this effort as small-scale renewable energy IPP developers and that this process, once demonstrated, will attract global CSP player to establish large-scale, fully commercially viable, facilities.

It is realised during the project conceptualisation in 2010-2012 that the CSP technology diffusion process rather works the other way around. Unlike photovoltaic power, CSP is less scalable in terms of economics of scale, and globally there is a tendency to set up even facility of 15-100 M, either with investments by a national utility working with or by global CSP players and investors. Once these large often government-supported, have facility demonstrated the technical and commercial viability of CSP, and global investment costs have gone done, will this in future attract local (or regional) industry and companies to set up CSP plants as (smaller) IPP projects (and provided that the policy-regulatory framework is conducive for IPPs). For a more detailed discussion in the current status of CSP investments in the world, the reader is referred to Annex E.1.

Assumptions and risks

Compared to original PIF's, the ProDoc's project logical framework is adapted towards investment-type activities and activities are being moved around in the log-frame. For example, the demo experience is originally meant to help formulate an engineering curriculum (component 3). With the demo idea, out (replaced by a commercial CSP), the curriculum becomes a stand-alone activity but is then somehow 'hidden' in the outputs of Component 1 without the prominence it still deserves. Thus, we end up with a logical framework that is still pretty much of an academic type of R&D/demo-type of activities in concept but patched up with elements to make it look like more of an investment promotion type of programme. Thus, we end up with a non-convincing amalgam, in which the assumptions and detailed risks, in particular regarding the timeline and level of government support needed, are quite different for large CSP project than for a small CSP activity and especially the assumption of timelines becomes critical.

The designers of CSP-TT NAM did partly recognize that the concept should from the 5 MW R&D/demonstration-type CSP to a more commercially sized CSP facility of at least 50 MW. This should have gone together with re-thinking the timeline of CSP-TT NAM, realising that the lead time for setting up such a large CSP facility would be much longer. Thus, a demo facility may be built in 3 years, but constructing a commercial CSP plant, 10-30 times its size needs more time. Nonetheless, the designers try maintaining the original 3-year timeframe of CSP-TT NAM. The concept fails to mentions that feasibility and business plan formulation is a process that can take years of detailed design and difficult high-level negotiations between project partners and with government authorities and can go on well beyond the timeframe of CSP-TT NAM. Even setting up the necessary investment-grade measurements of solar data will take one year or more.

Were the partnership arrangements properly identified and the roles and responsibilities negotiated prior to project approval? Were adequate project management arrangements in place at project entry?
Are the project's targeted groups being systematically engaged, with a priority focus on the excluded and marginalized, to ensure the project remains relevant for them?
Relevance of the project's objectives, outcomes and outputs to the different target groups of the interventions. Is the Project addressing the needs of the target beneficiaries?


Management arrangements and stakeholder participation; replication approach

The Project design envisages a replication approach where the lessons learned from building local capacity and fostering an enabling environment (regulatory, institutional) with financial will generate interest in investment in a small demo CSP and that the confidence obtained with demonstrating the first CSP will open the door for replication. As mentioned in the preceding section, this model is based on replication of a small 5 MW facility, as might be the case with other smaller-scale RE technologies, such as solar PV, and that will eventually attract investment on a large scale, However, CSP is a technology that, unlike solar PV, can only be implemented commercially with very large plants of over 50-100 MW.

The Project Document does define the main target stakeholders and their scope of involvement or level of engagement in project activities at all stages. The PIF mentions it works with German (or other) institutes, such as RENAC and SIJ (Germany) and possibly commercial CSP firms to have the 5 MW CSP demo facility. The description of the possible collaborative arrangement has not changed since the first concept (PIF). The Project Document mentions on its page 56: "the Renewables Academy AG as the provider of the technical training and overall capacity development; and Fraunhofer Institute ISE and/or Lahmeyer International as providers of technical expertise. The exact partnership structure and implementation arrangement of the plant installation will be decided based on the final choice of operator (whether SUNTEC Namibia (Pty) Ltd or another entity) and the investors involved. Further, if deemed appropriate and necessary the role of MME, NamPower and ECB on behalf of the Government of Namibia will be considered". The changing focus from capacity building and demonstration to commercial investment should have affected the choice of project partners according to the CSP business model needed. The size of investment is too large for local IPP developers or financiers and there was no approved IPP framework in Namibia at time of writing the ProDoc. Not surprisingly, no IPP has come forward and original co-financing partners (Suntec Namibia and the DBSA) quietly disappeared from the project's implementation.

Realising that in the large 50-150 MW segment the senior players are not Namibian industrial and financial entities, but global CSP industry, investment groups, and investment institutions with a prominent role to play for NamPower. However, as is the case with the logical framework, the project's institutional setup and stakeholder involvement stayed glued to the original demo facility concept. Given this context, it would have been appropriate for NamPower to take a prominent role in the investment related activities of the CSP-TT NAM project already at the design of the ProDoc. The Project Document leaves the discussion open on what partners need to be involved in investment undertakings and what business and finance model to use to the project implementation phase.

The Project Document should have discussed such business and finance models when discussing replication. One can imagine that after the first 100-150 MW CSP has shown technical and financial feasibility, this will open the field for broader adoption in which (maybe smaller-sized) CSP facilities are developed as IPP project. In such a context, commercial partners (foreign CSP developers partnering with Namibian and foreign investment partners) would set up an IPP company, with debt financing provided by foreign banks or development banks, which sells power, not only to NamPower but also to the REDs (regional electricity distributors) and other off-takers directly, in a market that would be transforming from single-buyer to a 'modified' single-buyer model.

Strangely enough, the UNDP/GEF rating requirements and criteria (see Error! Reference source not found.) do not include a 'rating on project design and formulation', except for the item "M&E at design". This is surprising because the Evaluator argues (and has demonstrated in this Chapter) that 'design is one of the main factors, alongside 'implementation' and 'external factors' that determine the achievement of 'results.

In this report, ratings are given therefore for project design, and the overall rating is unsatisfactory, thus reflecting and giving a summary of the discussions in this chapter.

Box SEQ Box \* ARABIC 10 Evaluation ratings of project design and formulation

Evaluation item

Corresponding section in the report

Rating

Design logic and approach; assumptions and risks

4.2.1

4.2.2

U

Formulation of the log-frame (choice and values of indicators)

4.2.1

HU

Lessons from other projects

4.1.1

MS

Stakeholder participation

4.2.2

S

Replication approach

4.2.2

U

Management arrangements

5.1.2

MU

Overall project design and formulation

U

M&E design at entry

5.4

U

---

[1] The Polytechnic has been renamed the Namibia University of Technology (NUST) and REEEI was absorbed in NUST's new Namibia Energy Institute (NEI)



3.

This part of the Evaluation Report describes the assessment and rating of the quality of the execution by the GEF Implementing Agency (IA), UNDP, and by the Executing Agency/Implementing Partner, MME. Building on the previous Chapter's critical look at project design and formulation, an assessment is made of the partnerships established and stakeholder interaction during implementation and the important role of adaptive management (changes in the project's design). The Evaluation Report presents an assessment and rating of the project monitoring and evaluation (M&E) plan design and implementation. A special section is dedicated to the budget, expenditures, and co-financing of the CSP-TT NAM project.

Describe adaptive management practices; How was UNDP and MME/NEI supervision and backstopping?
Have there been regular reviews of the work plan to ensure that the project is on track to achieve the desired results, and to inform course corrections if needed?
Has the project produced results (outputs and outcomes) within the expected time frame? Was project implementation delayed, and, if it was, did that affect cost effectiveness or results? If there were delays in project implementation and completion, what were the reasons? Did the delays affect project outcomes and/or sustainability, and, if so, in what ways and through what causal linkages?

(Annex D)


Changes in project design during implementation; feedback from M&E

Achievements of outputs by mid-2015

After signing of the Project Document (July 2013), it took a further year for the Project Manager to be hired and implementation started only in 2014, that is with an almost 1-year delay. One year thereafter by mid-2015, by the time of writing the first Project Implementation Review (PIR) and the Mid-term review (MTR), the project had made some progress:

< >Providing inputs into the process of drafting the country's Renewable Energy Policy, by stressing the importance CSP as a priority into power planning, e.g. by incorporating a 125 MW CSP plant into the action plan of its National Development Plan IV (running until 2017);Establishing a CSP investment database (as a resource for Government and for interested private sector);Selecting three sites and installation of equipment for solar radiation measurements at these sites;Providing capacity building and networking workshops.

As discussed at length in the previous Chapter, the project design was over-ambitious with respect to the expected schedule. The concept design for the implementation of CSP in Namibia has gone through different stages, from an initial small pilot project of 5 MW to a wider project scope with deployment of large utility-scale (50-150 MW) CSP plants without looking critically at the (longer) time period needed to reach the EPC (engineering, procurement and construction) stage of such a large commercial venture.

One observation in the 2015 PIR is that many of the project's achievements by mid-2015 were essentially intermediate (i.e. workshops, solar data measurements), i.e. are means to an end, rather than an end goal themselves. The ultimate objective of the project, to develop a feasibility and investment plan for at least one CSP plant (let alone having a national rollout plan for more CSP facilities) seemed a distant prospect. The project was 6 months behind schedule, budget delivery standing at less than 30% and little progress seemed to have been made towards the central objective of the project, to prepare all of the groundwork - technical, administrative and financial - for the development of a CSP plant.

Changes in attitude towards CSP at policy and decision-making level in Namibia

The Mid-Term Review, therefore, gives the rating of 'marginally satisfactory' to the project's objective and its three components. It observes that "it is critical that a timeline be agreed with all project participants at the highest level and adhered to for all activities, in particular, those that are critical (ground measurement, techno-economic study, EIA, determination of local capacity and announcement of plans)".

It further mentions that "the assessment of project feasibility and the decision to proceed with CSP should be considered at the national level, involving the various Government stakeholders (MME, MoI, MoF, Nampower, etc.)". In this respect, the 'energy framework' in Namibia had been changing by 2015. Alerted by Namibia's looming power generation shortfall and the inability of neighbouring South Africa to ramp up power exports (as South Africa is facing load-shedding of its own), the Government position had been changing from a position of relative disinterest in renewable energy, to taking a more active interest in developing utility-scale renewable energy as a commercial option (in addition to conventional options, such as the Kudu natural gas project).

Here, the project did a good job of integrating itself into the apparatus of Government decision-making, as evidenced by the fact that development of the Renewable Energy Strategy was entrusted to the project. This has proven an excellent opportunity to highlight the fact that Namibia has the world's best solar energy resource and the potential of CSP in utilising this resource. Thus, the project has succeeded in placing CSP at the forefront of the Government's power planning strategy.

In tandem, the attitude of NamPower's management regarding CSP has changed. The 2015 PIR observes that a notable development is "the conversion of the state utility, Nampower, from an ambivalent (verging on anti-) CSP stance to one that is fully supportive of CSP and of the GEF-financed project. After a delay of one year, this culminated in the finalization of the agreement between NamPower and the Ministry of Mines and Energy". The responsibilities listed in the agreement makes NamPower the lead stakeholder responsible for carrying out the feasibility study for the CSP project[1].

How efficient are partnership arrangements for the project? Did each partner have assigned roles and responsibilities from the beginning? Did each partner fulfil its role and responsibilities? UNDP's supervision and backstopping. Was the project's governance mechanism (i.e., the PSC) functioning as intended?


Coordination and management arrangements

The Mid-Term Review gave a rating of 'marginally unsatisfactory' for project implementation, giving project stakeholder satisfaction and lack of clear roles and responsibilities. On coordination and project oversight, it recommends that: 1) The presence of the PMU within NEI should be further exploited to make use of NEI's experience and resources, and 2) An operational-level meeting of the project participants should occur quarterly. Regarding work planning the MTR recommends that 3) An extraordinary meeting of the PSC should be called as soon as possible to lay out the work of the remaining months before EoP, and 4) the PMU and stakeholders should immediately develop a work plan with realistic but aggressive targets for the period until December 2016 (the then end-of-project date), prioritising the activities with the most important contributions to project outcomes. In this respect, the MTR observes that "it is critical that a timeline be agreed with all project participants at the highest level and adhered to for all activities, in particular, those that are critical (ground measurement, techno-economic study, EIA, determination of local capacity and announcement of plans)".

The project was being implemented by MME with the PMU hosted at NEI of the Polytechnic of Namibia with MME overseeing the use of funds and reporting to UNDP, the GEF Implementing Agency. In line with the above-mentioned recommendation of the MTR, it was agreed in March 2015 that the "project is to fall under the Polytechnic, and should be subjected to the rules and regulations of the Polytechnic of Namibia". Since then, project staff and financial accounts have by been managed by NEI, following the policies of the Polytechnic (now named NUST).

In the project management setup, the Project Steering Committee (PSC) is responsible for making management decisions for a project. According to the Project Document, the PSC will be responsible for:

< >Achieving coordination among the various government agencies; Guiding the programme implementation process to ensure alignment with national and international policies, plans and strategies;Ensuring that activities are fully integrated with other developmental initiatives;Overseeing work of implementation units, monitoring progress and approving reports; Overseeing the financial management and production of financial reports; Monitoring the effectiveness of project implementation;1.1.3Results of adaptive management interventions

In the before-mentioned Extraordinary PSC Meeting, the PMU was asked to draft a 'fast-track work plan'. The delivery of project outputs did increase remarkably during the reporting period of the second PIR (mid-2015 to mid-2016). By mid-2016:

< >A full year of solar radiation measurements had been realised at the Auas, Kokerboom and Arandis sites. The formnulatioin of national policy frameworks (renewable energy policy, IPP framework; integrated resource planning; updated national energy policy) had been supported by the Project, and the process of government endorsement had started;The full feasibility study had started for the 100-150 MW CSP (an increase from the target size of 50 MW in the Project Document) with site selection (Arandis or Kokerboom), the solar mapping reporting, and the formulation of the techno-economic and environmental impact assessment in the process of being finalised.

Did the project involve the relevant stakeholders through information sharing and consultation? Did the project implement appropriate outreach and public awareness campaigns? Which stakeholders were involved in the project (i.e. NGOs, private sector, other UN Agencies etc.) and what were their immediate tasks
Did the project consult with and make use of the skills, experience, and knowledge of the appropriate government entities, NGOs, community groups, private sector entities, local governments, and academic institutions in the design, implementation, and evaluation of project activities?


Stakeholder involvement

Since its conception, the project's objective has changed from capacity building and technology transfer (only) with demonstration of a small pilot CSP facility (with local IPP participation) towards investment in the country's first large CSP plant whose implementation will be led by NamPower and international CSP players. Consequently, the stakeholders and targeted beneficiary groups have changed with local entities as junior partners providing local content rather than taking the lead.

Local content

The project has been engaging with the private sector to enhance its capacity for local content involvement in the CSP supply-chain, as well as closely involving the private sector in the CSP policy formulation process so as to ensure the policy environment is conducive to private-sector investment. For this reason, the CSP-TT NAM project has organised training workshops, participated in networking events and supported the integration of CSP in training manuals and curricula, as detailed in Chapter 3. It is mentioned in the 2016 PIR that "200 private potential entrepreneurs, ranging from developers, engineers, installers, manufacturers, financiers, etc., have undergone capacity development through project-organised initiatives as well as being exposed to networking with South-South and North-South partners for technology transfer".

Potential renewable energy supply entrepreneurs have identified an opportunity to broaden their businesses by providing local content and future solar energy projects developers (CSP, PV, and wind) will also find it easier to gather and select suitable potential sites thanks to project-supported solar and GIS data gathering and distribution. Researchers and students are now able to obtain training and research data on CSP (and solar energy) through the various training programmes and lectures offered by academic institutions with the support of project initiatives.

In the original design, the local private sector would play a pivotal role in providing investment financing, technical skills, materials and logistics to the small-scale CSP plants being planned by the Government, many of which will be implemented under a public-private partnership (PPP) modality. The MTR recommended that detailed study of the potential for local content should be undertaken and that development of local capability would play a role in the development of the tender documents of CSP plants. However, the decision on 'local content' (i.e. maximising the fraction of Namibian-manufactured CSP components manufactured or services provided by local consultancy and engineering services) is essentially beyond the scope of CSP-TT NAM and in the hands of the CSP plant owners and developers.

Thus, it is for NamPower to consider if and how preference for local content may be included in the tender for the Arandis CSP. While the issue of local content is an important one from a development perspective, the project will risk achieving little if it potential business and financial partners are shied away by adding local content requirements that would need allocation of additional time and financial resources. It will be a better strategy to have the experience of the first CSP in engineering, design, and construction and then, study the experiences in South Africa and Botswana, and then have a good local content study to see how this can be incorporated in future utility and IPP-led CSP development not only in Namibia but also at the sub-regional level.

CSO/NGOs/indigenous people; local impacts

CSP development has impacts on society. For example, there can be issues of displacement from selected plant sites and, in most cases, it is marginalised communities and women that are negatively affected. In this respect, it is worth mentioning that NamPower engaged the !Oe-‡Gân Traditional Authority in the land purchase[2] in 2012 for the establishment of power facilities, the Authority confirmed its support, provided that proper environmental management plans would be enforced and that the specific requirements of the Authority would be formalised in a MoU. Examples of such requirements are the incorporation of the !Oe-‡Gân Traditional Authority in the shareholding/ownership structure of the power facility (subject to bankability and Government approval), support to activities of the ‡Gainu Conservancy in the area (anti-poaching programmes, youth development, school programmes in the region, implementation of water points; employment of local people and setting aside small tenders for local entrepreneurs, e.g. local shops)[3].

One of the key issues for the region while considering a CSP program is the availability of water. Water consumption has an increased significance in a geography such as Namibia where the water availability is very low, and for that matter should be given priority for social uses, such as human consumption and farming (irrigation). The water requirements for a CSP plant are no different from the needs of conventional power plants, In light of the above, it was decided at the onset that any CSP plant proposed for Namibia must have a dry cooling technology, meaning that the water consumption for cooling can be considered negligible. Additional water will be needed for cleaning of the solar mirrors.

The Project developed a Stakeholder Engagement Plan and has initiated a number of processes to engage NGOs and civil society at all stages of CSP discussions. For example, a Stakeholder's Multilogue (on CSP market policy, financing, and entrepreneurial opportunities) was held with over 50 participants (Nov 2014).

Gender

Gender aspects are not clearly identified in the Project Document, probably because gender mainstreaming did not figure that prominently in the UNDP ProDoc and GEF CEO ER templates at that time. In some initiatives being undertaken by the project (e.g. workshop participation), there is an explicit target of at least 40% or more female participation. However, the evaluation found little gender-relevant reporting, maybe also because the log-frame's progress indicators were not defined in a gender-sensitive way.

The financial resources that were requested and made available by GEF and the actual expenditures (until end of June 2017) are given in Box 11. The CDRs indicate that most of the GEF budget was spent (97%) by June 2017 and most was spent in budget categories (consultancy, contracted services, etc.) more or less in line with the budget as approved at CEO endorsement.

Box 11 UNDP/GEF budget and actual expenditures

Note: The data are compiled from the UNDP ProDoc and the Combined Delivery Reports 2014, 2015, 2016 and the CDR Project Balance sheet July 2017.

Box 12 Committed co-financed and realised disbursements

Note: Data are compiled from the GEF CEO Endorsement Request (ER), the PMU Co-financing Update (March 2015) and the NamPower Concentrated Solar Power (CSP) Concept Note (September 2016).

*) NAD 11,000,000 converted at USD 1 = NAD 13.16

**) Contribution from the European Investment Bank. EUR 1.3 million, converted at EUR 1 = USD 1.15

***) NamPower's contribution to project implementation

NamPower joined the project team and signed a MoA (Memorandum of Agreement) with MME in February 2015. The responsibilities listed in the MoA makes NamPower the lead stakeholder responsible for carrying out the feasibility study for the CSP project. The MoA included an updated budget, in which USD 1,000,000 of GEF funds (58.2% of the total GEF funds for this project) were allocated to the full feasibility study. The project partners recognised that even this allocation from the CSP TT project would be insufficient to conduct a full feasibility study and, hence, additional co-financing was procured for this purpose (as indicated in Box 13).

Adequate resources have been mobilized to achieve intended results?
Are project inputs procured and delivered on time to efficiently contribute to results?
Did the project have appropriate financial controls, including reporting and planning, that allowed management to make informed decisions regarding the budget and allowed for timely flow of funds?
Are the disbursements and project expenditures in line with budgets?
Did promised co-financing materialize? If there was a difference in the level of expected co-financing and the co-financing actually realized, what were the reasons for the variance? Did the extent of materialization of co-financing affect project outcomes and/or sustainability?

Box 13 Summary table of co-financing

Co-financing

(type/source)

UNDP own financing

('000 USD)

Government (MME, NAMPower and NEI)

('000 USD)

Private sector ('000 USD)

Total

('000 USD)

Planned

Actual

Planned

Actual

Planned

Actual

Planned

Actual

Grants

340,000

5,501,000

450,000

790,000

5,501,000

Loans/ Concessions

In-kind support

80,000

80,000

80,000

80,000

Other

Totals

420,000

5,581,000

450,000

870,000

5,581,000

Have there been regular reviews of the work plan to ensure that the project is on track to achieve the desired results, and to inform course corrections if needed?
Is there regular monitoring of changes in capacities and performance of national institutions and systems relevant to the project? Is the project's M&E Plan being adequately implemented?
Budgeting and Funding for M&E activities. Was M&E was sufficiently budgeted for at the project planning stage and whether M&E was adequately funded and in a timely manner during implementation.


Monitoring and evaluation

Reporting

Regarding quarterly reports, the MTR report mentions that "reports are generally prepared and well stored. Reports need greater detail and greater focus on reporting actionable items. Conclusions do not seem to be drawn and used effectively for steering. The reports should include financial information and should have greater clarity on events being monitored and evaluated". The Evaluator has the opinion that the annual Project Implementation Reviews (PIRs) are informative and give a good overview of the results and progress in implementation and operational issues, although the presentation is a bit awkward as the information is presented according to outdated results framework (as discussed at length in Chapter 4).

M&E: design at entry and implementation

The Project Document provided an elaborate structure for Monitoring & Evaluation, which follows the 'standard' M&E Plan with a) inception activities (workshop, report), annual reporting (PIRs), project steering committee meetings, periodic status, financial and progress reporting, as well as audits, field visits and mid-term review and final evaluation reports. A total of USD 96,000 was allocated, about 5% of the total GEF budget, which is deemed sufficient for this type of projects.

The main shortcoming in M&E is not in the planning but relates to the faulty design of the set of outputs and progress indicators of the logical framework (see Chapter 4) and consequently it could not have been used as an effective monitoring tool, and in the inability or unwillingness by both UNDP and GEF to drastically change the log-frame according to the changing circumstance. Another issue mention by one respondent in the interviews was the changes in Country Office 'staff responsible for the Project, which may have affected M&E implementation and project oversight.

The project started with a delay of almost one year, but the project partners (UNDP, MME, NEI, NamPower) managed to progress under a fast track mechanism and has progressed the preparatory activities that would lead to the establishment of a 135 MW CSP plant, including investment-grade measurements and the first phase of the plant's full feasibility study. In the 2016 PIR it is mentioned by the UNDP Regional Technical Advisor "the study will still only be half-complete by June 2017, which is unacceptable". As co-financier, the CSP-TT NAM Project can influence, but in the end, the prospective CSP plant owner and investor, NamPower, will take the final decision on the full feasibility study, which is the. Given the size of the investments (about USD 1 billion, see Annex E) and the novel nature of CSP technology for grid-connected power supply, NamPower and the Government can be forgiven to take a cautious approach. As Box 17 explains, the tentative timeframe for the full feasibility study (including at least one year of investment-grade solar data measurements) is about 4-5 years. In other words, even if the project would have started on time in 2014, the full feasibility would still have not been finished by the CSP-TT NAM's project end (June 2017). On the other hand, one could have expected by this time for NamPower and MME at least to have taken a decision on to go ahead with Phase 2, which is currently still pending. Such a positive decision would have given some concrete assurance that the project will actually materialise.

There is a general surge in interest in utility-scale renewable power generation in Namibia, with a corresponding increasing interest in CSP, as evidenced by the recent drafting of the National Integrated Resource Plan and National Renewable Energy Policy. In these, CSP has emerged as one of the key options that are being prioritised, in such a way that the project-envisaged facilitation of a 50MW ha in the facilitation of the first commercial scale CSP of 135 MW (and the NIRP even mentions 250 MW in the near future up to 2030/35). Installation of such capacity will not occur during the project lifetime, but the CSP-TT NAM project partners can be credited with have taken the necessary supporting steps for the future realisation of CSP.

Regarding the rating of project implementation and execution, a rating of satisfactory accurately captures the 'fast-track' implementation progress that has been achieved in the past 2 years, acknowledging that such a rating is a bit generous in terms of capturing the cumulative situation over 2013-2017 in view of the slow, uncertain, implementation start in 2013-2014.

Box SEQ Box \* ARABIC 14 Evaluation ratings of project implementation and execution

Evaluation item

Corresponding report section

Rating

Quality of UNDP implementation

(adaptive management; finance; finance)

5.1-5.3

S

Quality of execution (MME, NEI, NamPower), coordination; adaptive management; stakeholder involvement

5.1-5.3

S

Overall UNDP implementation and implementing partner execution

S

M&E plan implementation

5.4

MU

Another concern is that with the focus on the full feasibility of the first CSP project, other aspects seem to have been put in the background. For example, little attention has been given to other post-project activities, such as the future role of NEI as the National Technology Transfer (TT) Coordinating Body and as a depository of the information and knowledge captured on CSP and the dissemination thereof through a CSP-dedicated website. The next Chapter 6 will discuss this in the see section on 'sustainability'.

---

[1] The reader should note that the term 'feasibility study in the MoA (signed in February 2015) refers to a full feasibility (FFS) study, which includes solar resource measurement, the techno-economic Study (sometimes also referred to as" feasibility study" in a narrower sense), the environmental impact assessment (EIA). and other studies and activities needed to reach financial close of the project and start of construction.

[2] At other sites, the land use and ownership will be different. At Kokerboom, the facility will purchase form commercial farmers (the Evaluator was told when visiting the site that land prices have increased in the area).

[3] See Memorandum of Understanding, dated 11 September 2015



4.

Are the project outcomes commensurate with the original or modified project objectives? How do the stakeholders perceive the quality of outputs? Were the targeted beneficiary groups actually reached?
Were there any unplanned effects? Which external factors have contributed or hinder the achievement of the expected results?
Is the project proactively taking advantage of new opportunities, adapting its theory of change to respond to changes in the development context, including changing national priorities?


Attainment of the objective and rating of results

The project's objective has been to "increase the share of renewable energies in the Namibian energy mix by developing the necessary technological framework and conditions for the successful transfer and deployment of CSP technology for on-grid power generation". The indicator "percentage share of CSP in the power generation mix of Namibia" results from the "investment in CSP" (realised in the post-project period) from which another indicator, the "cumulative direct post-project CO2 emission reduction" can be computed (see Box 15).

Box 15 Description of the objective's indicators

Indicator

Baseline

Target

Achievement

Mid-2017

1. Cumulative direct post-project CO2 emission reduction resulting from the investment in CSP by end-of-project (EoP)

0

5.83 MtCO2

N/A; See main text

2. % share of CSP in the power generation mix of Namibia by EoP

0

10%

N/A; See main text

As discussed in detail in Chapters 3 and 4, these indicators were over-ambitious and do not accurately reflect the objective of the project. In the Project Document, Figure 7 on its page 15 (reproduced here as Box 16) seems to indicate, in a very optimistic way, that a CSP plant could be operational by 2015. With more sense of realism, Annex 5 of the ProDoc states that "commissioning of the first CSP plan is not expected until after the completion of the 3-year CSP TT NAM project" (then scheduled to start in 2012 and to end in 2015). In other words, installation of such capacity would not occur during the project lifetime but the necessary preparatory steps for it could be expected to be realised during the project lifetime. Consequently, the logical framework of the ProDoc did not include direct emissions.

Box SEQ Box \* ARABIC 16 Indicative timeframe for CSP investment as mentioned in the Project Document

The PIR 2016 mentions on its page 14 that "that should have been (but was not) updated to reflect subsequent discussions with the GEF Secretariat during the lengthy project preparation phase. The key development outcome of the project is, according to the CEO Endorsement Request that was finally endorsed, the production of a detailed feasibility study for a Concentrated Solar Power (CSP) plant in Namibia - rather than the construction and operation of a CSP plant". It remains somewhat ambiguous what this exactly means, e.g. there is signed EPC contract for construction, or does it mean there is an approved business and finance plan, by the end of the project? In any case, with the full feasibility study of the Arandis CSP (only) halfway, the 'soft' target of having financial closure or EPC contract signed before the end of the project has not been reached, in fact, not no formal decision to go ahead has been taken yet. Following this logic, no direct post-project CO2 can be fully expected either, but in section 6.3.2 arguments will be presented in the section on emission reduction impacts to favourably consider post-project GHG emission reduction associated with the full feasibility stage (by making assumptions on the probability of reaching financial closure and the construction of the CSP in the next period 2017-2020).

By June 2017, only the first Phase of the full feasibility study was completed, including solar data assessment and measurements, multi-criteria and techno-economic assessment, and a concept of the CSP plant with technology (molten salts tower CSP) and site selection (Arandis) and with an environmental assessment. Phase 2 with project management and business planning, and financial engineering and the eventual engineering design, procurement and construction (EPC) is still pending.

Box SEQ Box \* ARABIC 17 Indicative timeframe of full feasibility study of the CSP plant at Arandis

Activities

2015

2016

2017

2018

2019

2021

Phase 1 (until end CSP-TT project, June 17)

Solar radiation measurements in 3 sites

X

X

MCDM, techno-economic report

X

EIA study submitted to MET for clearance

X

Final site selection (Arandis) and procurement of land

X

Transmission connection water supply application cleared

X

Phase 2 (after, June 17)

Obtain NamPower Board and Government approval to proceed; obtain generation licence from ECB

X

X

Procure partners and project agreements

X

Conclude EPC tender documents; detailed design

X

X

Procure funding and finance; financial closure

X

Construction; commissioning (1.5-2 years)

X

Source: own estimate, based on the NamPower CSP Concept Note (2015)

One reason is the late start, implementation started only in earnest beginning 2015 with new project management arrangements and an agreement on the role of NamPower in the full feasibility study of a CSP plant).

The CSP-TT project was extended 2016 with one-year to June 2017 with the aim of finalising the full feasibility study (FFS). The possible timeline of the Arandis CSP Plant is given in Box 18, which shows the lengthy period from early studies in 2015 to financial closure in 2019 and commissioning in 2020-21, i.e. a timeline for the full feasibility study (from first measurements to financial closure) of about 5 years and. For comparison, the timeline of ESKOM's CSP plant in South Africa is given, which shows a 10-period of preparation and another 4 years to reach commissioning. In this context, it was not realistic to expect to FFS to be finalised and have reached financial closure or even EPC contracting in just one year after the CSP-TT project extension in 2016. However, one could have expected in in the one-year extension period, at the least to have obtained all the approvals by the Namibian authorities to go ahead with the second phase and business and finance planning activities to have started.

Box SEQ Box \* ARABIC 18 Timeline of the ESKOM CSP facility near Upington

Source: Climate Policy Initiative (2014)

Given the size of the CSP (135 MW 1 billion), its prominent role in Namibia's power supply and the substantial investment (at a funding requirement of about USD 1 billion, see Error! Reference source not found.), it should be realised that decisions are not just simple techno-economic considerations, but require high-level decision-making at institutional level (MME, NamPower, ECB) with full Government support and, unfortunately, such high-level type of discussions tend to be time-consuming.

In Chapter 4, the internal logic of the project has been analysed. As support for the arguments of chapter 4, the Evaluator has reconstructed a theory of change diagram from the outcomes from the original ProDoc and the information gathered during the mission. The diagram, presented in Annex F, shows how outcomes and groups of outputs are logically connected and lead over time (from cause-to-effect) to intended outcomes and impacts. This theory of change logic has been used to re-draw the project's logical framework as to be better able to give ratings for the achieved results; this 'reformulated results framework' has been used by the Evaluator to be able to assess and rate the results of the Projects.

Box SEQ Box \* ARABIC 19 Evaluation ratings of the project Outcome

Evaluation item

Rating

Comment / correspondence with sections in the report

Relevance

R

See section 4.1

Effectiveness

S

See section 6.1

Efficiency

MS

See section 6.1

Project results

S

Described in Chapter 3 and in Annex F

Knowledge transfer, skills enhancement and information dissemination on CSP

S

HS

MS

See Annex F:

Knowledge transfer, skills enhancement, and information dissemination on CSP
Enhanced knowledge on solar data and on potential of CSP application in Namibia
Enhanced awareness and information dissemination on benefits and possibilities of CSP

Governance capacity on RE and CSP strengthened

HS

See Annex F:

Policy-institutional-regulatory framework strengthened

Facilitation of the first utility-scale CSP plant in Namibia

MS

See Annex F:

Full feasibility study of 50-150 MW CSP facility formulated and approvals obtained for construction of CSP

Overall project outcome

S

MS

Overall project outcome and attainment of the objective:

Deployment of CSP technology

Necessary framework and conditions


While the construction of such a large CSP plant will not occur during the project lifetime, one can say that project has been instrumental in laying the foundations for CSP in Namibia, by supporting several assessments that demonstrate the technical and economic feasibility of 100-150 MW facilities in Namibia and by ensuring that CSP has emerged in the electricity planning frameworks as one of the key options that are being prioritised by the Government. The conclusion is that project has become even more relevant than at concept stage, it has been implemented effectively (in terms of achievement of outcomes and the objectives that could be realistically attained according to a revised log-frame), but with serious doubt on project design. The latter has affected M&E negatively and the efficiency with which the project has been implemented.

Sustainability is generally considered to be the likelihood of continued benefits after the project ends. Consequently, the assessment of sustainability considers the risks that are likely to affect the continuation of project outcomes (discussed in detail in Chapter 3 and the previous section 6.1). Five main areas are considered in this section and then rated as to the likelihood and extent that risks will impede sustainability.

Are risks to the project adequately monitored and managed? Is the transition and phaseout arrangements are reviewed regularly and adjusted according to progress (including financial commitments and capacity)?
Financial risks. Are there any financial risks that may jeopardize sustainability of project outcomes? What is the likelihood of financial and economic resources not being available once GEF assistance ends? Was the project successful in identifying and leveraging co-financing?
Socioeconomic-political risks. Are there any social or political risks that may jeopardize sustainability of project outcomes? What is the risk that the level of stakeholder ownership (including ownership by governments and other key stakeholders) will be insufficient to allow for the project outcomes/benefits to be sustained? Do the various key stakeholders see that it is in their interest that project benefits continue to flow? Institutional framework and governance risks. Do the legal frameworks, policies, and governance structures and processes within which the project operates pose risks that may jeopardize sustainability of project benefits?
Environmental risks. Are there any environmental risks that may jeopardize sustainability of project outcomes? Are there any environmental factors, positive or negative, that can influence the future flow of project benefits? Are there any project outputs or higher-level results that are likely to affect the environment, which, in turn, might affect sustainability of project benefits?

(see Annex D)

Technological sustainability

The CSP project will use one of the two technologies proven as per bankability criteria from senior lenders in project financed environment, namely central receiver (tower) or parabolic trough technology. The project tender specification should be wide enough to include major players in CSP market, providing optimal solutions to meet performance requirements, through a competitive bidding process. Internationally, the cost of CSP tends to go down. IRENA mentions CSP as one of the technologies with the largest cost reduction to the year 2015, alongside solar PV and wind. The overall capital cost reductions for parabolic trough plants by 2025 could be between 20% and 45%, and for solar towers, the cost reduction potential could be as high as 28% (compared to 2010-11 levels). This means that by 2025, solar towers could be producing electricity for between USD 0.11 and USD 0.15/kWh on average[1].

Governance and policy risks

Starting from a position of Government disinterest in utility-scale RE technology, and wait-and-see opposition from the state utility, NamPower, the Project has been instrumental in placing CSP at the forefront of the Government's power planning strategy. A comprehensive RE and IPP investment policy and regulatory framework has been put in place (as explained in detail in Annex E) that is inclusive of CSP targets. The Government has prioritised CSP amongst the top 3 options in ensuring energy security of supply in the country and has committed itself together with the national power utility in facilitating the development of the first 135 MW CSP plant in the country.

Namibia is enforcing a regulatory policy of ensuring cost reflective electricity pricing and tariffs[2]; as well as recently the country introduced an environmental tax on carbon emitting fuels. All these interventions will contribute to making CSP development more competitive. On capital cost, the analysis of the Arandis plant (see Annexes E.3 and E.4) gives levelised cost of energy estimates of around USD 0.15-0.17/kWh, which would be slightly higher than the cost expected cost of energy imports at peak times in 2017-2018 of around USD 0.11-0.165/kWh[3], but offering the advantage of energy security and improved balance of payments. In 2016-17, some NAD 2.6-3 billion was leaving the country for energy imports[4]; a 135 CSP facility would save about NAD 0.9-1.2 billion by displacing imported electricity. Thus, even at relatively high investment cost, the project will proceed if the Government determines that, strategically, the project is of importance to create a sustainable power supply, to promote development of industry in Namibia and as a means of ensuring energy security of supply.

Environmental sustainability

An environmental impact assessment (EIA) was conducted in accordance with both local legislation and international standards and these studies included also climate change impacts and risks assessment. As the CSP plants are developed in the water-scarce regions of Namibia, any new CSP facility will make of dry cooling technology to reduce water consumption and its environmental impact. Future projects may benefit from global R&D the reduction of water usage in both steam/power generation and mirror cleaning.

Financial risks

Financial barriers are the most important in developing CSP market due to high investment costs. Risks include reduced private sector or foreign investor interest as a result of an economic slowdown at the national or regional level and higher-than-expected capital cost of the CSP facilities. Development banks are a natural option for the funding of RE projects since they have experience in long-term concessional lending and they have one of their overarching goals is the promotion of sustainable development. The highly capital-intensive nature of the project also implies high initial interest payments, particularly where the debt principal payments are sculpted to enable a minimum DSCR (debt service coverage ratio) to be met.

Local financiers (DNB and EIF) are now ready to finance RE on-grid developments (e.g. DNB is involved in smaller IPP PV projects), in which DNB absorbs the political risk. However, given the size of investments needed, local financiers can participate, but as junior financing partners, and most of the financing will be received from international financing institutions, whose loan structures would provide much-reduced interest cover requirements. For example, the ESKOM 100 MW CSP plant in South Africa has received concessional financing from several development banks (such as African Development Bank, World Bank and European Investment Bank, Kreditanstalt für Wiederafbau); the smaller Bokpoort 50 MW CSP is implemented as an IPP project by a private developer with South African investment groups and debt financing by local banks. International climate financing (such as the Green Climate Fund) could further help reducing the high upfront cost of financing CSP projects[5]. To cover the political risk and attract financing at a reasonable cost, it will be necessary that a clear risk package will be agreed with the Government of Namibia, with required support captured in an Implementation Agreement.

Other risks are related to the macroeconomic environment such as currency, inflation and interest rate risks. In particular, foreign investors will be subjected to exchange risk, if the purchase power agreement is denominated in NAD (Namibian dollar). One of the main reasons for such concern is because the NAD is linked to South Africa currency (Rand), which is highly liquid and volatile.

All the power produced by the Arandis CSP will be sold to NamPower through a long-term PPA. This is expected to create a secure revenue stream sufficient to support all the plant's costs, including debt servicing, operational commitments, and investor returns. Substantially, all commercial risks (price and volume of power sales) are thus expected to be a pass-through for NamPower. Therefore, one financial risk is related to NamPower's credit rating and possible defaults on PPA payments. The rating agency Fitch rates NamPower as 'BBB-' with a stable outlook[6]. NamPower has strong legal, operational and strategic links with the state of Namibia, including direct government guarantees for part of NamPower's debt. However, the Fitch report expresses concern about the willingness and ability of government to cover PPA payments in the case of default by NamPower. To cover this risk, the Government should provide a direct financial undertaking for the project to secure its finance-ability or directly guarantee NamPower's obligation under the PPA.

Capacity and institutional sustainability

Researchers and students are now able to obtain knowledge on CSP through the various training programmes and lectures offered by academic institutions that have been formulated with CSP-TT NAM support. About 200 private potential entrepreneurs, ranging from developers, engineers, installers, manufacturers, financiers, etc., have undergone capacity development through project-organised initiatives and/or have participated in networking with South-South and North-South partners on technology transfer. However, with no detailed CSP design and construction taken place yet, there is a danger that the knowledge and skills accumulated will dissipate over time again, if not put to practical use.

One expected outcome of the project is that training, knowledge capturing and technology transfer (TT) continues after the project end. The Project Document aims to have the Namibia Energy Institute (NEI), function as a post-project Technology Transfer Coordinating Body (CSP TT CB). The Centre would be a networking hub for CSP development in Namibia and work with local and international CSP technology/services players to identify opportunities, monitor the trends, follow new developments and support the strategic positioning of local players in the CSP development.

Box SEQ Box \* ARABIC 20 Evaluation ratings of sustainability

| | |
| --- | --- |
| Evaluation item | Rating |
| Governance and policy | L |
| Technological and costs | L |
| Financial | L |
| Capacity and institutional | ML |
| Overall sustainability | L |

However, these activities are at the risk of not being sustainable. A project report mentions that "NEI is understaffed and does not have the necessary skills base to effectively support CSP technology development in Namibia. The low staff complement illustrates a clear need for more skilled staff for NEI to undertake the current activities and future activities." The report recommends that NEI-TTCB can "provide services, such as intellectual property rights, networking[7] and partnership negotiations, weather data and power plant measured data analysis, feasibility and lifecycle assessment and analysis in exchange for soliciting the support of the industry for the long-term sustenance of NEI as a CSP TT Coordinating Body".

The original CSP-TT NAM project design envisaged a market of smaller CSP projects operated by a number of local IPP players that would benefit from outside and technology transfer, e.g. from NEI-TTCB in setting up IPP projects and dealing with authorities and with NamPower as the power off-taker. In reality, the CSP market and technology development will be the other way around. Rather than starting with smaller, demonstration type projects, CSP in Namibia will be jumpstarted by one or more large-sized commercial, CSP projects set up by large national and international entities, i.e. the national utility NamPower partnering with global CSP industry. The question then is what the role of NEI is as TTCB, since NamPower can acquire knowledge and technology transferred directly from the international partners it works with and the engineering companies it will subcontract.

One way to use the services of NEI is as a depository of information, but this will require good coordination and communication between the two institutions at an organisational level and between staff at a personal level. As reported in Chapter 5, there have been communication issues between NEI and NamPower[8].

Are there indications that the project has contributed to, or enabled progress toward, reduced environmental stress and/or improved ecological status?
How did the project contribute to GHG emissions reduction within the project implementation cycle and beyond?
To what extent the project was successfully mainstreamed with other UNDP priorities, including poverty alleviation, improved governance, the prevention and recovery from natural disasters, and gender. To what extent did the project actively incorporate gender mainstreaming into project development and implementation? Are social and environmental impacts and risks (including those related to human rights, gender and environment) being successfully managed and monitored in accordance with project document and relevant action plans? Are unanticipated social and environmental issues or grievances that arise during implementation assessed and adequately managed, with relevant management plans updated?
Are the project's measures (through outputs, activities, indicators) to address gender inequalities and empower women relevant and producing the intended effect?


Impacts and mainstreaming

The findings related to outcomes (Chapters 3 and section 6.2) and sustainability (see section 6.3) provide insight as to whether the project has put in place the conditions (building blocks or process) that could eventually lead to impact (lasting improvements on socioeconomic and environmental status) and to identify key missing elements that may likely to obstruct further progress.

The CSP-TT NAM project contributed to drafting the Renewable Energy Policy, IPP Policy, Namibia Integrated Resource Plan and Updated Energy Policy that were either recently endorsed or are in the process of getting Government endorsement. Thus, the CSP-TT NAM has been instrumental in not only mainstreaming CSP but in providing inputs in conducive investment framework for renewable energy in general (see Annex E.5 for details).

Direct emission reduction

Since commissioning of the first CSP plant is not expected until after the completion of CSP TT NAM project, no direct emission reductions neither expected on this project nor were these claimed in the ProDoc.

Direct post-project emission reduction

Since the project does include investment-support activities that would directly result in GHG emission reductions after the completion of the Project, direct post-project GHG reductions are expected and estimated in the Project Document. However, the ProDoc bases the calculates on three 50 MW facilities over a 10-year period. This report follows a somewhat different calculation method. It is assumed that the Arandis 135 MW will get constructed and become operational at around 2020-21.

Box SEQ Box \* ARABIC 21 Direct and indirect greenhouse emission reduction

It is assumed that the electric energy produced basically replaces energy imported through the Southern Africa Power Pool (SAPP). Largely based on thermal stations burning fossil fuels (coal), it has a high grid emission factor of 0.98 tCO2/MWh[9].

At this point in time, it is not exactly known if the CSP plant will use tower (CR) or parabolic trough (PT) technology, so an average value is assumed for its energy production estimates (see Annex E for details of the calculation). Unfortunately, at this point in time, the full feasibility study is only half-way and there is no full assurance that the Arandis plant will be built and this expressed here by multiplying the GHG emission with a probability factor of 75%.

Consequential GHG emission reduction

Consequential (or indirect) emission reduction will result as a consequence of the broader adoption of CSP technology through replication and scaling-up (as explained in the theory of change diagram, see Annex F). These can be estimated in a bottom-up or top-down approach. In the bottom-up approach, it is assumed that first CSP facility is replicated, most logically by assuming the construction of a second plant at Kokerboom (replication factor of 100%). However, the preparation and decision-making are the results of the CSP-TT NAM's intervention and CSP mainstreaming, but cannot be fully attributed to it, hence an influence factor is applied (multiplying the expected GHG reduction with this factor, 60%). Top-down GHG emissions are calculated by looking at the various scenarios presented in the National Integrated Resource Plan (NIRP). Compared to the baseline, a capacity of 250 MW CSP might be operational by 2035 (in addition to the Arandis plant). Since these NIRP-indicated investments would be taken place during 2020-2035 even without a GEF intervention (baseline shifts), the GHG emission reduction is multiplied by an assumed GEF causality factor, which indicates to what degree the GEF intervention can claim causality for the reduction (50%)

Two studies have looked into the socio-economic and environmental impacts, namely the Afromach report (Aug 2016) and the macro-economic study commissioned by NamPower (2017). According to these studies the construction of a 125-135 MW CSP plant will have the following impacts:

< >Increase in the gross domestic product (GDP) during construction (2 years) of 0.8-1.1% GDP (NAD 2.1-3.0 billion) and during operation with NAD 1.0-1.4 billion annually)'Increase in employment during construction of 0.7-1% (8,645-13,166 FTE person-years) and 0.03-0.04% annually during operation (211-260 FTE person-years), which in its turn will have a positive impact on the household income of between NAD 790-1020 million during construction and NAD 38-41 million annually during operation.1.3.4Catalytic effects; replication

Describe any catalytic or replication effects: the evaluation will describe any catalytic or replication effect both within and outside the project. If no effects are identified, the evaluation will describe the catalytic or replication actions that the project carried out
Is the project sufficiently at scale, or is there potential to scale up in the future, to meaningfully contribute to development change?

As shown in the theory of change diagram of Annex F, the broader adoption and behavioural change are based on the proven feasibility of CSP technologies/approaches. The broader adoption builds on the demonstration of the first, commercially sized, CSP facility (see Annexes E.3 and E.4) and the establishment of a favourable policy, legal and regulatory framework (see Annex E.5). Desired behavioural changes encompass the increase of political will to support RE development, mobilization of local and foreign private sector investments and the trust of financial entities in the feasibility of CSP.

This will result in a portfolio of potential CSP projects in Namibia, in which the experience of the first CSP at Arandis will be replicated to other sites, notably the other two sites at which investment-grade solar data measurements are taken place, Kokerboom and Auas. The solar data analysis reports by Solargis (2016) and CSP Services (2016) indicate also excellent solar energy potential (see Annex E.2).

It is interesting to note that the technology diffusion model has been different than expected at the time of formulating the CSP-TT NAM project around 2010. The expectation was to start CSP market development with small, pilot-type of CSP facilities, by local private sector and investors, that would sell power as IPP to NamPower as off-taker. The first 5 MW sized project would then be replicated to three or more, maybe, larger CSPs. Such local players would need the support of a neutral capacity building and technology transfer body and appropriate financial services. The first design (see PIF, Box 9) was based on this. No doubt influenced by the rapid market development of CSP at the global and sub-regional levels, the investment target shifted towards larger investments (50 MW target, see Box 4) and, as it turns out, the technology diffusion model seems to have worked the other way around. The CSP market in the region (South Africa, Namibia) is now jump-started by one or more large 100-150 MW CSP plants are set up by utilities (ESKOM, NamPower) and/or large investors. Facilitated by an appropriate IPP policy and regulatory framework, this might open up the market for smaller investments (50-100 MW) by IPP operators, if the global cost of CSP investment will go down.

---

[1] Renewable Power Generation Costs in 2014 (International Renewable Energy Agency, 2015)

[2] Tariffs have been increasing by about 11-15% annually over 2011-2015 and may double over the coming period 2016-2019 (Schütt, 2016) to compensate NamPower dfor the necessary investments in maintaining and upgrading the power infrastructure. In 2016, the average retail tariff was about NAD 1.86 (or USD 0.113) per kWh.

[3] NamPower, Study of the Macro-Economic Impact of CSP Plant for Namibia (2017)

[4] Windhoek Observer, 22/04/2016 and The Patriot, 24/02/2017

[5] AFD-EU RECP Study on Conditions for Development of CSP Projects in Southern Africa (Dec 2014).

[6] Namibia was assigned by Fitch Ratings a long-term foreign currency rating of 'BBB-', and a long-term local currency rating of 'BBB' both with a stable outlook as a result of a stable policy environment and sound macro-economic fundamentals (2014, 2015)

[7] NEI could work in strategic alliance with institutions such as South Africa's Stellenbosch University's Centre for Renewable and Sustainable Energy Studies, Solar-Institute Jülich (SIJ) in Germany, MASEN in Morocco".

[8] One example of this is the project's website or, actually, the lack of a project website. Both NamPower and NEI have a webpage dedicated to CSP with information scattered over the two webpages without these even being linked to each other.

[9] Standardised baseline, Grid Emission Factor for the Southern African Power Pool (UNFCCC-CDM, ASB001, 2013)



Recommendations
1

Evaluation Recommendation or Issue 1: UNDP and GEF: corrective actions for design and formulation

When considering providing support to technology innovation and market dissemination, it might be fruitful to adopt a larger time period (in view of the long preparation time of large infrastructure projects) and to respond to the need of different beneficiaries in various segments of the RE technology's market (small, medium, large). The project's capacity building and other support activities have to be tailored to the needs of each phase. Not all barriers are of equal importance, play a role in the same phase of technology development and diffusion and cannot always be addressed simultaneously. Removal of one barrier may be a precondition for other barriers to be removed or lowered. Such an approach will start with lowering of the most important barriers in a particular phase. For example, the barriers of lack of data and of doubts regarding techno-economic feasibility are lowered as a pre-condition for committing more resources to financing investment and putting in place other barrier-removal activities (e.g. financial mechanism and risk-sharing facilities). Another example is that investments by private entities in grid-connected RE may need a conducive policy-regulatory framework to be established first. Spreading projects over a larger period of time would obviously generate higher administrative cost, so a balance would need to be found. In this sense, it may be wise to start with a small Phase 1 (in the CSP case, for example, start with general awareness, capacity building and measurements and a techno-econ study), and then to have the next Phase with a larger budget (expand to full feasibility study; expansion of technology), maybe depending on the results of the first phase.

2

Evaluation Recommendation or Issue 2: Future direction: support for setting up a grid-connected RE program for IPPs

Concentrating solar heat are systems, smaller than CSP, set up by local industry and here the role of Namibia Energy Institute (NEI) as a Concentrating Solar Technology Transfer Body (CSTTB) to serve local players would be more obvious than in the case of a large CSP served by global CSP players.

3

Evaluation Recommendation or Issue 3: Future direction: support for setting up a grid-connected RE program for IPPs: With respect to the solar radiation measurements, these have now covered three sites in the southern and central part of the country. Adding measurements in two more sites, covering the northern part, would give a, more complete, solar map, based on the investment-grade measurements at five sites.

4

Evaluation Recommendation or Issue 4: Institutionalisation of Renewable Energy (IRE)
For example, South Africa set up the Renewable Energy Independent Power Producer Procurement Programme (REIPPPP) in 2011. It has created a platform for the private sector to develop projects and enter into Power Purchasing Agreements (PPAs) with ESKOM (as the power off-taker). Using a competitive bidding process in four tender rounds, the programme aimed to stimulate investments in SA's renewable energy industry, attracting about 79 projects with a combined capacity of 5230 MW. The programme is supported by an IPPPP Office that provides professional advisory services, procurement management services, as well as monitoring, evaluation, and contract management services. A similar setup could be used in Namibia to attract medium-sized renewable Independent Power Producer (IPP) projects defined as 5-100 MW in the National IPP Policy (2016), in addition to the small-scale IPPs that currently benefit from the existing Renewable Energy Feed-in Tariff (REFIT) scheme.