Final Project Evaluation for the "Mainstreaming the Concept on Migration and Development into Relevant Policies, Plans and Actions in BiH" Project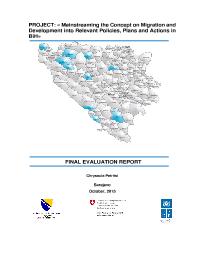 Evaluation Plan:

Evaluation Type:

Final Project

Planned End Date:

10/2015

Completion Date:

10/2015

Status:

Completed

Management Response:

Yes

Evaluation Budget(US $):

12,700
Title
Final Project Evaluation for the "Mainstreaming the Concept on Migration and Development into Relevant Policies, Plans and Actions in BiH" Project
Atlas Project Number:

00057476

Evaluation Plan:
2015-2020, Bosnia and Hercegovina
Evaluation Type:
Final Project
Status:
Completed
Completion Date:
10/2015
Planned End Date:

10/2015

Management Response:
Yes
Corporate Outcome and Output (UNDP Strategic Plan 2018-2021)

1. Output 1.1.2 Marginalised groups, particularly the poor, women, people with disabilities and displaced are empowered to gain universal access to basic services and financial and non-financial assets to build productive capacities and benefit from sustainable livelihoods and jobs

Evaluation Budget(US $):

12,700

Source of Funding:
Project budget/donor resources
Evaluation Expenditure(US $):

12,700

Joint Programme:
No
Joint Evaluation:

No

Evaluation Team members:

| Name | Title | Email | Nationality |
| --- | --- | --- | --- |
| Chrysoula Petritsi | Evaluator | | |

GEF Evaluation:

No

Key Stakeholders:
Ministry for Human Rights and Refugees of Bosnia and Herzegovina and 10 partner local governments
Countries:

BOSNIA AND HERCEGOVINA
Recommendations
1
1. Increase the funding and effectiveness of the horizontal component.
2
2. Internal project logic and quality of design: The lack of specific focus of the Project ? which socio-economic fields are to be targeted and which diaspora resources to be mobilized - is a disadvantage. Project objectives seem overly-ambitious, while some of the risks within the Risk Analysis were underestimated.
3
3. It appears that Project visibility has been rather low and anemic at all levels but especially at national level.
4
4. Increase Project ownership by a BiH institution: share implementation responsibility.
5
5. Reinforce impacts and sustainability of results in already selected local governments through continued support (through successor or follow-up projects.
6
6. Include a component which will concentrate on selected systemic changes: focus on scientific knowhow transfer.
7
7. Concentrate on a small set of indicators.