Final Evaluation Report for the Municipal Training System Project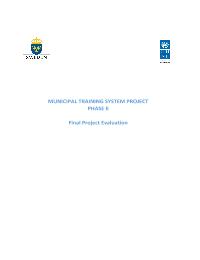 Evaluation Plan:

Evaluation Type:

Final Project

Planned End Date:

11/2015

Completion Date:

09/2015

Status:

Completed

Management Response:

Yes

Evaluation Budget(US $):

15,804
Title
Final Evaluation Report for the Municipal Training System Project
Atlas Project Number:

00093067

Evaluation Plan:
2015-2020, Bosnia and Hercegovina
Evaluation Type:
Final Project
Status:
Completed
Completion Date:
09/2015
Planned End Date:

11/2015

Management Response:
Yes
Corporate Outcome and Output (UNDP Strategic Plan 2018-2021)

1. Output 1.1.2 Marginalised groups, particularly the poor, women, people with disabilities and displaced are empowered to gain universal access to basic services and financial and non-financial assets to build productive capacities and benefit from sustainable livelihoods and jobs

Evaluation Budget(US $):

15,804

Source of Funding:
Project budget/donor resources
Evaluation Expenditure(US $):

15,804

Joint Programme:
No
Joint Evaluation:

No

Evaluation Team members:

| Name | Title | Email | Nationality |
| --- | --- | --- | --- |
| Paul J.M. van Hoof | Consultant | | |

GEF Evaluation:

No

Key Stakeholders:
Ministry for Administration and Local Self-Government of Republika Srpska, Ministry of Justice of the Federation of Bosnia and Herzegovina, Civil Service Agencies, Associations of Municipalities and Cities
Countries:

BOSNIA AND HERCEGOVINA
Recommendations
1
1. The Municipal Training System Project meets with Sida to agree on an exit strategy and have that endorsed by the Project Board.
2
2. The Municipal Training System Project should reformulate the Training Impact Assessment mechanism in such a way that it meets the needs of the partners (practical and not too costly to implement).
3
3. UNDP CO should consider some form of hands-off technical support to the implementing partners after the closure of the project to: (i) Assist the Associations of Municipalities and Cities with the further capacity development of their training units; (ii) further improve the capacities of the Training Coordination Body and Training Commission to guarantee quality assurance of the training provided and improve their networking and leadership capacities; (iii) monitor as an external agent the implementation of the co-financing models and propose adjustments to these models if necessary.
4
4. Develop outcome success criteria (based on the three sustainability dimensions) and a detailed phasing out strategy.