Final Evaluation of the project Strengthening Parliamentarian Capacities and Key Institutions mandated with fighting Corruption in BiH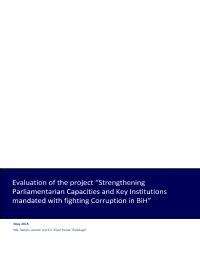 Evaluation Plan:

Evaluation Type:

Final Project

Planned End Date:

05/2015

Completion Date:

05/2015

Status:

Completed

Management Response:

Yes

Evaluation Budget(US $):

5,048
Title
Final Evaluation of the project Strengthening Parliamentarian Capacities and Key Institutions mandated with fighting Corruption in BiH
Atlas Project Number:

00093062

Evaluation Plan:
2015-2020, Bosnia and Hercegovina
Evaluation Type:
Final Project
Status:
Completed
Completion Date:
05/2015
Planned End Date:

05/2015

Management Response:
Yes

Focus Area

:
Corporate Outcome and Output (UNDP Strategic Plan 2014-2017)

1. Output 2.2. Institutions and systems enabled to address awareness, prevention and enforcement of anti-corruption measures across sectors and stakeholders

Evaluation Budget(US $):

5,048

Source of Funding:
project budget/donor resources
Evaluation Expenditure(US $):

5,048

Joint Programme:
No
Joint Evaluation:

No

Evaluation Team members:

| Name | Title | Email | Nationality |
| --- | --- | --- | --- |
| Sanela Jarovic | evaluation consultant | | BOSNIA AND HERCEGOVINA |
| Esref Kenan Rasidagic | evaluation consultant | | BOSNIA AND HERCEGOVINA |

GEF Evaluation:

No

Key Stakeholders:
Parliamentary Assembly of Bosnia and Herzegovina, Supreme Audit Institution, Public Procurement
Countries:

BOSNIA AND HERCEGOVINA
Recommendations
1
1. Strengthening Agency for Prevention of Corruption and Coordination (APIK) as the focal point for anti-corruption effort on the state level, and developing mechanisms and processes as an important contribution to building independent institutions capable of taking on corrupt practices and officials should stay in the focus of the future interventions.
2
2. Future project intervention should be structured around narrow and precisely formulated activities that will serve as force multipliers and produce maximum impact in the area of intervention.
3
3. Activities designed to assist the Public Prosecutor's Office in their anti-corruption effort are proposed to focus on ensuring proactive role of the Office in investigating possible, suspected, or indicated cases of corruption on the state level.
4
4. It is proposed to focus project activities in the proposed second phase on providing training to auditors on reporting and referring to the Prosecutor's office identified malpractices that contain elements of suspected criminal deeds.
5
5. The project should play more proactive role in bringing all relevant stakeholders together and involving them in different activities, as the BiH Parliament Committee for Supervision of the APIK will likely continue to suffer from the same institutional and staffing issues and shortcomings as before.