Microenterprise Development Program (MEDEP)- Phase IV: Midterm Evaluation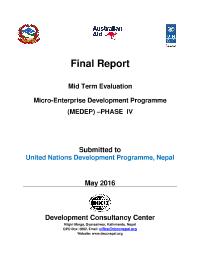 Evaluation Plan:

Evaluation Type:

Project

Planned End Date:

12/2016

Completion Date:

05/2016

Status:

Completed

Management Response:

Yes

Evaluation Budget(US $):

63,811
Title
Microenterprise Development Program (MEDEP)- Phase IV: Midterm Evaluation
Atlas Project Number:

75193

Evaluation Plan:
2013-2017, Nepal
Evaluation Type:
Project
Status:
Completed
Completion Date:
05/2016
Planned End Date:

12/2016

Management Response:
Yes
Focus Area:
Corporate Outcome and Output (UNDP Strategic Plan 2014-2017)

1. Output 1.1. National and sub-national systems and institutions enabled to achieve structural transformation of productive capacities that are sustainable and employment - and livelihoods- intensive

Evaluation Budget(US $):

63,811

Source of Funding:
DFAT
Evaluation Expenditure(US $):

61,666

Joint Programme:
No
Joint Evaluation:

No

Evaluation Team members:

| Name | Title | Email | Nationality |
| --- | --- | --- | --- |
| | | | |

GEF Evaluation:

No

Key Stakeholders:
UNDP and Ministry of Industry
Countries:

NEPAL
Recommendations
1

MED Service Model Improvement:

A tested MED service Model has been the basis of MEDPA design; however there are still various aspects that need to be further captured by the model being used by MEDPA. The MTE recommends that 'value chain development concept' should be included in the model following internationally tested approaches of facilitation. Capacity Building Plan should include interventions on 'Value chain development' to create the capacity of MEDSPs to deliver it, and DCSI/CSIDB's capacity to manage. MEDPA budget should include the delivery of value chain development.

Another area of improvement in the MED model is inclusiveness and targeting, MTE recommends that, MoI supported by the CTA and UNDP should provide a management response to the recommendations in the 2014 impact study and mass impact study, and MEDPA should respond to this with proposed concrete measures to respond to the management response and then implement, with facilitative support from MEDEP.

2

Shift focus from Delivery to Institutionalization:

The project is well on track with direct support to ME creation, but its main aim of a sustainable system for delivery of services for creation, resilience and growth of MEs is not being adequately realised. There are many reasons, some well beyond the project's control. A key factor, however, is the combination of an implementation and a facilitation or institutionalisation role. These are difficult to combine in practice, especially with an ambitious target for ME creation and a team that is experienced in delivery against such targets rather than facilitation. Supporting institutionalisation of the MEDPA across the country is a similarly ambitious target.

The MTE feels that to allow MEDEP focus on its core role of supporting institutionalization from 2017 onwards the ME creation part of MEDEP should be transferred to MEDPA. This will allow MEDEP with additional resources and capacity to work more rigorously on the institutionalization part. The Annual Work Plan of 2017 should incorporate the new plans (additional Plans) like; i) The two CB plans (as discussed in 5.1.3 below), and ii) Institutionalization Support and Monitoring Plan (as discussed in 5.3.2 below).

The MTE's main recommendation is therefore as follows:

Design, with support from an external consultant, a simple and transparent strategy and plan to withdraw MEDEP from its role in ME creation within a period of 3 to 6 months, and to refocus it on institutionalisation. Involve MoI and other players in the service delivery system in this process to come to a shared understanding. This should be effective from 2017 AWP.
As the local level MED plans and D/V/MEDC mechanisms have started showing their potential in mobilizing the resources and commitment of the local bodies, MTE feels that MEDEP scale up its support for the VEDP development process, as this will contribute in not only local resource mobilization but also in institutionalization of the MED service model at local institution level.
Reallocate funds in the first place to institutionalisation of MEDPA, including to an increase in appropriate staff, an international institution building expert, external technical expertise and intensive staff capacity building on approaches to facilitation and institutionalisation. Contracting a firm as "co-facilitator" could in part be an alternative to many more staff.
If a revised budget still provides space, provide for more ME creation by MEDPA, and have MEDPA set realistic targets which are matched to the capacity in and requirements of the Districts. This is, however, not a priority.
Ensure full alignment of annual planning between MEDPA and MEDEP, following the GoN rather than the UNDP planning cycle. There should be no separate MEDEP plan, but the joint plan should clearly identify MEDEP's activities and targets in institutionalisation. MEDEP should have sets of its 'support plans' to allow monitoring its results and outputs.

3

Support MoI to Review MEDPA Operational Guidelines:

A next round of review and revision of MEDPA operation guidelines is required. Some of the key areas (not limited to) for review suggested by MTE are:

Elaboration of the concept of ME Associations, their functions, linkage with MEDPA, and their sustainability is needed. It should be taken into consideration that they should not be turned into service delivery professional organizations but focus on their nature of 'interest group's advocacy associations'.
Incorporating a separate elaborative section on 'GESI' to assure that it becomes integral strategy of MEDPA at every point of action, not only limited to ME creation level.
Incorporating a separate section on 'Planning and Budgeting' at MoI, CSIDB, DCSI, District offices, and Local Body (D/M/VEDC) level. This section should assure consistency in planning and budgeting across the board, in particular the district planning and budgeting should be more clearly guided with templates for planning with budget sub headings, the scale of operation may vary according to the needs of the district.
Ensure the MEDPA budget explicitly provides for all functions that are allocated to different actors in the system, e.g. the monitoring and evaluation function of the DEDCs. Some functions (e.g. those of DMEGAs) have no specific budget allocations as well, which is left to the discretion of DDCs/DEDC.
The Monitoring, MIS/Database Management aspect needs more clarity in terms of role and responsibility.
As procurement of MEDSPs is very significant part of the MED model being adopted by MEDPA, a separate section on the steps and process of MEDSP procurement for services like ME creation, Scale up Support, and M& E would be helpful for delivery management agencies of MoI both at central and district level.
A separate section on Capacity Building (Human Resource) should be included with a rolling CB approach that MEDPA would require deliver at different level, this should be also clearly lined with the budget subheadings at different levels. This should include the MEDSPs, and MEAs as well.
Further clarify roles, if not in a new version of the Guidelines (which have just been approved) then in additional procedures.
Taking MEDEP's representation out of the system/process and Institutions provisioned by the guidelines, but create some space for any future support agency (strictly in distance facilitation role, not in direct function role within the system structures).

This should be planned together with MoI, CSIDB, and DCSI, and worked out together. A facilitated review process should be carried out with hands-on input from MEDEP component managers together with GON and MEA stakeholders.

4

Work on Institutionalization of Capacity Development:

A systematic Capacity building Plan for the remaining duration of MEDEP, and a long term Capacity Building Strategic Plan for MEDPA needs to be developed. The first one to be done immediately on which MEDEP should work for the rest of the project period. This plan will focus on 'one time' type of activities and directly help the MoI and its agencies in preparing themselves to take over the capacity building interventions for MEDPA in future. There should be clear logical linkage between the first CB plan and the 2nd plan to justify the needs of the proposed activities and where they contribute in the 2nd Plan. The 2nd Plan is to help MoI to incorporate the CB plan into their annual program of MEDEP, which will be part of the operational guideline as well.

While working on the above two CB plans, currently proposed CB activities should be reconsidered for their appropriateness and effectiveness in the new context. Both the CB plans need to target MoI and its Line Agencies, MEDSPs, ME Associations (Central and districts), and DDC/DEDCs.

The Capacity Building plan should be clearly disaggregated in three categories; i) HR development (MoI, Department, and District level, ii) Logistics Capacity Development, and iii) System Development from both activities and budget point of view. The HR development strategy should be based on 'Cascading Model': higher level builds the capacity of the lower level.

Capacity building for GoN staff generally should be institutionalized given staff transfers, turnover, and recruitment of new staff.

Include MED training in NASC curriculum (already planned for 2016), using external expertise. This should not be just a dedicated MED course, but also integrated into existing courses, so that officials such as Local Development Officers in the districts are informed of the basic principles of MED and MEDPA.
Similarly include MED in courses at the MOFALD Local Development Training Academy.
Develop a 1 week programme on MED at IEDI for capacity building of existing staff (delivery funded from MEDPA budget).
MEDEP should withdraw from the continuous "awareness raising/orientation" of newly transferred staff at all levels. This should be done by MEDPA (DCSI/CSIDB). MEDEP could develop a set presentation and have this included in the 1 week programme at IEDI.
Develop and implement a concrete long-term capacity building plan with annual targets for all the actors involved, in all districts, based on the Capacity Building Strategy that is already available.

5

Support MOI on new MED strategy and 14th Periodic Plan of GoN:

A new 5 year MED strategy needs to be developed, while the 14th National Development Plan is also being drafted. These could provide further institutionalization to MEDPA within the planning and budgeting system of GoN. Tapping on this opportunity MEDEP should take the following immediate actions:

Provide MOI with technical assistance for revision and updating of the MEDPA Strategy for the next five years. This should include policy related, structural/institutional arrangements (e.g. MED section at MOI) and human resource/capacity development.
Provide support to the MOI for preparation and submission of MED position paper to the Three Year Plan preparation team at NPC.

6

ME Associations at district level:

As discussed in section 4.2 (iii) above, the ME associations need special focus for strengthening their capacity and sustainability (mainly at DMEGA level). It may be useful to organize an intensive workshop (may be 2-3 days working sessions with some preparations on issue/discussion papers) with experts in 'NGO associations and networks', representatives of the associations, MoI and MEDEP with the objective of; i) reviewing the status and issues related to the sustainable functioning of DEMEGAs, and ii) discuss and explore viable (and legitimate) options for the sustainability of the associations, and iii) develop short term and long term intervention plans for strengthening and sustaining the associations.

DMEGAs capacity building should be carefully designed considering; i) their new defined role in MEDPA, iii) new sustainability strategy developed through the process described above, and iii) the potential (and limits of learning) of the individual members in leadership role.
Design an exit strategy over which DMEGAs feel ownership, including gradual phasing out of subsidies over the remaining project period. Development of the strategy should include involvement of NMEFEN.
In the new MEDPA Strategy and forthcoming MEDPA budgets, make provision for DMEGAs to fulfil the functions allocated to them in the MEDPA Guidelines through a non competitive conditional grant basis.
Include in the capacity building plan development of leadership's capacity to advocate at the village and district level for better services, regulation and their implementation, funding. Support this role technically (handholding, mentoring, not replacing) for a set period of time (one year).
Support DMEGAs to develop a basic 'advocacy strategies' that can be used by all DEMEGAs. NMEFEN should be involved in this process.

7

Associations at national level:

National level associations like NMEFEN (association of MEs), NEDC (Association of MEDSPs), and EDF training Institutions Apex organizations should be taken onboard as implementing partner by MEDPA. During MEDEP's remaining period MoI should be supported in; i) recognizing the potential of these associations, ii) making their role clear and accepted within MEDPA plan and included in the operational guidelines with more clarity, iii) budgetary provisions should be made for the activities that are planned to be delivered by these associations. Whereas, in the meantime MEDEP should support them for; i) building their capacity in supporting their respective members, ii) developing their sustainability strategy and business plans

8

Strengthening MEDSPs:

More open approach by Strengthening capacity of bid winners MEDSPs including those who are not holding MEDPA contract currently ii. Entry of private sector MEDSPs into the competition should be explored and promoted iv. The tender evaluation process should be revised to look for MED experience at human resource level but not at organisational level. v. Individual EDFs should be allowed to be part of more than two bids at a time.

9

Clarity on MEDF issues:

The MEDF has not yet received significant donor funds. This affects not only MEDEP and MEDPA's credibility but also of the donor (DFAT in this case) and will reduce incentives for actors like DDCs and DEDCs to be involved. In this connection MTE recommends the following:

Carry out a joint review of MEDF modality, operational issues and analyze fiduciary risks with an independent team of experts, fielded by GoN, DFAT as current donor and UNDP as technical assistance provider. This may contribute to finding solutions agreeable to all involved parties, or at least a conclusion that has been reached in a transparent manner. This review should take PFM perspective rather accounting perspective. The formal informal incentives at institutional and individual levels associated with the operation of MEDF should be also analyzed.
District graduation remains relevant whether DFAT contributes to the MEDFs or not. Accountable management of the MEDFs is in the interest of all who contribute to it, however the current approach of 'graduation assessment from 'HACT compliance' perspective only needs to be reviewed from its cost effectiveness as well as its inclusiveness and ability to assess the non systemic dimensions (human dimensions, and practicalities) at district level. A more simplified assessment system[1] may be designed for this purpose encompassing the key graduation indicators.

---

[1] The Minimum Condition and Performance Measure (MCPM) audits of local bodies practiced are one examples of simplified 'assessment methods' of Local Bodies capacity and performance in managing the block grants and the planning, budgeting, monitoring, and PFM capacities of the local bodies.

10

Review and Revise the Project Document:

As a matter of priority develop an unambiguous shared "vision" between UNDP and DFAT on the main outcome expected of MEDEP, the strategy to achieve it, and the process of redirecting the project. It may be good to bring in MoI in this process at a later stage.
Revise the project document through a thorough appraisal process to the extent the recommendations of MTE are accepted by MoI, DFAT and UNDP and reached to a consensus to take the project to a new direction. External independent consultants should be engaged for this purpose. The consultants should have experience of Nepal on MED, Associations (of NGOs, and Private Sector service provider), Work culture of GoN bureaucracy, and GoN managed economic activity base projects.
Advocacy and dialogue as a component: Advocacy as a function of the system the project is developing (rather than as a temporary task of the project itself) is a function of the NMEFEN and DMEGAs on the one hand and MOI, as dialogue partner, on the other. Component 1 and 3 also deal with these institutions and there is insufficient justification for a separate component. The work with research institutions has not even begun yet while studies have already been conducted. The market for research is limited and donor dependent.

Integrate work on MOI policy making and leadership in initiating dialogue into Component 1, and work on advocacy with NMEFEN and DMEGAs into Component 3.
Discontinue plans to support research institutions or to make their work a "commercial" undertaking.
Commission research only in relation to issues identified by the associations and MOI themselves, on demand.

11

Improve MIS and finalize the database:

MIS procedures are unnecessarily complex. Data it generates are not being used in management of MEDPA. It does not include the other work DCSI and CSIDB do, which reduces its relevance to them. The quality of data will remain an issue and data collection is costly.

Simplify data collection and verification procedures, and reduce the frequency of data collection (e.g. on a six-monthly basis), but introduce spot checks to check quality.
Stop collecting data after 3 years (the normal period for MEDPA inputs) and instead do sample surveys (outsourced) to assess how MEs are doing[1].
Include modules that cover other DCSI and CSIDB management needs.
Carry out training on use of the software in all districts.
Train MEDEP and MEDPA staff on the use of the data, especially at the management level, and put regular reviews of the results in place
Explore the viability and practicality of outsourcing the MIS management through out to a professional consulting firm with a multiyear contract.

---

[1]Many other GoN projects do sample based 'Sustainability and Functionality Surveys' mainly in water and sanitation sector, other employment and skill sector projects conduct tracer surveys of their past beneficiaries on sample basis.

12

Project Monitoring and Results Management (MRM) and Donor Committee for Enterprise Development (DCED) standard:

The basic elements of the DCED standard for MRM, impact logics (results chains) and measurement plans are relevant to management of the project and have been largely designed, though their use in project management is still insufficient. Indicators (including those for the logical framework or result measurement framework) do not adequately reflect the project's institutionalisation objective.

The project should complete the basic elements of the MRM system, with better indicators for institutionalisation, with the support of an expert, and start using them.
No other parts of the system need to be developed, apart from a log of main activities, which will help in progress reporting.
Project management and staff should be trained on the use of the system and its results, so that it will actually improve decision making.

13

Find solution for MEDPA tendering and contract management issues:

MEDPA tendering and payment procedures have resulted in a short effective period for MED contract implementation and therefore a loss in quality, while for some MEDSP functions (e.g. monitoring) year on year contracts are disruptive. MEDSPs suffer from long delays in final payments.

Find ways to ensure adequate time is available for MEDSPs to deliver quality services through advance planning (already in progress) and ways to award multi-year contracts.
Consider third party monitoring throughout the MED cycle through contracts with national level consulting firms, as already practiced by some other GoN programmes[1]. The periodic monitoring feedbacks can be linked with the milestone payments and final payments as well.

---

[1]Rural Water and Sanitation Improvement Project of GoN funded by WB uses a system of third party monitoring which is linked with milestone payment.

14

Institutionalization Support Monitoring Plan:

MEDEP together with MoI, and its central line agencies, DFAT and UNDP develop a comprehensive work plan on 'Institutionalization Support' including the CB plan. A step by step, activity by activity 'institutionalization result milestones' should be also developed to monitor the progress. These plans should be developed and operationalized as soon as possible but no later than end of 2016. The plan should have clear marking of the responsible component and individual staff of MEDEP, so that it could be also used as performance indicator of the staff and components.

15

UNDP and DFAT Coordination and Communications:

The role of UNDP as implementing organisation should be improved by, appointing a full-time dedicated staff member with high level expertise in MED and institution building to support the project and support UNDP in other areas of MED, in addition to the current Programme Analyst UNDP should consider to add a dedicated full time staff to look after the day to day desk work related to MEDEP, so that the program analyst can have more space and time to closely support the CTA team at MoI and MEDEP project management team.

The quality of coordination and communication between DFAT and UNDP should be improved through:

Using the revised project document as a flexible guideline, not a straightjacket, stimulate innovation, entrepreneurship and learning in the project team, and reduce the preoccupation with meeting targets.
Taking measures to improve their working relationship on the basis of a common understanding of their respective roles. Short out any teething problems in between, if needed use an externally facilitated team building exercise including senior members of MEDEP team.
Avoiding making conflicting statements to and demands on the project.
Take a more strategic rather than management role in their support to the project. This should be especially so for DFAT, which could refocus on the policy level, where it could make an important contribution.
Quality management with value addition from the vast global experience of UNDP is what includes among the logic behind the donor's support to MEDEP, UNDP should be careful in delivery up to the standard of this expectation for its own reputation as well as donors satisfaction.
UNDP should take measures in improving the quality of the progress and financial reports of MEDEP to make them clearer, synchronised with Project Document and AWPs. The reports should provide clear, consolidated data on progress to give a clear comparative and cumulative view.

16

One Year Extension for MEDEP:

Considering the extent of exiting and additional tasks that need to be completed by MEDEP in particular on the 'institutionalization aspect' which is very crucial for the effective takeover of the 'MED Service Model' by MEDPA, MTE recommends for an extension of one year for MEDPA, continuing under the UNDP management. This is also taking into consideration of the various disturbances that the project has faced during last two years' period. The commitment and intensions of UNDP to deliver what it has promised are clear and this should be appreciated by giving them some more time to complete what they intend to complete. The MTE feels that with revised and focused approach on 'Institutionalization' another three-year time including suggested one-year extension will allow MEDEP sufficient time to make remarkable achievements on this front.