Gender Evaluation of Key Programmes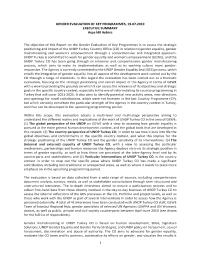 Evaluation Plan:

Evaluation Type:

Outcome

Planned End Date:

07/2019

Completion Date:

07/2019

Status:

Completed

Management Response:

Yes

Evaluation Budget(US $):

30,000
Title
Gender Evaluation of Key Programmes
Atlas Project Number:

71721,97574,70163,58394,96620,96325,89656,95627,89648,89747,58649,87569,89928,70808,50675,68825

Evaluation Plan:
2016-2020, Turkey
Evaluation Type:
Outcome
Status:
Completed
Completion Date:
07/2019
Planned End Date:

07/2019

Management Response:
Yes

Focus Area

:
Corporate Outcome and Output (UNDP Strategic Plan 2018-2021)

1. Output 1.6.1 Country-led measures accelerated to advance gender equality and women's empowerment
2. Output 2.2.3 Capacities, functions and financing of rule of law and national human rights institutions and systems strengthened to expand access to justice and combat discrimination, with a focus on women and other marginalised groups
3. Output 2.4.1 Gender-responsive legal and regulatory frameworks, policies and institutions strengthened, and solutions adopted, to address conservation, sustainable use and equitable benefit sharing of natural resources, in line with international conventions and national legislation

Evaluation Budget(US $):

30,000

Source of Funding:
Budgets of projects under the Gender Portfolio
Evaluation Expenditure(US $):

12,600

Joint Programme:
No
Joint Evaluation:

No

Evaluation Team members:
GEF Evaluation:

No

Key Stakeholders:
Countries:

TURKEY
Recommendations
1

Intensify efforts to contribute to macro-level policymaking by developing models in areas of particular strength, at the intersection of governance, private sector, environment and gender equality, building on strong connections with government counterparts.

2

As a 'convening power', having capacity to influence macro-level policies, and a horizontal approach in gender issues, look for ways for mobilizing UN agencies and counterparts to create a 'gender coalition.'

3

In the next CP, consider integrating gender across all outcomes as a cross-cutting issue with specific targets and indicators, in line with the new UNDP approach, rather than as a separate section.

4

Efforts should be made to develop more gender-focused projects, which is an issue that was high on the political agenda in the past, but now needs a new impetus in the current political context of Turkey.

5

More emphasis should be placed on continuously assessing the progress of interventions against the established targets and objectives, against the Gender Marker that was originally assigned, and more focus should be given at the implementation level, as many gender implications emerge at this stage.

6

Place more emphasis on the collection of sex-disaggregated data through individual interventions, preferably by integrating such objectives at the design stage.

7

Develop questions to be put in regular reports to assess progress through narrative, qualitative accounts

8

In the next CP, more collaboration with civil society actors is needed to revive the connections with women's movement and NGOs, as well as to empower civil society in the current socio-political context of Turkey.

9

More emphasis should also be placed on private sector projects, as a particular strength of the UNDP, which would increase the visibility of the activities. Direct implementation modalities should be considered in this respect, particularly through smaller projects that would provide faster steps towards perception change.

10

Consider ways to increase outreach to the media, particularly at the local level, so as to address problems of disinformation and misinformation, hate speech and other challenges relating to freedom of expression in Turkey, as well as to increase the visibility of the UNDP.

11

Increase the visibility of UNDP Turkey CO's commitment to GEWE and the implications of the GES process towards outside partners and stakeholders, including other UN Agencies, to enhance the external capacity of UNDP in GEWE

12

In the next CP, build on non-traditional and innovative areas of success obtained through this programming period, which constitute the particular strength of the UNDP, including:

a. those related to CCE in areas such as forestry, fisheries and chemicals

b. legal aid practices and access to justice

c. inclusive business models for women in industry and women in the private sector

d. gender-sensitive humanitarian response

e. private sector initiatives, including a focus on SMEs

13

Promote crosscutting work on gender at the inter-portfolio/programme level, to highlight the interlinkages between different areas of development work, and to promote grassroots best practices.

14

UNDP's leading role in the initiative on GES for the private sector and 3RP process should be developed as a model for joint action on gender at the inter-Agency level, and strategic areas of partnership with UN Women should be identified so as to promote inter-Agency collaboration and to project the services provided by each Agency on a joint platform.

15

Regularly update the Gender Equality Academy and ensure the participation of all CO staff, also placing more emphasis on existing UNDP tools and mechanisms, and including modules on programming, implementation, project design, indicator design and best practices.

16

Consider more innovative and experimental formats for trainings, involving interactive workshops and labs, or new and more participatory training approaches such as online gaming, to enhance a dynamic learning environment.

17

Provide comprehensive gender-focused trainings for counterparts and other stakeholders in all interventions, preferably at the kick-off stage, focusing on practical issues, fieldwork and best practices from other country contexts.

18

Consider establishing Portfolio and project-based GES targets at a more micro level

19

More efforts are needed in developing gender-sensitive communication within the CO, through collaboration between the GEA and the Communications unit.

20

Ensure that gender-focused performance criteria are applied at all levels of staff

21

UNDP, through its strong commitment to the GES process, should take the lead in attaining highest standards in work-life balance policies and promoting a UN system-wide work-life balance policy of highest standards and quality, rather than lowest common denominator solutions.

22

Ensure a homogenous, standard approach all throughout the CO, by disseminating the GES process across all levels of staff, encouraging a bottom-up process, but also focusing on programmatic level.

23

Institutionalize regular and more frequent meetings between the GEA, GFP and project managers at the different stages of all projects.

24

Improve in-house gender expertise and capacity by ensuring a more secure and in-house contract type to the GEA (or Gender Equality Specialist), placing the position as a strategic one within the senior level management, and involving more gender experts and advisors within the CO to share the workload in terms of gender-related coordination and programming.

25

Following the SRR modality, promote the recruitment of 'Portfolio Gender Associates', to be placed between the GEA and Portfolio Managers, having experience and knowhow on both gender issues and the specialization areas of the portfolios

26

To promote institutionalization, consider establishing a crosscutting Gender Equality Programme, as a priority outcome in the current CPD on an equal status with the three Portfolios, to be led by a senior Programme Management position, and consisting of the Gender Associates / Experts of all Portfolios and Programmes.

27

Extend the GES process beyond its lifetime by ensuring continuous and consistent commitment of the CO

28

Consider new ways of overcoming the resistance of (particularly government) counterparts, through long-term strategies, approaching them in several ways, developing tailor-made measures, insisting on objectives by using alternative communication strategies, and developing ways to involve them in the process.