Terminal evaluation: GEF funded project on land degradation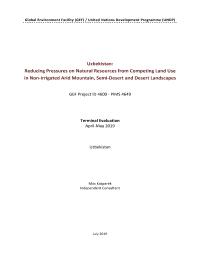 Evaluation Plan:

Evaluation Type:

Final Project

Planned End Date:

05/2019

Completion Date:

07/2019

Status:

Completed

Management Response:

Yes

Evaluation Budget(US $):

30,000
Title
Terminal evaluation: GEF funded project on land degradation
Atlas Project Number:

00075602

Evaluation Plan:
2016-2020, Uzbekistan
Evaluation Type:
Final Project
Status:
Completed
Completion Date:
07/2019
Planned End Date:

05/2019

Management Response:
Yes

UNDP Signature Solution

:
Corporate Outcome and Output (UNDP Strategic Plan 2018-2021)

1. Output 1.4.1 Solutions scaled up for sustainable management of natural resources, including sustainable commodities and green and inclusive value chains

SDG Goal

Goal 15. Protect, restore and promote sustainable use of terrestrial ecosystems, sustainably manage forests, combat desertification, and halt and reverse land degradation and halt biodiversity loss

SDG Target

15.3 By 2030, combat desertification, restore degraded land and soil, including land affected by desertification, drought and floods, and strive to achieve a land degradation-neutral world

Evaluation Budget(US $):

30,000

Source of Funding:
Evaluation Expenditure(US $):

18,940

Joint Programme:
No
Joint Evaluation:

No

Evaluation Team members:

| Name | Title | Email | Nationality |
| --- | --- | --- | --- |
| Dr. Max Kasparek | Dr. Max Kasparek | | |

GEF Evaluation:

Yes

| | |
| --- | --- |
| GEF Project Title: | Reducing pressures on natural resources from competing land use in non-irrigated arid mountain, semi-desert and desert landscapes of Uzbekistan |
| Evaluation Type: | Terminal Evaluation |
| Focal Area: | Land Degradation |
| Project Type: | FSP |
| GEF Phase: | GEF-5 |
| GEF Project ID: | 4600 |
| PIMS Number: | 4649 |

Key Stakeholders:
State Committee for Land Resources, Geodesy, Cartography and State Cadastre
Countries:

UZBEKISTAN
Lessons
Findings
1.

3.1 Project Design / Formulation

3.1 Project Design / Formulation 3.1.1 Formulation of the Results Framework

Principal project formulation took place mainly in 2011–2012, i.e. some seven years prior to the TE. It is difficult to evaluate this process retrospectively, and the observations during the TE towards this end are based mainly on an analysis of the Project Document and only to lesser extent on interviews and other personal communication.

3.1.2 Analysis of the Project Results Framework

Does the project address a priority for the development of the Uzbekistan? The Republic of Uzbekistan is a dry country with a total area of approximately 44.5 million ha, comprised mainly of mountains (20%) and arid/ semiarid areas (70%). Land degradation is widespread in the country, and causes significant economic costs at three levels: (i) at the field level, in terms of decline in productivity; (ii) at the national level, in terms of loss of productive capacity of the agricultural land and lower growth of the agricultural gross domestic product and export earnings; and (iii) at the global level, in terms of negative impact on carbon sequestration and climate change, loss of biodiversity, and pollution of transboundary water resource flows.




Tag: Agriculture Agriculture land resouces Biodiversity Environment Policy Natural Resouce management Relevance Country Government UNDP Management

2.

3.2 Project Implementation

3.2.1 Adaptive Management

Flexibility is one of the GEF's operational principles, and all projects must be implemented in a flexible manner to maximize efficiency and effectiveness and to ensure a results-based, rather than an output-based approach. Thus, during project implementation adaptive management must be employed to adjust to changing circumstances. There are two critical points where the project design needs to be reviewed and where adaptive management can best be introduced: in the Inception Phase and after the Mid-term Review (MTR).

Inception Phase. The Inception Report 2014 was prepared by the Project Manager and the National Project Technical Coordinator together with a National Project Consultant. An Inception Workshop was held in August 2014 and was attended by 53 representatives of various stakeholders. Based on the discussions and recommendations coming out from the workshop and further stakeholder consultations, the project design was slightly adapted, e.g. the number of outputs was reduced from five to four (without reducing the scope of interventions) and the phrasing of several indicators was adapted to better comply with the original Russian version (but without changing target values). Also the risk matrix was modified to better reflect the actual situation at the onset of the project.

Altogether, the Project took the opportunity to adapt some aspects of the Project design to the new circumstances which have evolved since project preparation.

Mid-term Review. The Project, at the time of the MTR in December 2016, is being implemented according to the rules and regulations pertaining to project implementation and is progressing towards its overall objectives, although the MTR was also of the opinion that the Project was going to achieve most of end-of-project targets with significant shortcomings. Significant shortcomings were found in Outcome / Component 1, major shortcomings in Outcome / Component 2. According to the results of the MTR, implementation of some components is not leading to efficient and effective project implementation and adaptive management with some components requiring remedial action.

According to the MTR, the Project failed to develop in the Inception Phase a proper road map which shows how to achieve the project objective, and to identify a set of SMART indicators in order to better monitor the progress and delivery of the Project outputs. The indicators which do not appear very practical/feasible were not adapted in the Inception Phase. For example, the target for the number of hectares of degraded or improved rangeland, forest and rain-fed arable land in two target districts that are under improved management are difficult to verify as long as there is no definition what "degraded" and "improved" means. Following the MTR, the Project prepared a comprehensive Management Response to the MTR, but did not prepare a strategic road map how to achieve the project objective and did not adapt the indicators to make them "SMART".

While the MTR Report mentions a few times the lack of a roadmap for achieving the Project objective, it appears from the Management Response and the subsequent activities that the recommendation was probably not clear enough. This may be related to the fact that the MTR was not very out-spoken what aspects of the Project need to be changed, and what aspects a roadmap should entail. The MTR for example criticized the very wide scope of project activities, geographically and technically, and favoured a more focused approach, but this is not well reflected in the recommendations.

Other aspects. The Government of Uzbekistan allowed the US-Dollar to float freely starting from 2017, and as a consequence, the exchange rate changed from 2,203 UZS for one US-Dollar in 2010 to 8,485 UZS in April 2019 (at the time of the TE). This had drastic consequences on the project budget and with the need for some modifications. The change in the exchange rate finally also led to the decision to extend the project duration for more than one year beyond the initially foreseen project closure.




Tag: Human and Financial resources Programme/Project Design Project and Programme management

3.

3.3 Project Results

3.3.1 Attainment of Project Objectives

The goal of the Project is to reduce competing land-use pressures on natural resources of arid landscapes, and the objective names Integrated Land Use Planning (ILUP) as the methodology to be applied for this purpose. Regarding improved pastures, the Project reports a cumulative progress of 44,600 hectares, which is well beyond the EoP target of 22,000 ha. Out of 44,600 hectares, pasture rotation practices were introduced at 30,000 hectares and 300 hectares of previously degraded pastures underwent major improvements. Until early 2018, a total of 1,399 hectares of improved rain-fed lands (vs. EoP target of 2,000 ha) were delivered by the project. By early 2018, the Project has succeeded in bringing 3,574 hectares of forestry land under "improved management"14 vs. an EoP target of 11,000 ha. Although the Project carried out additional planting activities in Karakul State Forestry and did additional measures in Zaamin Forestry Farm in 2018/2019, it is unlikely that the Project will achieve the forest-related targets in the remaining months till the end of the Project. These achievements of the Project have to be put in relation to the fact that forests issues are secondary to resolving agricultural land-use practices, and the fact that the surface area of improved pastures exceeds the original target by more than two times. The overall results as measured by the project indicators and as reported by the Project itself can therefore be regarded as highly satisfactory.




Tag: Agriculture Livestock Ecosystem services Natural Resouce management

4.

3.3.2 Relevance

The Project is consistent with international priorities such as GEF strategies and objectives. It is programmed under the Land Degradation Focal Area for GEF-5, specifically with Land Degradation Stra-tegic Objective 3 (LD-3): "Reduce pressures on natural resources from competing land uses in the wider landscape". The Project is also consistent with UNDAF Outcome "Principles of sustainable de-velopment integrated into country policies and programs" and contributes to the UNDP Strategic Plan Environment and Sustainable Development "Strengthen national capacity to manage the environment in a sustainable manner while ensuring adequate protection of the poor", and to the Out-come "Mainstreaming environment and energy". The Project is highly relevant also for the Government of Uzbekistan as land degradation is a major concern for income of rural people and food security. The livelihood of about 2.5 million people depends on dryland rangelands.

The project is therefore considered highly relevant as it as it combines issues of global importance such as adaptation to climate change, conserving biodiversity and combating desertification with the livelihood of local communities. In this sense it is in line with international commitments made by the Government of Uzbekistan (international environmental conventions such as UNCCD and Convention on Biological Diversity) and also aims at the conservation and rehabilitation of dryland ecosystems for which Uzbekistan has a global responsibility.




Tag: Climate Change Adaptation Biodiversity Natural Resouce management Relevance Sustainability SDG Integration

5.

3.3.3 Effectiveness

The Project delivered most of the foreseen outputs and can be considered highly effective. Most of the targets of the project indicators were fulfilled or the products delivered even exceed the planned targets. The Project was successful especially in delivering the outputs related to rangelands and somewhat less successful in the sectoral fields of forest management and rain-fed agriculture. How-ever, as noted above, the TE in line with the MTR20 considers these two fields of minor importance in the overall picture.

According to the project indicators, the Project rehabilitated 70 per cent more rangeland than fore-seen (Ind. #1) and stopped degradation of rangeland or improved its vegetation cover on a larger surface area than originally planned (Ind. #2). Forest rehabilitation and rehabilitation of rain-fed land lag behind the targets and the Project will surely not be able to reach the goal by project closure. On the national level, the Project assisted in preparing a Draft Law "On pastures" which was reviewed and adopted in 19th Plenary Session of the Senate of Oliy Majlis of the Republic of Uzbekistan on 3 May 2019and signed by the President of the Republic of Uzbekistan on 21 May 2019. The results of the Project exceed in this respect the expectations.

The Project delivered more products than required by the targets of the indicators. Nevertheless a few targets have not been fully achieved (e.g. surface area of pastures classified as "degraded"), but this does not significantly influence the big picture.




Tag: Forestry Effectiveness Rule of law

6.

3.3.4 Efficiency (Cost-effectiveness)

The Project performed in a very efficient way insofar most project activities were conducted in a timely manner and the Project achieved most activities in line with the time schedule of the annual work plans, and usually selected the most cost-effective way in order to achieve the intended objective. The Project was managed by a small team; the amount of managerial input given is consid-ered appropriate. In periods of high workloads, the Project hired national short- and medium-term experts.




Tag: Fishery Livestock Rural development Efficiency Women's Empowerment Capacity Building Trade and Development

7.

3.3.5 Country-ownership

The country ownership for this project is very high. There is a broad consensus both on policy level and on the level of local stakeholders in the demonstration areas that the project is extremely useful and pursues objectives that are important for the development of the country. Various stakeholders expressed to the TE that rangeland management ranks now much higher on the government agenda than at the onset of the project. The project contributed a lot to raise the awareness of decision makers of the relevance of sustainable rangeland management.

While the ownership for the project is in particular high for improving the productivity of rangeland and making better use of this land, environmental concerns play little role in this context.

The Project office is located within the premises of the State Committee on Land Resources, Geode-sy, Cartography and State Cadastre (Goskomzemgeodezkadaster), the project executing agency, thus allowing close and permanent exchange between the executing agency and the Project, and enhancing the efforts of the Project to mainstream the results into regular government work.

The Government of Uzbekistan has made a very significant financial commitment (approx. US$6.7 million) towards the implementation of the project, being almost the threefold amount of the GEF contribution. This is a good indication of a high level of ownership by the government. However, it seems that the government contribution committed at the time of project formulation was badly inflated and the amount the government has actually contributed is only a fraction of it. There are no seconded experts working for the Project with a government salary. Goskomzemgeodezkadaster, the national executing agency, provided free office space within their premises. All government contributions on national and district level in the form of work time (salaries) e.g. for Project Steering Committee members, project meetings, contributions to planning etc. were punctual. It is hardly possible to estimate the actual amount of government co-financing, but it is believed that it is less than 5 per cent of the originally pledged amount.

One may now blame the government that it has not fulfilled the commitments towards the imple-mentation of this project. However, the situation is actually more complex and needs careful evaluation: It is a general feature observed in practically all GEF projects that GEF pushes a lot for identify-ing and leveraging co-financing sources on the one side, but has, on the other side, no system and no standards to monitor and to claim these contributions. So governments make significant commit-ments for increasing the chances to get a project proposal approved, well knowing that there are no binding obligations to deliver. It seems to be GEF policy not to insist on full transparency.

GEF also does not distinguish between baseline financing, co-financing and parallel financing, but puts together all of them under the name "co-financing". Actually, all government contributions should be counted as baseline funding as long as the government does not provide special financial resources for the Project.




Tag: Global Environment Facility fund e-Governance Donor relations Oversight Country Government

8.

3.3.6 Mainstreaming Cross-cutting Issues

Poverty alleviation: In Uzbekistan, poverty is on the decline but still 12.4 per cent of the population live below the national poverty line25. Rural poverty continues to be significant and 75 per cent of those living in extreme poverty in Uzbekistan live in rural areas. Regional disparities are also considerable with the rural population living in drylands being particularly affected by poverty. The Project directly addresses poverty issues. Creating income for the rural population and help them make their living is at upmost project priority. The Project aims at increasing the economic benefits derived from the rangeland situated in the steppes and semi-deserts. From the 117 measures conducted by the Project, more than 90 per cent were addressing issues with a direct effect on income generation for the rural population.




Tag: Livestock Rural development Climate Change Adaptation Gender Equality Country Government Capacity Building

9.

3.3.7 Sustainability Financial sustainability.

Most of the measures under Outcome 1 (local measures) were supporting something to which the beneficiary had to make an own contribution (self-help approach). While the project contribution usually consisted of goods and technical advice, the own contribution usually consisted of work. This means that the beneficiary was in most cases not requested to provide financial resources. The Project thus covered the cash needed for the investment, while the beneficiary could make an in-kind contribution. As most of the investments will bring back financial return, the interest of the beneficiaries to continue is high. With a very few exceptions, sustainability seems to be granted.




Tag: Livestock Biodiversity Environment Policy Sustainability Resource mobilization Data and Statistics

10.

3.3.8 Impact

Impacts are understood as the broader changes that occur within the community, organization, soci-ety, or environment as a result of programme outcomes. The actual impact of a project is often diffi-cult to assess as long-term impacts can often be seen only after the end of the project. Measuring the impact of a project has something in common with measuring the sustainability: the probability that it will happen needs to be assessed rather than the impact and sustainability itself.

The project measure with the most important potential long-term impact is surely the "Law on Pas-tures", which was prepared and promoted with the assistance of the Project. It is the first compre-hensive legal framework on rangelands and is highly relevant for the sustainable usage of pasture lands. The law has been designed as framework law which sets forth the essential items. Still a lot has to be done to further develop it into an instrument for sustainable development. It for example does not set upper limits for the livestock number per hectare, or it mentions pasture rotation with-out saying whether this will be a must for all pastures, or it mentions geobotanical survey without saying how the results will put into practical action for pasture management. All these will need by laws and other regulations, and these will happen after Project closure and therefore without the assistance of the Project. It is therefore beyond the control of the Project, whether the Law of Pas-tures will fully meet the expectations and this needs to be taken as project risk.







Tag: Natural Resouce management Challenges Effectiveness Impact Women's Empowerment Social Protection

11.

3.1.3 Analysis of Assumptions and Risks

The outcome of the Project was not threatened by one of the factors listed in the risk matrix. With some minor exceptions, the risks which had been identified at the on set of the Project did not occur or the risks were managed properly by the Project. The political risks were minimized by the various changes that occurred since 2016 at the level of the Government of Uzbekistan; the environmental risks were minimised by favourable weather conditions (high precipitation) at the end of the project; the institutional risks were properly managed by the Project.




Tag: Risk Management

12.

3.1.4 Lessons from Other Relevant Projects

Already at the start of the project, a variety of promising good practices for land use existed. The Project Document lists 17 NRM best practices to be applied in the two target districts. All these best practices have been tested before and have been proven useful. All these measures have been piloted in the course of the "UNDP-GEF 'Achieving Ecosystem Stability in Aral Sea and Kyzylkum Desert' (SLM Project)", the "UNDP-GEF Project 'Biodiversity Tugai and Nuratau Biosphere Reserves'", the GIZ rangeland management project, as well as by other projects supported by World Bank, the EU, ICAR-DA, ZEF and others. The project could draw much information especially from the UNDP-GEF SLM project, which pursued a very similar approach. Even one of the project regions was identical and the LAND project may even be considered as a follow-up measure to the UNDP-GEF SLM project. The project manager of the LAND project and several experts had worked before for the SLM project. All this shows that the project concept is based on available experience and there was not need to pilot and demonstrate new approaches and methodologies, but could concentrate on replication and upscaling from the very beginning of project operation.




Tag: Relevance Knowledge management

13.

3.1.5 Stakeholder Participation

Stakeholder participation at the onset of the project is difficult to evaluate as the project was designed some 7–8 years ago and people involved in the preparation were usually no longer available during TE. However, there is good evidence that project preparation had achieved a maximum of participation both from local people and from government. The preparation of the project design followed a participatory approach. The selection of project beneficiaries was led by the district governments (Karakul and Zaamin District Hokimiyat). Based on their local knowledge they choose institutes and private persons who participated in the initial project preparation meetings. Both the neediness of these persons and their potential to share the results of the project measures with other people were usually used criterion for selecting the project beneficiaries. The civil society was not involved in a significant way in the implementation of the project. There was some cooperation e.g. with the "Ecological Movement" which is more a political party than a non-governmental organisation. There are apparently no local NGOs existent which could have taken over the implementation of certain project components.




Tag: Partnership Civil Societies and NGOs

14.

3.1.6 Project Beneficiaries

The Project Document defined the State Committee on Land Resources, Geodesy, Cartography and State Cadastre as the key beneficiary of the Project. This was the key partner and executing agency throughout the lifetime of the Project. According to the list of project activities, the Project provided goods and services to altogether some 70 individuals and organisations. This group of beneficiaries comprised a State Committee, District governments, university and research institutes, state and private enterprises (including forest enterprises) and private households. The project beneficiaries reflected an appropriate selection of stakeholders being active in the field of NRM. All these beneficiaries received from the Project physical support at least in the form of materials and equipment. Individuals and institutions who received support from the Project e.g. by training, access to workshops or other events, are not included in this number. Such a high number of project beneficiaries is quite unusual and is found in other development operations usually only in small-grant programmes and microcredit programmes (which pursue different approaches).




Tag: Micro-credit Capacity Building Oversight

15.

3.1.7 Replication and Upscaling Approach

The Project was designed with the ultimate goal to replicate and up-scale existing best practices for land management. The project thus does not have the task to develop and test new approaches. For replicating the project results, the Project took a two-level approach with the following tasks:

to implement and replicate best practices on a larger area of land (project component [outcome] 1), and
to mainstream project results into the legal and institutional framework and the government policy (project component [outcome] 2).




Tag: Natural Resouce management

16.

3.1 Project Design / Formulation

3.1.8 UNDP's Comparative Advantages

UNDP has over the other GEF agencies the following comparative advantages as an implementing agency for this project:
UNDP's long and positive track record in Central Asia;
UNDP's track record in the sector of land management, desertification, adaptation to climate change, et.;
UNDP's combined track record in the country and in the sector (e.g. UNDP-GEF SLM Project);
UNDP's proven ability to build on successful cooperation with national partner institutions and national experts;
UNDP maintains in Uzbekistan a country office which can provide technical and administrative backstopping and other services;
The project is entirely supportive of, and consistent with, UNDP's Country Programme Portfolio.




Tag: Climate Change Adaptation Operational Efficiency Strategic Positioning

17.

3.1.9 Linkages between the Project and other Interventions within the Sector

The project could rely on a number of strong partnerships on state-level (national level and district levels), research and education institutions (including universities) and with several private companies. In all stages of the project, i.e. planning, implementation and monitoring, all partner organisations were generally in a good relationship and understanding with one another. The Project cooperated with other projects in the sector such as with the regional project "Sustainable and climate sensitive land use for economic development in Central Asia" (2016â??2019), implemented by GIZ. Cooperation with this and other projects happened in the form of information sharing and invitation to and participation in different project related events.




Tag: National Regional Partnership Private Sector

18.

3.2.3 Project Finance

The project could rely on an overall budget from the GEF Trust Fund of US$2,313,600 plus US$231,360 as Agency Fee for UNDP (10 per cent of the GEF contribution as per standard). As per Project Document, UNDP committed a grant of US$700,000 towards the project costs.

As per 30.04.2019, the project disbursed US$2,228,347 which is 96.3 per cent of the GEF funds avail-able.10 It can be expected that the project will disburse all GEF funds with high precision till the planned project closure on 31.08.2019.

From the US$700,000 which had been committed by UNDP, only approximately US$450,000 has been disbursed by 30.04.2019 (60 per cent). It is unlikely (and not foreseen) that UNDP will spend the remaining USD250,000 till the end of the project.

The annual budget allocation was revised a few times as compared with the figures presented in the Project Document in order to meet the actual demands. According to the information obtained by the Project, there was a steady disbursement over the years. The project took some time to gain momentum and started with an expenditure of US$140,000 in 2014, but reached almost US$800,000 in 2017. Since then, the disbursement is decreasing again, which is a good indicator for a smooth phasing-out.

No financial audit of the Project has been conducted during its life-circle (2014-2019).

Co-financing and Co-financing Delivery. In addition the US$3.0 m grant from the GEF Trust Fund and UNDP, the Project Document lists grants totalling US$7.7 m for co-financing:

Government (State Committee for Land Resources and Geo-Cadastre and Karakul and Zaamin Districts): US$6,700,000;11

Forestry Enterprises: US$220,000;

International Centre for Bio-saline Agriculture (ICBA): US$500,000;

Sheep Breeding Farms: US$320,000.

Additionally, the Project Document lists unspecified in-kind contributions in the amount of US$1,440,000.

The International Centre for Bio-saline Agriculture (ICBA) cultivated in 2015 in cooperation with the project luguminose crops on 5 ha. of land and planted in 2016 again in cooperation with the project 100 fruit trees. Additionally, ICBA provided trainings and seminars. The monetary value of these measures must be much below the committed US$500,000.

The Forest Enterprises and the Sheep Breeding Farms made significant contributions towards the Project mainly as in-kind contributions in the form of labour, provision of tools, transportation, provi-sion of meeting facilities, etc. However, these contributions were for their own direct benefit (and it may therefore be discussed whether it can be counted as "co-financing") and the monetary value of these contributions seems to be far below the original commitment.

Also the actual contribution by the Government of Uzbekistan towards the project costs is even fur-ther below the commitment as given in the Project Document: While there are visible contributions such as staff time, rental of the project office, etc., these are surely far below the amount committed. A tentative estimation comes to the result that the contribution is less than 5 per cent of the original commitment.

So the project was, on paper, well co-financed at the project design stage, but the actual co-finance expenditure at the TE stage of the project is disappointing as it represents only approximately 11 per cent of the pledged amount.

It is a general feature observed in GEF-funded projects that GEF pushes a lot for identifying and lev-eraging co-financing sources, and much is counted as "co-financing" which would actually not de-serve this name, and the pledges are often badly inflated, well knowing that this will remain without consequences. It is, however, also understood that GEF does not give clear guidance on counting co-financing sources and that these contributions are not monitored during project implementation.




Tag: Efficiency Global Environment Facility fund Resource mobilization

19.

3.2.4 Monitoring & Evaluation

The Project Document describes in detail the monitoring framework for the Project including work-shops, reporting, independent evaluations, etc. The Project strictly adhered to the provisions made and met the deadlines. The M&E results are described in the report under "effectiveness" further below.




Tag: Monitoring and Evaluation

20.

3.4.5 Management arrangements and operational issues

Project Executive Board (PEB) / Project Steering Committee. A Project Executive Board was created to provide policy and programme oversight and guidance to the project implementation, chaired by the National Project Director (NPC) who is responsible for the overall implementation of the project. The Board reviews and approves annual project reviews and work plans, technical documents, budgets and financial reports. It provides general strategic and implementation guidance to the Project Manager. Board meetings took place regularly, twice a year, in June and December. No major disagreements between the PMU and the Board were reported to the TE.

The Project Management Unit (PMU) is located in Tashkent and appropriate office space was provided by Goskomzemgeodezkadaster. Core PMU staff consists of a National Project Manager (NPM) tasked with the day-to-day management of project activities, as well as with financial and administrative reporting. Other core staff included a full time National Technical Coordinator who is responsible for day to day supervision of project technical activities, an Administration and Finance Assistant, as well as a Procurement Assistant and a Project Driver. At the time of the TE, only the Project Manager, the Administration and Finance Assistant and a driver were employed by the Project, supported by Consultants as required. The Project employed also two clerks in the regions, one in Zaamin District and the other in Karakul District. The overall set-up of the Project structure is regarded as reasonable and the gradual phasing-out of project staff towards project closure appropriate.

The MTR criticized that altogether some 55 experts had been hired by the Project on a short-term basis.13 In the second half of the Project, the number of external experts has been reduced considerably.

An international Chief Technical Adviser (CTA), responsible for guiding the overall technical direction of the project, was hired only at the beginning of the project (2015) for a few short missions to Uzbekistan. He visited Tashkent and the regions three times. His impact on the overall strategy and performance of the Project is considered marginal. Other international short-term experts were hired in line with the stipulations made in the Project Document for pasture livestock breeding (2015), forestry (2015) and ILUMP (2015-2018) as well as for the MTR and TE. The total budget available for international experts was US$282,200 roughly 80% of it was spent or allocated at the time of the TE.

Guidance by UNDP. UNDP has played a crucial role throughout the project, both at the CO level and the level of the responsible Regional Office. Staff of the UNDP CO not only participated in the PEB and other meetings and hold contact with its members beyond these meetings, but made also regular visits to the demonstration sites. The Regional Technical Advisor (RTA) in all phases of the project was fully available to guide the project. Extensive comments on project performance made in the annual PIRs are good evidence for this. In 2018, he also visited the project intervention sites.




Tag: Oversight Project and Programme management

21.

3.2.2 Partnership Arrangements

The project is part of the multi-donor CACILM Initiative, whose goal is to restore, maintain, and enhance the productive functions of land in Central Asia, leading to improved economic and social well-being of those who depend on these resources while preserving the ecological functions of the land. The following bilateral and multilateral institutions are members of this Strategic Partnership for UNCCD Implementation in Central Asian Countries: the Asian Development Bank (ADB), the Canadian International Development Agency (CIDA), the German Gesellschaft für Internationale Zusam-menarbeit (GIZ) GmbH on behalf of Federal Ministry for Economic Cooperation and Development (BMZ), the Global Mechanism of the UNCCD, the International Centre for Agricultural Research in the Dry Areas (ICARDA), the International Fund for Agricultural Development (IFAD), the Swiss Agency for Development Cooperation (SDC), the United Nations Development Programme (UNDP), United Nations Environment Programme (UNEP), and the World Bank (WB). CACILM thus brings together similar projects in the region and provides an umbrella for the Project. The Project participated in several meetings (e.g. a roundtable in Tashkent in 2016), shares information on the prevention of land degradation and combating desertification, but the ties with and benefits derived from CACILM are modest.

On national level, the Project cooperated with other projects in the sector such as with the regional project "Sustainable and climate-sensitive land use for economic development in Central Asia" (2016–2019), implemented by GIZ. Cooperation with this and other projects happened in the form of information-sharing and invitation to and participation in different project-related events.




Tag: Partnership Bilateral partners International Financial Institutions UN Agencies

22.

3.3 Project Results

3.3.1 Attainment of Project Objectives

Attainment of Output (Outcome) 1: Field level investment to transform the baseline approach promising best practices on sustainable rangeland and forestry management and INRM planning up-scaled in target districts of Uzbekistan.

The following chapters are an assessment of some examples of typical project measures with focus on those visited during the TE. The actual list of project measures is much longer.

Zaamin State Forestry. The Project supported the Zaamin State Forestry by providing them machinery for the collection, processing and storage of medicinal plants. With this support, the State Forestry extended their economic activities in the field of medicinal herbs, and ploughed uncultivated plots of land which belong to the State Forest Fund to grow herbs there. As the herbs are grown on uncultivated forest land, no competing land-use practices could be identified. As medicinal plants replace the natural vegetation, also no environmental benefits could be recognised. Nevertheless, the TE was not able to assess whether this has a negative effect on the environment. The collection, processing and marketing of medicinal herbs created some jobs (<10 permanent jobs and an unknown number of seasonal jobs for collection), and increased the annual income of the State Forestry by 180m UZS (approx. US$22,000). An income of approximately 500m UZS (approximately US$590,000) are planned for 2019. The Project further supported the State Forestry by providing equipment for a tee nursery, and altogether more than 900,000 tree saplings, mostly economically important trees. The trees were planted on uncultivated land, but not land which was specifically affected by heavy erosion (desertification). The level of land degradation was not used as criterion when the land was selected for carrying out the plantations; most plantations were done in the close vicinity of the State Forestry facilities. All these measures contributed to strengthening the State Forestry and for improving their economic return and had no direct visible link to competing land-use practices and environmental benefits.

Zaamin College of Agriculture and Consumer Services. The Project provided the means to build a modern greenhouse with drip irrigation for cultivating tomatoes, laboratory equipment mainly for the analyses of soil samples, a generator, and machinery for no tillage seeding. All equipment is used for educational purposes. The Project justifies the support provided to the Agricultural College with the need to support the development of new skills among college students, as an alternative to live-stock management. It is surely useful to strengthen and enrich the College's education programme with such topics, but it remains doubtful whether this will actually lead to a reduction of the pressure on natural resources. Greenhouses are means of increasing agricultural productivity, they are normally not regarded as an environmentally friendly alternative to traditional land-use systems. Also a soil laboratory provided by the Project has the ultimate goal to increase agricultural productivity, i.e. to find the most appropriate crop for the soil available and to adjust fertilizing. Soil analyses are used for optimizing the yield of crop production and are not directly linked to rangeland management. These Project measures are carried out under the assumption that a general increase of the agricultural productivity will release pasture land from its current unsustainable usage pattern. However, there is no evidence that this is true. Higher productivity means more and additional income for the farmer, and does not necessarily mean that he will refrain from cattle breeding or other competing agricultural practices. But even if he himself refrains from animal husbandry, his livestock and related facilities will surely be taken over by somebody else.

"Hulkar Pistasi" Farm. The Project helped the farm establish a plum orchard on a mountain slope, and provided equipment for a drip irrigation system, a water pumping station, a fence and 900 pieces of plum saplings. At the time of the TE, the grasses and herbal vegetation of the fenced area was in much better condition than the areas around which were subject to livestock grazing. The Project thus supported the transformation of rangeland into an irrigated fruit orchard. A few farmers from the same village are reportedly going to establish irrigated fruit orchards as well, taking the Hulkar Pistasi Farm as a model. The transformation of rangeland into a fruit orchard will bring the farmer a higher economic benefit. From an ecological point of view, the orchard may be a better protection against erosion (while the erosion risk is low at this specific site), but otherwise no specific ecological benefits were identified.

"Tutak Karim Dalasi" Farm. The Project supported the farmer to fence his pastures and provided a mobile home for him. As the area is protected from livestock grazing, the TE could see that the grass-es and herbs are in much better condition than in the surrounding pastures. The farmer also ex-plained that he grazes his livestock now in another, more distant area18. The project interventions thus created economic benefits for the farmer, but they did not solve the issue of overgrazing as the farmer did not reduce the number of livestock but brings it now just to another place. It was con-firmed that the number of livestock remained the same.

Sewing workshops. The Project supported several households in Zaamin and Karakul districts for establishing sewing workshops. Normally women founded the workshops and up to five sewing ma-chines were provided per workshop. The women are now self-employed entrepreneurs who make their living by selling their own products. At the same time they train local girls how to sew. This is an encouraging initiative as new jobs were created, and young girls were qualified and could find jobs in a newly opened textile factory in the district. At the same time this measure helped overcome gender inequalities. However, the women and girls engaged this business have not been chosen because of their relationship with land use issues – usually there is none. The husband of one of the workshops visited during the TE was e.g. a taxi driver. So there remains only the hope that additional jobs will distract local people from destructive land use activities. The TE is not convinced that this will happen often.




Tag: Agriculture Agriculture land resouces Forestry Livestock Water resources Gender Equality Inclusive economic growth Jobs and Livelihoods

23.

3.3.1 Attainment of Project Objectives

Attainment of Output (Outcome) 2: Policy, legal and institutional mechanisms an enabling cross-sector environment: In-country capacity (at system, institutional and individual levels) for applying integrated landscape management in arid mountain, semi-desert and desert areas of Uzbekistan. Capacity Building for the Research Institute for Karakul and Desert Ecology. The institute, based in Samarkand, has a long tradition in applied research related to the karakul sheep. It has a famous herbarium with historical samples, a vast, but the little-used library and various research facilities. The institute facilities are badly outdated; some of them such as the laboratory are in poor condition, apparently due to a shortage of operational funds. The Project supported the institute by providing a few computers, herbarium cabinets, furniture for the museum room and the library. The support given to the institute is regarded as very useful investment. However, it also needs to be considered that the upgrading of the museum, the library and the herbarium will not have a direct impact on reducing land degradation, at least not as short- or medium-term measures. These project measures will therefore contribute only very indirectly to the project objective.

Preparation of a "Law on Pastures". The Project showed that the regulatory framework for pasture management is insufficient. Pasture management is regulated under numerous laws and by-laws including the Land Code, the Law "On farming entity", the Law on Agricultural Cooperatives (shirkat), the Law on Dekhan Farms, various decisions of Cabinet of Ministers, etc. The Project therefore strived from is beginning to have a comprehensive regulatory framework which sets out the goals and normatives for pasture management. A draft law was prepared which includes inter alia:

–Rights and obligations of pasture users, –Norms and terms of pasture use, –Regulations on pasture rotation, –Fees for pasture use, –Protection and restoration of pastures, –Geobotanical survey of pastures and pasture monitoring.

For the preparation of the draft law, expert consultations and meetings with various government agencies were held, and also a study tour for decision makers to Kyrgyzstan was organised, as this is the only country in Central Asia which already has a Law on Pastures. This was supplemented by a study tour to Spain. The draft law was reviewed and adopted in the 19th Plenary Session of the Sen-ate of Oliy Majlis of the Republic of Uzbekistan on 3 May 2019 and was signed by the President of the Republic of Uzbekistan on 21 May 2019.

The adoption of the Law on Pastures is a big step forward and a big success of the Project. In order to become effective, both by-laws (e.g. for defining the normatives, fines, etc.) need to be elaborated and adopted and a budget for its implementation needs to be allocated by the government. So still time and efforts are needed until the law becomes fully effective and its actual impact can only then be assessed objectively.

Support to Universities. The Project supported a few university institutes engaged in land use issues: the National University of Uzbekistan to establish an information resource centre on "Soils and Land-scapes" (equipment, demonstration materials, books, maps, etc.), the Tashkent State Pedagogical University to publish a book on "Environment and nature protection: environmental lore study", and the Tashkent Institute of Irrigation and Mechanization of Agriculture for equipping the "Centre for remote methods of studying the land resources of various landscapes in Uzbekistan". These centres serve to further strengthen and enhance scientific capacity. The support to these institutes is reasonable and useful, but the underlying results chain how these materials will lead to a reduced pressure on natural resources is long and very indirect. The Project's input is much too small that a measure-able impact can be expected.




Tag: Livestock Natural Resouce management Rule of law National Institutions
Recommendations
1

Put more effort into the development of sound project concepts.

The main shortcoming of the Project is rooted in a project concept that has not been foreseen a logical flow of activities from local small-scale and micro-measures that relieve the pressure on dryland to upscaled interventions with broad impact, although this is understood as the overarching goal. Project concepts and designs must be based on reasonable results chains and it must be clear for the user of the LogFrame which activity is carried out for what purpose and why it is supported by the Project. Stronger guidance and quality control by UNDP and GEF is required.

2

Only livelihood activities which are linked to the conservation target to be supported by environmental projects with the identified contribution of local communities towards environmental protection.

Even though the improvement of the environmental situation is usually not possible without improving the socio-economic situation of people, this does not mean that all socio-economic measures have a positive effect on the environment.

3

Implement follow-up measures to make the "Law of Pastures" fully operational.

The "Law of Pastures" is a success story of the Project, but it still needs considerable efforts and resources to become operational. Guidance needs to be given to decision-makers especially for an adequate treatment of environmental concerns. UNDP may offer the government technical assistance towards this end and may use for this purpose committed but still unused track funds.

4

Give more guidance as regards accounting of co-financing.

Assessing the level of co-financing is challenging as it is not included in project monitoring. It is particularly difficult to monitor in-kind contributions without guidance what falls under in-kind contribution. Without such guidance, equal monitoring is not possible.

5

Reconsider the rating scale of the criterion "relevance".

Relevance" can now only be rated as "relevant" or "not relevant", whereas a finer scale extending e.g. from "highly relevant" over "partly relevant" to "not relevant" would be more appropriate to mirror project reality including the fact that a project often consists of several aspects/components with different levels of relevance.