Terminal Evaluation of the GEF/UNDP Project Protection and Sustainable Use of the Dinaric Karst Aquifer System (DIKTAS) PIMS No. 4056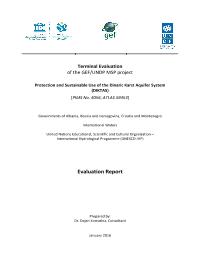 Evaluation Plan:

Evaluation Type:

Final Project

Planned End Date:

03/2016

Completion Date:

01/2016

Status:

Completed

Management Response:

Yes

Evaluation Budget(US $):

15,000
Title
Terminal Evaluation of the GEF/UNDP Project Protection and Sustainable Use of the Dinaric Karst Aquifer System (DIKTAS) PIMS No. 4056
Atlas Project Number:
Evaluation Plan:
2014-2017, RBEC
Evaluation Type:
Final Project
Status:
Completed
Completion Date:
01/2016
Planned End Date:

03/2016

Management Response:
Yes

Focus Area

:
Corporate Outcome and Output (UNDP Strategic Plan 2018-2021)

1. Output 1.3. Solutions developed at national and sub-national levels for sustainable management of natural resources, ecosystem services, chemicals and waste

Evaluation Budget(US $):

15,000

Source of Funding:
Joint Programme:
No
Joint Evaluation:

No

Evaluation Team members:

| Name | Title | Nationality |
| --- | --- | --- |
| Dejan Komatina | Dr | |

GEF Evaluation:

Yes

| | |
| --- | --- |
| GEF Project Title: | |
| Evaluation Type: | Terminal Evaluation |
| Focal Area: | International Waters |
| Project Type: | FSP |
| GEF Phase: | GEF-4 |
| GEF Project ID: | 3690 |
| PIMS Number: | 4056 |

Key Stakeholders:
Governments of Croatia, Bosnia and Herzegovina, Montenegro and Albania, UNESCO-IHP
Countries:

ALBANIA

BOSNIA AND HERCEGOVINA

CROATIA

MONTENEGRO
Recommendations
1

Establish a mechanism (CIE) that will ensure continuation of the transboundary cooperation and facilitate further activities related to the adoption and implementation of SAP.

2

Orient next steps toward concrete activities (primarily, establishment of a basis for a joint monitoring programme and implementation of local scale activities), and define objectives as concrete and realistic as possible.

3

Plan the activities so as to ensure that the outputs are based, not only on the existing data, but also on the data to be obtained through new investigations.

4

Consider the possibility of extending the project region to other countries sharing the Dinaric Karst Aquifer System, such as Serbia and FYR of Macedonia.

5

Make efforts to further strengthen science-policy interactions in each project country and ensure that the capacity of national institutions is used to the maximum extent.

6

Make efforts to further improve awareness raising and capacity building and consider strengthening of the project team by involving water management experts.

7

Plan the follow-up in a more conservative way in terms of assumptions and risks (e.g. allocate more time for time-consuming activities, such as harmonization and adoption processes, or for translation of documents into local languages, especially given a limited flexibility of the UN procurement rules; allocate some time to accommodate changes in the project team, both governmental representatives and experts).

8

Preserve NICs (even if the SAP will not be implemented in future) as a basis for inter-sectoral communication and coordination within countries.

9

Consider possibilities (and sustainability) of holding the PSC meetings more frequently and thus further strengthen the project management.

10

Plan a stronger Project Coordination Unit in the region that would, in addition to the Project Coordinator, include an information officer and an administrative officer (and preferably a GIS/database specialist).

11

Further strengthen the Project Team by ensuring a closer and permanent cooperation among NFPs of project countries.

12

Ensure a better quality check of outputs and performance of experts, inter alia, by linking a contract renewal closely to performance in a previous contract period.

13

Consider appropriateness of decentralizing the Project budget on a yearly basis and possibilities to minimize administrative obstacles.

14

When planning the awareness raising and capacity building activities, try to ensure that the responsible organization is, either located in the region or includes a person with an ability to speak languages of the project region.