Mid-term evaluation of the "Support to Civil Registration Reform in Tajikjistan" project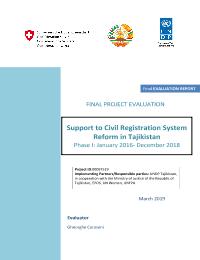 Evaluation Plan:

Evaluation Type:

Mid Term Project

Planned End Date:

03/2019

Completion Date:

03/2019

Status:

Completed

Management Response:

No

Evaluation Budget(US $):

15,000
Title
Mid-term evaluation of the "Support to Civil Registration Reform in Tajikjistan" project
Atlas Project Number:

00087621

Evaluation Plan:
2016-2022, Tajikistan
Evaluation Type:
Mid Term Project
Status:
Completed
Completion Date:
03/2019
Planned End Date:

03/2019

Management Response:
Yes

Focus Area

:
Corporate Outcome and Output (UNDP Strategic Plan 2018-2021)

1. Output 2.2.3 Capacities, functions and financing of rule of law and national human rights institutions and systems strengthened to expand access to justice and combat discrimination, with a focus on women and other marginalised groups

SDG Goal

Goal 16. Promote peaceful and inclusive societies for sustainable development, provide access to justice for all and build effective, accountable and inclusive institutions at all levels

SDG Target

16.3 Promote the rule of law at the national and international levels and ensure equal access to justice for all
16.6 Develop effective, accountable and transparent institutions at all levels

Evaluation Budget(US $):

15,000

Source of Funding:
project budget
Evaluation Expenditure(US $):

11,800

Joint Programme:
No
Joint Evaluation:

No

Evaluation Team members:

| Name | Title | Nationality |
| --- | --- | --- |
| Gheorghe Caraseni | Evaluation Consultant | |

GEF Evaluation:

No

Key Stakeholders:
Ministry of Justice, Civil Registration Offices
Countries:

TAJIKISTAN
Lessons
Findings
1.

Consistency between the project, national priorities of Tajikistan and UN priorities

The Support to Civil Registration System Reform in Tajikistan Project (CR Project) is highly relevant and consistent with the civil registry system reform of the Government of Tajikistan, particularly with the ZAGS Reform Programme (2014-2019), as part of the Government's broader efforts in legal and judicial reform.




Tag: Civic Engagement Election Human rights Public administration reform Data and Statistics

2.

The CR Project is in line with the Sustainable Development Goals (SDGs) and its intervention areas are aiming to advance Tajikistan's progress towards the achievement of the SDG 16 Peace, Justice and Strong Institutions – "Promote peaceful and inclusive societies for sustainable development, provide access to justice for all and build effective, accountable and inclusive institutions at all levels" and SDG 5 "Achieve gender equality and empower all women and girls". It is worth noting that civil registration and vital statistics as such play a key role in monitoring progress of SDGs and facilitates access to justice, social protection, health care and protection of other human rights in Tajikistan. Monitoring and assessment of the reaching of the SDG targets by Republic of Tajikistan require data, which should be captured from the CRVS system. Civil Registration upholds the SDG vision of 'leaving no-one behind' where the project seeks to identify and enable those marginalized people in Tajik society to access public services they need. Therefore, a robust civil registration system is relevant to Tajikistan's progress towards achieving the SDG targets.




Tag: Gender Equality Leaving no one behind SDG Integration SDG monitoring and reporting Women and gilrs

3.

Consistence and coherence of the project design and intervention logic.

The CR project represents a multi-stakeholder, inter-sectorial and a complex intervention, which involves several international, national and local actors, such as: UN Agencies (UNDP, UNFPA, UN Women, UNHCR, UNICEF); Ministry of Justice with its relevant subdivisions and ZAGSs, as line ministry; other state actors (Executive Office of President of RT, Parliament of RT, MFA), and national and international civil society organizations, providers and experts.

The action includes policy-level initiatives, particularly legal and regulatory review and adjustment, communication plan/strategy development; as well as capacity development interventions; archive digitalization, mainstreaming electronic platform in CR system and outreach awareness rising campaigns at the grass roots level.

Final evaluation remarks that the key elements of Human Rights Based Approach (HRBA), as reflected below in the Figure 2, are mainstreamed in the project design of Phase I, but with a much greater accent in terms of budget allocations, consistency and duration of the interventions on empowerment of the "duty bearers"/supply side than on the "rights holders"/demand side. This is understandable given the necessity identified and subsequently planned hard and soft interventions, as well as the coverage of the project.

Thus, on one side the CR project targeted providing support for enabling environment, particularly policy and regulatory framework review, and institutional capacity strengthening interventions of "duty bearers", i.e. ZAGS, MoJ and other state actors (trainings, study tours, international expertise etc.) to fulfill their obligations; on the other side it targeted awareness raising/informational activities focused on the "right holders", i.e. population of Tajikistan, especially the vulnerable one to claim their rights and to fulfill their obligations regarding the civil registration.




Tag: Oversight Programme/Project Design Results-Based Management

4.

The design of the CR project is well-structured, justified, all outputs and outcomes are inter-linked, although there is no a Theory of Change (ToC). The project represents a complex, inter-sectorial and in-wide approach, for instance targeting national coverage all ZAGSs and jamoats, but also an in-depth approach, e.g. outreach of the most vulnerable people in the remote areas of the country.




Tag: Programme/Project Design Coordination

5.

In terms of Results-Based Management (RBM), the project contains a results' chain reflecting outcomes and outputs and the results' portfolio consists of six outputs and two outcomes with distinct baselines, indicators and targets.




Tag: Results-Based Management Coordination

6.

There are some inconsistencies and gaps mostly at the indicators level. Some of the targets are extremely ambitious, even unrealistic to be achieved by the end of the Phase I (or even Phase II) given the available and potential financial, human and time resources. Thus, for instance to assess to what extent the Outcome 1: "The reformed Civil Registration system of Tajikistan is effectively managed and provides quality and affordable services to the population and qualitative vital statistical data for the State" is achieved, those four indicators reflected in the project design are not consistent and sufficient. An important indicator would be the extent to which the CR system respects the operational CR standards and procedures, which are missing in the CR system, but are envisaged by the project. An example of unrealistic target, given the available resources and existing challenges described below, can be illustrated the target: "All Jamoats and ZAGS staff participate in training once every 2 years (i.e. twice until 2019)" of the Indicator 1 of the Output 3: "Civil Registration offices and jamoat staff have enhanced capacities to provide quality services to the population". It is worth noting, that this issue was realized by the project and the Steering Committee decreased the project coverage and exited from the jamoats.




Tag: Challenges Relevance Civic Engagement

7.

There are some inconsistencies and gaps mostly at the indicators level. Some of the targets are extremely ambitious, even unrealistic to be achieved by the end of the Phase I (or even Phase II) given the available and potential financial, human and time resources. Thus, for instance to assess to what extent the Outcome 1: "The reformed Civil Registration system of Tajikistan is effectively managed and provides quality and affordable services to the population and qualitative vital statistical data for the State" is achieved, those four indicators reflected in the project design are not consistent and sufficient. An important indicator would be the extent to which the CR system respects the operational CR standards and procedures, which are missing in the CR system, but are envisaged by the project. An example of unrealistic target, given the available resources and existing challenges described below, can be illustrated the target: "All Jamoats and ZAGS staff participate in training once every 2 years (i.e. twice until 2019)" of the Indicator 1 of the Output 3: "Civil Registration offices and jamoat staff have enhanced capacities to provide quality services to the population". It is worth noting, that this issue was realized by the project and the Steering Committee decreased the project coverage and exited from the jamoats.




Tag: Challenges Effectiveness Relevance Programme/Project Design Awareness raising Coordination

8.

Another example is the target is "20% of ZAGS offices show improved conditions of work (infrastructure, equipment, administration, access to rules and information, etc.)" of the Indicator 2 linked to the same Output 3. Given the available financial resources it is unrealistic to expect it, especially in the situation when it is not clear who is going to cover those infrastructural costs, which turned to be much higher and more time consuming than initial estimations, e.g. see the renovation of the Kulob ZAGS.




Tag: Challenges Human and Financial resources Infrastructure

9.

In the case of Indicator 1: "Electronic systems for registration and archiving are introduced and are functional across all ZAGS offices" of the Output 4: "Civil Registration and archiving of data is managed through an electronic system" the only target: "Feasibility study conducted on electronic registration of civil acts" is not sufficient for the indicator, and as a prove the project delivered and reached more than just the target reflected in the initial project design.

The baseline and the target for the Indicator 1: "% of identified population residing in districts where isolated communities can be found are assisted to obtain missing CR documents" of the Output 6 are missing and were planned to be established by the CSOs upon identification of population with the CR problems.




Tag: Challenges Effectiveness Rural Civic Engagement Programme/Project Design

10.

The selected methods of delivery and approaches, as well as the logic of intervention are mostly relevant for the adequate implementation of the CR reform in Tajikistan and reaching the realistic targets. The implementation strategy includes actions focused on: feasibility studies; needs assessments; "learning from each other", e.g. study visits and comparative analysis of the CR systems and legal frameworks of the countries with the common background (Moldova, Georgia, Kazakhstan, Latvia, Russia); adjustment of the normative framework on CR reform; transfer of competence and strengthening capacities; development of electronic platforms; development and piloting of OSS; etc.




Tag: Relevance Civic Engagement e-Governance Local Governance

11.

The greatest challenge of the CR Project is not related to the appropriateness or relevance of the methods of delivery, but to the dynamics of delivery as described below in the report.

The following part of the report presents the findings of the final evaluation related to the effectiveness of the CR Project in context of the achievements. The findings are reflected both at the levels of the outcomes and outputs accordingly to the project components.

The findings of the final evaluation show that the project scores modestly under effectiveness, although the efforts and interventions are in place, but because of the complexity, implementation difficulties and lower implementation dynamic than planned, the assessment of the project performance is mostly premature, i.e. the achievements still should happen and are mostly on the way. Some expected results might be achieved by the end of the Phase I, but majority of them should be reinforced during the next Phase of the CR project. In other words, the implementation difficulties and costs in terms of financial resources, time consumption and needed efforts turned to be greater than initially estimated and expected, which slowed down the project performance. Because the project indicators are preponderantly change-oriented and the project is behind the initial schedule, evaluation assessed the performance also through the perspectives of "done" or "likely to be done", not just through "what has been changed as the result of what has been done". Below is described the project fulfillment and is presented the project performance per each of the outcomes and outputs.




Tag: Challenges Effectiveness Impact

12.

OUTCOME 1: The reformed civil registration system of Tajikistan is effectively managed & provides quality and affordable services to the population and qualitative vital statistical data for the State.

The initial targets of the outcome were changed by the Steering Committee. Thus, the jamoats were excluded from the Phase I of the project, due to project complexity. The number of the targeted piloting ZAGS Offices was reduced from three to one - ZAGS from Kulob city of Khatlon region, due to the ownership issues of MoJ. At the moment of evaluation, there is an agreement between the UNDP and MoJ to pilot in one more office - Rudaki Civil Registration Office. Thus, by the end of the Phase I, the project is likely to reach two ZAGS Offices. The premise of the Kulob ZAGS is renovated and mostly equipped with: Queue Management System, Intercom systems, IT Equipment, Air-conditioners, Design of volumetric letters, TV set. The renovation process lasted one year (Dec 2017- Nov 2018d) and took more time and financial resources than initially estimated. The process of One-Stop-Shop (OSS) concept development also took significantly more time than expected.




Tag: Challenges Impact Civic Engagement Technical Support

13.

The evaluation field visit to the recently renovated ZAGS showed that the unit is operational, but still faces some functionality and technical problems, such as: not all the equipment of the Queue Management System (QMS) is installed, but was recently procured and, subsequently, it is premature to assess the functionality of the QMS; multi-functional office equipment and electronic platform periodically have some technical errors, e.g. with the search system; there are still some problems with tokens and the OSS was just approved in January 2019 and it is not functional yet. Thus, the piloted ZAGS Office provides CR services using paper-based system and, afterwards enters CR data in beta version of CROIS2. This is a double work, which is "temporarily", as remarked several interviewed state and non-state actors23. It illustrates eloquently the transition phase of the CR system in Tajikistan from the paper-based system to the electronic platform.




Tag: Challenges Impact Civic Engagement

14.

Measuring degree of satisfaction and affordability for users of the civil registration system is premature at this stage, because the project is still delivering the planned activities. The assessment of reducing the discrepancy of data between Ministry of Health (MoH) and civil registration system is also premature, because, on the one hand the action research exercise is not finalized yet; one the other hand reducing the discrepancy depends not only on the indicators of this outcome, but also on other cross-sectorial aspects, such as: birth registrations procedures, legal norms/amendments; data collection methods of operational statistics of MoH and official statistics of ZAGS/MoJ etc.

The assessment of the performance against the target of the last outcome indicator "reduced number of procedures required for registration of civil acts" also cannot be measured since amendments to laws and regulations including moving to electronic system are not approved/endorsed yet by the public authorities of Tajikistan.




Tag: Challenges Civic Engagement Integration

15.

Output 1: Legislative framework for CR is compliant with international best practices.

The project brought collective, substantive and valuable technical support to the Working Group through the team of international and national legal and civil registration experts in the area of: general and key CR issues, gender related aspects, civil registration of the stateless persons. This output put together expertise from the public authorities, particularly MoJ and different UN Agencies (UNDP, UN Women, UNHCR, UNFPA) empowered by a wide range of international experts. As a result, the thematic legislation and regulation was revised and a package of draft of amendments to the five laws: "On State Registration of Acts of Civil Status", Family Code, Law "On Jamoats", Code on Administrative Offences, and draft Law "On Personal Data Protection" was submitted to the Government of Tajikistan in December 2017.




Tag: Effectiveness Impact Rule of law

16.

The findings of the evaluation consultations show that the elaborated package was not approved yet and it is at the consultation stage among the MoJ, Parliament of Tajikistan and Apparatus of the President. According to the interviewed representatives of Parliament and MoJ, there is a high probability that the amendments to the Law "On State Registration of Acts of Civil Status" will be approved by the end of May - July 2019.
As for the amendments to other four laws – the perspectives are not defined yet, except the opinion expressed by the public officials "we will approve them during the year 2019". Therefore, they should represent a lobbing initiative for CR Project (partners) and UN CO.




Tag: Impact Civic Engagement Public administration reform Policy Advisory

17.

Output 2: New internal regulations defining roles, responsibilities and processes are applied by civil registry offices and jamoats.

This output is likely to be achieved by the end of the Phase 1, but is depending on the achievements of the previous output. The approach towards this output represents an example of the good practice of proactive involvement. Thus, according to the logic of intervention and to the legislative/regulatory process, implementation of this output, should take place after the legal framework review, i.e. Output 1. Given the slow implementation dynamic of the previous output, the project and Ministry of Justice did not wait to reach it and proceed with the adjustment and elaboration of the internal regulations defining roles, responsibilities and processes within the civil registry offices, approving and adoption of the Communication Plan, OSS concept and CROIS2 platform developed with the support of the project actors and team.

However, because the elaborated amendments to the existing CR legal framework are not approved yet by the public authorities, this output cannot be reached in the way it is formulated. Therefore, boosting the performance of the Output 1, will have a direct and positive effect on the achievement of the Output 2. The adjusted CR regulations would be enforced for application by the civil registry offices. Subsequently, only then it will be possible to assess to what extent the ZAGS offices apply the new CR internal regulations.




Tag: Challenges Impact Civic Engagement

18.

Output 3: Civil registry offices and jamoat26 staff have enhanced capacities to provide quality services to the population.

This project output is partially achieved, but it is highly to be fully achieved by the end of the Phase 1. It involved two subcomponents with distinct targets: capacity development of the ZAGS staff, which has been done, but needs additional delivery and provision of the IT equipment to ZAGS offices, which is not done yet, due to some procurement issues, particularly requirements to pass certification for compliance with the national security standards and norms.

Thus, the logic of intervention under the first subcomponent involved: 1) provision of the IT equipment for the Institute for Advanced Legal Education (IALE); 2) Capacity needs assessment and TOT for the staff of IALE provided by EPOS; 3) Development of the training curricula and materials and 4) Full scale training course provision to the ZAGS staff on basic computer skills, information system CROIS2, data quality and gender orientation27, which was provided during May-Nov 2018 to 301 pers. (253 women or 84% and 43 men or 16%).

Field mission consultations with the project stakeholders, especially with the representatives of ZAGS, show that the delivered training course indeed increased the computer literacy and thematic knowledge and skills of the beneficiaries28. However, it turned to be insufficient, because some of the ZAGS staff still need additional training, while others (about 40 pers. or about 12%) are newcomers in ZAGS system and did not benefitted of the trainings29. It is worth noting that another similar training (on-site) is planned to be delivered in 2019.




Tag: Challenges Effectiveness Impact Civic Engagement Local Governance Capacity Building

19.

Output 3: Civil registry offices and jamoat26 staff have enhanced capacities to provide quality services to the population.

This project output is partially achieved, but it is highly to be fully achieved by the end of the Phase 1. It involved two subcomponents with distinct targets: capacity development of the ZAGS staff, which has been done, but needs additional delivery and provision of the IT equipment to ZAGS offices, which is not done yet, due to some procurement issues, particularly requirements to pass certification for compliance with the national security standards and norms.

Thus, the logic of intervention under the first subcomponent involved: 1) provision of the IT equipment for the Institute for Advanced Legal Education (IALE); 2) Capacity needs assessment and TOT for the staff of IALE provided by EPOS; 3) Development of the training curricula and materials and 4) Full scale training course provision to the ZAGS staff on basic computer skills, information system CROIS2, data quality and gender orientation27, which was provided during May-Nov 2018 to 301 pers. (253 women or 84% and 43 men or 16%).

Field mission consultations with the project stakeholders, especially with the representatives of ZAGS, show that the delivered training course indeed increased the computer literacy and thematic knowledge and skills of the beneficiaries28. However, it turned to be insufficient, because some of the ZAGS staff still need additional training, while others (about 40 pers. or about 12%) are newcomers in ZAGS system and did not benefitted of the trainings29. It is worth noting that another similar training (on-site) is planned to be delivered in 2019.




Tag: Challenges Effectiveness Impact Monitoring and Evaluation Capacity Building Institutional Strengthening

20.

Output 4: Civil registration and archiving of data is managed through an electronic system.

This output has the greatest transformational character of the project, and represents the core of the action consisting of two inter-linked and complex subcomponents: 1) Electronic system of the CR and 2) Digitalization of the CR archive. Although the project scored relatively acceptable under the subcomponent one, this output has no chance to be achieved as formulated by the end of the Phase I. It is a small probability to be fully achieved even by the end of the Phase II, mostly due to the complexity and high costs of the subcomponent two, i.e. digitalization of the archive.




Tag: Challenges Effectiveness Impact Innovation

21.

The electronic system was elaborated by EPOS and is certified until 2022. The field visits to the ZAGS and consultations with the chiefs of ZAGS show that the electronic system sometimes faces technical issues related to some errors on research system and data introducing. The functionality of the civil registration electronic system is depending on several factors, such as: technical aspects of the software; available IT equipment; internet connection; competencies of the users, i.e. ZAGS offices; strong IT support unit etc. The field consultation shows that the functionality of the electronic system is very much affected by the poor internet connection and slow traffic, which will also affect the functionality of the archive after digitalization. As remarked all interviewed ZAGS representatives, the internet connection creates difficulties and interruptions and they have to introduce the same data in the electronic system twice or even three times. As mentioned one of the interviewed stakeholders: "Because of the internet connection problems sometimes we spend more time for civil registration that it would require to do it on paper-based"31. In other words, one of the key factor which affects and which will always affect the functionality of the electronic system is the internet. This risk was not foreseen during the project development stage and no risk mitigation measures were planned and implemented. The functionality of the electronic system is also pretty much affected by the lack of clear national strategy on e-Governance of the Government of Tajikistan, which generates technical, regulatory and operational gaps. The electronic system developed by the project is planned to be integrated nationwide accordingly to the step-by-step integration plan/schedule developed by the Ministry of Justice but do not approved yet. In the opinion of the evaluator, the integration plan should be adjusted according to the recommendation on distribution of the computers (See Recommendations part of the report). It is worth noting that the electronic system needs a robust IT support unit, which Ministry of Justice does not have yet, but it is in the process of establishment with the technical support of the project.



22.

As for the digitalization of the archive of Tajikistan, the project is at the inception phase, as the feasibility study was conducted by the Georgian company - Innovations and Reforms Centre (IRC) and the institutional capacities and technical requirements for the digitization of archives were defined. EPOS conducted a follow-up study and examined the best models for archiving and digitization based on the Moldovan experience. As the result, the prospects and methods of digitization of CAR archives in Tajikistan were identified and presented. The next project action would involve selection of the provider, software development and piloting.

According to IRC the implementation of the initiative would cost about EUR 4 mln, while according to Moldovan experts it might cost about EUR 1,5 mln. So far, there are no accurate financial estimations of the initiative. It is expected that the piloting of the archive digitalization will provide a more accurate estimation.



23.

OUTCOME 2: The population of Tajikistan know how to have their vital events timely recorded in the civil registry system.

This Outcome is focused mostly on "rights holders" as component of HRBA and its' achievement, in the way it is formulated, is not a subject just to one project; it is a process, which, usually takes many years of joint efforts. According to the project design, this Outcome was planned to start later than the Outcome I, which in the opinion of the Evaluator was not an inspired decision, because it does not and should not necessarily depend on each other. People, especially vulnerable groups are less interested whether the civil registration system is paper- based or electronic-based. The meaning of the Outcome is to increase the awareness of the population and to impulse them to register their CR acts, regardless of the CR operational aspects of ZAGS and/or jamoats.




Tag: Challenges Effectiveness Impact Civic Engagement Civil Societies and NGOs

24.

Output 5: Ministry of Justice makes use of new communication strategies to proactively incentivize the population to register their vital acts.

This project output has two indicators, one of which (the second) is beyond the output framework: Indicator 1: "A coherent, comprehensive and inclusive strategy for communication has been adopted by Ministry of Justice" and Indicator 2: "% of population that are aware of the necessity of registering civil acts and of how to do so".

The intervention portfolio included: 1) a survey on the level of public awareness and use of Civil Registry services, which was conducted covering 4 sites: Dushanbe, Bokhtar (Khatlon Region), Rudaki (RRS) and Bobojon Gafurov (Sughd region); A thematic capacity development training course delivered for the representatives of MoJ and a 3) Communication Plan/strategy of the MoJ was developed under the leadership of the organization "Genderand Development" and approved in January 2019. Therefore, measuring its effects on the population awareness is premature at this stage.

The field mission consultation remarked that the MoJ is committed to implement the Communication plan and it takes into consideration the findings and recommendations of the previously undertaken baseline study, for instance: creation of the website of UAGS and Legal Assistance Centre; SMS messages about CR; Questions & Answers Leaflets about CR. The Communication Plan does not have yet a monitoring plan, in other words it is not yet clear who and how is going to monitor the implementation of the planned communication activities. The M&E plan is planned to be developed by the "Gender and Development" during the following period. Some of the activities reflected in the Communication Plan of MoJ such as: informational visits of the multifunctional mobile groups; printing the informational materials, would require financial allocations and it is not clear if the MoJ will be able to finance or co-finance them. Some of the informational campaigns included in the Communication Plan of the MoJ might be provided free of charge by the public TV and Radio stations in the case of an express agreement with the respective institutions.



25.

Output 6: Outreach awareness rising campaigns by selected civil society organisations complement the Ministry of Justice communication strategies.

The activities linked to this output started later than those within other outputs and without reflection of the baseline and target of the envisaged indicator35. Identification of the population in isolated communities assisted to access civil registration services was included in the Action Research methodology developed in June 2018. Data on risk groups of populations was also captured through communications research. Nevertheless, the initial dynamic of implementation was slow36, but gradually it increased in delivering the interventions' portfolio on public awareness raising consisting of: publication and dissemination of the information materials/info graphics on civil registry acts (CRA); TV shows and radio programs about CR and ZAGS services; face-to face outreach by involving local community leaders; as well as mobile consultations in the targeted districts (Rudaki, Bokhtar and Kulob).



26.

As the result of the observation of a mobile consultation delivered by PO "Gender and Development" in Bokhtar with the participation of about 30 people, evaluator concluded that outreach awareness raising campaigns and especially direct interactions are highly efficient and relevant. The informational campaign started with the one-way information about the ZAGS functions and gradually turned into a two-way conversation when the audience started to raise their questions regarding the civil registration of their vital acts. The direct observation revealed that many vulnerable people (e.g. single mothers, families from remote areas, disabled persons etc.) do not have birth certificates of their children, some of which are attending already the school; IDs of the parents are expired several years ago; no residence address of both parents and children etc. Some of them do not know what means ZAGS, as illustratively mentioned a single mother: "For me the meaning of ZAGS was associated with the registration of marriage and I learned that they are undertaking seven types of civilregistration acts not just marriage registration".

The value of direct interaction with the population is indeed high, because the people do not just get information and learn about the CR process and ZAGS, but they can also raise their numerous CR related issues and can get tailored answers, as happened during the info-campaign and "door to door" approach with the involvement of the community leaders. As an efficiency aspect, this type of approach is expensive in terms of financial costs, time and efforts, but is effective because it is not just a passive one-way information, but it is a powerful interactive problem-solving attempt and a boosting CR factor, which should not be underestimated. For instance, when asked how many people went to ZAGS to register their CRVA after a two-three month campaign - the answer was eight persons, which represents a good achievement. Therefore, this type of outreach should be scaled up in jamoats in the next phase of the project and should be combined with other informational actions reflected in the communication plan of the MoJ.



27.

In conclusion, the CR project has contributed to the implementation of the on-going reform of civil registration system in Tajikistan. Nevertheless, with some exceptions described above, it is premature to assess the transformational changes generated by the project and its most significant achievements, because some of them still should and are likely to happen during the 2019, while other need more time and resources and should be followed up during the next phase of the project.
So far, the key driving forces of the project, in the opinion of the evaluator are: 1) SDC, which turned to be more than just a donor, but also a boosting, augmentation and strategic vision sharing actor as can be concluded from the Steering Committee minutes and from the field mission consultations and 2) Ministry of Justice, which proves ownership, openness and supports actively the CR project, although its influence in boosting legislative changes is limited. Recently, upon the official declaration one important key driving actor might be the involvement of the President of the Republic of Tajikistan, who reiterated the importance of the CR reforms and of the CR electronic system for the country.
As for the factors, which affected the project implementation and performance, they are: 1) Complexity of the project, i.e. inter-sectorial issues of the CR reforms (MoJ, MoH, EoP, MFA, GosSecret, Parliament) and multi-lateral aspects, i.e. policy and regulatory review; institutional/capacity development (soft interventions); infrastructure development and enabling environment (hard interventions, software development); grass-roots level interventions on outreach etc.; 2) Slow decision making process (e.g. approval of the legislative amendments, info materials); 3) Multi-stakeholder involvement (public authorities, national experts, international experts, UN Agencies, EPOS and other providers), which sometimes generated different visions, expectations, approaches, overlaps and tensions regarding the project interventions; 4) Difficulties in setting up partnership and involvement of the Executive Office (EOP) of the President of Tajikistan, which is especially important for boosting approval of the CR legal amendments; 5) Some project management aspects, e.g. delays in procurements of IT equipment, management styles37) and 6) Higher implementation costs than anticipated e.g. renovation works in Kulob office, archive digitalization costs.



28.

The partnership is one of the key principles of the CR project described in the project document and targeted during the project implementation. Thus, the CR project p. 3.2 "Partners" states: "UNDP is the project implementing partner, it disposes of regional expertise in implementing civil registration related projects in Georgia, Azerbaijan and Armenia and has strong and recognized positioning to act as counterpart and advisor to high governmental levels... It is envisaged that the Ministry of Justice will be the main partner to the project together with the Department of Civil Registration and local civil registry offices and jamoats responsible for the registration of civil status acts. A partnership with the Institute for Advanced Legal Education will be developed as the main provider of training for ZAGS…. The database developed through the EU/EPOS initiative may be useful in the early stages of the project in terms of registering civil acts electronically but in the long-term there are potential shortcomings of the database, which suggest that the database may not be suitable as a long-term solution… Additional partnerships will be sought with development partners, including but not limited to UN Agencies, INGOs and NGOs that are active in civil registration. A partnership will be created with UNFPA who already have established relationships with the Agency on Statistics under the President of the Republic of Tajikistan. Partnerships will also be created with UN Women to provide gender expertise in legal review and capacity building efforts, plus to support civic awareness activities…. The project will also work closely with civil society organizations, in particular through creating participatory processes for legislative and policy reforms and in raising the awareness of the population at the local level"38.



29.

The findings of the final evaluation of Phase I prove, that the CR project gathered together the above envisaged actors and some additional ones, which, in the opinion of the evaluator, are appropriate to deliver the needed support for the civil registration reform actions: Ministry of Justice with its relevant units, EPOS, UNFPA, UN Women, other UN Agencies, INGOs, NGOs, as well as various national and international experts. All the actors were involved mostly as designed in the project document. In the case of UN Women, beside the "gender expertise in legal review and capacity building efforts, plus to support civic awareness activities" reflected in the project document, the Agency was involved in developing the OSS concept, which proved to be a challenging task for the Agency, as confirmed by the SC minutes39 and required more time and joint efforts than planned.
The international exchange of experience and joint efforts of the UN partners were crucial for successful result, which is commended by the evaluator. The partnership approach brought additional value, thematic expertise as described above and, in some cases, financial contribution40 to the project, but also sometimes differences of visions, expectations, which generated frictions mentioned in the minutes of the Steering Committee and during the evaluation field mission, which usually are inevitable for such complex interventions.



30.

4.3 EFFICIENCY
The final evaluation shows that the timeliness of the project implementation, i.e. efficiency aspect of the CR project is pretty much influenced by the factors described above.
It is generally modest and should be increased, because the project performance is behind the initial timeframe and there are delays in reaching the project targets of all six outputs and two outcomes. This situation postpones achievement of the strategic outcomes and, finally delays the expected ultimate impact of the action. Increasing the project efficiency envisages not just the key leading agency, UNDP, which is coordinating the overall project implementation, but also all key project partners, including the line Ministry of Justice of Tajikistan, which is strategic partner of the project and the Government of Tajikistan as such, because the CR project supports the implementation of the thematic national policy of the country - Civil Registration System Reform Programme (2014– 2019).




Tag: Effectiveness Efficiency Impact Civic Engagement e-Governance Public administration reform Monitoring and Evaluation

31.

Analyzing the distribution of de-facto project costs per project outputs reflected in the Table 2 and (eventual) achievements per each of the project, as well as the complexity of activities, one can conclude that the distribution of costs is appropriate for the Outputs 1, 2, 5 and partially for the Output 4 (Electronic platform), but insufficient for Output 3 (additional IT equipment needed for ZAGS offices), Output 4 (Digitalization of CR Archive) and Output 642 (Outreach awareness campaign) to generate expected results as reflected in the project framework.
As for the distribution of the cost per CR Project Outcomes, as reflected in the Table 3 and Figure 4, the majority of the financial resources were spent for the Outcome 1 (84,6%) focused on "duty bearers" versus 15,4% (Outcome 2) focused on "rights holders"43. This dis-balance is explicable given the necessities identified44 and the logic of intervention, which required both hard and soft interventions within the Outcome 1, as well as the national coverage of the same Outcome 1, while the Outcome 2 involved soft interventions, which usually are less costly.




Tag: Efficiency Impact Relevance

32.

As for the contribution of the project partners: outside of the CR project funds UN Women provided office equipment (computers, printers, etc) to the Institute for Advanced Legal Education in the value of $ 88,200 and UNDP brought about $ 1 mln as a co-finance of the CR project. UNDP developed a Resources Mobilization Document and periodically approached collectively and individually over twenty funds, embassies, consulates and agencies, but with no results so far.
Project management is an important and usually sensitive factor, which influences significantly implementation and efficiency, i.e. achievement of the expected results in due time and with the available resources. It is valid for any project and the CR Project is not an exception in this regard. It is worth noting, that the project started quite sluggish, which also raises a question of the efficiency of the existing procurement/selection procedures. It spent about five precious months for recruiting and staffing and for de-facto running the action. The project management represents a mixed picture and suffered modifications and adjustment during the implementation, as well as staff turnover both within the UNDP, but also within the both UN partners: UN Women and UNFPA. Thus, initially according to the field mission consultations and project documents, the management style was "soft" and mostly laissez-faire, while a more proactive and "pushing"/results-oriented approach was needed. Later the project management went through a type of "dual" management stage in prime-plan with the Project Manager and Deputy Project Manager. This stage brought some positive dynamics in project management and implementation and a more scrutinized approach of activities, which was perceived by some of the partners, especially at the beginning, as a micromanagement. It also highlighted differences in: visions, approach and misunderstandings, especially for the project partners, which sometimes were getting different/dual messages and approaches from the project management. Finally, the third stage brings leadership changes in the management of the project. This, on one side consolidates the communications with the project partners (more often working meetings, more consistent communication with the Ministry of Justice and other public actors), anchors better the project to the country context and increases the project implementation dynamic; on other side the project management, as opposite to the laissez-faire style, sometimes apparently is dominating in an attempt to handle both strategic management and daily issues and this generates dissatisfactions, especially of one of the partners, which is not the case with other partners.




Tag: Effectiveness Impact Government Cost-sharing Change Management Project and Programme management UN Agencies Operational Services

33.

All these aspects require and consumes additional time, "back and forth" efforts and implications, but are inevitable for such complex and multi-stakeholder initiatives and should not be overestimated. Such complex project represents a "test of maturity" for any partners.
One of the added value of the project is that project partners learn to work together, "fine-tune" their visions, approaches, relationships, management and operational aspects, learn from each other, help each other if needed and enjoy the performance. It is worth noting that the project management respected the management and procurement procedures using available tools during planning, implementation, M&E and reporting.
The main strategic monitoring and key decision-making body is the Steering Committee (SC) of the project. As show field mission consultations and the respective minutes, the SC proved to be active, monitoring the implementation of the project and adjusting the "modus operandi"; analyzing the progress and use of resources, sensitizing on the need of resources mobilization and sometimes adjusting the project targets (e.g. changing coverage and excluding jamoats for the Phase I, reducing the nr of pilot ZAGS). All these interventions influenced positively the project efficiency.
According to the project document, the monitoring system is included and mostly mixed up in one matrix with the evaluation called "Monitoring and Evaluation Scheme"46, although they are distinct procedures. It includes four levels: 1) Context monitoring (political, legal, socio-economic and institutional), which is mostly done by the project team and partners and it is reflected in the progress reports; 2) Impact monitoring and evaluation (outcome - goal level) by the evaluators during the mid-term and final Phase evaluation; 3) Monitoring and evaluation of effectiveness (output- outcome level) by the project team, partners and SC, which is confusing because neither SC nor project team/partners are not envisaged to evaluate the project48, and 4) Monitoring and assessment of efficiency (activity - output level) by project team through: regular meetings with project partners, annual follow up and operational plans, progress reports.
The project has performed satisfactory in achieving preliminary results in a cost-effective manner. Resources were used as planed with some adjustments. Allocations for some outputs are adequate for achieving the initial planned results and targets, in some cases are insufficient and partially targets were revised and need additional resources. Evaluation did not find any alternative solutions so far, which could be provided at fewer expenses and, which would be more economical for the project, except resources mobilization and a realistic targets setting. As for the monitoring system of the project, it is mostly action/activity-oriented, partially defined and partially efficient, and therefore, it should be clearly articulated and strengthened.




Tag: Effectiveness Efficiency Impact Relevance Monitoring and Evaluation

34.

4.4 SUSTAINABILITY
In terms of the likelihood of sustaining the benefits of the project, the results achieved are particularly important, but because the project performance is mostly premature to be assessed, the sustainability of the project also is mostly premature to be assessed.
However, evaluator assessed the potential sustainability prospects of the results, which are likely to be achieved by the end of the Phase I and of those preliminary achievements described above. Although some potential achievements reflect a higher level of sustainability and some are more ephemeral, generally the sustainability prospects of the project achievements are partially promising, as described below.
In terms of policy sustainability, the prospects are significant, although they are premature to be assessed, because the CR policy review targets were, so far, half achieved, i.e. were reviewed by the working group of the MoJ and the project experts, but not adopted by the decision making authorities of Tajikistan.
However, there is a clear commitment of the legislative body, i.e. Parliament and, apparently, of the EOP to support the amendments. Once the legislative package is adopted the policy sustainability is secured, because the amendments become part of the normative framework and are mandatory for an undefined period of time. The same is valid for the CR regulatory framework elaborated with the project support. The Ministry of Justice already approved some of the regulations, but upon adoption of the legislative initiatives, the viability and sustainability of the regulations will be secured.




Tag: Justice system Local Governance Sustainability Policy Advisory

35.

In terms of institutional sustainability, the CR project was geared towards: capacity development of the ZAGS staff; infrastructural/reconstruction support in the ZAGS of Kulob city; development and integration of the electronic system; digitalization of CR archive; development of the OSS model; enabling environment by provision of the IT equipment provided to ZAGS and Institute for Advanced Legal Education (IALE) and development of the training curricula of IALE. Thus, infrastructural/reconstruction support, electronic system, digitalized archive, OSS model, IT and office equipment and training curricula of IALE are going to have a long lasting sustainability prospects, while the capacity development effects in terms of knowledge acquired or skills developed, usually are sustainable, but are depending on the extent to which the capacitated human resources will remain in the CR system of the country, especially in the ZAGS offices. In other words, the sustainability of the capacity development effects is depending pretty much on the staff turnover, if the capacitated people leave the CR system, the sustainability is affected, if they continue their activity in the system, the sustainability is augmented. The sustainability of the Communication Plan of the MoJ is not significant and is determined by its duration (two years 2019-2020), but the important issue is that the MoJ increased its capacity in communication policy making as the result of the "learning while doing", i.e. learning while communication plan development.
As for the community sustainability it is premature to be assessed, because the public awareness initiatives were initiated for a short period of time.




Tag: Innovation Sustainability Capacity Building Institutional Strengthening Operational Services Technical Support

36.

Financial sustainability of the CR Project achievements is mostly satisfactory. The eventual policy-level and regulatory achievements (Outputs 1 and 2) should not require additional financial resources; the renovated ZAGS office in Kulob, IT and office equipment, electronic platform and training curricula represent the property/ownership of the MoJ and will be maintained from the public finances. As for the sustainability of the digitalized archive, it is prematurely to be assessed, because it is not completed, de-facto it did not properly start as such.

As for the financial perspectives and commitments for the next phase of the CR Project, the MoJ is allocating about $ 1 mln for infrastructure building of so called "Justice Houses" and capacity building of the CR staff and this financial investment is partial envisages the CR Project, because on the ground floor are going to be located ZAGS offices. The Ministry of Finance (MoF) is available to examine the possibility for co-financing and covering of a part of the operational costs, for instance related to IT issues, including IT unit of the MoJ, but as mentioned consulted representatives: "we need to know how much and for what kind of expenditures"49.

This represents a potential financial source and a recommended follow up initiative for the CR Project, which should not be overestimated, but also not underestimated.

Field mission consultations show that UNDP as implementation agency is able to contribute with about $ 900,000, as for other UN implementation partners, the perspectives are unclear. The resource mobilization efforts during the project implementation did not brought expected results, although several potential donors were approached.




Tag: Effectiveness Impact Sustainability Capacity Building

37.

4.5 Cross-cutting issues
The project represents a thematic intervention focused on supporting civil registration reforms in Tajikistan and the cross-cutting issues (gender aspects, rights of people with disabilities) were not expressly formulated during the project planning neither at the outcome and nor at the outputs level. However, they are present in one of the indicators, particularly Indicator 2 of the Output 6: " % of population in these isolated communities (disaggregated by gender and vulnerable groups) who are aware of the necessity of registering civil acts and of how to do so"50, which resonances with the Intended Outcome of the Country Programme Results & Resource Framework: "Justice sector institutions enabled to uphold rule of law in compliance with international commitments; promote and protect Human Rights and improve access to justice and civil registration of vulnerable population groups, especially women, youth and persons with disabilities". The cross-cutting issues (gender aspects) are also highlighted in the body text of the project document, e.g. "Partnerships will also be created with UN Women to provide gender expertise in legal review and capacity building efforts, plus to support civic awareness activities."51




Tag: Impact Human rights UN Agencies Vulnerable Women and gilrs

38.

The gender aspects were mainstreamed through the different CR project components, i.e. normative and regulatory framework, as well as in the informational support materials and in the training curricula of the Institute for Advanced Legal Education. Finally, the 301 representatives of ZAGS offices increased their competences in the thematic area of CR, including in the gender aspects.

However, the findings of the field mission consultations show that the thematic policy makers and some of the service providers do not consider gender aspects as an issues in the civil registration system of Tajikistan mentioning either: "I do not consider that the gender aspects represent a problem in CR, because the absolute majority of the workers in CR are women; there are no legal and regulatory CR norms which treat differently men and women; both genders benefit of the same/equal conditions and none is privileged or disadvantaged when it comes to civil registration of their vital acts" 52 or "I do not understand why we make a problem out of it, because there are no any problems bases on gender inequalities on CR".53 This reflects either a resistance or lack of understanding and recognition of gender issues in the civil registration system or an overestimation of the existing issues. In any case, it should represent a platform for future communications between the thematic and CR actors in an attempt to fine- tune a common vision and approach.




Tag: Impact Local Governance Vulnerable Women and gilrs

39.

As for the aspects related to the accessibility towards the disabled persons, the findings of the evaluation indicate that they were not directly envisaged by the project outputs, outcomes, baselines, indicators and targets. However, at the intervention level, the evaluation identified a positive example when the accessibility aspects were integrated by the CR project in the infrastructural actions. Thus, the renovated ZAGS office from Kulob has a practicable access ramp and the exterior and interior doors of the location are wide enough and can be used by the persons in wheel chairs. This is commended by the evaluation, but the accessibility of the premises and public services for the disabled persons does not mean only a ramp and a wide door, it should also include the bath rooms/toilets adopted for the disabled persons. Therefore, these aspects should be incorporated in future similar interventions to increase the accessibility for the disabled persons of Tajikistan to the CR services.




Tag: Sustainability Inequalities Infrastructure Vulnerable
Recommendations
1

Maintain both project outcomes, but reshape some of the outputs.

2

Improve the project design aspects.

3

Reinforce lobby and advocacy for adoption of the CR legislative amendments

4

Change the IT equipment provision principle to ZAGS, adjust the Electronic Platform Integration Plan and continue capacity enhancing of the CR officers

5

Identify how many computers and other IT equipment are still necessary to fully equip the remaining ZAGS offices.

6

Replicate gradually the OSS model in other ZAGS offices.

7

Strengthen the IT Unit of the Ministry of Justice.

8

Pilot archive digitalization in some area and developing a scale-up plan based on accurate financial estimations.

9

Pilot the electronic system and CR normative acts in some jamoats.

10

Increase budget allocations for public information and outreach awareness raising for boosting civil registration

11

Establish strategic partnerships with the key implementing actors based on the comparative advantages.

12

Introduce a Chief Technical Advisor position.

13

Synergize elaboration of the Phase II of the CR Project with the new CR Reform Strategy of the Government of Tajikistan.