Poverty Thematic Evaluation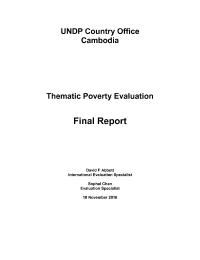 Evaluation Plan:

Evaluation Type:

Others

Planned End Date:

09/2016

Completion Date:

11/2016

Status:

Completed

Management Response:

Yes

Evaluation Budget(US $):

60,000
Title
Poverty Thematic Evaluation
Atlas Project Number:

59036,77485,82718,77868,61041,61825,60891

Evaluation Plan:
2016-2018, Cambodia
Evaluation Type:
Others
Status:
Completed
Completion Date:
11/2016
Planned End Date:

09/2016

Management Response:
Yes
Focus Area:

1. Poverty and MDG
2. Cross-cutting Development Issue
3. Others

Corporate Outcome and Output (UNDP Strategic Plan 2014-2017)

1. Output 1.4. Scaled up action on climate change adaptation and mitigation across sectors which is funded and implemented
2. Output 2.3 Capacities of human rights institutions strengthened
3. Output 4.1. Country led measures accelerated to advance women's economic empowerment
4. Output 7.2. Global and national data collection, measurement and analytical systems in place to monitor progress on the post 2015 agenda and sustainable development goals
5. Output 7.4. Countries enabled to gain equitable access to, and manage, ODA and other sources of global development financing

Evaluation Budget(US $):

60,000

Source of Funding:
Evaluation Expenditure(US $):

45,000

Joint Programme:
No
Joint Evaluation:

No

Evaluation Team members:

| Name | Title | Email | Nationality |
| --- | --- | --- | --- |
| David Abbott | International Evaluation Specialist | dfa_1@yahoo.com | |
| Sophal Chan | Evaluation Specialist | sophal.chan@gmail.com | |

GEF Evaluation:

No

Key Stakeholders:
Countries:

CAMBODIA
Lessons
1.

The CPAP 2016-2018, while attempting to integrate and be based on the objectives of the ToC, found it difficult to achieve this in the context of also having to be compliant with the UNDAF and the UNDP Global Strategy. The team also concludes that the need to source funds for programme implementation can comprise UNDP's ability to pursue the objectives of the ToC when the funding source has a different agenda.

Funding for climate change activities is a case in point. The umbrella of climate change adaptation and/or mitigation is now used to cover a very broad range of development related interventions. Many of the activities being implemented under this umbrella could be much more clearly defined, and could achieve more easily identifiable poverty reduction benefits, if they were promoted on their own merits. However, they are only able to obtain funding if they are framed around climate change. UNDP's ToC could provide a much sounder basis for poverty reduction interventions if it could be implemented without having to pay service to policies that have less direct and weaker links to quantifiable and shorter-term poverty reduction measures.



2.

There are many agencies involved in supporting economic and social development in Cambodia; it is a crowded field. UNDP is seeking to focus its interventions on poverty reduction framed around the ToC, but poverty reduction is also a focus of many other agencies. But which agencies are supporting the various aspects and components of poverty reduction policy, and how is not entirely clear. The evaluation team was informed that there is some coordination between development partners, but this does not appear to be formalized, in so far as there is no clear picture of which agency is doing what and how. This applies to the provision of poverty reduction policy advisory assistance as well as to other interventions across a wide spectrum of policy areas. For example, and as noted in the previous paragraph, climate change is now tagged to many interventions, this often serves to lead to unclear poverty reduction priorities and outcomes. The evaluation team is therefore of the view that it would be useful if UNDP took a lead in compiling a comprehensive schedule of what different agencies are providing in the way of policy advisory support to RGC and its line ministries. Having a clear picture would enable gaps in core poverty reduction policy and advice to be more easily identified, and would therefore enable UNDP to more clearly identify entry points in its preferred policy areas focused on poverty reduction.



Findings
1.

UNDP's focus and performance as a partner

The evaluation team held consultations with government agencies, development partners and implementation partners to gauge their views on UNDPs role and focus, and where possible on the relevance of the theory of change. The following summarises the general findings:

UNDP was regarded as a trustworthy and independent partner
UNDP has a strong brand with government, especially as it was seen as being instrumental in assisting the government and people to recover from the war;
The problem is now that UNDP has transitioned from a major player to a small player in the congested development assistance field;
Government agencies, and donors, were mostly aware of UNDP's financial constraints and the restructuring that had occurred to bring the previous "clusters" together under the overarching "poverty reduction" goal
Therefore, UNDP should not be too ambitious in its programmes in the future, more focus was perhaps needed. UNDP had limited funds and needed to put their support where it could make the biggest contribution – high-level policy.
It was not always clear to DPs or to government agencies how UNDP defined the links between high-level policy through to action/impacts at the household poverty level;
It was noted that this might present a challenge for UNDP to attribute actual poverty reduction outcomes/development impacts/results specifically to UNDP high-level interventions;
UNDP should try to possible simplify the documentation for the CPAP;
UNDP needs to focus on its comparative advantage – providing high-level policy advice backed-up by global experience and knowledge of best-practice elsewhere; it was noted that UNDP had supported trade and industrial policy development both of which had been very useful to government;
UNDP needs to be more pro-active in engaging at the most senior levels of government on policy issues; it must somehow find resources to be able to put these on the table and invite government to indicate its needs; through this type of approach it might be possible to encourage government to cost-share;
UNDP should aim to provide demand driven support to government; care must be taken that projects/programmes are clearly driven by government's needs and should not be driven either through source of finance or donor agendas or preferences;
Coordination and synergies between UNDP and other UN agencies, was still seen as mixed.



2.

Cost Sharing Opportunities Between RGC and UNDP

The possibility of cost-sharing with government exists in principle, it was noted that government is already required to make contributions to ADB/WB loan projects, so the general principle of cost sharing is not new, just new to UNDP for technical assistance and policy advisory activities. It was noted that the SIDA educational facility improvement programme now also included a large government contribution alongside the SIDA funding, an example of where government has recognised the benefit of the programme and taken ownership.

It was further noted that cost-sharing might also be possible under the new programme budgeting system to be introduced in 2017; MOWA & MOP both indicated interest in pursuing this possibility. Gaps in available policy advice to RGC need to be identified; these would provide UNDP with suitable entry points; it was, for example, reported by the Ministry of Planning that the ministry was receiving economic policy advice through UNFPA TA consultants. This would seem to be a particular area where UNDP should have a strong comparative advantage.

UNDP should raise this matter at a high-level programming consultation with RGC in the context of finalizing and/or reviewing the 2016-2018 CPAP. Engaging with RGC on such a cost-sharing basis would enable UNDP to pursue programmes that are more directly focused on poverty reduction in line with the ToC. Cost sharing would enable UNDP and RGC to tailor policy-advisory interventions directly to RGC's perceived needs and would not then be dependent on securing external third-party funds where the donor agenda might not be in harmony with the real needs of RGC or UNDP.



3.

Future Directions for Policy Advice to Government

During the consultations with government agencies and UNDP staff, possible areas for future high-level policy advice and capacity-building support were identified including:

Development of long-term 2050 Vision, with evidence-based analysis and assumptions;
Support to SDG localisation and linking to NSDP; already included in the CPAP; policy inputs here would assist in ensuring that government policies are targeted at reducing all aspects of multidimensional poverty;
Capacity building for evidence-based policy analysis; support to policy development must be accompanied by capacity-building for evidence-based analysis.
In addition to the policy areas identified above as drivers of poverty reduction, UNDP could provide assistance in the analysis of yet to be identified policy issues on an "as demanded" basis by the government; this could tie-in with the development of UNDP-RGC cost-sharing arrangements;
To build broad-based policy capacity in Cambodia the evaluation team suggests that UNDP should develop a long-term partnership programme with key policy making institutions such as SNEC and MoP.
Social protection/social policy analysis, especially comparative analysis of various forms of social insurance and social assistance; this would provide links to supporting poverty reduction amongst the most disadvantaged, and particularly those living with a disability;
Social housing policy is complementary to social protection, and housing conditions (including access to clean fuel and power, safe water and improved sanitation) comprise five of the ten components of the MPI; assisting in the development of housing policy and the availability of affordable housing credit for both the urban and rural poor would have direct poverty reduction benefits;
An updated cassava sector strategy study, taking into account of the current state of the sector and leading to better data on the sector, improved availability of extension services and demonstration farms would be useful in the context of national agricultural policy;
Gender audits in line ministries; there are still many areas of gender inequality in Cambodia, gender audits would help to identify where specific policy interventions could be made and would enable clear links to be determined between such interventions and reduced inequality.



Recommendations
1

UNDP should compile a policy-support-matrix identifying which partners and agencies are currently providing policy support to RGC and in which sectors. Such a matrix would assist UNDP to identify where gaps in high-level policy support might exist, and where UNDP's best entry points for future policy support might be, particularly in UNDP's focal area of poverty reduction and within the framework of the ToC, (e.g. in the national planning ministry; in developing a comprehensive social protection system for the most vulnerable, including those people with a disability; and in non-rice farming systems, including for cassava growers).

2

UNDP should use proposed policy-support-matrix to identify gaps in poverty reduction policies, and, on the basis of these gaps and within the framework of a ToC, build a menu of poverty reduction policy interventions; these interventions should be fully interlinked and coordinated within the framework of a ToC, which is itself built of an understanding of the drivers of poverty reduction, such that UNDP's efforts would be more focused; thus with a clearly defined, comprehensive and focused set of poverty reduction policy interventions to offer.

3

On the basis of the forgoing menu of policy intervention options, UNDP should engage directly at a high level with RGC to secure ownership and potential co-financing of the programme; this could lead to a cost-sharing framework that would enable UNDP to be more responsive to RGC's identified needs and less dependent on sourcing external and third-party funding.

4

UNDP should actively seek funding, through direct development partner negotiation, for the poverty reduction programme outlined in the previous recommendations and for a pool of discretionary funds to be directed quickly in support of emerging needs; this could be initiated within the context of the Goal 1 of the SDGs, securing such funding could enable UNDP to invite government to indicate any additional or other emerging policy support needs and reduce UNDP's need to source third-party and external funding.

5

With discretionary funding available UNDP should: a) aim to provide demand driven support to government; care should be taken that projects/programmes are clearly driven by government's needs and should not be driven simply by available sources of finance or/and donor agendas or preferences; and b) should take a more positive stance in its programming with RGC, in the manner of stating, for example, that: "at the request of government UNDP will mobilise support for policy analysis and development in the critical areas of (for example) SDG integration, trade, investment, social protection etc.; the objectives of UNDP's support in these areas would be to assist the RGC to reduce multidimensional poverty and inequality, promoting gender empowerment and equity, and to ensure that the most vulnerable, including those living with HIV/AIDS and/or a disability, are supported".

6

UNDP should ensure that if a ToC approach is taken in future that: a) it clearly identifies and documents the understanding, links and transmission mechanisms between the interventions and the desired poverty reduction outcomes along a change pathway, and that it be periodically reviewed and updated; b) that where/when there is consensus with government on elements of the TOC, the updated understanding of the ToC be reflected and directly linked to the identified programmes, throughout the CPAP and CPD; and, c) a small number of targeted and measurable performance indicators directly related to the identified poverty reduction outcomes are included in the M&E framework to measure progress at both the intermediate and final outcome stages of the pathway.

7

UNDP should develop brief, easy-to-understand advocacy materials on the current and future CPAPs and provide these to stakeholders to foster engagement in UNDP's activities; in future simplify, as far as possible, the documentation for the CPAP to make clearer the links between, any future ToC and the CPAP, UNDAF, UNDP Strategic Plan, and the national development priorities.

8

UNDP should provide capacity building in evidence-based policy analysis that is based on a structured use of data and sound principles of mutually reinforcing policy wherever possible; such capacity building should be undertaken across all key economic and social sectors, as well as high-level policy agencies within government; and where appropriate support could also be provided to academic institutions and think-tanks, to support policy development and improve decision-making.