Disability Right Initiative Mid Term Review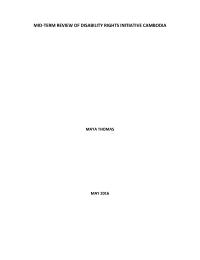 Evaluation Plan:

Evaluation Type:

Mid Term Project

Planned End Date:

10/2016

Completion Date:

07/2016

Status:

Completed

Management Response:

Yes

Evaluation Budget(US $):

35,000
Title
Disability Right Initiative Mid Term Review
Atlas Project Number:

77868

Evaluation Plan:
2016-2018, Cambodia
Evaluation Type:
Mid Term Project
Status:
Completed
Completion Date:
07/2016
Planned End Date:

10/2016

Management Response:
Yes
Focus Area:

1. Poverty and MDG
2. Cross-cutting Development Issue
3. Others

Corporate Outcome and Output (UNDP Strategic Plan 2014-2017)

1. Output 2.3 Capacities of human rights institutions strengthened

Evaluation Budget(US $):

35,000

Source of Funding:
DRIC Program - Multi-Donor Trust Fund
Evaluation Expenditure(US $):

18,000

Joint Programme:
Yes
Joint Evaluation:

Yes

Joint with UN Agencies
Joint with

UNICEF, WHO

Evaluation Team members:

| Name | Title | Email | Nationality |
| --- | --- | --- | --- |
| Maya Thomas | Independent Consultant | | |

GEF Evaluation:

No

Key Stakeholders:
Countries:

CAMBODIA
Lessons
Findings
1.

On the whole, the DRIC programme is on track in achieving the outputs under this component, given the fact that the government (DAC) is the primary 'driver' of this component.

National Disability Strategy Plan

This was developed and launched by DAC before the DRIC programme was initiated. DRIC role is to facilitate and support DAC in NDSP implementation. The process of NDSP implementation is initiated, and the NDSP Review workshop of December 2015 has a set of clear follow up actions, that need to be monitored by DAC and DRIC jointly, keeping in mind what is feasible and realistic to achieve in the given time frame.

One of the significant international milestones is the initiation of Sustainable Development Goals (SDG) which replaces the earlier Millennium Development Goals. DAC needs to include advocacy for monitoring of disability inclusion in relevant SDG in the NDSP implementation plan.

Revision of the 2009 Law

It is clear that the revision of the Law cannot take place before 2018, as it is a time consuming process that has to follow government procedure. Interestingly, the DRIC M&E Framework of February 2015 had omitted the output related to revision of the law, acknowledging that it would not be feasible to achieve. However, this matter was discussed in PMG and PB meetings and it appears that there was agreement to retain the output. During the MTR, it was agreed by all concerned stakeholders (DAC, UNDP, other sections of MoSVY), that while the process of law revision can be initiated, it will not be completed in the next 2 years.

Role clarity of key players in MoSVY

Following the recommendations of the Functional Analysis carried out with UN support, the Ministry is in the process of clarifying the roles and responsibilities of DAC, PwDF and the Department of Welfare for Persons with Disabilities, and a prakas is expected to be issued soon. This is essential for effective implementation of NDSP, as there is some continuing confusion about the roles of these agencies as perceived by themselves and by external stakeholders such as NGOs and DPOs.

Disability Action Working Groups

The DAWGs in line ministries are all less than a year in operation, and still in the process of formulating their actions, mainly at national levels at present. In the Ministry of Women Affairs (MoWA) and Ministry of Labour and Vocational Training (MoLVT), disability inclusion was already in practice and both are good case studies to document and advocate for disability inclusion in other ministries.

Disability Action Council at provincial levels

At Kampong Cham, the provincial DAC is newly established, and the main activities have been meetings to discuss the NDSP, and assistance in preparing the CRPD report. There is no mechanism for regular meetings, although there is a proposal to hold quarterly meetings in the future. From discussions with the PoSVY Director, it is clear that role clarity of provincial DAC and provincial PwDF is essential to avoid duplication of work and to promote better coordination with other sectors.

Disability Action Council links with other DRIC components

With support and facilitation from UNDP, DAC is working with UNICEF and Handicap International (HI) to develop a web based directory of resources and with CDPO on advocacy. DAC has been involved and support the development of the sub-national disability inclusion training package that is funded through Component 4 of UNICEF's work and is regularly involved in cross-programme consultations.

Financing from Government

This continues to be a challenge, as admitted by DAC SG, and other departments of MoSVY. In 2014, when PRC costs were included, Government spending on disability was $850,000 (30%), an increase from the 11% spent in 2011. There are plans to request for increased allocations from Ministry of Finance and Economy (MoEF), collectively by DAC and other ministries, for NDSP implementation.



Recommendations
1

Monitor the National Disability Strategic Plan (NDSP) review workshop follow up actions, and include advocacy for monitoring of disability inclusion in Sustainable Development Goals (SDGs) implementation, as part of NDSP.

2

Clarify roles of provincial DAC and provincial Persons with Disability Foundation (PwDF) to avoid duplication and overlapping.

3

Develop more provincial Disabled People's Organization (DPO) leaders, including women with disabilities, through training on leadership, language skills and exposure visits.

4

Develop links with other DPOs at district levels, including those supported by Cambodia Disability Inclusive Development Fund (CDIDF) of component 4, in building up provincial DPOs, instead of promoting new district and provincial level DPOs from scratch.

5

Institutionalize capacity building mechanisms for disability inclusion at sub-national levels

6

Highlight examples of DRIC work that reflect the current key words in DFAT – innovation, gender, private sector engagement – in reports and donor meetings.

7

Develop a few key indicators to capture change of a transformational nature, as pointed out in component recommendations above, and for DRIC as a whole.