End of Term Evaluation for the Strengthening Political Parties Project in Malawi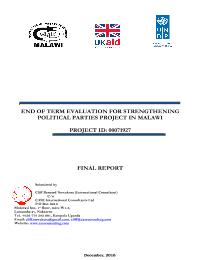 Evaluation Plan:

Evaluation Type:

Final Project

Planned End Date:

12/2016

Completion Date:

12/2016

Status:

Completed

Management Response:

Yes

Evaluation Budget(US $):

30,000
Title
End of Term Evaluation for the Strengthening Political Parties Project in Malawi
Atlas Project Number:

00071927

Evaluation Plan:
2012-2018, Malawi
Evaluation Type:
Final Project
Status:
Completed
Completion Date:
12/2016
Planned End Date:

12/2016

Management Response:
Yes

Focus Area

:

1. Democratic Governance
2. Others

Corporate Outcome and Output (UNDP Strategic Plan 2014-2017)

1. Output 2.1. Parliaments, constitution making bodies and electoral institutions enabled to perform core functions for improved accountability, participation and representation, including for peaceful transitions
2. Output 2.2. Institutions and systems enabled to address awareness, prevention and enforcement of anti-corruption measures across sectors and stakeholders

Evaluation Budget(US $):

30,000

Source of Funding:
TRAC
Evaluation Expenditure(US $):

26,008

Joint Programme:
No
Joint Evaluation:

No

Evaluation Team members:

| Name | Title | Email | Nationality |
| --- | --- | --- | --- |
| Cliff Bernard Nuwakora | Mr. | cliff.nuwakora@gmail.com | UGANDA |

GEF Evaluation:

No

Key Stakeholders:
Countries:

MALAWI
Recommendations
1

For better measurement and evaluation of results, implementing partners and funding agencies need focus designs that aligned to SMART verifiable indicators.

2

There is need for concerted and coordinated efforts between implementing partner and stakeholders for continued capacity building efforts that goes hand in hand with mentoring in the remaining project period and beyond.

3

There is need for the project and its successors to establish long term partnerships with service providers and stakeholders for better results.

4

There is need for creation of a basket resource fund to support sustenance of project results both in the remaining period and in the future.

5

There is need for specific targeted inclusion and support to women and youth in governance programmes especially political party structures to offer them opportunities for active participation in electoral processes.