Support to the Enhancement of Human Rights Framework in Angola 2012-2017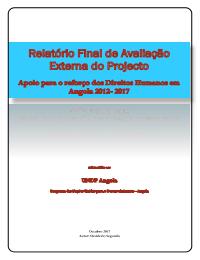 Evaluation Plan:

Evaluation Type:

Final Project

Planned End Date:

11/2017

Completion Date:

11/2017

Status:

Completed

Management Response:

Yes

Evaluation Budget(US $):

5,000
Title
Support to the Enhancement of Human Rights Framework in Angola 2012-2017
Atlas Project Number:

00067184

Evaluation Plan:
2015-2019, Angola
Evaluation Type:
Final Project
Status:
Completed
Completion Date:
11/2017
Planned End Date:

11/2017

Management Response:
Yes

Focus Area

:

1. Democratic Governance
2. Others

Corporate Outcome and Output (UNDP Strategic Plan 2014-2017)

1. Output 2.3 Capacities of human rights institutions strengthened

SDG Target

16.3 Promote the rule of law at the national and international levels and ensure equal access to justice for all
16.6 Develop effective, accountable and transparent institutions at all levels

Evaluation Budget(US $):

5,000

Source of Funding:
TRAC
Evaluation Expenditure(US $):

5,000

Joint Programme:
No
Joint Evaluation:

No

Evaluation Team members:

| Name | Title | Email | Nationality |
| --- | --- | --- | --- |
| Desiderio Segundo | Consutant | desideriosegundo@hotmail.it | |
| Desiderio Manuel Segundo | Senior Consultant | desideriosegundo@hotmail.it | |

GEF Evaluation:

No

Key Stakeholders:
-Led MINJU - Human Rights State Secretariat -Office of the Ombundusman -Implementing partners
Countries:

ANGOLA
Lessons
1.

Bureaucratic factors, mainly on the side of partners, often conditioned the implementation of some planned activities, hence affecting project effectiveness. The DIM modality however was instrumental in mitigating these challenges and in propelling the achievement of the project's objectives and results. UNDP's project manager and the resident technical assistant that the project provided to the Ministry of Justice and Human rights were effective agents in ensuring planned activities were followed through, and they were key enablers through critical contribution to project implementation.

Contrary to common perceptions, the notion and knowledge on human rights can be assimilated and adopted by rural communities. This is evident in the results of the human rights promotional activities that the project carried out through the Provincial Human Rights Committees, civil society organizations implementing partners and the Institute for Citizenship. It is therefore a key lesson learned that the project should strengthen and further diversify its human rights promotional means and mediums, as well as strengthen work and/or partnership with civil society organizations to reach as many people as possible, particularly in remote and rural contexts.



Findings
1.

The evaluation found that the project achieved all its objectives and significantly contributed to the achievement of Angola's obligations vis-à-vis regional and international human rights commitments. The project also significantly contributed to behaviour change among public officials in the context of justice administration and human rights observation by improving their institutional and personnel capacities and inducing an important human rights approach to their work and engagement with the public. The project built bridges between public institutions and civil society organizations working in human rights, having enabled partnerships and forging of positive interactions between them.

The evaluation found that the project had an important impact on the Angolan society, which has effectively benefited from institutions and mechanisms for the direct resolution of local problems and conflicts. This achievement provides sustainability to the project. With the awareness and capacities developed, such actions can continue to be realized even in the absence of the project.



Recommendations
1

Recommendation 1: For the next programming, it is recommended for the project to have two clear components. The first component should maintain assistance to institutional capacity building, with government institutions as Key partners, and to continue supporting the State in the fulfilment of its obligations towards individuals/the citizens. A second component should promote an active civil society that can ensure the promotion and protection of human rights. In this way, the project would better promote a critical spirit of performance in human rights in the country.

2

Recommendation 2: The project programming could involve other areas of UNDP work and the work of other UN Agencies in Angola so that the project may have coherent, compatible and interconnecting measurement elements with other areas and agencies

3

Recommendation 3: Promote in the coming years an inter-ministerial initiative led by the Ministry of Justice and Human Rights capable of influencing the performance of other ministries of extreme importance to provide rights and dignity in the service to citizens and promote human rights education in the subsystem of elementary education.

4

Recommendation 4: Direct or indirectly involve other potential public partners that have a relevant role to play in access to justice and protection and promotion of human rights, such as the Provincial Human Rights Committees and Centres for Extra-Judicial Resolution of Conflicts.

5

Recommendation 5: Involvement and stimulation of debates with civil society and social partners.

6

Recommendation 6: Promoting the dissemination of human rights in public media through interactive, recreational and educational programs on human rights e.g. televised tribunal as a program on legal framework, rule of law, legal procedures, etc.

7

Recommendation 7: Enable national and non-Luanda based exchanges with Provincial Human Rights Committees and provide mechanisms to assess their local action to create synergies among them, to standardize their actions and to promote wider discussions on rights throughout the country, taking into account the specific problems of each region or province.

8

Recommendation 8: It is recommended that UNDP develops criteria for measuring project results, defining context-sensitive and easily verifiable indicators, and enhance its project monitoring role as well as a more efficient, uniform record of physical and electronic files.

9

Recommendation 9: Regardless of its delineated areas of engagement and target groups, the project should pay more attention to vulnerable groups e.g. children, the elderly and women, with special attention to the group of women victims of domestic violence.

10

Recommendation 10: Assess demand for potential implementing partners or funders to secure funds that match the magnitude of the project's ambition and provide new areas for action such as complementary training for young graduates and workers who are involved in Human Rights, public and private research on concrete actions of the project and the human rights situation in Angola and extend its range of action also to higher education institutions and professional organizations that act or have their focus in this area e.g. Angolan Bar Association OAA, Association of Social Service Professionals of Angola, etc.