Partners for Prevention Phase II (P4P II)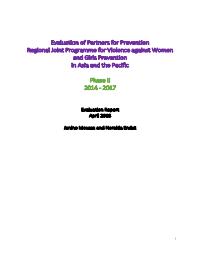 Evaluation Plan:

Evaluation Type:

Project

Planned End Date:

03/2018

Completion Date:

04/2018

Status:

Completed

Management Response:

No

Evaluation Budget(US $):

20,000
Title
Partners for Prevention Phase II (P4P II)
Atlas Project Number:
Evaluation Plan:
2016-2017, UNV
Evaluation Type:
Project
Status:
Completed
Completion Date:
04/2018
Planned End Date:

03/2018

Management Response:
Yes
Corporate Outcome and Output (UNDP Strategic Plan 2018-2021)
Evaluation Budget(US $):

20,000

Source of Funding:
Evaluation Expenditure(US $):

20,000

Joint Programme:
Yes
Joint Evaluation:

Yes

Evaluation Team members:

| Name | Title | Nationality |
| --- | --- | --- |
| Janine Moussa | Consultant | |
| Noraida Endut | Consultant | |

GEF Evaluation:

No

Key Stakeholders:
Countries:

GLOBAL
Lessons
Findings
1.

A. Relevance

In assessing the relevance of P4P II, the evaluation reviewed how the P4P II programme has initiated or is related to prevention efforts in the countries. The evaluation assessed the extent to which P4P has responded to the needs and priorities regarding prevention of VAWG in the five countries that it has selected for implementation of programmes and whether and to what extent the P4P programme has contributed to the broader knowledge base and capacity of the implementing countries. The evaluation further considered whether the outputs set for the implementation have been relevant and realistic to the situation and needs on the ground and whether P4P's programming have been able to adapt to the changing context in the region.




Tag: Relevance Gender-Based Violence

2.

P4P I: Countries and findings on VAWG by men and boys

A main area of work for P4P I was the UN MCS on Men and Violence, which consisted of comprehensive quantitative and qualitative research on men and gender-based violence in selected countries. The quantitative research of the UN MCS consisted of a population-based survey of 10,000 men and 3,000 women in six countries in the Asia and the Pacific region: Bangladesh, Cambodia, China, Indonesia, Papua New Guinea and Sri Lanka. A summary of findings of the UN MCS can be seen in Table 2 below.

Countries chosen for prevention programmes in P4P II are Bangladesh, Cambodia, Indonesia (Papua), Papua New Guinea (the autonomous region of Bougainville) and Viet Nam. These five countries participated in the quantitative and/or qualitative research of the UN MCS in Phase I of P4P. Although Viet Nam was not included in the UN MCS quantitative study, it was one of the countries selected for the UN MCS qualitative study component, using a life-history study of men that documented men's perceptions and practices about power, control and gender perceptions. Additionally, the Viet Nam General Statistics Office, in collaboration with other ministries and the UN, had already conducted a National Study on Domestic Violence in Viet Nam (NASDVVN) from 2009 to 201013, which drew on the methodology of the WHO Multi-country Study on Women's Health and Domestic Violence (Rasanathan and Bushan, 2011) and a study on sex ratio at birth that included questioning men on their gender attitudes, so research team thought this was sufficient quantitative evidence14.

The pervasiveness of IPV in these countries, especially in particular provinces, was evident from the UN MCS and thus there was a great need for intervention, which P4P II was designated to respond to. Going back to these countries was an appropriate response in the implementation of the P4P II.




Tag: Relevance Gender-Based Violence Country Government Women and gilrs

3.

Selection of interventions: Programme relevant and realistic to the situation and needs on the ground. P4P II used different approaches in each country to initiate or identify suitable programmes, taking into account the realities and norms on the ground. This meant that in certain circumstances, the VAWG-prevention programmes featured elements of the broader discourse on elimination of violence such as violence-free programmes or prosperous society or peace-building community initiatives. These programmes, however, remained aligned with the P4P goal of elimination of violence against women. This ability to insert P4P objectives into a wide range of programmes shows how the P4P programme was able to develop suitable models for prevention in different sites and countries.




Tag: Relevance Gender-Based Violence

4.

Contributing to building the broader knowledge base and capacity of countries

In providing technical assistance to the countries, P4P IIhas co-designed and supported all of the prevention programmes except those in Bangladesh. In all of these programmes, P4P has also provided technical assistance to build the capacity of local trainers and facilitators. Table 4 briefly presents the methodology used.

P4P's implementation of violence prevention programmes also contributed to broadening the knowledge base and capacity of countries through systematic data gathering and documentation. Quantitative data were collected to establish baseline and endline reporting. In most of the countries, qualitative data were collected throughout interventions to ensure project monitoring and evaluation, though the exact manner of data collection differed by country. Data collection processes also helped build the capacity of facilitators and volunteers because in most of the countries, they play important roles in the gathering and processing of data. The data was also useful to document the stories of change and as a good practice to build and enhance institutional memory.




Tag: Relevance Gender-Based Violence Knowledge management Technical Support Data and Statistics

5.

Engaging men and boys to transform harmful masculinities

A key feature of the P4P II is the focus on prevention of VAWG through engaging men and boys to transform harmful masculinities. Many studies on VAWG, including the UN MCS, have presented the connection between the social constructions of masculinity and men's use of violence in general, and violence against women, in particular (USAID, 2015). VAWG is found to be rooted in a sense of entitlements that flow from the hegemonic ideals of men who are strong, tough, in control over women and their bodies, heterosexual and sexually dominant (Jewkes, 2014). This "hegemonic masculinity" (see, Connell, 1995), on the other hand, is learnt, and thus open to change and "positive masculinities" can be taught that stress on equitable, peaceful and respectful gender relations (USAID, 2015).

On the whole, the P4P II programme has shown achievement in working with men and boys through selecting relevant programmes with local partners. At the same time, the programmes have also benefited women and girls. The importance of doing it right when engaging men and boys in gender transformative programming that addresses harmful masculinities is articulated by a P4P TAG member:"I think to focus on gender-transformative programming, there is more and more evidence about programmes with men. The downside risks of programmes with men if they're not done in that way, not done with women as well and not done in a gender-transformative way can actually reinforce a lot of the behaviour and provide bases for them to complain or justify their behaviour. We've been talking about the difference between Viet Nam and Bougainville, where you have really high rates of violence. In Bougainville, you see men abandoning physical violence, but not necessarily other forms of violence, and then in Viet Nam, you see this real discussion around [other forms of intimate-partner violence] where physical violence is lower. There's a real discussion around emotional and sexual violence so it does really depend on the country's context of how violence has manifested."




Tag: Relevance Gender transformation Gender-Based Violence Women's Empowerment Women and gilrs

6.

B. Efficiency

As already explained, the P4P II is a regional UN JP for the prevention of VAWG in Asia and the Pacific, comprising UNDP, UNFPA, UN Women and UNV. The JP was run by a P4P PMT; a TAG and an SC, including one representative from each participating UN organisation. According to the original TOR, the TAG's core function was to provide guidance and coherence on the shape of the programme products and to contribute to their technical monitoring. In actual practice, TAG members met regularly with the PMT to advise on many aspects of the programme, including management and technical/substantive issues. The SC is made up of senior management from each participating agency as designated by the agency, and DFAT, as the primary JP donor, participates as an observer member. The PMT's core function was to manage the overall JP; work directly with the country teams and, through them, the local partners; and liaise and seek counsel from the TAG and SC as needed.




Tag: Coherence Efficiency Joint UN Programme UN Agencies Coordination

7.

This section explores how well these structures worked in terms of communication and implementation of desired activities. It looks at human and financial resources, and any seen or unforeseen challenges and strategies for overcoming these in the attainment of the smooth running and execution of the programme both at the regional and national level.

Joint programme leads to enhanced efficiency

In its 2012 resolution the UN General Assembly "[e]ncourage[d] the United Nations development system to further strengthen joint programme processes at the country level, where appropriate, as a useful way to promote greater coherence, taking into account the principles of national ownership, alignment with national priorities and the comparative advantage of individual entities of the United Nations system at the country level."20Later in his 2015 report on the implementation of the above resolution, the UN Secretary General underscored that, "[i]ntegration entails a shared understanding of goals, their interlinkages and the normative frameworks that underpin them, with interventions that are based on a shared vision, strategy and plans to create synergies and address trade-offs, towards ensuring a whole that is bigger than the sum of its parts".

Indeed, as one member of the P4P SC put it 'the writing was on the wall'; the various UN entities had clear directives to pursue joint programmes at the regional and national level.




Tag: Efficiency Joint UN Programme

8.

Value added

Joint programmes are meant to add value; to accomplish together what one UN entity cannot otherwise accomplish alone, or at least, to accomplish what it could not otherwise accomplish as well or as efficiently, or, as we will later speak about, as sustainably.

Specifically, the vision is that JPs lead to:

Creating shared understandings of and partnerships for gender equality;
Increasing visibility and legitimacy of gender issues on the national agenda;
Greater embedding of normative frameworks at the national level;
Expanding the opportunity for translating normative gender work into operations;
Building outreach and synergies on gender;
Permitting a more multidimensional approach to addressing gender inequality;
Enhancing the visibility, credibility and resources for the national gender machinery; and
Improving upstream results on policy reform and advocacy.

Steering committee and TAG members also spoke about the advantages that a JP could bring, not only in implementation of the various initiatives, but also in the sharing and disseminating of the findings.




Tag: Efficiency Gender Equality Oversight Partnership

9.

Need for a strong, central coordinating body

The 2013 evaluation report, Joint Programmes on Gender Equality in the UN System, cautions that key to any successful JP is the role and structure of its central coordinating body. As previously mentioned, P4P II had a robust and well organised central coordinating mechanism comprised of various bodies, namely: PMT, an SC, a TAG and an ERG.

These groups met regularly, both in-person and virtually, throughout the duration of the JP and as needed to provide guidance and support to the project. The PMT, led by its Manager Kathy Taylor, played a central role and was at the centre of this coordination, both at the regional level with the SC, TAG and ERG members, and at the national level with the various UN country teams, UN Volunteers and, through them, the implementing partners and key collaborators.




Tag: Joint UN Programme Partnership Coordination

10.

Implementation of joint programmes: challenges and unforeseen outcomes

Despite the arguments in favour of JP's in theory, when it comes to implementation, several challenges and obstacles may surface. Some of those experienced by P4P II were:

UN entities ended up playing different roles than originally envisioned: P4P II is made up of UNDP, UNFPA, UN Women and UNV, and each agency was expected to play an instrumental role in the implementation of the programme. Each entity played a key role in P4P II, but not necessarily as originally envisioned at the outset of Phase II.




Tag: Challenges Human and Financial resources Project and Programme management UN Agencies Capacity Building Coordination Operational Services

11.

P4P II contribution of human and financial resources

P4P II, through the P4P PMT, provided substantial support to the various in-country initiatives, which contributed to the overall successful and efficient running of the various programmes. This support came in the form of technical assistance, capacity building, financial support and human resources. The extent to which the support was provided depended, in part, on the need of the country and the resources available. The SC helped by sending letters and by speaking to their in-country teams asking for countries to cost-share and to leverage resources with P4P II, where possible

Financial and/or technical support to UN Volunteers and other consultants: One of the main contributions to the success of the P4P II JP was the effective use and mobilisation of UN Volunteers within the various in-country initiatives.27 P4P II supported these UN Volunteers either through direct financial support and/or through capacity building and technical assistance.

These UN Volunteers were placed within the lead UN entities of the particular initiatives: UNFPA in Cambodia, UN Women in Viet Nam and so forth. It was the lead UN entities which provided the UN 23 Volunteers with the physical, technical and material support vital to their success. The UN Volunteers either sat in the central UN offices or, in some cases, were placed within the communities themselves.




Tag: Resource mobilization Human and Financial resources Partnership UN Agencies Capacity Building

12.

Working with the UN Volunteers did come with its own set of challenges, however. UN Volunteers' limited capacity and lack of relevant experience in VAWG programmes was an issue which was addressed through sustained capacity building. In other instances, merely the perception of lack of capacity proved to be a challenge. In Bangladesh, for example, UN Youth Volunteers were reportedly not being taken seriously at first by local programme partners.

Ultimately, however, it was viewed that the contributions of these UN Volunteers assisted greatly in the operation of the in-country initiatives. Their value added was thought to be in their connection with the community, their spirit of mobilisation and their commitment.

Not every initiative had a UN Volunteer. No UN Volunteer was placed in Papua New Guinea, for example, because there was no UNV field unit. Instead, the P4P II PMT provided for and supported the cost of a project team member as a Monitoring and Reporting Officer placed with the implementing partner, the Nazareth Centre for Rehabilitation. This project staff provided the type of support the UN Volunteers were providing in the other countries.




Tag: Challenges Gender Equality Gender-Based Violence Monitoring and Evaluation Theory of Change UN Agencies Capacity Building Technical Support

13.

P4P II also provided substantial technical support which contributed to the efficient functioning of the various programme initiatives. The PMT, led by Kathy Taylor, conducted several scoping missions in all five participating countries when deciding on the exact nature of the initiatives. It also drafted "options papers" for UN partners in Cambodia and Indonesia to provide ideas on the types of violence prevention programmes that could be developed that would respond to the findings and recommendations from the UN MCS on Men and Violence in in these countries. Ultimately, these formed the basis of the interventions in those countries. The PMT also helped draft several of the policy briefs in for example Bangladesh, Papua New Guinea and Viet Nam. The policy briefs from Cambodia and Indonesia are currently being drafted and will be completed by the end of P4P II.




Tag: Gender-Based Violence Policies & Procedures Project and Programme management Country Government Technical Support Civil Societies and NGOs

14.

Financial support: P4P II also provided direct financial support to the initiatives. Several of the in-country workshops were run with money directly transferred by P4P II, including workshops to develop the curricula for interventions in Cambodia and Indonesia; the TOT in Kampong Cham (COUNTRY?) in 2016; and two capacity-building workshops in Bangladesh. P4P II also directly transferred $50,000 to the Da Nang Women's Union in Viet Nam to facilitate the Male Advocate Programme. Similarly, in Papua New Guinea, Indonesia $48,565 was given to PKBI to implement the adolescent and caregiver interventions, and 13,650 USD to support the M&E Reporting Officer.

In Bangladesh, P4P II provided direct seed funding to the two national UN Volunteers to develop their own ideas for community intervention and engagement. This funding was relatively small—($3,000 - 5,000) - but greatly appreciated by the UN Volunteers and, according to them, the community.

Beyond direct financial support, P4P II helped leverage funds; they contributed to UN Women and UNICEF being awarded the one-million-dollar Peace-Building grant in Papua New Guinea. This strategy of leveraging existing funds was also used in the other sites in Bangladesh, Cambodia, Indonesia and Viet Nam.




Tag: Resource mobilization Human and Financial resources

15.

Efficiency

This section explores how well these structures worked in terms of communication and implementation of desired activities. It looks at human and financial resources, and any seen or unforeseen challenges and strategies for overcoming these in the attainment of the smooth running and execution of the programme both at the regional and national level.

In-country initiatives slow to get off the ground

Overall, the initiatives took longer than expected to get off the ground. This was due to several factors:

Staff turnover: One of the reasons which contributed to this slower than expected start was the staff turnover experienced at the P4P management level. As earlier noted, there was extensive staff turnover from the P4P I team to the P4P II team. Although good documentation and the existence of the TAG and SC groups helped with continuity, this turnover nonetheless had an impact on the in-country initiatives getting off to a slower-than-expected start.
Difficulty in raising funds: Perhaps the larger reason behind the slow start was the difficulty in mobilising funds. The target amount for the full UN Joint Programme was $9,858,000 with contributions from UNFPA ($400,000); UNDP ($300,000); UNV ($400,000); and UN Women ($300,000). Of these, only UNV and UNFPA were able to meet their full pledge amount; UN Women and UNDP contributed less. DFAT, which supported P4P Phase I generously, continued its support and contributed AUD$1,500,000 to Phase II.




Tag: Resource mobilization Gender-Based Violence Human and Financial resources Project and Programme management

16.

Capacity of national-level partners: At the heart of P4P II, was the principle that much of the design and implementation of the selected initiatives rested in the hands of the national-level partners. "[T]he local partners will be engaged in the activities from the start and remain engaged throughout the duration of P4P II.




Tag: Small Grants Programme National Partnership Capacity Building

17.

Violence prevention and joint programmes take time: It should be noted that several respondents felt that the long timeframe for getting the in-country initiatives off the ground was the by-product of conducting effective, evidenced-based prevention programming. As stated by PMT member, "capacity building and violence prevention takes time" or as explained by an SC member, "the delay was because of the investment in the participatory process, and that takes time. These are not overnight investments; they are long-term". A TAG member added "[y]ou can't just do a few workshops. It has to be sustained over a period of time, and I think that's what we find in a lot of prevention work, whether it's in violence or other areas, so I think that given that cost, it's been done quite inexpensively".

In fact, if the goal is a multi-agency programme with real ownership and participation at country level, effective prevention programming takes time. Although P4P II was not able to raise as much funding as originally envisioned, in the end, what they managed to do with those funds raised and with the small, but effective, regional coordinating mechanism, namely the PMT itself, was quite substantial.




Tag: Gender-Based Violence Human and Financial resources Project and Programme management

18.

C. Effectiveness

The effectiveness of the P4P II programming is evaluated by considering whether the programme has produced the output and outcome designed. The following are the expected outcomes and outputs of P4P II:

1.Long-term outcomes: ?

Women and girls live free from violence
Healthy, non-violent and equitable behaviours for men and boys are the most common and accepted forms of masculinity

2.Intermediate outcome:

Ending VAWG is prioritised by state and non-state actors in Asia and the Pacific
Output one: Interventions are implemented, monitored and evaluated in selected sites to prevent men and boys from perpetrating VAWG and to generate new learning
Output two: Selected national partners have increased capacity to design, adopt and implement rigorous evidence-based interventions and policies for the prevention of VAWG
Output three: Regional bodies and organisations have increased capacity to support effective programmes and policies for the prevention of VAWG

Since the evaluation is intended to focus on outputs one and two, due to needing to implement the programme with less funding than estimated, and since much of the implementation of P4P II programmes in the countries has taken place within the timeframe of 10-24 months, the long-term and intermediate-term outcomes may not be able to be effectively evaluated. Thus, this evaluation will particularly focus on the achievement of selected outputs, especially output one and output two. The discussion on effectiveness will also reflect on the achievement of moving from a paradigm of awareness raising to one of prevention of VAWG by working with men and boys and of triggering gender-transformative change and working towards the reduction of harmful masculinities. The evidence-based programming of P4P II, and related to it, the monitoring and evaluation processes, are also considered in evaluating the success of P4P II. The effectiveness of P4P II programme can also be reviewed through the stories of change documented throughout interventions as part of this evidence-based approach. These stories of change will also be reflected upon. In the end analysis, this evaluation also pays attention to the contribution of joint programmes that characterises P4P to see how they have contributed towards the success and effectiveness of the prevention programme.




Tag: Effectiveness Gender-Based Violence Awareness raising Capacity Building

19.

Manual development

Collaborating with national consultants, P4P guided the development of facilitator manuals for several of the violence prevention interventions. These consultants were members of the Regional Learning Community for East and Southeast Asia that was developed by P4P in Phase I and provided extensive capacity building to this network. The goal was to build upon the skills that had already been developed in the region. The manual development and adaptation was a participatory process during which local experts, local partners and community representatives were consulted.

In Cambodia, P4P led the manual development, working with UN country partners (UNFPA, UN Women and UNV) and the Ministry of Women's Affairs. Additionally, two consultation workshops were held at the national level with key partners and stakeholders to review all contents of the manuals to adapt them to the Cambodian context. The manuals went through an additional review process at the local level in Kampong Cham when it was found that facilitators and participants had low literacy and education levels, which would limit their full comprehension of the manual content. The local review process brought together community facilitators, technical staff and local stakeholders working in primary prevention to improve the manuals to be more adaptable to the local context.




Tag: Communication Knowledge management Awareness raising Capacity Building

20.

Building the capacity of local partners and facilitators/ volunteers

P4P technical assistance is also important in the capacity building of local partners, facilitators and/ or volunteers to implement P4P programme. Multiple trainings were planned and implemented throughout the timeframe of the interventions based on the capacity assessment conducted at the start of the phase II in 2015. The training programmes were conducted mainly by P4P or in collaboration with external and local partners. Based on feedback from UN country partners, local partners and facilitators/ volunteers, the trainings have been invaluable in preparing them to contribute effectively to the prevention programmes.

A key component of the capacity-building programmes was providing training for facilitators and/ or volunteers. The use of local facilitators and volunteers is a main feature of the interventions in all the countries. The programmes do not just rely on interventions of professional trainers or trainers from P4P and UN partner agencies. Instead, facilitators are mostly selected and identified by local partners among local activists, community leaders, individuals who are highly respected and motivated from local communities, other individuals in the community and individuals from relevant national organisations. The facilitators and volunteers were not only trained to implement the interventions with the target participants, a few were also trained in conducting data collection to build and develop an evidence base for P4P programming, generally and for monitoring and evaluation, specifically.




Tag: Gender Equality Gender-Based Violence Knowledge management UN Agencies Capacity Building

21.

Working with men and boys and including women and girls: Creating a gender-transformative impact

P4P Joint Programme Phase II has set out to transform harmful masculinities that cause violence to women and girls by providing interventions that focused on engaging with men and boys, while continuing to focus on empowering women and girls. P4P programmes in the selected countries have shown the ability to mobilise both female and male participants, and this has great potential for creating gender- transformative impact. The voices and ideas of women and girls in the preventive interventions provided valuable input to the programmes because they helped participants understand how women's and girls' lives have been affected by violence.

There were noteworthy changes observed among men and boys as a result of their involvement in the intervention programmes. In the case of Cambodia, for example, statistical comparison between baseline and endline data showed that gender-equitable attitudes among boys increased significantly.




Tag: Effectiveness Gender transformation Women and gilrs

22.

Enhancing an evidence-based approach to programming

Generation of evidence has been implemented in several ways throughout interventions in the countries. Qualitative and quantitative data were gathered through baseline and endline reports, which included stories of change from both the intervention participants and facilitators. These data sets were used to understand the effects of and reactions to the intervention as well as its strengths and weaknesses. They were also used for the development of knowledge products and communication tools.

Documentation of stories of change will be discussed in a subsequent subsection, but it is noted here briefly that the stories of change and other evidence gathered directly from the participants and facilitators throughout the interventions have also been developed into significant knowledge products and communication tools, such as country factsheets and visual presentations. They are not only useful as resources for external parties interested in replicating prevention programmes to be used in conjunction with other evidence gathered, but also valuable to be shared within the joint programme partners in many ways.




Tag: Communication Knowledge management Monitoring and Evaluation Data and Statistics

23.

Volunteerism

The UNV Programme is a long-time partner of the P4P. UNV was an active partner in the Phase I of P4P, and its contribution to P4P continues with its involvement in P4P II. Volunteerism is considered by P4P to be integral to its programme, especially from the perspective of working for prevention in the community. Implementation of programmes on the ground in the selected countries has benefited from the services and mobilisation of volunteers. UN Volunteers act as important connecting points between P4P and UN agencies in countries.

The opening of the UNV Regional Office in Bangkok has given the UNV a regional presence in the Asia-Pacific region. At the country level, UNV has presence in all the countries under P4P II programming except Papua New Guinea.

Other than the specifically defined volunteers from UNV, P4P II has also seen the widening of the concept of volunteerism in the JP. Programmes have relied on community members who got involved in programmes voluntarily because they saw the value in the programmes or because they were encouraged by the local UNV. The term of reference for International UNVs in Bangladesh and Cambodia and National UNVs in Cambodia, Indonesia and Viet Nam include a specific task to nurture volunteerism, and this entailed encouraging volunteerism among community members to develop teams of facilitators for programmes. The community members volunteered their time and energy into ensuring that the prevention programmes organised for the benefits of their communities became successful. According to UNV Programme Officer, in Indonesia.

Specialised training for volunteers (many of whom also play the role of facilitators) have led to increased capacity of many of the volunteers. This is important because these volunteers have a great potential to contribute towards VAWG prevention through their work beyond the P4P timeframe in their local communities.




Tag: Gender-Based Violence UN Agencies

24.

Stories of change: Gender-transformative impact of the programme

Based on the socio-ecological model on VAW within the short timeframe of the implementation of the programmes, some noticeable transformation has been shown and documented, including individual change, change to the family and change to the community. These stories of change are important to show a measure of success of the interventions provided. A few stories of change are shared here based on documentation throughout interventions.

Most narratives on changes can be seen at the individual and at the interpersonal levels. There is a sense of internal transformation for many participants, as told through their own testimonials or through conversations with facilitators that were regularly reported and documented. This achievement is significant, and it is true of both female and male participants. Facilitators and community participants have reported their individual behavioural modification because of participating in capacity-building and intervention programmes




Tag: Effectiveness Gender transformation

25.

D. Sustainability

Based on the recommendations of the P4P Phase I evaluation, P4P Phase II set out to implement programming with a focus on prevention of VAWG through transforming harmful masculinities 'that are owned in country and that can be expected to be sustainable'; 'to move away from ad hoc, demand-driven approaches to country support, toward a more focused strategy including sustained capacity institutions and national level partners.'

The P4P I evaluation however also foresaw that attaining this level of sustainability would require a four-year time frame. Given the previous discussions on the slow start of the in-country initiatives, as well as the aforementioned minimal resources, many of these initiatives were implemented in the much shorter time frame of about one to two years.

Given this, the question remains as to what extent the research was able to assess whether sustainability has been achieved, as put by a steering committee member, "[f]or a multi-country, multi- agency initiative with very limited resources, I think that we aspire to sustainability, and it is not that easy to do, and maybe it is not very realistic."




Tag: Sustainability Ownership

26.

Joint programme leads to increased ownership

The 2013 Evaluation of Joint Programming on Gender Equality in the UN System underscores the importance of ownership of the initiative if true sustainability is to be achieved. The document discusses the importance of ownership by host governments, in particular, by strengthening national-level capacity and commitment at all levels of government, from the relevant gender ministries, to the highest levels of leadership, to the community level.

In the case of P4P II, it seems that this type of ownership, particularly at the regional, inter-UN agency level, was achieved. "I think there's ownership in a good way. There's pride, and there's excitement. We own the results. I talk about P4P all the time. We have that sort of pride. This is our result, and I cannot think of many UN joint programmes that are really like that—that are so jointly owned." (Steering Committee member) This sentiment was similarly expressed among the TAG and SC members.




Tag: Sustainability Gender Equality National Regional Joint UN Programme Ownership

27.

Factors that contribute to sustainability

Throughout the course of the evaluation, several factors stood out as contributing to the likelihood of sustainability of the pilot intervention beyond the P4P Phase II engagement.

Involvement of UN Volunteers, local facilitators and community leaders: One of the foundational principles of P4P II was working and partnering with people from the community. Where possible, P4P II partnered with local community leaders, facilitators, participants and UN Volunteers from the sites of the intervention themselves. Capacity building of the local partners in the form of substantive training in gender equality, violence prevention and participatory learning methods was central to the interventions. Monthly supervisory sessions to help them plan their sessions and troubleshoot any challenges they had; refresher trainings midway through implementation; and/or skills building workshops on monitoring and evaluation were included. As earlier discussed, a strong emphasis was placed on fostering the concept of volunteerism among both the participants of the interventions and among the facilitators. This amounted to enhancing the level of sustainability of the intervention once the P4P initiative had formally ended.




Tag: Sustainability Gender Equality Gender-Based Violence Capacity Building Women and gilrs

28.

Government buy-in: Initiatives which saw significant government involvement were more likely to have those same government representatives speak of and commit to extending and replicating the P4P initiatives beyond 2017. For example, in Cambodia, where the Ministry of Women's Affairs at the national and provincial level played a very large role in the implementation of the 'Shaping our future: Developing healthy and happy relationships' intervention in Kampong Cham, spoke about their desire to continue, scale-up and replicate the initiatives beyond 2017. Likewise, in Viet Nam, where the Da Nang Women's Union played a central role in the P4P Male Advocatesinitiative, the Male Advocates Clubs will be extended to nine other communes outside the original two intervention sites. In PNG, the two districts where the initiatives were implemented, have already asked the Autonomous Bougainville Government for more funding to continue the programme. Additionally, the UN Peace Building Fund has just approved another round of funding to expand the Planim Save Kamap Strongpela programme, which the government has endorsed.

Initiative built-off of and incorporated into existing programmes: Initiatives that were aligned with existing programmes and initiatives were more likely to be sustainable beyond P4P involvement. In Cambodia for example, the 'Shaping our future: Developing healthy and happy relationships' intervention, was in large part supported by the Ministry of Women's Affairs because it resonated with their goals identified in the National Action Plan to Prevent Violence against Women 2014-2018,39 which focused on inter alia, domestic violence, rape and sexual violence, trafficking and violence against women with increased risk. Because of this, the Ministry of Women's Affairs highlighted its desire to find funding to continue the programme in their 2019 budget.

Champions: Some respondents pointed out key champions who not only helped get the project off the ground, but who will also be the likely reason behind its continuation moving forward.




Tag: Sustainability Gender-Based Violence Country Government

29.

Materials and approach tailored to local context

Another factor contributing to success was the locally contextualised approach of the initiatives. The manuals and knowledge products were drafted with the specific target populations in mind. They were drafted by a mix of international and local consultants with input from key UN and government in-country implementing partners. Having the workshops run by facilitators, who themselves were from the community, was another effective strategy in ensuring that the messages were delivered in a manner relevant to the participants.

In fact, there was often a rich back-and-forth dialogue among the facilitators and government and UN country teams before an agreed upon approach was settled upon, according to the UN Volunteer/facilitator in Viet Nam. Even then, the facilitators themselves would meet regularly to discuss their approach and methods for communicating the materials to their participants. It is important to note, however, that adapting to local context is not without its limitations. For example, in Cambodia one exercise that was meant to draw out the inequalities in gender roles may have inadvertently ended up reinforcing those very same traditional gender norms it was meant to dispel.40 One possible explanation is that the reliance of local facilitators may themselves have been infusing the exercise with their own gender stereotypes and/or not fully understood the exercise.




Tag: Sustainability Knowledge management

30.

3. Exit Plans

Country Initiatives

Cambodia: All those interviewed—from the UNFPA country officials, to the officials of the Ministry of Women's Affairs, to the community leaders and facilitators—expressed their general desire to continue and scale-up the interventions.

Some, however, namely from the Ministry of Women's Affairs and UNFPA, wanted to see the final baseline/endline report (which at the time of the interviews was not yet available) before fully committing to the extension of the programme.

All spoke of the scarcity of funds and the need for funds to be made available if the activities were to continue. The Director General of Social Development of the Ministry of Women's Affairs plans to request government funds as part of the 2019 budget to continue and scale-up the intervention in more communes beyond those piloted in P4P II.




Tag: Sustainability Human and Financial resources

31.

Bangladesh: UNFPA's Generation Breakthrough is being renewed for another two years by the Royal Government of the Netherlands, though sustainability beyond that remains a concern, according to the UNFPA official interviewed. As earlier discussed, Bangladesh's Ministry of Education has already elements of its GEMS module into its teacher's life skills training module.

UN Women's Sexual Harassment in Universities initiative too has been renewed by its primary funder, the SIDA. The second phase of the project will continue to have a component of engaging men and boys and of changing social norms. They are now in about four tertiary institutions and would like to target 12-15 more. "We have generated some good practices and would like to scale these up." (UN Women official)

Both UN Women and UNFPA officials interviewed believed that ultimately, true sustainability will only be attained once the governments take more ownership of the initiatives, including but not limited to, dedicating their own funds towards the projects.




Tag: Sustainability Ownership

32.

Viet Nam: UN Women has launched its project, Community mobilisation in prevention of violence against women and girls in Da Nang City in the period of 2017-2020, which in part builds off UN Women ´s former programme which included the P4P II Male Advocates intervention. This next phase is expected to provide concrete evidence on the effectiveness of a comprehensive approach using community mobilisation to change social norms to prevent violence against women and girls and to promote gender equality in Viet Nam. The project also engages men voluntarily as advocates in prevention of violence against women and girls in the communities using the same P4P approach applied in 2015-2016. The Male Advocates clubs will be extended to nine other communes outside the original two intervention sites of P4P II and are expected to provide concrete evidence on an effective model to transform harmful masculinities in Viet Nam for wider upscale in the city and the country by 2020. In order to support this new phase of the project, in fall 2017, P4P supported the training of a new cohort of male advocate volunteer trainers that took place.
Autonomous Region of Bougainville, PNG: Representatives of the two districts where Planim Save Kamap Strongpela (PSKS) was implemented have expressed interest in continuing and scaling-up the Bougainville, PNG intervention and have asked their governments for funding to continue with the programme. The local government of 46 one district also allocated free office space to the PSKS project team and committed to continuing if the programme is expanded.




Tag: Sustainability Gender Equality Gender-Based Violence Local Governance

33.

Indonesia: At the UN level, officials have also expressed interest in continuing the work of the programme.

There is also interest by the central government. The Ministry of Empowerment has asked for the P4P manuals as a reference for them to develop their gender-based prevention guidelines. Likewise, this level of interest is present at the community level. The local NGO partners are also looking for funds to continue this type of programming. LP3A has already taken the approach of working with adolescents and caregivers and has applied it to new VAWG prevention programmes that USAID is funding in PNG. They are also hoping that the district government will pick this up and include it as part of its Village Empowerment Programme, which has allotted funds sent directly to villages every year.




Tag: Sustainability Gender-Based Violence Jobs and Livelihoods Civil Societies and NGOs Women and gilrs

34.

UN entities

Programme Management Team: Currently there are no plans to continue with the JP beyond March 2018. Between now and then, the PMT will be focusing on finalising all in-country activities, including the outstanding endline reports and studies and regional level knowledge products. It will also prioritise finalisation of the present evaluation. Finally, much attention will be placed on the communication element of showcasing and disseminating the findings and lessons from P4P Phase II at its culminating meeting in March 2018 and beyond.
UNDP, UNFPA, UN Women and UNV: Representatives of all UN entities have expressed their intention to include elements of the P4P strategy in the development of upcoming regional strategies and country interventions. They have also expressed their intentions to continue to work bilaterally and collaboratively with one another on prevention strategies to end violence against women, even if not officially as part of a JP. With regards to P4P II, TAG and SC members also expressed their commitment to work together to disseminate the findings of the interventions and the lessons learnt beyond March 2018, the official close of P4P II.




Tag: Gender-Based Violence Communication Joint UN Programme Knowledge management UN Agencies
Recommendations
1

Recommendations to countries and UN country agencies

An important exit document is the list of highly potential local and/or regional entities that can be engaged for possible replication and expansion in the countries. This list can be compiled from the various documents and reports containing information about parties who show interests to pursue prevention programmes. It is important that this list be shared widely.
P4P has developed valuable knowledge products within the time frame of the second phase. It is very important that the knowledge products such as facilitator manuals, lessons-learnt reports, baseline/endline studies and stories of change are widely accessible, particularly to local or country entities working or developing VAWG prevention programmes.
UN country partners may continue to play significant role in VAWG prevention by engaging with governments to plan mid- and long-terms national action plans and budgets for primary prevention programmes that work with men and boys. In a few countries, there have already been conversations between global partners, UN country partners and governments about such planning. These conversations need to be taken further.

2

Recommendations to donors

There is still a scarcity of research and body of knowledge on violence against women, especially ones that investigate the contexts of men and boys as perpetrators of VAWG and thus, as focuses of interventions, in the Asia-Pacific region. Knowledge and skills for evaluations are also still very limited in this region. Donors should be encouraged to invest in strengthening the capacity of researchers, universities and evaluators from the region to develop and enhance research and knowledge production on the issue of VAWG.
The value of the evidence-based approach in P4P programming is very clear and should continue to be the basis for all future VAWG prevention programming.

3

4. Recommendations for practitioners

The P4P website contains information and toolkits for replicating the UN MCS study (see, http://www.partners4prevention.org/resource/step-step-guide-replicating-un-multi-country-study-men-and-violence). Developing a similar toolkit for replicating prevention programmes based on the programmes in P4P II countries may offer a useful knowledge product for prevention programming.

4

5. Recommendations to practitioners

Local partners, facilitators and volunteers have received valuable training from P4P in implementing VAWG prevention programmes in the specific localities. These local entities may potentially play significant roles in replicating and scaling up the programmes in their countries.

5

Recommendations to UN partners

As a preparation for exit, it is recommended that P4P have clear, documented conversations with partners about how each of them can play continued roles in their countries to engage and facilitate local partners to continue with VAWG preventive interventions. Partners who have been playing leading roles in P4P programmes in the selected countries are probably best suited to do this. These partners can be the reference points for the local partners to enhance technical capacities and to conduct independent programmes. The knowledge base built from the P4P programme can also be used by individual P4P partners in countries beyond the five P4P II countries. For example, UNFPA in Indonesia may inform UNFPA in another Asia-Pacific country on including prevention work in their country programme.

6

Recommendations to UN partners

It is very important that any documentation, plans and strategies of P4P upon exit from the second phase be disseminated and communicated widely especially within the Asia-Pacific region. This is highly likely to contribute to a sustained VAWG prevention programming for the region and beyond. The documents should be available and accessible from P4P website, and information about their availability should also be passed on to key partners and local entities that will potentially replicate P4P programmes.

7

Recommendations to UN partners

It is also very important for lessons and findings from P4P II be disseminated and shared globally. Thus, a presentation of successes and lessons learnt at international forums, such as the Commission of the Status of Women, is crucial prior to P4P's exit.

8

Recommendations to UN partners

It is important that UN entities in the countries of P4P II continue to engage with the local facilitators and volunteers to tap into the experiences and capacities that they have developed through their involvement with P4P programmes. The facilitators and volunteers are important local resources who may provide continuity to VAWG prevention work in their countries. A database of facilitators and volunteers may also be useful for future reference. The continued involvement of the volunteers and facilitators in future preventive programmes may also widen and increase their expected roles, thus they may need enhanced capacity building. Local UN partners may include trainings for such capacity building in their country programming.

9

Recommendations to UN partners

An urgent recommendation is for there to be a joint statement by partners of P4P upon its exit from the countries' programmes that clearly articulates the partners' commitment to VAWG prevention programming that engages men and boys. It is also essential that other UN entities are cooperate in this statement of commitment.

10

Recommendations to UN partners

Widening the network of cooperating partners towards prevention of VAWG by working with men and boys is an important step forward to consider. The existing P4P partners may, together or independently, engage with other UN partners to cooperate in future or continued VAWG prevention programming. In Papua New Guinea, for example, the sustained cooperation and coordination of UN Women with UNICEF beyond the P4P programme may significantly contribute towards scaled-up prevention work in the country. In this context also, partners can continue to work together towards building cadres of country-based prevention specialists who will ensure the continuity and sustainability of prevention work in Asia and the Pacific.

11

Recommendations to UN partners

Volunteerism has been seen to be a vital concept and practice in P4P programming in the selected countries. More institutionalised volunteerism in VAWG prevention programmes is strategic to ensure its further contribution. This also points to the substantial role of UNV as a strategic partner in all VAWG prevention programmes. UNV's contribution will be critical in institutionalizing volunteerism in prevention programmes.

12

Recommendations to UN partners

P4P has collated and documented its evidence and learnings from the VAWG prevention programme quite extensively. It is in the process of publishing this in several comprehensive publications that document the VAWG prevention programmes to show how the programmes are fundamentally pertinent to the programming of all partners that present the regional lessons learnt from the prevention programmes and that document volunteerism knowledge. These publications are expected to further emphasise how working with men and boys to prevent VAWG should be included in the work of all partners. These publications constitute an important resource material for UN country entities as well as local partners in various programmatic work. The next important step regarding these publications is ensuring their wide dissemination, particularly to strategic entities within countries that have the highest potential to use the knowledge products to create change in their societies. UN agencies in countries other than the P4P II countries should be encouraged to access these publications as references for their programming.

13

Recommendations to UN partners

At the regional level, it is important that partners of P4P continue to cooperate on VAWG prevention that focuses on engaging men and boys to transform harmful masculinities. This could be through a joint programme or using different modalities and strategies to continue working together. Joint efforts should also be made to encourage donors to invest in prevention programming that is evidence-based and evidence-producing.