Evaluation of UNDP CPD 2016-2010 Outcome 1: O.1: State Institutions, including in the areas of defence, security, and justice, consolidate stability and the rule of law, democratic participation, and equitable access to opportunities for all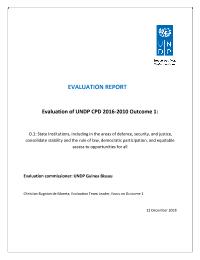 Evaluation Plan:

Evaluation Type:

Outcome

Planned End Date:

06/2018

Completion Date:

12/2018

Status:

Completed

Management Response:

No

Evaluation Budget(US $):

75,000
Title
Evaluation of UNDP CPD 2016-2010 Outcome 1: O.1: State Institutions, including in the areas of defence, security, and justice, consolidate stability and the rule of law, democratic participation, and equitable access to opportunities for all
Atlas Project Number:

0Outcome

Evaluation Plan:
2016-2021, Guinea-Bissau
Evaluation Type:
Outcome
Status:
Completed
Completion Date:
12/2018
Planned End Date:

06/2018

Management Response:
No

Focus Area

:

1. Democratic Governance
2. Others

Corporate Outcome and Output (UNDP Strategic Plan 2014-2017)

1. Output 2.1. Parliaments, constitution making bodies and electoral institutions enabled to perform core functions for improved accountability, participation and representation, including for peaceful transitions
2. Output 2.4. Frameworks and dialogue processes engaged for effective and transparent engagement of civil society in national development
3. Output 3.4. Functions, financing and capacity of rule of law institutions enabled, including to improve access to justice and redress

Evaluation Budget(US $):

75,000

Source of Funding:
United Nations Partneship Assiatance Framework Monitoring and Evaluation budget
Evaluation Expenditure(US $):

24,476

Joint Programme:
No
Joint Evaluation:

No

Evaluation Team members:

| Name | Title | Email | Nationality |
| --- | --- | --- | --- |
| Christian Bugnion de Moreta | Individual Consultant | cbugnion@suburconsulting.es | |

GEF Evaluation:

No

Key Stakeholders:
Ministry of Cooperation, Implementing Partners, Office des Nations Unies contre la Drogue et le Crime, Fonds des Nations Unies pour lâ??Enfance, Bureau Intégré des Nations Unies pour la Consolidation de la Paix en Guinée Bissau
Countries:

GUINEA-BISSAU
Lessons
Findings
1.

III. Outcome 1 findings

This chapter deals with the findings regarding the outcome 1. The first part starts by identifying the UNDP contribution to the outcome through the three levels of analysis – projects – CPD outputs – outcome and makes the linkages with the evaluation criteria. The second part addresses the unexpected outcome to which UNDP appears not to have contributed, but which contribute to the outcome statement). III.1. UNDP contribution towards the expected outcome based on traffic light system (green = on track, yellow = partially on track, red = off track)

Relevance of outcome 1 The outcome is judged highly relevant to the needs of the various stakeholders. From the Government's perspective, the outcome is directly aligned with the Terra Ranka document, which defines the national development priorities. For the United Nations System, the outcome is fully relevant, as it is the same outcome as described in the UNDAF which is the overarching Programming Framework in Guinea Bissau for the work of all UN agencies and institutions over the 2016-2020 cycle. It is further a document that is shared and validated with the government partners to ensure its alignment with national priorities. For CPD Output 1, the support and capacity development to Parliament (NPA) was an essential aspect required to contribute to capacity development of the mandated representatives of the people. The extent to which the support could be provided was severely constrained by the political crisis, but the need for supporting NPA capacity development was high and remains high to this date. UNDP also managed to collaborate with two specific groups in order to address gender equality in this output. Firstly, it supported the work of the Specialised Commission for Children and Women, belonging to the NPA. Secondly, it also contributed to the capacity development of the informal Network of Women Parliamentarians. Another significant achievement was the work with the Specialized Commission for Budget and Economic Affairs through the ProPALOP-TL project in support of oversight institutions, through which capacity for budget analysis and monitoring was strengthened. Through this work, for the first time the State General Account was debated in the NPA. UNDP also supported the administrative apparatus of the NPA through training of its Secretariat staff, strategic planning and provision of management systems (e.g. financial management and accounting software and operations manual).




Tag: Relevance Gender Equality Gender Mainstreaming Women's Empowerment Election Justice system Rule of law Security

2.

Progress achieved to date according to the CPD results framework (continuation)

Output 2. Electoral management bodies have the capacities to ensure effective, transparent, credible and participatory electoral processes that are gender-sensitive.

Indicator 1.2.1. is the number of registered electors. At the time of the evaluation there was no update on the number.

Indicator 1.2.2. Is the extent to which output 2. Is achieved. According to the IRRF in 2016 capacity was partially improved, with a rating of 3, and was largely improved in 2017, with a rating of 4. This is evidenced in the quality of the preparatory report for the 2018 legislative elections prepared in November 2017.




Tag: Operational Services Gender Mainstreaming Civic Engagement Election Human rights Justice system Knowledge management Operational Efficiency Capacity Building

3.

Progress achieved to date according to the CPD results framework (continuation)

Output 4. Public institutions and civil society organisations have the capacity to budget, define a genderresponsive management framework, and implement policies that address the public's priorities.

Indicator 1.4.1. Number of ministries fully applying national public administration policy priorities and principles

Indicator 1.4.2. Extent to which human resources management systems and controls are effective and transparent

Indicator 1.4.3. Number of proposals by CSOs including women's organisations, that feed development policy debates and formulation

Indicator 1.4.4. Number of local governments that develop gender-responsive plan, budgeting and monitoring delivery of basic services

The IRRF does not report information on indicators 1.4.1, 1.4.2, and 1.4.4. The two indicators in the IRRF which relate to the indicator 1.4.3. are:

a) The degree of effectiveness of legal/regulatory framework for women's groups to function in the public sphere and contribute to development and,

b) The degree of effectiveness of mechanisms/platforms to engage women's groups




Tag: Effectiveness Gender Equality Gender Mainstreaming Women's Empowerment Civic Engagement Human rights Policies & Procedures Capacity Building

4.

Relevance of the interventions and strategic positioning

The three interventions operational in 2016-2017 (PACID, Rule of law and justice, Strengthening Confidence in the Justice Sector) all contribute to the CPD output statements and to Outcome 1. While the first intervention addresses outputs 1.1, 1.2 and 1.4, the two other interventions address output 1.3. Each intervention is relevant by itself to support the output statements. However, the PACID was also designed during the optimistic scenario of the CPD and the amount of funding it leveraged was much lower than the initial projections, leading UNDP to having to focus on certain components of the project (which contains no less than 13 identified outputs). The RoLaJ project has been supporting the CAJ and other related activities (CENFOJ, sensibilization campaigns on human rights and gender equality with the LGDH in the rural communities and through the media). The PBF funded intervention of Strengthening Confidence in the Justice Sector had to be revised given the changes in the leadership of the MoJ. Initially foreseen to enhance justice services delivery through the design and installation of a database and monitoring system, the project was re-designed in order to cover the costs of a consultancy to define and design an adequate information system, the costs of building a pilot House of Justice in Gabu, and the third component is to reinforce knowledge of the population on access to justice. Annual progress reports of the PBF funded project were not available and therefore the evaluator is not able to appraise to what extent progress has been achieved under this project. Furthermore, the Head of the PBF was out of the country at the time of the evaluation and could not be interviewed. The strategic positioning of the three interventions therefore is strong, but the extent to which the two projects that supported justice reform collaborated or coordinated among themselves is not known.




Tag: Effectiveness Relevance Resource mobilization Gender Equality Gender Mainstreaming Gender-Based Violence e-Governance Human rights Justice system Rule of law Strategic Positioning Advocacy Technical Support

5.

Partnership strategy

No rating UNDP had already established a partnership strategy with most of its current partners, dating back from earlier interventions. With few exceptions (such as the development of CSO monitoring capacity or the formal agreement with the BAR association) the partners have therefore already been working with UNDP and there is no major change in the partnerships that have been established in the governance institutions, as the key institutions are those with which UNDP is already working. UNDP has identified some entry points which may be leveraging added value to the outcome (CSO monitoring, legislative capacity development, gender equality sensitization, oversight capacity development) but requires a sustained support in order to achieve its objective. The CO indicates there is a partnership within the UN family through the Joint Program on Police, Justice and Corrections which is led by UNDP. This program enables collaboration and synergies among UN agencies and UNIOGBIS. However it does not form a part of the projects documents made available to the evaluator for this outcome evaluation, possibly having started after 2017.




Tag: Efficiency Gender Equality Women's Empowerment Civic Engagement Joint UN Programme Partnership Capacity Building

6.

Resource mobilization

UNDP has developed a resource mobilization strategy for the period. As early as 2014 it has developed this IRRF against its strategic plan 2014-2017. Initial funding expectations as a result of the Brussels roundtable in 2015 which followed the 2014 elections did not materialize and negatively affected funding for the governance sector. While the CO has been working with a yearly budget of between US$ 23.7 and 25 million over 2016 and 2017 according to the ROAR, the resources mobilized for the governance sector do not reflect in volume, the strategic importance of the UNDP positioning. From the CO perspective, the resource mobilisation over 2,5 years of CPD implementation has been over 60% for outcome one, consisting of the four outputs. However, there are concerns with outputs 1.1. and 1.4. that have been unable to attract donors and requires CO attention. CO interviews indicated the concern was not so much about the volume of resources mobilization as it was about the achievement of meaningful results. However, in a context of high volatility it is difficult to plan over the long-term, as unforeseen changes affect the resource mobilization capacity. The CO should track the assumptions and risks that are explicitly mentioned in the ToC in order to be able to better respond to sudden changes in its funding flows.




Tag: Sustainability Gender Equality Women's Empowerment Human rights Communication Knowledge management

7.

III.2 – Unexpected outcomes (not caused by UNDP but linked to outcome 1)

Outcome observed (description, evidence, factors – contribution analysis)

• Lack of coordination among development actors The political instability which is pervasive has led some development actors to adopt a shortterm approach to supporting the country, with short-term actives and products, almost as a humanitarian short-term intervention. Most develop actors have modified their programming on account of the political instability. This has contributed to a lack of cohesion in development partners´ coordination, and undermines the efforts to rebuild, establish and promote proper and sustainable governance institutions. The lack of coordination among development partners may lead to a duplication of some efforts, while the (re-)establishment of the Justice Sector Thematic Group has proved effective in ensuring a coordinated sector approach.

• National ownership and government budget It is well known that development actors have traditionally played a key role in supporting the costs of development including through direct budget support. It has been confirmed by various sectors that the government budget is currently only covering staff salaries, without any budget for operational costs, equipment, logistics, or even to pay rent (as in the case of the Regional Electoral Commissions). As a result, the development partners have been de facto covering expenses which are normally borne by government. This has created a dependency on international support and has undermined the level of national ownership. Linked to the political instability and high turn-over of government managers, the promotion of national ownership remains a challenge for all development actors.

• Conflict analysis management and planning Development planning in Guinea Bissau is contingent upon a thorough analysis of conflict drivers. At present the level of technical competency in conflict analysis appears to be limited in the country, leading to planning without assuming the high risks linked to the instability caused by the political crises. Apart from the high-level diplomatic efforts aimed at finding a political solution to the recurrent crises, there is a dearth of conflict mediation and transformation capacities that target the drivers of conflict for planning critical interventions. Planning of development actors is thus often frustrated as the basic hypotheses and risk analysis are not being monitored or used to adjust their on-going interventions. Nonetheless, there are efforts towards political dialogue and reconciliation led by UNIOGBIS. UNDP also indicates that there was a good conflict analysis conducted in 2012 and reviewed in 2015 and 2017 which was the basis for the PBF Priority Plans, we well as for the UNDAF and CPD rating. The evaluator has not seen this conflict analysis which was not included in the documentation provided nor is it referenced in the February 2017 ISAAT evaluation of the Rule of Law and Justice Project which recommended to "include a conflict transformation and social change based approach in the design of the theory of change of the upcoming phase of support and factor-in a more realistic and ambitious-levelled intent".




Tag: Global Environment Facility fund Government Cost-sharing Human rights Justice system Human and Financial resources Ownership Security Coordination

8.

(Continuation from Finding 2)

Output 3: The legal system has the institutional framework and the operational capacities and abilities required to combat impunity and respond to the community in terms of compliance with human rights.

Indicator 1.3.1. Number of persons who have accessed or benefited from legal aid services, disaggregated by sex and age According to the CO IRRF the figures are as follows(see table pg.32). According to the IRRF there is currently no data available on court records. The qualitative aspects of the legal assistance are particularly important, as they have generated some unintended positive effects. The legal assistance provided through the six CAJ are essential in order to make access to justice more visible and easier for the ordinary citizen. Qualitative interviews in five of the CAJ show that the assistance provided is highly valuable and plays an important role in terms of equity and fairness for the population. The certificate of indigence, which the CAJ sometimes establishes for the poorest and most vulnerable, allows to waive the different court charges when taking the case to court. As such, the CAJ plays an important social role as its services are provided free of charge and the TAJ (specialized staff) has the authority to deliver this certificate of indigence that frees the beneficiary from the payment of court charges.




Tag: Effectiveness Human rights Justice system Public administration reform Communication Human and Financial resources Awareness raising Institutional Strengthening Technical Support National Institutions

9.

Continuation from Finding 1

Progress achieved to date according to the CPD results framework

The CPD results framework (RF) for outcome 1 identifies 4 indicators four output 1.1, 2 indicators for output 1.2, two indicators for output 1.3, and four indicators for output 1.4. The CO is not monitoring the CPD RF indicators as established but is using the UNDP Strategic Plan 2014-2017 Integrated Results and Resources Framework (IRRF). Under this framework the indicators provided by the CO are in some cases similar to the CPD results framework, but not all are the same as the architecture of the RF is also different. The relative alignment between the CPD RF and the IRRF contributes to a degree of confusion as it is not clear why CPD RF indicators are not being monitored.




Tag: National Institutions Gender Equality Women's Empowerment Human rights Justice system Public administration reform Human and Financial resources Results-Based Management Theory of Change Institutional Strengthening
Recommendations
1

Recommendation 1. UNDP should review its office structure in terms of human resources as it appears to be currently understaffed with key posts left vacant (Gender specialist, M&E specialist, Justice Program Analyst…)

2

Recommendation 2. Consider the possibility of obtaining a P-4 or P-5 level post for ensuring programme design and coordination in the areas of Rule of Law, Security, Defence, Mediation and Conflict resolution, in line with the possible closure of the UNIOGBIS mission

3

Recommendation 3. Multiply efforts to ensure coordination among the UN system actors.

4

Recommendation 4. Provide a sustained support to the promising developments and results obtained in relation to oversight of public accounts and CSO monitoring of government policies in order to ensure the proper mechanisms are in place.

5

Recommendation 5. In the justice sector, review the strategic positioning: CAJ have now been financially supported for eight years, but UNDP should review the whole criminal justice chain to identify where bottlenecks are found in order to define its future interventions in support to MoJ. Construction of infrastructure is a means to an end, but not an objective, that must be strategically designed to add value.

6

Recommendation 6. UNDP should develop specific strategies for Capacity Development, Gender Mainstreaming, Human Rights, Awareness Raising, each with an implementation plan and a results framework, to ensure it is incorporating the technical expertise required in each of its interventions.

7

Recommendation 7. UNDP should consider investing in developing a stronger M&E system, including a dedicated knowledge management function, through the recruitment of specialized staff, training of UNDP managers in RBM and M&E, to ensure a common understanding and language is used in the CO, including for developing Theories of Change which explain the logic of the chain of results that lead to the outcome statements.

8

Recommendation 8. UNDP should review its internal guidance on the formulation of outcomes and outputs as some are too ambitious, not achievable in the CPD time-frame and not fully aligned with the recommended technical specifications.
Management response not available