Mid Term Evaluation of Reducing UPOPs and Mercury Releases from the Health Sector in Africa project (Medical Waste Management)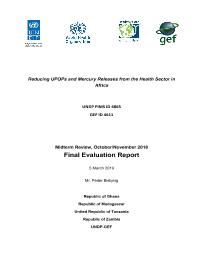 Evaluation Plan:

Evaluation Type:

Mid Term Project

Planned End Date:

12/2018

Completion Date:

03/2019

Status:

Completed

Management Response:

Yes

Evaluation Budget(US $):

40,000
Title
Mid Term Evaluation of Reducing UPOPs and Mercury Releases from the Health Sector in Africa project (Medical Waste Management)
Atlas Project Number:

00087064

Evaluation Plan:
2016-2022, Zambia
Evaluation Type:
Mid Term Project
Status:
Completed
Completion Date:
03/2019
Planned End Date:

12/2018

Management Response:
Yes

Focus Area

:
Corporate Outcome and Output (UNDP Strategic Plan 2018-2021)

1. Output 2.1.1 Low emission and climate resilient objectives addressed in national, sub-national and sectoral development plans and policies to promote economic diversification and green growth

SDG Goal

Goal 13. Take urgent action to combat climate change and its impacts

SDG Target

13.2 Integrate climate change measures into national policies, strategies and planning

Evaluation Budget(US $):

40,000

Source of Funding:
Project Budget, Donor
Evaluation Expenditure(US $):

40,000

Joint Programme:
No
Joint Evaluation:

No

Evaluation Team members:
GEF Evaluation:

Yes

| | |
| --- | --- |
| GEF Project Title: | Reducing UPOPs and Mercury Releases from the Health Sector in Africa project (Medical Waste Management) |
| Evaluation Type: | Terminal Evaluation |
| Focal Area: | Persistent Organic Pollutants |
| Project Type: | FSP |
| GEF Phase: | GEF-5 |
| GEF Project ID: | 4611 |
| PIMS Number: | 4865 |

Key Stakeholders:
Global Environmental Facility (GEF), Ministry of Health (MoH), Zambia Environmental Management Agency (ZEMA), Ministry of Lands, Natural Resources and Environmental Protection (MLNREP), Civil Society organizations, Private Sector, and Other Cooperating Partners
Countries:

ZAMBIA
Lessons
Findings
1.

4.1 Project Strategy

Project Design

This section discusses the project design and relevance of the project within its international and national context. The project is obviously directly linked and highly relevant to the implementation of the Stockholm and Minamata Conventions in the recipient countries.

The GEF provides funding to assist developing countries in meeting the objectives of international environmental conventions. The GEF serves as "financial mechanism" to five conventions, of which two are the Stockholm and Minamata Conventions. Hence the project is perfectly aligned with the GEF'sstrategy, where two focal areas are persistent organic pollutants and the phase-out of mercury.




Tag: Global Environment Facility fund Programme/Project Design SDG Integration

2.

The objective of the World health organisation "is the attainment by all peoples of the highest possible level of health. Health, as defined in the WHO Constitution, is a state of complete physical, mental, and social well-being and not merely the absence of disease or infirmity." 11Henceany project that improves the safety of staff, patients and visitors in healthcare facilities (see the text box in this section) most definitely aligned with the goals of the organisation.

The organisation Health Care Without Harm works to "transform health care worldwide so that it reduces its environmental footprint, becomes a community anchor for sustainability and a leader in the global movement for environmental health and justice." Again, reducing the environmental footprint of healthcare facilitiesis a cornerstone of this project.




Tag: Waste management Transborder Implementation Modality Partnership Programme/Project Design

3.

It is clear from the MTR's meeting with the stakeholders, that all (donors, ministries, NGOs, private sector) found the project's priorities highly relevant and well aligned with their own priorities. The UNDP-GEF Monitoring and Evaluation Unit in New York has expressed an interest in whether the relevant gender issues were raised in the project design. As expressed by the projects Gender Expert, Ms. Sabrina Regmi, "gender equality or human rights issues concerns were not fully mainstreamed in the design phase"(see "Gender Issues" on page 62). That said, the project predominantly benefits the vulnerable, in that improved hygiene and HCWM within healthcare facility betters the working conditions of the hospital staff(mostly female), the patients (frequently poor women and their children) and the visitors. So, although gender issues were not specifically addressed during the design phase, the project does comprehensively improve the conditions for these groups of people.




Tag: Relevance Gender Equality Health Sector Partnership Programme/Project Design

4.

Results Framework/Logframe Analysis

The project strategy is well designed good and as can be seen in the logframe analysis in Table 5 the implementation is satisfactory for all identified indicators.

It can be noted that the indicators in Table 5 are SMART (Specific, Measurable, Achievable, Relevant, Time-bound), as these are well defined, appropriate and easily verified. In the planning of the project, the broader development effects that are of a high priority to the UNDP, such as gender equality, women's empowerment, improved governance and reduction of inequalities were not carefully considered. It can be said to the defence of those in charge of the project design that an intervention such as this one disproportionally benefits the weak, women and children. As noted under "Gender Issues" (page 62) a majority of hospital staff is female and benefit from the improved HCWM system through safer working conditions, as this reduces nosocomial infections. As explained in the text box in section 4.1 and elsewhere in this report, poor, women and young patients stand to gain the most when a hospital's HCWM and hygiene improves. Therefore, although the project design did not specifically focus on these issues, they are thoroughly addressed by the project. Progress Towards Results.




Tag: Sanitation Programme/Project Design Results-Based Management Women and gilrs Youth

5.

Component 1: Disseminate Technical Guidelines, establish Mid-Term Evaluation Criteria and Technology Allocation Formula, and Build Teams of National Experts on BAT/BEPat the Regional Leve

Component 1 has several objectives. Firstly, during a regional conference the beneficiary healthcare facilities for the non-incineration HCWM systems and Mercury-free devices would be selected. The Project Document recommendation that each country chose the proposed HCFs based on the following criteria:

One central or cluster treatment facility;
Up to two hospitals with up to 300 hospital beds; and
Three rural health posts or dispensaries.




Tag: Waste management Health Sector Technology

6.

The project undertook the core training of the national experts over a two-week period in Nakuru, Kenya from 28 November to 10 December 2016. There were national experts who participated. The quality of the training materials is high and all participant that the MTR interviewed spoke warmly of the quality of the training. The teams underwent comprehensive training in non-incineration HCWM systems, policies, waste assessments, UNDP GEF and WHO tools, national planning, BAT/BEP guidelines, mercury phase-out, international standards, and other technical guidelines and well as project implementation-related activities (Gantt charts, critical path analysis, budgeting, monitoring, etc.).




Tag: Waste management Capacity Building National Institutions

7.

Component 2: Healthcare Waste National Plans, Implementation Strategies, and National Policies in each Recipient Country

Following the training of the national experts (Component 1), the national PIU were to evaluate and strengthen national policies, regulatory framework, and national plans for HCWM and Mercury. Based on their assessment,a detailed proposal for an intervention supported by the project for improving the policy and regulatory framework was made

The national PIUs have all developed implementation plans and been successful in implementing these, see Component 3, so those plans will not be discussed here. The development of the national policies and regulatory improvements for each of the project countries have been a major task with many stakeholders involved in each country. The status for these efforts is briefly summarised for each of the counties in the following:.




Tag: Policies & Procedures Capacity Building National Institutions

8.

Component 3a: Make available in the region affordable non-incineration HCWM systems and mercury-free devices that conform to BAT and international standards

The project encourages the use of non-incineration systems for the treatment of healthcare waste and supports the use of mercury-free medical devices. The project selected the non-incineration HCWH management systems from the Global Healthcare Waste Project that comply with the Stockholm Convention'sBAT/BEP Guidelines and that are considered cost-effective alternatives to incineration by the WHO. 16The recommended technologies include:

Autoclaves
Hybrid autoclaves & continuous steam treatment systems
Microwave technologies•Frictional heating systems
Dry heat treatment systems
Chemical disinfection systems (e.g., ozonation)•Alkaline hydrolysis technologies (for anatomical waste and animal carcasses)




Tag: Human and Financial resources Innovation Operational Efficiency Procurement Technology Capacity Building

9.

The recipient countries were to supply the building for the autoclave, as well as utilities such as a power connection and water supply. Here the Regional Project Team provided technical assistance such as building designs and layouts.

The project countries were offered the possibility for different mercury-free devices by the Regional Component; (1) mercury-free aneroid sphygmomanometers, (2) automatic sphygmomanometers, (3) digital blood pressure monitors, and (4) digital thermometers. Based on the National Action Plans, the project countries completed their Bill of Quantities for mercury-free devices.




Tag: Waste management Technology Technical Support

10.

At Koforidua Eastern Regional Hospital in Ghana one of the two autoclaves was not operational as the local Agent has been unresponsive to calls to provide maintenance services.

At the Mwananyamala Regional Referral Hospital in Tanzania, one of their two autoclaves at had not operated for three weeks when the MTR mission visited. There was an issue with the autoclave control system (programming) and help had been requested from TTM and the facility was still waiting on the trained technician. It was not possible to tell how persistent the hospital had been on obtaining assistance, nor when the first request for service was made.




Tag: Challenges Health Sector

11.

Component 3b: Demonstrate HCWM systems, recycling, mercury waste management and mercury reduction at the model facilities, and establish national training infrastructures

This component aims to integrate the non-incineration technology into the overall HCWM system and to deploy the Mercury-free devices at the model facilities. These HCF will both serve as the testing ground for these measures and as BAT/BEP demonstration sites. The steps taken by the project to these facilities were as follows:

Training facility staff in the operation and maintenance of the new non-incineration HCWM system;
Introducing mercury-free medical devices, and training staff in their use and maintenance;
Establishment and training of local maintenance teams/technicians;
Introducing recycling activities to reduce the waste streams and identify buyers of recovered materials;
Supporting HCFs in improving the HCWM monitoring; and
To ensurelong-term sustainability, each country was to establish at least one national HCWM course for medical professionals.




Tag: Health Sector Capacity Building

12.

Ghana

The implementation is progressing well in Ghana, all project healthcare facilities have training programmes in place for new staff where all facets seem in place: Qualified trainers, support from management and good training materials. The source separation is fairly implemented and operational with exception of the few weaknesses as noted below under the description of the individual HCFs. The actual implementation of BAT/BEP in the model facilities is discussed for each visited healthcare facility in the following paragraphs.

The Cape Coast Teaching Hospitalis one of the top hospitals in Ghana with 400 beds and a large number of daily outpatients. Healthcare waste is very well managed within the hospital. The hospital received 2 autoclaves each with a capacity of 260 litres and these were commissioned in April 2018. Since May 2018 the hospital has been treating allthe HCW generated in its 12 wards in these two autoclaves, coming to about 60kg per day for five days a week. This corresponds to 15.6 tonnes per year, 18or 7.8 tonnes per autoclave per year. By comparison, the May 2018 Project Progress Reportexpects the annual throughput of a 260-litre autoclave to be 37.44 tonnes per year.




Tag: Waste management Effectiveness Health Sector Capacity Building

13.

Zoompak is a waste management service provider in Ghana, focussed on the transportation of domestic, industrial and hazardous waste. In 2015 the company established a 1.4 tonne/ hour autoclaving facility for healthcare waste outside Accra; at present the facility operates well below capacity treating only about 8.5 tonnes of infectious waste per month. The company can provide clients with training in HCWM, packaging and the transport of infectious waste in two cooled vehicles to their treatment facility.




Tag: Waste management Challenges Effectiveness Value Chain Awareness raising Capacity Building

14.

The Ghana PIU has successfully distributed all received mercury-free medical devices to five healthcare facilities in Ghana. 21For the past four years, as the Ghana Health Service's policy has been to only purchase mercury-free equipment, it has therefore not been possible to realise a one-to-one exchange as foreseen in the project implementation strategy, as there were only small quantities of mercury-containing equipment to be found within the hospitals. At present all the collected mercury equipment is stored at three regional EPA offices.




Tag: Health Sector Sanitation Sustainability Capacity Building

15.

Madagascar

The project has made good progress in Madagascar, where efforts are undertaken to implement all project components. In Madagascar the health system has three tiers of management: central, regional and district. Health services can be accessed at four different levels:

University hospitals (Centres Hospitaliers Universitaires: CHU) including specialised centres.
Regional referral hospitals (Centre Hospitalier de Référence Régionale: CHRR);
District referral hospitals (Centre Hospitalier de Référence de District: CHRD); and
Primary care facilities (Centre de Santé de Base: CSB) that are subdividedinto categories 1 and 2. A "CSB2" is managed by a doctor and a "CSB1" is generally managed by a mid-wife.




Tag: Waste management Effectiveness Health Crises Human and Financial resources National Institutions Private Sector

16.

The Madagascar PIU has implemented the collection of recyclable materials at all six model sites (see descriptions above and Photo 17). The Project Technical Advisor has made a thorough survey of about 25 facilities that could purchase the various fractions of recyclable materials. Some of the facilities were visited by the MTR and found very promising (see Photo 22), so it seems clear that any recyclables collected in Antananarivowillbe reused. For the healthcare facilities in Manjakandriana, the costs of transport may exceed the value of the recovered materials, so here the shipping of the recyclables to a treatment site for reuse may be a real challenge. If the collected materials cannot somehow be sent for recycling, there is no reason to source separate the general waste at these facilities, and the practice should be discontinued.




Tag: Waste management Effectiveness Capacity Building National Institutions

17.

Tanzania

A training of teachers on healthcare waste management took place at the Centre for Educational Development in Health, Arusha (CEDHA) in northern Tanzania. The teachers have in return provided training at their hospitals. As will be seen belowin the description of the visited hospitals, the training may well have been successful but there is still a need for capacity building within HCWMto ensure that infectious waste is properly managed.




Tag: Waste management Challenges Effectiveness Health Sector Capacity Building

18.

Tanzania has focussed on the recycling of plastic that was previously infectious, rather than recovering recyclable materials from the general waste stream. All visited facilities were producing blocks of plastic and the PIU has identified a recycling facility in Mbagala that will collect the plastic blocks from the HCFs and transport these to their sorting facility; the facilities will receive 500 TSH per kg for plastic (0.22 USD/kg).




Tag: Waste management Health Sector Sanitation Human and Financial resources Knowledge management Capacity Building

19.

Zambia

The introduction of the non-incineration and mercury-free technologies is well underway. The introduction of HCWM at the UTH is still in progress and the exchange of mercury-containing medical devices was ongoing during the MTR visit. Further training is still required at some facilities, as can be seen in the facility descriptions below.

The University Teaching Hospitals in Lusaka is Zambia's premier healthcare facility, it consists of a conglomeration of five hospitals with a total of 1,900 beds. The hospital is expanding with several large construction projects ongoing. At present the Hospitals generates around 1.5 tonnes per day of HCW. The Hospitals already had source separation of waste, but this has been improved within two of the site's five hospitals; namely the Adult & Emergency Hospital and the Mother & Child Hospital, covering approximately 50% of UTH's beds. 24To achieve this, approximately25 people followed a three-day training course to become Teachers, and containers for healthcare waste, sharps, diapers and general waste have been distributed to the wards. All new staff and medical students are also instructed in the hospitals' procedures, including waste separation, prior to working in the wards. Despite this, the source separation of waste at the hospital still has flaws, such as whole syringes in sharps containers that should just hold needles and incorrectly sorted waste in the bins. The general waste is taken to skips; these are collected by the local authorities three times per week and taken to the waste disposal site. It was noted that these also held yellow bags (see Photo 29).




Tag: Waste management Challenges Local Governance Health Sector

20.

The Chilenje Level 1 Hospital 25 in Lusaka received assistance from the project in improving waste management procedures and in phasing out mercury. The hospital has 950 beds and is a warren of wards. The EHO staff have done a very good job in setting up the HCWM system (see Photo 30). Bins were located strategically, everything was clearly labelled, sharps containers were (generally) used correctly, and so forth. The hospital did not receive waste treatment equipment from the project, though it is the national PIU's intent to supply the hospital with autoclaves during the second phase of the project. 26At present all infectious waste, about 750 kg per day, 27is burnt in a defective incinerator that is only operated at night (a tactic presumably utilised so that the surrounding inhabitants cannot see black smoke).

The hospital's management of general waste needs improvement. When black garbage bags are not available, the staff uses yellow bags for general waste. This meant that about ever twentieth bag of general waste in the hospital's very un hygienic solid waste storage area is yellow. The reason given was that when black bin liners are not available, the staff will use yellow bags instead. The general waste is taken to the Lusaka dumpsite. As noted elsewhere, there is currently no recovery of recyclables at the hospital.




Tag: Waste management Challenges Health Sector

21.

The UTH is about to implement a recycling programme for food waste, cardboard, HDPE, LDPE and PET. At present paper signs have been made, some big-bags purchased and frames made to hold the big bags(see Photo 36). Smaller waste bins will be used to collect the recyclables and these will then be transferred to the big bags. The hospital said that it was preparing a composting bed and hoping to treat 15 m3of organic waste per week. The target is food waste from the hospitals' restaurants and wards. The recycling scheme for recovering materials does not seem overly well planned, so a lot of support and adjustment will probably be required to make it fully functional.




Tag: Waste management Health Sector

22.

Meeting the project objectives for UPOPs and Mercury avoidance

The project aims to reduce the amount of UPOPs releases from HCW incinerators by 31.8 g-TEQ/yr. The current calculations by the project indicate that 1,048.3 tonnes per year of HCW can be treated in the autoclaves installed by the project; resulting in a total amount of dioxins (UPOPs) releases reduced/avoided of 42.1 g-TEQ per year for the four project countries. This calculation is based on all autoclaves operating 6 treatment cycles per day for 260 days per year. As noted in section 0, most of the autoclaves currently only treat a few batches of waste per week, so the above figure of 42.1 g-TEQ per year is overestimated. This especially applies, if it is considered that some HCFsincinerate the autoclaved waste!




Tag: Health Sector Project and Programme management

23.

Gender Issues

Both the UNDP and the Guidance for Conducting Midterm Reviews of UNDP-Supported, GEF-Financed Projects place a high priority on gender balance. The training of the national experts over a two-week period in Nakuru, Kenya included a session on gender inequality which introduced the key conventions which ensure women's rights in Africa. This was followed by discussion session on gender inequality issues in the healthcare waste sector and an interactive session with the participation of the national experts which emphasised the need of an introductory assignment to analyse gender inequality gaps in HCWM and to develop recommendations for action.




Tag: Gender Equality Human rights Health Sector

24.

Country-Specific Topics

Each country investigated one or two topics, with the aim of gaining experience and sharing the conclusions with the other project countries.

Ghana 1: Assessment of hepatitis B and Cat the pilot HCF and support provision of vaccine. For the project model facilities in Ghana, all workers were screened for hepatitis B. No screening was done for hepatitis C due to costs. The screening covered all workers, including new employees and especially focussed on those involved with waste management. Other employees are also exposed to a higher risk, for example laundry workers, as needles are common in the dirty linen. It was found that only 14 of the 800 screened workers tested positive. The screening was paid for by the HCFs, and for those who tested positive, the first vaccination was also free of charge.




Tag: Challenges Health Sector Human and Financial resources

25.

Each country investigated one or two topics, with the aim of gaining experience and sharing the conclusions with the other project countries.

Madagascar 1: Introduce WASH FIT and GGHH in the health care facilities supported. The staff at Madagascar's six model health facilities received training by Global Green and Healthy Hospitals (GGHH)in August 2017 by Mr. LuqmanYesufu, where the objective is to reduce the environmental footprint of the health sector. National goals for improving the management of healthcare waste were formulated; a focal point was identified in each of the six model health facilities and now they participate in the regular webex offered by GGHH.




Tag: Waste management Health Sector Sanitation Knowledge management Capacity Building

26.

Each country investigated one or two topics, with the aim of gaining experience and sharing the conclusions with the other project countries.

Tanzania 1: Introduction of bio-digestion plant in one of the project facilities.A bio-digestor was established at the Mwananyamala Regional Referral Hospital in 2018 (see Photo 39). It has in operation since September 2018 and substantial gas production is expected by December 2018. During the MTR visit on 17 October, there was already gas production and it was demonstrated how the gas can be used to heat water. The digester is fed with placenta from the maternity ward, rice, and vegetables. The system seemed to be working well, so it will be interesting to see if this remains true in the long-term. The initial intuition was that this system is sustainable.




Tag: Effectiveness

27.

Country-Specific Topics

Each country investigated one or two topics, with the aim of gaining experience and sharing the conclusions with the other project countries.

Zambia 1: Initialize recycling of non–infectious waste. The PIU is initiating the collection of recyclables at UHT, for the Chilenje and the Matero Level 1 Hospitals, as described earlier in this section. The PIU is also working to establish a local production of safety boxes from recycled materials. This initiative is still at an early stage: The Kabwe General Hospital has collected five bags of discarded syringes (see Photo 40) and the intent is that a plastic recycler in Kabwe named Solid Tech will utilise the collected materials to produce sharps safety containers. It seems a matter of bringing the syringes to Solid Tech, so that the pilot production can be initiated.




Tag: Waste management

28.

Component 4a: Evaluate the capacities of each recipient country to absorb additional non-incineration HCWM systems and mercury-free devices and distribute technologies based on the evaluation results and allocation formula

Capacity to absorb additional technologies

One task to be conducted during the mid-term evaluation is an assessment of the capacity of each country to absorb additional technologies (Outcome 4.a.1). It was agreed during the Inception Workshop and confirmed during the subsequent Project Board Meeting, both took place in September 2016 in Johannesburg, South Africa,that the allocation of resources for the second round of procurement would be based on aggregate national performance by each country during the first phase. It was agreed that the evaluation would be based on the following five factors as recommended in the Project Document:

The promulgation of HCWM and Mercury reduction policies
Successful implementation of BAT/BEP in the model facilities
Proper operation and maintenance of the initial batch of non-incineration HCWM systems and Mercury-free devices
Safe storage of healthcare Mercury waste
Effective national training programmes




Tag: Procurement Technology

29.

Component 4b: Expand HCWM systems and the phase-out of mercury in the recipient countries and disseminate results in the African region

The second phase of this project continues after this MTR. Here, following the recommendations from this report, each country will seek to improve its existing system and expand the system to more facilities. Likewise, as indicated under the description of Component 3b, the coverage of the national training program will be further expanded.

The Project Document foresees that the project results and replication tools are disseminated nationally and regionally through existing conferences on environment and health, such as the annual WHO and infection control conferences.




Tag: National Regional Communication Knowledge management

30.

Component 5: Monitoring, adaptive feedback, outreach and evaluation

This component covers the project's reporting, monitoring and evaluation. The present status can be found in Table 13below.

To summarise, the project is well on track to achieving the developmental objective.

Remaining barriers to achieving the project objectives

A key difficulty for the project is the disposal of the treated healthcare waste. The placement of sterilised waste on a dumpsite or landfill, without any change of physical form is clearly a concern in all project countries. This issue greatly hampers the project's ability to meet its goals. It has also made it difficult to sell autoclaving as the best option for healthcare waste treatment to health authorities, even though they understand the health and environmental implications of using unacceptable incinerators currently being used in most health facilities. To fully utilise the autoclaves, it is clear that a solution must be found and implemented.




Tag: Waste management Rural

31.

Management Arrangements

The Project consists of five components: One regional component managed by the UNDP IRH and four national components, one for each project country. The regional component is being implemented by the UNDP IRH in close cooperation with the Montreal Protocol/ChemicalsUnitteam based in Istanbul. The regional project component is carried out using the direct Implementation Modality (DIM). The DIM is the approach when the UNDP takes on the role of Implementing Partner, meaning that it assumes the responsibility for mobilizing and applying the required inputs in order to reach the expected outputs. In other words, the UNDP IRH has the overall management responsibility and accountability for the project implementation. Accordingly, the UNDP IRH must follow all policies and procedures established for its own operations.




Tag: Implementation Modality Project and Programme management

32.

Regional Project Board

The Regional Project Board is chaired by the Manager of the UNDP IRH who also serves as the Project Executive. The Project Board makes the management decisions for the project, such as approving project plans and revisions. The Project Board has seven members:

UNDP IRH Manager
A senior level official designated by each of the Project Participating Governments
A representative from HCWH
A representative from WHO




Tag: Oversight

33.

Work Planning

To date all major project decisions have been taken in close cooperation with the key stakeholders and approved by the Regional Project Board. Hence the Regional Project Board has advised and guided the project as intended. All interviewed people were satisfied with the project management arrangements and felt that the lines of communication within the project worked well.

The National Project Boards all seem to promote a close cooperation between the Ministries of Health and Environment, as these seek to address concerns that have a high national priority. The Ministries of Environment are keen to address their obligations under the Stockholm and Minamata Conventions, whilst the Ministries of Health are eager to improve hygiene and safety in their healthcare facilities. Hence the project acts as a catalyst, making the two ministries closely collaborate to address issues that are of national importance.




Tag: Sanitation Oversight Project and Programme management

34.

It can be observed that there are clear benefits to implementing these activities as a regional project rather than as a national project. The most obvious advantage is the economies of scale: There are clear benefits to purchasing autoclaves, HCWM equipment and non-mercury medical devices in bulk, as this lowers the unit cost. Likewise, the cost for the preparation of training materials or of organising a training course are mostly independent of the number of recipients or participants, so again there are significant savings in a regional project. Two other benefits were observed: Firstly, the four countries are keen to exchange experiences and lessons learned. These interactions assist the project countries in resolving any difficulties they may face. Secondly, there is clearly a competitive spirit between the four countries and all are eager to make good progress, as not to be outdone by others.It must be remarked that this project builds on earlier experiences (see section 3.1), so the proposed solutions are "proven" technology and not at risk of unexpected obstacles.




Tag: Efficiency Knowledge management Awareness raising Capacity Building

35.

At present the project has one significant shortcoming. All four countries are reluctant or unwilling to directly landfill sterilised waste. It is felt that the waste should be physically altered and the consensus is that all sterilized waste should be either shredded or compacted. There is a logic to this: If yellow (or red) bags are used as a warning, telling all people that the bag contains dangerous (infectious) waste, then using the same colour bag when placing sterilised waste on a landfill, could lead scavengers (and others) to believe that the waste in yellow or red bags is not dangerous. This would be a very dangerous situation for those handling the waste at the disposal site.




Tag: Waste management Challenges Human and Financial resources

36.

Finance and Co-Finance

The project has undertaken purchasing activities in a timely manner. The project did face one difficulty: All major purchased were to be through the UNDP Regional Hub in Istanbul in close collaboration with the UNDP Nordic Office and its Global Procurement support Unit-Health in Copenhagen. The NordicOffice was to assume the procurement of the non-incineration technologies for each of the project countries. Unfortunately, the cost of procuring through the Nordic Office was almost 100,000 USD, thereby severely limiting the funds available for project management. Therefore, UNDP IRH undertook the procurement. First procuring the lesser package of non-mercury medical devices and thereafter undertaking the more complex procurement of the HCWM systems for the 24 model HCFs. As a result, any difficulties with shipping, customs, import duties and so forth could be identified on the smaller and simpler procurement package.




Tag: Efficiency Human and Financial resources Procurement

37.

Project Level Monitoring and Evaluation Systems

The project has a well-functioning monitoring and evaluation system. The PIUs use their contact persons within the 24 model facilities, especially the responsible EHOs, to report back whenever assistance or other support is required. All hospital staff the MTR talk to found the support from the PIUs effective and said that it was provided in a timely manner.




Tag: Monitoring and Evaluation Quality Assurance

38.

External Monitoring and Evaluation

This MTR provides a thorough external and independent review of the project, offering a comprehensive assessment of the performance and progress to date. This is a strength of the GEF-UNDP programme, as these impartial appraisals can be submitted no matter what the findings are. This also applies to other programmes (for example the Belgian Development Agency), but other organisations only expect positive reviews of their projects/ programmes, something that is,in the long-term, very detrimental to the quality of their work.




Tag: Monitoring and Evaluation Quality Assurance

39.

Stakeholders Engagement

The project is close to the needs and goals of all stakeholders. The project's objectives are well aligned with the donors' objectives. In each country, the Ministries of Environment wish to meet their obligations under the Stockholm and Minamata Conventions, this project serves to meet these goals, building skills within the Ministries in the process. The engagement is best demonstrated by the fact that all fourteen buildings that were to house the new autoclaves have been completed. The recipient countries were responsible for the supply of these structures, as well as utilities such as a power connection and water supply. That all 14 HCFswere successful in achieving this in a timely manner indicated a very high level of engagement in all four countries.

Reporting and Communications

As previously indicated, the levels of both reporting and communication are good.




Tag: Country Government Partnership

40.

4.3 Sustainability

The regulatory and policy framework has been developed to strengthen healthcare waste management and for the phase-out of mercury-containing products. These instruments are already largely in place and all components are likely to be adopted. The training of healthcare professionals, especially EHOs and nurses, is well on the way to being strengthened in Schools of Hygiene and other teaching institutions in the four countries. This will greatly improve the HCWM skills of the future medical professionals, which in turn will support the future operation and expansion of the HCWM systems.

Financial risks to sustainability

The Project Document also focusses on income generation to help support the cost of operating the HCWM systems. Two revenue streams are foreseen: the sale of recyclables and for cluster facilities, other HCFs paying to have their waste treated in the autoclaves. These revenues will obviously help, but the revenue is likely to only cover a modest percentage of the expenses.




Tag: Waste management Sustainability Ownership Policies & Procedures

41.

Socio-economic risks to sustainability

As already mentioned in this report, the principal socioeconomic risk factor is for the remote rural health posts. These operate on a very limited budget and could well face difficulties in keeping their HCWM system operational, as there may be insufficient funds to pay for bin liners, transport of the collected HCW to a treatment centre and so forth.




Tag: Waste management Sustainability Rural Health Sector Human and Financial resources

42.

Institutional framework and governance risks to sustainability

There are no institutional framework and governance risks to the sustainability of the project. In all four countries the health sector has a strong institutional framework and good governance. Considering the number of highly skilled professionals working in these facilities, operating a highly desired HCWM system will not be an issue.




Tag: Sustainability Country Government

43.

Environmental risks to sustainability

There are no direct risks to sustainability. Although the HCFs are unwilling to place sterilised waste in a landfill without altering its physical form, there are no environmental or regulatory clauses that prevent this. So once the physical form for the treated HCW is physically altered to the satisfaction of the autoclave operators, the waste can be reliably disposed of.




Tag: Waste management Sustainability
Recommendations
1

Sustainability of activities implemented prior to the MTR

The project ust ensure that the non-incineration and mercury free technologies introduced under phase 1 of the project become or remain (as applicable) sustainable in the long-term through periodic follow-up visits.

2

Operatinalisation of Autoclave at UTH

The HCWM system at the UTH must be fully implemented and made funcional. It is essential that the country's premier teaching hospital has a well fuctioning HCWM system.

3

Recycling

The recycling company Waste Master (Z) is a perfect opportunity to easily recver recyclable materials from hospitals in Lusaka. Efforts are starting at the UTH, for the Chilenje and Matero Level 1 hospitals matters are still at the discussion stage. The PIU should encourage and facilitate the process, so that plastic, paper and cardboard re recovered t these three hospitals.

4

2nd Phase of project site selection

The project document expects the introduction of non-incineration and mercury- free technologies at more HCFs during the second phase of the project. It is recommended to consider the installation of more autoclaves very carefully, as the project's completion date is in April 2020. The leaves little time for the time consuming and complex issue of establishing structures to house the new autoclaves. So,if the PIU decides to purchase one or more autoclaves, very great care must b etaken in selecting the receiving HCFs, so that it is certain that all necessary resources are available to rapidly establish a building for the new autoclaves.

5

Utilisation of autoclaves to full capacity

When planning the second phase of the project, it is important that measures are taken to ensure that the treatment capacities of the installed (and any future) autoclaves are fully utilised. These autoclaves can complete six treatment cycles in an eight-hour working day. This means that several treatment facilities should not be placed within one city, unless there is sufficient waste to keep all the autoclaves busy. Some of the already installed autoclaves can be expected to operate at well below capacity, i.e. their waste treatment capacity is far greater than the quantity of waste generated by their host facility. To utilise this excess capacity, the PIU should work toward ensuring that all surrounding HCFs send their infectious waste to the hospitals equipped with treatment systems. Here the project can help these new model facilities with training, equipment, workshops and other actions to bring about a collaboration between the HCFs within each project region.