Catalyzing Financial Sustainability of Armenia's Protected Area System Final Evaluation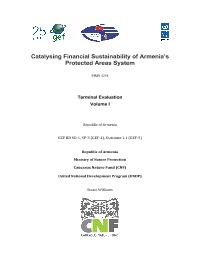 Evaluation Plan:

Evaluation Type:

Final Project

Planned End Date:

12/2017

Completion Date:

04/2017

Status:

Completed

Management Response:

Yes

Evaluation Budget(US $):

10,000
Title
Catalyzing Financial Sustainability of Armenia's Protected Area System Final Evaluation
Atlas Project Number:

00060610

Evaluation Plan:
2016-2020, Armenia
Evaluation Type:
Final Project
Status:
Completed
Completion Date:
04/2017
Planned End Date:

12/2017

Management Response:
Yes

Focus Area

:

1. Environment & Sustainable Development
2. Others

Corporate Outcome and Output (UNDP Strategic Plan 2018-2021)

1. Output 1.3. Solutions developed at national and sub-national levels for sustainable management of natural resources, ecosystem services, chemicals and waste

Evaluation Budget(US $):

10,000

Source of Funding:
UNDP
Evaluation Expenditure(US $):

12,600

Joint Programme:
No
Joint Evaluation:

Yes

Evaluation Team members:

| Name | Title | Email | Nationality |
| --- | --- | --- | --- |
| Stuart Williams | | | UGANDA |

GEF Evaluation:

Yes

| | |
| --- | --- |
| GEF Project Title: | Catalyzing Financial Sustainability of Armenia's Protected Area System Terminal Evaluation |
| Evaluation Type: | Terminal Evaluation |
| Focal Area: | Biodiversity |
| Project Type: | FSP |
| GEF Phase: | GEF-5 |
| GEF Project ID: | 60610 |
| PIMS Number: | 4258 |

Key Stakeholders:
Countries:

ARMENIA

Comments:

As per decision of UNDP Regional Office, the completion of this evaluation was re-phased to 2017
Recommendations
1

Project implementing agency should adhere to donor financial reporting and accounting processes

2

Establish a national level "board" to enhance a feeling of ownership.

3

There is a need to build clarity, consistency and trust. The protected areas should be able to rely on predictable, long-term funding from the CNF.

4

Replication. The CNF represents an excellent learning opportunity for successful establishment of a mechanism to contribute to the financial sustainability of a regional protected area system.

5

There is a need for all partners in the Protected Area system of Armenia to come up with meaningful biodiversity indicators that i) operate on a scale (both spatially and temporally), ii) are minimally affected by external factors. In addition, a system-wide monitoring process could be established to measure the effectiveness of the management of the protected areas.

6

Explore other funding mechanisms for achieving financial sustainability for protected areas, such as payment-for-ecosystem-services (PES) and co-management, delegated management or contracted management of protected areas.