Green Urban Lighting Mid Term Evaluation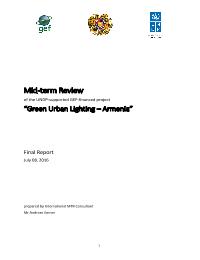 Evaluation Plan:

Evaluation Type:

Mid Term Project

Planned End Date:

12/2016

Completion Date:

07/2016

Status:

Completed

Management Response:

Yes

Evaluation Budget(US $):

10,595
Title
Green Urban Lighting Mid Term Evaluation
Atlas Project Number:

00074869

Evaluation Plan:
2016-2020, Armenia
Evaluation Type:
Mid Term Project
Status:
Completed
Completion Date:
07/2016
Planned End Date:

12/2016

Management Response:
Yes

Focus Area

:

1. Environment & Sustainable Development
2. Others

Corporate Outcome and Output (UNDP Strategic Plan 2018-2021)

1. Output 1.5. Inclusive and sustainable solutions adopted to achieve increased energy efficiency and universal modern energy access (especially off-grid sources of renewable energy)

SDG Goal

Goal 13. Take urgent action to combat climate change and its impacts
Goal 7. Ensure access to affordable, reliable, sustainable and modern energy for all

SDG Target

13.2 Integrate climate change measures into national policies, strategies and planning
7.a By 2030, enhance international cooperation to facilitate access to clean energy research and technology, including renewable energy, energy efficiency and advanced and cleaner fossil-fuel technology, and promote investment in energy infrastructure and clean energy technology

Evaluation Budget(US $):

10,595

Source of Funding:
UNDP
Joint Programme:
No
Joint Evaluation:

No

Evaluation Team members:

| Name | Title | Email | Nationality |
| --- | --- | --- | --- |

GEF Evaluation:

Yes

| | |
| --- | --- |
| GEF Project Title: | Green Urban Lighting Mid-term Review |
| Evaluation Type: | Mid-term Review |
| Focal Area: | Climate Change |
| Project Type: | FSP |
| GEF Phase: | GEF-5 |
| GEF Project ID: | 74869 |
| PIMS Number: | 4669 |

Key Stakeholders:
Countries:

ARMENIA
Recommendations
1

Legislation framework is improving, but focus is needed to achieve adoptions of new standards and rules for green public procurement to support the market penetration of EE lighting.

The development of a national phase-out policy for incandescent and other inefficient lighting fixtures will be a key milestone to make a shift towards EE lighting on the Armenian market happen. Project shall therefore keep track and support the government in developing the strategy.
The Russian Standard for Illumination from 2011, which is to be updated in 2016, is one of the tracks to be followed up and considered for possible adaptation/adoption in Armenia.
Project shall further take into account the required quality control and affordability constraints, and elaborate measures and policies, such as adequate quality control and social support schemes, by building on the experiences and lessons learned from other countries.
Regarding adoption of new rules for procurement of energy efficient lighting, experiences from similar work done in other countries shall be incorporated into the Armenian case

2

Ensure that municipal stakeholders are able to take energy efficiency criteria forward into their daily operations

Procurement advice and specific guidelines on formulation of technical specifications and selection criteria based on 'most-advantageous-tender' concepts shall be developed and introduced to municipal procurement staff, including safeguarding elements, illumination quality levels, product guarantees and environmental aspects. In this respect, specific procurement guidelines for the replacement of old CFLs and LFLs and other types of luminaires and lighting fixtures (as deemed necessary) shall be considered.
Project team shall further consider introducing lifecycle costing approaches in public tenders organized in the frame of the demonstration projects. Procurement and technical staff dealing with public tenders shall be trained on this concept.
Methodological guidance/manual prepared for audits of public lighting systems shall be relatively straight forward by building on the audits already conducted in the frame of the GUL project as well as on the information that can be drawn from the comprehensive EBRD studies done for the preparation of EBRD Street Lighting Project.
Support for private, international, and innovative municipal financing sources shall be given high priority under the remaining project implementation period. In order to attract further EE urban lighting programs, promotional road shows could be considered to attract more donor funds for the capitalisation of the municipal revolving funds.
Given the large replication potential for energy efficiency in indoor lighting (public and private residential buildings), remaining project duration shall be used to select a few representative public buildings of different type for more detailed energy audits not addressing only lighting, but their energy consumption in general (so as to contribute to the formulation of broader municipal EE programs later on).
With the help of dedicated financing experts, specific guidelines and templates for municipalities to develop model contracts for different kind financing modalities (direct procurement, EPCs, ESCOs etc.) shall be prepared. Additional supporting instruments, such as analytical tools to conduct lighting system audits, or technical, economic and financial feasibility assessments could be made available from other similar projects.
Municipal programs for EE public lighting will need to be enhanced in terms of broader coverage (e.g. overall lighting infrastructure retrofit strategy) and especially for the municipalities involved addressing the plans for retrofitting other remaining streets not included among the covered by UNDP/GEF or other IFIs (e.g. EBRD) support. Lighting programs shall also consider indoor EE lighting retrofit needs in public buildings.

3

Maintain high level of public outreach and institutionalize public awareness measures in the long term

The Project shall maintain the high level of dissemination and public awareness creation activities throughout the remaining project period. Public outreach expert, preferably with international background and relevant expertise shall be nominated to implement dedicated awareness activities.
Establishment of a testing laboratory for lighting equipment and educational laboratory in a university is already underway. However, it shall be assessed whether any complementary outreach is required e.g. for universities to encourage the effective use of the laboratory for research and educational purposes by a variety of stakeholders.
Lighting campaigns and awareness programs shall be widened up and addressing the potential for EE in lighting for different end-user groups (users of public and residential buildings). Reinventing the wheel is not necessary, since there is a vast experience to learn from other countries' program experiences[1]. Project shall further start measuring impact of campaigns allowing to measure the contribution of EE lighting retrofits towards the change of energy demand in the country, and towards the project finalisation introduce specific monitoring indicators into its M&E strategy.
In terms of more effective and visible awareness and campaigning, a dedicated website (separate web domain) shall be introduced in Armenia. This website – eventually combined with social media functionality – shall provide the major information hub on energy efficient lighting in Armenia.
Experiences and lessons learnt from Armenian GUL project shall be referred to in the UNEP's en.light programme website (http://www.enlighten-initiative.org/), thus becoming part of the international cooperation network and exchange platform. Further exchange with other countries implementing similar activities (e.g Russia, Kazakhstan, Belarus) shall be maintained.

It is recommended that the project team invest to compile "lessons learnt" from the project to contribute to the project's knowledge management, learning and information dissemination strategy. An analytical, thorough and, as required, also critical report summarizing experience and findings of this project would highly benefit the country activities and UNDP in general. As a part of that, an analysis of the pilot project tender results and their evolution over the time in line with the capacity built shall be considered in such review.

---

[1] Just to mention a few initiatives: the European Green Light Programme (http://iet.jrc.ec.europa.eu/energyefficiency/sites/energyefficiency/files/greenlightfolder_final_2013.pdf), European LED Quality Charter (http://iet.jrc.ec.europa.eu/energyefficiency/sites/energyefficiency/files/files/documents/eu_led_quality_charter.pdf) or Australian Energy Efficiency Lighting Program (http://www.energyrating.gov.au/products/lighting)

4

Monitoring & evaluation of GHG mitigation levels and project impacts to be reviewed

Monitoring of GHG emission reductions and correlating energy savings is to be refined and beneficiaries supported in building own M&E capacities.
While direct emission reductions are likely to be achieved, indirect targets require additional action for their achievement; complementary efforts to be made during the second half of the project to address areas with large replication potential are indoor lighting in public and private residential buildings.
The targeted GHG reduction impact of the project was reassessed and slightly amended at the project inception phase, but neither the project document nor the inception report was calculating the direct project impact over the entire lifetime of the investment, which would make the assessment consistent with the recommended GEF methodology and other GEF funded climate change mitigation projects. Calculation methodology shall be thus reviewed and updated within the MTR and changes adopted within the GEF CC Mitigation Tracking Tool.