Women in Local Democracy Project Mid-Term Evaluation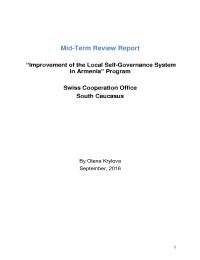 Evaluation Plan:

Evaluation Type:

Mid Term Project

Planned End Date:

12/2016

Completion Date:

09/2016

Status:

Completed

Management Response:

Yes

Evaluation Budget(US $):

10,000
Title
Women in Local Democracy Project Mid-Term Evaluation
Atlas Project Number:

00082040

Evaluation Plan:
2016-2020, Armenia
Evaluation Type:
Mid Term Project
Status:
Completed
Completion Date:
09/2016
Planned End Date:

12/2016

Management Response:
Yes

Focus Area

:

1. Democratic Governance
2. Others

Corporate Outcome and Output (UNDP Strategic Plan 2018-2021)

1. Output 4.4. Measures in place to increase women's participation in decision-making

Evaluation Budget(US $):

10,000

Source of Funding:
Joint Programme:
No
Joint Evaluation:

Yes

Evaluation Team members:

| Name | Title | Email | Nationality |
| --- | --- | --- | --- |
| | | | |

GEF Evaluation:

No

Key Stakeholders:
Countries:

ARMENIA

Comments:

SDC did not share the entire TOR. Only UNDP related part is attached, as provided by SDC Armenia
Recommendations
1

Improved exchange and coordination between different women's empowerment programs and initiatives would be beneficial for ensuring their cross-fertilization and learning from experience. The fact that two main supporters of such initiatives – UNDP and GIZ – are already bound as partners in this program provides a good basis for strengthening such coordination.

2

To compensate for a lack of women in Councils of the enlarged municipalities, and to avoid gender blindness of Local Self-Government (LSG) bodies, emphasis can be made on the introduction of women's committees and promoting the appointment of women in village-level working groups. Mainstreaming gender equality through LSG management processes, such as through planning and budgeting, is another important approach to be further pursued. At the same time, it is also important to start working early in the to-be-enlarged communities on capacity development of potential female candidates.

3

To the extent possible, future interventions should include components/ small-scale support schemes targeting on involvement of men. The primary target group can include: LSG officials, families of active women and youth. More active showcasing of redistribution of gender roles (including appealing to competitiveness) can be useful in fighting stereotypes.

4

UNDP should continue lobbying for a mixed election system in the Electoral Code.