Active Labour Market 2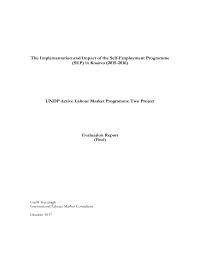 Evaluation Plan:

Evaluation Type:

Mid Term Project

Planned End Date:

12/2017

Completion Date:

12/2017

Status:

Completed

Management Response:

Yes

Evaluation Budget(US $):

15,000
Title
Active Labour Market 2
Atlas Project Number:

00080204

Evaluation Plan:
2016-2020, Kosovo
Evaluation Type:
Mid Term Project
Status:
Completed
Completion Date:
12/2017
Planned End Date:

12/2017

Management Response:
Yes

Focus Area

:

1. Poverty and MDG
2. Others

Corporate Outcome and Output (UNDP Strategic Plan 2014-2017)

1. Output 1.1. National and sub-national systems and institutions enabled to achieve structural transformation of productive capacities that are sustainable and employment - and livelihoods- intensive

SDG Goal

Goal 8. Promote sustained, inclusive and sustainable economic growth, full and productive employment and decent work for all

SDG Target

8.3 Promote development-oriented policies that support productive activities, decent job creation, entrepreneurship, creativity and innovation, and encourage the formalization and growth of micro-, small- and medium-sized enterprises, including through access to financial services
8.5 By 2030, achieve full and productive employment and decent work for all women and men, including for young people and persons with disabilities, and equal pay for work of equal value
8.6 By 2020, substantially reduce the proportion of youth not in employment, education or training

Evaluation Budget(US $):

15,000

Source of Funding:
Government of Finland - 00110
Evaluation Expenditure(US $):

16,835

Joint Programme:
No
Joint Evaluation:

No

Evaluation Team members:

| Name | Title | Email | Nationality |
| --- | --- | --- | --- |
| Frank Kavanagh | International Labour Market Consultant | frank@frankkavanagh.com | |

GEF Evaluation:

No

Key Stakeholders:
Ministry of Labour and Soc. Welfare. Ministry of Education Science and Technology, Municipalities and UNDP
Countries:

KOSOVO
Lessons
1.

For the self-employment programme specifically, an identified risk was the possibility of a limited number of interested and eligible people wishing to establish their own business and to apply for the self-employment programme. It was emphasised that entrepreneurship spirit and viable business plans are the two main elements ensuring success of beneficiaries. Lack of interested applicants might also have an impact on the project implementation



2.

Based on the evidence in this evaluation, the SEP can be regarded as a very successful active labour market intervention for the target groups in Kosovo and outcomes are satisfactory with very few shortcomings.



Findings
1.

However, it is clear from the current evaluation that the risks identified turned out to be somewhat insignificant. This is underlined by the high number of applicants for the first and second rounds of the programme. There was also wide dissemination of the availability of the self-employment programme and many of the applicants heard about the programme from the employment services offices.



2.

The main factors leading to the very successful outcomes include inter alia the following:

The well-designed operational guidelines and model that are based on a successful model adopted in Macedonia.
The well-structured partnership approach where the main key actors were all involved.
The extensive and in-depth beneficiary application and selection processes.
The ownership and buy-in of the MLSW to the extent that the SEP operational guidelines and manual are now the standard documents for the establishment of self-employment ALMMs in Kosovo.
The close and continued involvement of the UNDP ALMP2 project associates who provided and continue to provide extensive management, support and mentoring to the participants and the project partners, as outlined earlier in this report. This also added to the sustainability of the enterprises supported by the SEP.



Recommendations
1

In the past, there has been a lack of coordination in Kosovo among donors who support start-ups. As set out above, there is a requirement for the MLSW and the newly established central PES Agency management to ensure that a standard operational approach to the self-employment ALMM be adopted. It is recommended that in order to ensure consistency and quality assurance, that an ALMM implementation committee be established by MLSW on a partnership basis, where the UNDP ALMP2 team and the PES have central roles. Any donor-led proposals for the implementation of ALMMs should in future be reviewed by this committee before any implementation occurs

2

Provide a budget line for consultancy support in any new self-employment programme implemented by the PES. However, such consultants should come within the management control of the MLSW/PES so that quality and intensity of consultancy support to beneficiaries is ensured.

Recruit and train one self-employment adviser in each main PES office who would deal with all self-employment clients funded within the PES office catchment area. This would also entail the provision of an adequate travel budget to cover fuel/motoring expenses for monitoring and mentoring purposes and Provide both options to each main PES office.

3

The process for the evaluation of business plans required assistance from business people who worked on a voluntary basis. This needs to be addressed in any future programmes, by the establishment of a panel of such experts who would understand the commitment required. A gratuity award system might also be considered for such experts

4

The VTCs played an important role in the SEP. However, in some cases it is reported that some trainers have limited capacities and skills required to bring beneficiaries to the point where they can produce a good business plan, in accordance with the standard required in the SEP operational guidelines. This could be addressed by the provision of such self-employment trainers with refreshment training of trainer's inputs. One of the VTC managers interviewed during the in-country visits, indicated that bringing in project-based outside trainers is not the solution, as in the experience of that manager, the outside trainers can cause operational problems within the VTC, because they are answerable to the donor rather than the manager. This can be addressed through a contractual arrangement whereby the management reporting lines are specified in the collaboration contract. There may also be a need to provide more human resources to the VTCs if the self-employment ALMM is significantly expanded and numbers of beneficiaries increase (for example, this may happen if the numbers of repatriated self-employment clients increase).

5

While there was very little evidence of fraud (one participant) in the SEP, there is some discussion about the procurement of equipment by beneficiaries and the potential scope for issues in this area. Currently the close monitoring by the UNDP team and the PES advisers ensured that equipment was bought, recorded and its use monitored. In the past, in other similar projects there have been issue around procurement and sell-off of purchased equipment (or indeed a grant given and no machinery purchased). One of the advantages of SEP is that the process is efficient and the grant can be accessed quickly once approved, and equipment purchased. If the procurement of such equipment were to be centralised, then delays might occur. It is recommended that the experience in other countries, particularly in Macedonia (where procurement is organised centrally) be reviewed in order to reach consensus on a feasible new approach or indeed to leave the status quo in place where the mentors were quite involved in equipment purchase. The centralised approach may be more appropriate for particular sub- groups of beneficiaries, depending on their background and characteristics

6

While social assistance beneficiaries were a target group, the take up from this group was small. They face huge financial and practical difficulties in starting a business. There is an argument that as in some other countries, there be a disregard of social assistance payments when such clients take up training and/or other ALMMs such as SEP. It is recommended that social assistance benefits be retained by such potential beneficiaries for a period of one year from business start-up and grant approval. This would ensure that inclusion aspects of SEP are strengthened. This would require a legislative change.

7

A number of beneficiary interviewees indicated that it would be very useful to have the option of post-start-up additional funding. This related to the need for additional specific skills training in new approaches to their original production model and/or other additional equipment needs that only become apparent as the business develops and expands. It is recommended that this option be examined and if feasible, be incorporated into any future expansion of the SEP model