Final evaluation ABS project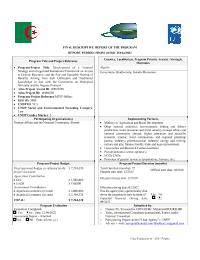 Evaluation Plan:

Evaluation Type:

Final Project

Planned End Date:

09/2022

Status:

Planned

Management Response:

No

Evaluation Budget(US $):

30,000
| Document | Type | Language | Size | Status | Downloads |
| --- | --- | --- | --- | --- | --- |
Title
Final evaluation ABS project
Atlas Project Number:

00086265

Evaluation Plan:
2016-2022, Algeria
Evaluation Type:
Final Project
Status:
Planned
Planned End Date:

09/2022

Management Response:
No

Focus Area

:
Corporate Outcome and Output (UNDP Strategic Plan 2018-2021)

1. Output 2.4.1 Gender-responsive legal and regulatory frameworks, policies and institutions strengthened, and solutions adopted, to address conservation, sustainable use and equitable benefit sharing of natural resources, in line with international conventions and national legislation

SDG Goal

Goal 15. Protect, restore and promote sustainable use of terrestrial ecosystems, sustainably manage forests, combat desertification, and halt and reverse land degradation and halt biodiversity loss

SDG Target

15.6 Promote fair and equitable sharing of the benefits arising from the utilization of genetic resources and promote appropriate access to such resources, as internationally agreed

Evaluation Budget(US $):

30,000

Source of Funding:
GEF
Joint Programme:
No
Joint Evaluation:

No

GEF Evaluation:

Yes

| | |
| --- | --- |
| GEF Project Title: | Elaboration dâ??une stratégie nationale et dâ??un cadre juridique et institutionnel sur lâ??accès aux ressources génétiques et le partage juste et équitable des avantages découlant de leur utilisation et des connaissances traditionnelles en ligne avec la Convention sur la diversité biologique et son Protocole de Nagoya en Algérie |
| Evaluation Type: | Terminal Evaluation |
| Focal Area: | Biodiversity |
| Project Type: | MSP |
| GEF Phase: | GEF-5 |
| GEF Project ID: | 00086265 |
| PIMS Number: | 5311 |

Key Stakeholders:
UNDP, Ministry of Agriculture, General Directorate of Forestery
Countries:

ALGERIA

Comments:

Un contact permanent est établi avec les vis à vis au MAE et à l'Unité de gestion du projet afin d'accélerer le rocessus de revue et commentaires et pour cloturer cette évaluation.
Recommendations
1

Pour la mise en œuvre de futurs projets dans le domaine, s'assurer que les risques apparus dans la mise en œuvre du projet "APA" sont pris en compte dans le Document de projet. (DGF/MADR/PNUD)

2

Continuer à faire du lobbying auprès des autorités politiques au plus haut niveau en faveur de l'adoption du cadre réglementaire et institutionnel élaboré (DGF/MADR/PNUD)

3

Lancer des projets au niveau sectoriel pour prendre en charge certains besoins qui ont été identifiés durant la mise en œuvre de ce projet notamment en matière de conservation des ressources génétiques, le renforcement des capacités des différents maillons de la chaine de valeur basée sur les ressources génétiques. (DGF/MADR/PNUD)

4

Pour la mise en œuvre de futurs projets dans le domaine, respecter la norme de « bonnes pratiques », à savoir un taux de frais de gestion (y compris les salaires du personnel de l'UGP) à 10% pour des projets de moyenne taille (MSP) et 5% pour des projets de grande taille (FSP). (DGF/MADR/Copil/UGP)

5

Elaborer une stratégie de sortie d'ici la clôture du projet. (DGF/MADR/Copil/UGP)

6

Il est important pour le projet, pour les mois qu'il lui reste, d'accélérer sur les actions de gestion des connaissances pour préserver les acquis. Bien évidemment, la promulgation des textes APA, si elle venait de se concrétiser, conduirait par un effet d'entrainement à préserver, voire développer, les savoir acquis relatifs à l'APA en Algérie. (DGF/MADR/Copil/UGP)