Final Evaluation_PIMS 4883 Harmonization of information management for improved knowledge and monitoring of the global environment in Georgia (CCCD in Georgia)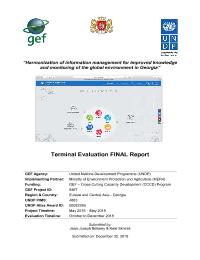 Evaluation Plan:

Evaluation Type:

Final Project

Planned End Date:

12/2018

Completion Date:

12/2018

Status:

Completed

Management Response:

Yes

Evaluation Budget(US $):

12,000
Title
Final Evaluation_PIMS 4883 Harmonization of information management for improved knowledge and monitoring of the global environment in Georgia (CCCD in Georgia)
Atlas Project Number:

00082289

Evaluation Plan:
2016-2020, Georgia
Evaluation Type:
Final Project
Status:
Completed
Completion Date:
12/2018
Planned End Date:

12/2018

Management Response:
Yes

Focus Area

:

1. Environment & Sustainable Development
2. Others

Corporate Outcome and Output (UNDP Strategic Plan 2018-2021)

1. Output 1.3. Solutions developed at national and sub-national levels for sustainable management of natural resources, ecosystem services, chemicals and waste

SDG Goal

Goal 13. Take urgent action to combat climate change and its impacts

SDG Target

13.1 Strengthen resilience and adaptive capacity to climate-related hazards and natural disasters in all countries
13.2 Integrate climate change measures into national policies, strategies and planning

Evaluation Budget(US $):

12,000

Source of Funding:
GEF
Evaluation Expenditure(US $):

18,300

Joint Programme:
No
Joint Evaluation:

No

Evaluation Team members:

| Name | Title | Nationality |
| --- | --- | --- |
| Kate Skhireli | Local consultant | GEORGIA, REPUBLIC OF |
| Jean-Joseph Bellamy | Team Leader | |

GEF Evaluation:

Yes

| | |
| --- | --- |
| GEF Project Title: | PIMS 4883 Harmonization of information management for improved knowledge and monitoring of the global environment in Georgia (CCCD in Georgia) |
| Evaluation Type: | Terminal Evaluation |
| Focal Area: | Multifocal Areas |
| Project Type: | MSP |
| GEF Phase: | GEF-5 |
| GEF Project ID: | 5467 |
| PIMS Number: | 4883 |

Key Stakeholders:
Ministry of Environment and Natural Resources Protection; LEPL Environmental Information and Education Centre
Countries:

GEORGIA, REPUBLIC OF
Lessons
Findings
1.

The Project Logical Framework Matrix identified during the design phase of this project presents a good and clear set of expected results. No changes were made to the Project Logical Framework Matrix during the inception phase. The review of the objective and outcomes indicates a good logical "chain of results" – Activities è Outputs è Outcomes è Objective. Project resources have been used to implement planned activities to reach a set of expected outputs (5), which contributed in achieving a set of expected outcomes (2), which together contributed in achieving the overall objective of the project. This Project Logical Framework Matrix also includes - for the objective and each outcome - a set of indicators with baseline and target values to be achieved by the end of the project. These indicators and targets have been used to monitor the performance of the project.

As discussed in Section 2 above, this project is a response to capacity gaps and priorities that were identified through the NCSA, which was conducted during the period 2003-2005. The assessment found that environmental monitoring and environmental data management were a key cross-cutting problem hindering development and implementation of effective policies for the management of global environmental resources in Georgia. It concluded that there was a need to modernize and develop a sustainable national system of environmental monitoring and data collection for global environmental management. The aim of the project has been to make the best practices and innovative approaches for meeting and sustaining the Rio Conventions available and accessible to policy-makers when developing and implementing national development policies and programmes.




Tag: Monitoring and Evaluation Programme/Project Design Results-Based Management Policy Advisory Data and Statistics

2.

It was the intention that the project will focus on the development of individual and organizational capacities within the Ministry of Environment and Natural Resources Protection (MENRP)5 and within the Environmental Information and Education Centre (EIEC) to improve the monitoring of environmental impacts and trends and contribute to a more collaborative environmental management among Stakeholders. The project was also designed as a response to address a set of underlying barriers to environmental management, which hampered the goal of meeting and sustaining global environmental outcomes. It was anticipated that the project will address these barriers by:

Catalyzing cooperation and coordination that has previously been limited by narrow institutional mandates and obsolete methods of analysis and decision-making.
Facilitating new partnerships between policy and decision-makers across environmental focal areas and socio-economic sectors while actively engaging other key non-governmental stakeholders.
Improving environmental governance and stewardship by developing improved environmental legislative tools.
Developing technical capacities of government and other stakeholders to work collaboratively and in a coordinated way within the environmental context, on how to structure and implement policy interventions that better respond to Rio Convention obligations.




Tag: Partnership Country Government Capacity Building Coordination Environment Policy Natural Resouce management

3.

The overall project – its rationale, its strategy, its proposed management structure - was reviewed during the inception phase. No changes were made to the strategy and Stakeholders reconfirmed the relevance of this project to address the existing need for having a common platform for more effective and sustainable ways of cooperating on land, biodiversity and climate change issues. The constant accessibility to relevant and reliable environmental data was also highlighted during the inception phase as the issue to be the core of the project. In the meantime, following a thorough review of project outputs and (planned) activities, several changes were made in the formulation of some outputs and activities to improve their clarity and avoid duplication of efforts by having distinct set of activities to be implemented with no overlap.




Tag: Climate Change Adaptation Biodiversity Natural Resouce management Relevance Programme/Project Design Data and Statistics

4.

Following interviews conducted for this evaluation, the Evaluation Team noted that despite a clear formulated project, the implementation strategy when presented to Stakeholders at the beginning of the project was received with skepticism. Most Stakeholders interviewed during this evaluation revealed that they had lots of doubts that the implementation of this project would succeed. It was said to be too complicated, too many actors and processes to align and not enough resources mobilized. However, they also mentioned how quickly this skepticism changed to optimism and that the good participation of all parties contributed to the success of the project.




Tag: Implementation Modality Partnership

5.

The detailed review of the project document conducted for this evaluation revealed a project formulation with a clear set of planned activities, which were expected to lead to the achievement of a set of expected results (see Annex 1). The project strategy was well integrated in national priorities and benefitted from a good "country ownership". Early on, the implementation of activities became part of the MEPA strategy to develop its own individual and organizational capacities as well as capacities of the EIEC to improve the monitoring of environmental impacts and trends and contribute to a more collaborative environmental management among Stakeholders. Overall, the project document has been used as a "blue-print" to guide the project management team through the implementation of the project.




Tag: Environmental impact assessment Relevance Partnership Programme/Project Design Capacity Building

6.

3.1.2. Assumptions and Risks

Risks and assumptions were identified and presented in the project document. Three main risks were identified at the outset of this project: a financial and operational risk, a political and regulatory risk and an operational and political risk. In addition, following the review conducted during the inception phase, three additional risks (#4 to 6) were added; however, no level of impact was provided for these additional risks documented in the inception report. The six risks are presented in the table below:




Tag: Programme/Project Design Risk Management

7.

The review of these risks indicates that there are essentially covering all risks linked to the implementation of the project. It includes the risk that agencies would not cooperate (#2) in developing a better accessibility to relevant and reliable environmental data; the risk that this new common platform would not be sustained over the long term (#1) due to the lack of resources available (financial and technical); the technical risk to harmonize and align existing information systems (#3); the lack of interest and ownership of the project due to changes of staff (#4); difficulties to approve the necessary legislation to formalize the new common platform (#5); and lack of national expertise to develop this new system (#6).

It was noted that the second and fourth risks are somewhat similar and only one would be sufficient to manage the risk of a lack of cooperation from the targeted agencies. However, the second one could have been kept and be more specific on the risk due to elections, which could have resulted in a change of priorities and interest in the project.

Additionally, the Evaluation Team also noted that detailed assumptions were identified and presented in the Project Logical Framework Matrix, which is part of the project document. Under each outcome (2) and output (5), indicators to measure the performance of the project were identified and for each one an assumption was made to mitigate the risk that the target set by the end of the project would not be met.

In summary, risks were well identified during the formulation of the project. However, according to the information collected for this evaluation, only the three initial risks identified during the development of the project have been monitored regularly and reported in the UNDP-Atlas system. Regarding the progress reported in the annual Project Implementation Reviews (PIRs), a critical operational risk was reported in the first report (beginning of project to June 30, 2017). Due to a delay in developing the system, there was a risk of not being able to fully implement the project in the set timeline. As a result, the procedure for a time extension was undertaken and approved to allow all activities to be completed by the end of 2018. No other critical risks were reported in the PIRs.




Tag: Monitoring and Evaluation Programme/Project Design Results-Based Management Risk Management

8.

3.1.3. Linkages between the Project and Other Interventions

This Cross-Cutting Capacity Development (CCCD) project has been part of numerous projects implemented in Georgia, seeking to raise environmental awareness and protect the national environment. An extensive list of projects was identified during the formulation stage and presented in the project document. However, these initiatives are mostly thematically focusing on one environmental area such as the Regional Environmental Centre (REC-Caucasus), which implemented a GEF funded project on the alignment of the National Action Programme in Georgia with the UNCCD 10-year Strategy; GIZ has been implementing a project to integrate erosion control in mountainous regions of the South Caucasus as well as a project focusing on the sustainable biodiversity management in the South Caucasus; a Czech funded project focusing on strengthening the capacity of national environmental agency toward hydro-meteorological hazards in Georgia.




Tag: Natural Resouce management Global Environment Facility fund Country Government Capacity Building

9.

Several initiatives were more related to this project. It included the European Environmental Agency (EEA) funded project "Environmental Neighborhood and Partnership Instrument (ENPI)-Shared Environmental Information System (SEIS)" (2010-2014), a European Union (EU) initiative to modernize and simplify the collection, exchange and use of data and information required for designing and implementing environmental policy. It also included a German government funded project to establish a National Biodiversity Monitoring System (NBMS), which was a component of the "Sustainable Management of Biodiversity in South Caucasus" a regional project implemented by GIZ. Finally, the USAID funded project "Institutionalization of Climate Change Adaptation and Mitigation in Georgian Regions" was seeking to integrate environmental and climate change considerations into policy priorities of local authorities through the establishment of special units on climate change, environment and sustainable agriculture.




Tag: Climate Change Adaptation Biodiversity Environment Policy Natural Resouce management Relevance

10.

It is also important to note that this CCCD project is a continuous support from the GEF to Georgia. It is a follow up project to the GEF funded NCSA conducted in Georgia during the period 2003-2005. The NCSA was an innovative approach through which a GEF recipient country would assess its own capacity needs to implement the Rio conventions; and prepare an over-arching national capacity development action plan to maximize synergies between them and address global environmental issues. The process to conduct a NCSA included a set of five steps: (i) Inception; (ii) Stocktaking Exercise; (iii) Thematic Assessments; (iv) Cross-Cutting Analysis; and, (v) Capacity Development Action Plan and NCSA Final Report. In the case of Georgia, the assessment was concluded with a strategy and action plan for cross-cutting capacity building across the three Rio Conventions6.




Tag: Climate Change Adaptation Biodiversity Natural Resouce management Global Environment Facility fund

11.

The NCSA conducted three thematic assessments (biodiversity, climate change and land degradation). Based on these assessments, five cross-cutting issues related to the implementation of the Rio Conventions were identified, including the monitoring and information resource management in the field of environmental protection. It was recognized that all three Rio Conventions share a commitment to gather, assess and make information available to diagnose environmental problems and to provide adequate support for policy making and planning. However, it was also found that no comprehensive monitoring processes could provide ongoing and historical data on climate change, biodiversity and desertification. Furthermore, no legislation identified the institutions responsible for environmental monitoring and most institutions engaged in environmental monitoring were deciding independently what kind of monitoring they should conduct. As a result, overlapping of functions and duplication of measures often took place. It was found that during the Soviet period, more environmental monitoring activities were conducted based on scientifically proven methods and with impressive financial and technical resources to conduct these activities. However, following Georgia's independence the overall environmental monitoring system in place was completely disrupted and degraded over the years to a point where in some cases environmental observations were interrupted. It goes without saying that the opportunity for Georgia to formulate and get funding for this project was a clear need and priority.




Tag: Climate Change Adaptation Biodiversity Environmental impact assessment Natural Resouce management Relevance Programme/Project Design

12.

3.1.4. Lessons from other Relevant Projects/Initiatives

As discussed in the above section, this CCCD project was developed based on the steps process undertaken under the NCSA, which assessed capacity gaps, and prioritized issues. The need to address the issue of monitoring and information resource management in the field of environmental protection was selected as the main priority to address within the context of this project. As a result, it is a demand driven project that is clearly addressing a national priority.

It is also a flexible mechanism funded by the GEF to address critical capacity issues related to the implementation of MEAs in countries. The concept of this GEF mechanism is to build on existing mechanisms and structures, addressing national priorities, and using a unique inter-sectoral/inter-ministerial approach. The project is part of a set of projects funded by the GEF under the "Strategic Approach to Enhance Capacity Building" policy. Under GEF67, the strategy for this cross-cutting capacity development programme (CCCD) states that "it will facilitate the acquisition, exchange and use of knowledge, skills, good practices, behavior necessary to shape and influence national planning and budgeting processes and implementation in support of global environmental benefits". It had five objectives (a) to integrate global environmental needs into management information systems; (b) to strengthen consultative and management structures and mechanisms;

(c) to integrate Multilateral Environmental Agreements' provisions within national policy, legislative, and regulatory frameworks; (d) to pilot innovative economic and financial tools for Convention implementation; and (e) to update NCSAs.




Tag: Relevance Global Environment Facility fund Capacity Building

13.

The Evaluation Team noted that despite the implementation of over 30 similar projects to this one under the category "Improving Environmental Information, Monitoring and Reporting", no linkages nor exchanges were developed with other similar projects in other countries. Some of these other projects included: developing an environmental indicator model and a comprehensive data flow system in Croatia; strengthening the monitoring and reporting system for MEAs in Egypt; developing and implementing an integrated multi-convention information and reporting system in Kenya; aligning Albania's environmental information management and monitoring system with the global environmental reporting; improving the generation, access, and use of environmental information and knowledge related to the MEAs in Cambodia; and increasing St. Lucia's capacity to monitor MEAs implementation of MEAs and sustainable development. When considering that this project has been a success (see Section 4.3), the linkages with some of these other projects may have helped the implementation of these other projects.




Tag: Environmental impact assessment Programme Synergy

14.

3.1.5. Planned Stakeholder Participation

As described in the project document, this type of project specifically structured to build and enhance institutional and technical capacities of stakeholder organizations. The formulation phase of the project placed a good emphasis on stakeholder participation, seeking active and early stakeholder involvement in the implementation of the project, and including government and non-governmental stakeholders. Several consultations events took place during the development of the project concept and during the formulation stage of the project funded by a GEF Project Preparation Grant (PPG). These consultations culminated in October and November 2014 with the endorsement by stakeholders of the project document submitted to GEF.




Tag: Global Environment Facility fund Partnership Programme/Project Design Capacity Building

15.

The anticipated organizations targeted by the project included MEPA and its subordinates: EIEC, National Environmental Agency (NEA), Agency of Protected Areas (APA), National Forestry Agency (NFA) as key institutions which would coordinate project activities and also become the custodian of project achievements, particularly of the system developed by the project and hosted by EIEC. Other targeted governmental institutions included representatives from relevant government institutions, such as the Ministry of Energy, Ministry of Economy and Sustainable Development, Ministry of Health, Ministry of Regional Development and Infrastructure and their subordinate agencies. It was planned that a linkage with these other institutions would strengthen the socio-economic value of environmental monitoring and strengthen linkages among key sectors.




Tag: Partnership Country Government

16.

In addition to the government sector, the project planned to target non-governmental stakeholders from research and academic institutions. The involvement of these stakeholders in the implementation of the project was seen as crucial to ensure quality assurance of data analysis, processing and monitoring systems. It was anticipated that they will be consulted and invited to share their comparative expertise, but also to undertake selected project activities.

The Evaluation Team noted that project stakeholders were clearly identified during the formulation phase and the review conducted for this evaluation confirms that most of these stakeholders were involved in the project. Below is a table indicating the anticipating roles for key Stakeholders identified during the formulation stage:




Tag: Environmental impact assessment Implementation Modality Partnership Quality Assurance Civil Societies and NGOs

17.

The Evaluation Team also noted that the gender dimension was considered when consultations with Stakeholders took place during the formulation stage. The project has been seeking to ensure that a gender balance be considered throughout the implementation of the project. During the formulation stage, it found that in addition to high level of migration, unemployment, and poverty, the deeply rooted stereotypes that favor men over women was a common problem affecting the status and condition of many women in Georgia. Fewer women were represented in decision-making positions. Furthermore, one of the greatest challenges to formulate an effective gender policy in Georgia was the lack of reliable information, data and statistics and that in general, national statistics were not gender-specific, and gender analyses were either lacking or very weak in policies and plans. Additionally, the National Statistics Office also disclosed that there was virtually no gender-disaggregated environmental data.




Tag: Gender Equality Gender Parity Programme/Project Design Policy Advisory Data and Statistics

18.

Poverty has also weighed heavily on rural women in Georgia and has contributed to gender inequality. Women bear a large share of farm work, cultivating crops and tending livestock. Traditionally they contribute to household income by processing agricultural and dairy products. However, breakdown in social services and the unreliable nature of public utilities make women's burden even heavier.




Tag: Gender Equality Poverty Reduction

19.

In order to address this inequality, the government of Georgia ratified the Convention on the Elimination of All Forms of Discrimination Against Women (CEDAW) in 1994. From a project perspective, it was anticipated that project activities would be gender inclusive. The project would seek the participation of women in activities supported by the project and wherever appropriate, gender considerations would be included such as in drafting new legislation, developing a new system to collect and store data and improving the environmental reporting. Finally, when developing an inter-ministerial cooperation mechanism, the project will ensure that women representatives will be included.




Tag: Gender Equality Gender Parity Women's Empowerment

20.

3.1.6. Planned Replication Approach

The planned replication strategy described in the project document was that the project will generate practices for replication at various levels and through various mechanisms. It was assumed that the investments made for knowledge generation and harmonization would create an interest with stakeholders for greater consolidated data sets in the long run. Additionally, trainings in data and knowledge management systems would establish a new threshold of skills, while disseminating this data would create new demand by end-users and stakeholders. Furthermore, it stated that project activities could be replicated to support other focal areas within the environmental sectors or any other developmental areas and that enhancing inter-ministerial cooperation and developing the capacity for a national coordination mechanism could also be replicated by other projects if proved successful.

Based on interviews and observations conducted for this evaluation, the replication of project achievements should be ensured. However, a better concept to discuss the long-term sustainability of these achievements is up-scaling. The project has succeeded in building the foundation blocks for a platform for more effective and sustainable ways of cooperating on land, biodiversity and climate change issues (see Section 4.3). There are now sets of indicators in place, norms and standards to collect and store this data, an online system to provide access to this data and a coordination mechanism to develop more collaborative decision and policy-making processes using the available environmental data. This foundation blocks are now in place; they now need to be consolidated and up-scaled to cover all environmental areas and be used by other sectors in Georgia, particularly the development sectors, including regional and local development planning.




Tag: Sustainability Knowledge management Programme/Project Design Policy Advisory Data and Statistics

21.

3.1.7. UNDP Comparative Advantage

The interventions of the UN system in Georgia were developed under the umbrella of the "2016-2020 United Nations Partnership for Sustainable Development (UNPSD)" that is a collective strategic response of the UN system for a five-year period to national development priorities in Georgia. The framework is structured around five focus areas, which were prioritized through extensive multi-sectoral consultations between the Government, the UN system, civil society and other partners: (i) Democratic Governance; (ii) Jobs, Livelihood and Social Protection; (iii) Education; (iv) Health; and (v) Human Security and Community Resilience. This framework document was validated at a high-level meeting in February 2015 and signed by the Prime Minister of Georgia and the UN Resident Coordinator on November 20, 2015.

Under the fifth focal area "Human Security and Community Resilience", one expected outcome is "By 2020 communities enjoy greater resilience through enhanced institutional and legislative systems for environment protection, sustainable management of natural resources and disaster risk reduction". A total financial resource needs for this outcome and for the period 2016-2020 was estimated at just over USD 13M, which represents about 8.3% of the total financial resource needs for the entire UNPSD. UNDP estimated needs to fulfill its commitments under this outcome and for this period was USD 6M.




Tag: Programme Synergy Strategic Positioning UN Agencies

22.

UNDP is the leading development organization in Georgia. It established and signed a Standard Basic Assistance Agreement between the Republic of Georgia and UNDP in June 1994. Since then, UNDP has been part of the country's success in many fields, including its democratic reforms, inclusive growth, conflict transformation, green solutions and the achievement of the Sustainable Development Goals (SDGs). Its UN identity ensures neutrality and respect for the country's control over the future. UNDP commitment to development makes it the advocates of change. Transparency and accountability of its operation makes it the trusted partner for national and international development stakeholders. And its wide, international presence keeps UNDP close to development issues, resources and thinking.

UNDP plays a crucial role in helping the Government of Georgia meet its obligations for environmental protection, providing technical and advisory support for biodiversity conservation, sustainable use and management of natural resources, reduction of hazardous chemical waste, climate change-related risks, and other thematic areas, including support to national parks. UNDP interventions in Georgia are guided by its Country Programme Document (CPD) 2016-2020, which contains four programme priorities. The fourth programme priority has been contributing to the outcome 8 of the UNPSD described above. The CCCD project is part of this programme priority, which has the following indicative country programme output: "By 2020, environmental knowledge and information systems enhanced, including capacities for regular reporting to international treaties".




Tag: Country Government UNDP Management UNDP management Agenda 2030 SDG Integration

23.

The Evaluation Team found that the management arrangements were adequate and effective for the implementation of the project. They provided the project with clear roles and responsibilities for all parties including clear reporting lines of authority. The PEB met regularly to monitor the implementation of the project and approve the AWPs. The good functioning of the Project Board provided an effective way to communicate and keep stakeholders engaged, contributing to an effective use of project resources and a good national ownership of project achievements.




Tag: Effectiveness Project and Programme management

24.

3.2.1. Adaptive Management

The project has been well managed. The Project Team followed UNDP and government of Georgia procedures for the implementation of the project and used adaptive management extensively to secure project deliverables while maintaining adherence to the overall project design. The review indicates that project achievements are well aligned with the project document that was endorsed by stakeholders. The Project Logical Framework Matrix included in the project document has been used as a guide to implement the project (see Section 4.1.1). An efficient implementation team has been in place, detailed work plans have been guiding the implementation, assignments were conducted with the required participation of relevant stakeholders and the project progress was well monitored.

Overall, activities supported by the project benefited from a good participation of stakeholders. Each assignment was conducted following well-defined terms of reference and/or feasibility studies. The project was implemented with a good logical process. Comprehensive assessments and analyzes were conducted at the beginning of the project to identify environmental data needs but also to assess the existing government instruments and their respective capacities. Then, based on these analyses, capacity gaps were identified and a plan of actions to harmonize a data collection, storing and monitoring was developed and implemented.




Tag: Monitoring and Evaluation Project and Programme management Results-Based Management

25.

In the meantime, adaptive management has been used regularly to adapt to a changing environment. The project has been able to navigate through several government changes, including working with three different Deputy Ministers and the merger of ministries when in 2017, MENRP merged with the Ministry of Agriculture to form a new ministry MEPA. On the operational side, the implementation of activities by Partners and supported by the project under several agreements was carefully monitored by the Project Management Team. In mid-2017, two of these agreements necessitated a no-cost extension, which, based on the recommendation of the project management team was approved by the PEB.

Another case of adaptive management was the delay in implementing one of the main outputs of the project: the establishment of a web-based information/ knowledge management system. This delay was mostly due to the complexity of developing and operationalizing such system as well as the difficulties to identify the necessary requirements, which were part of the Terms of Reference (TORs). As a result, the announcement of the tender was postponed; hence delaying the entire schedule to develop the system, which also took somewhat longer than expected. Faced with this delay, the project management team monitored the issue carefully, documenting the progress in each quarterly progress report and raised this issue at the June 20, 2017 Project Board meeting with the request for a no-cost extension of the project to end of December 2018. This seven-month extension (June to December 2018) was unanimously approved by the PEB and further by UNDP Headquarters. It gave the project the necessary time to consolidate activities and deliverables before the closure of the project.




Tag: Public administration reform Implementation Modality Monitoring and Evaluation Project and Programme management

26.

The review conducted for this evaluation indicates that the implementation team was excellent at managing and adapting to these changes over time. When reviewing the expected outcomes, particularly outcome 1, which seek to improve the environmental monitoring in Georgia with the development of a system accompanied by the necessary legislation and the harmonization of norms and procedures for better data exchange, it is obvious that it was a complex project and that it would not be an easy project to implement. The experience of reforming this area of environmental monitoring show that it is not an easy and linear process. It is often mixed with political agendas and a certain resistance to change in these existing institutions. It was a difficult project to implement and the implementation team demonstrated its capacity to adapt to these changes and secure the delivery of expected results while maintaining adherence to the overall project strategy approved by GEF.




Tag: Environmental impact assessment Implementation Modality Project and Programme management

27.

3.2.2. Partnership Arrangements

As discussed in Section 4.1.5 and 4.1.8, stakeholder engagement and management arrangements of the project were adequate for the implementation of the project; they provided the project with clear roles and responsibilities for each party. In addition, the collaboration with other related projects (see Section 4.1.3) were good and provided good synergies among these projects; particularly with GIZ, which funded similar initiatives in the biodiversity and climate change area as well as the support for a new forestry monitoring system.




Tag: Partnership Programme Synergy Civil Societies and NGOs

28.

The project has been implemented through few partnership arrangements following UNDP procedures. Clear TORs were always drafted before any arrangements were made with a partner, then an agreement – or in some cases contracts - would be signed. One key agreement for implementing the project was a Letter of Agreement (LOA) established between UNDP and the Environmental Information and Education Center (EIEC), a key Partner for the project. Under this agreement several assessments and studies were conducted to assess national environmental monitoring needs such as needs to monitor biodiversity and climate change but also to develop the concept of an environmental information/knowledge management system. This partnership arrangement was critical for the success of the project. The fact that most project activities were overseen by the EIEC contributed to the development of a good country ownership and prepared the center to become the custodian of most project achievements, particularly the system that was developed by a Tbilisi-based IT firm to organize and provide access to this environmental information. The Evaluation Team found that the cooperation between the project management team and EIEC has been excellent and will certainly contribute to the long-term sustainability of project achievements.




Tag: Environmental impact assessment Ownership Partnership UNDP Management UNDP management Data and Statistics

29.

Overall, the project management team enjoyed an excellent collaboration with all stakeholders; particularly key stakeholders such as EIEC and the various agencies under MEPA such as the Agency of Protected Areas (APA), the National Environmental Agency (NEA), the National Forest Agency (NFA), etc. and also the consultants and experts whom provided their expertise throughout the implementation of the project. The collaboration happened through formal meetings, workshops but also through regular more informal communications among each other to keep everybody abreast of the progress made. Throughout the implementation of project activities, the flow of communications kept all stakeholders engaged in the project. The PMU, a small unit composed of only a Project Manager full time and an Assistant part time, fulfilled its coordination role, provided a good collaboration approach, and communicated well the progress made by the project to keep all Stakeholders up-to-date and engaged in the project. This support was recognized by stakeholders interviewed during this evaluation.




Tag: Country Government Coordination Communication Partnership Project and Programme management Civil Societies and NGOs

30.

3.2.3. Project Finance

As indicated in Section 4.1.8, the implementation modality of the project to allocate, administer and report on project resources is the UNDP support to NIM9 (National Implementation Modality) approach; that is project activities are carried out by the project management team in partnership with the MEPA-EIEC, the national executing agency for the project.

The financial records are consolidated into the UNDP-ATLAS system as the accounting and financial system for all UNDP projects. It allows the project management team to obtain financial reports to the last point of data entry. These reports - Combined Delivery Reports (CDRs) - produce financial information broken down by line items such as local consultant fees, travel tickets, printing and publications, utilities, etc. and presented by outcome (two + project management). A financial audit of the overall operations of UNDP in Georgia was conducted in 2017. Regarding the project finances, no questions were raised by the Auditors and the financial records maintained in the Atlas system were accepted as accurate and reflecting the financial status of the project.

The total approved investment in the project was estimated at USD 2,541,938, of which USD 1,200,000 constituted the grant funding from GEF and USD 1,341,938 to be co-financed.




Tag: Global Environment Facility fund Human and Financial resources Monitoring and Evaluation Project and Programme management

31.

GEF Funds

The review of financial records as recorded in the UNDP Atlas system indicates that over 95% of the GEF grant is already expended and it is expected that 100% of the GEF grant will be expended by the end of project in May 2019. The breakdown of project expenditures by outcome and by year is presented in the table below.




Tag: Global Environment Facility fund Human and Financial resources Project and Programme management

32.

The financial figures presented above indicate that so far 73% of the total GEF grant was expended on outcome 1 that was to "enable capacities for environmental monitoring". Another 19% of the total GEF grant was expended on outcome 2 that was to "train technical and management staff in monitoring and data analysis, and linkage to decision-making process". The remaining expenditures (8%) were expended on project management. When comparing the actual expenditures (USD 1,158,794) to the original budget per outcome, which was developed during the formulation of the project, a slight deviation is observed. So far, project expenditures recorded under outcome 1 are USD 115,342 over the initial budget (+16%); those recorded under outcome 2 are USD 146,946 under the initial budget (-40%) and project management expenditures are USD 9,602 under budget (-9%).

These financial figures indicate disbursements that are much aligned with the implementation timeline of the project: 2015 (2% of total grant expenditures) was the inception phase of the project which was completed with the July 2015 inception workshop; then 2016 and 2017 were the peak years in term of project expenditures (respectively 44% and 42% of total grant expenditures) to conduct assessments, analyses and to develop the system to address environmental monitoring needs; finally 2018 (12% of total grant expenditures) is a year of consolidation of project achievements.




Tag: Global Environment Facility fund Human and Financial resources Project and Programme management

33.

As of end of October 2018 actual project expenditures are USD 1,158,794 or just under 97% of the total GEF grant. A remaining amount of USD 41,206 (3.4% of the GEF grant) is left to be disbursed/expended during the period October 1 to May 2019. According to the project management team, this amount is totally committed; it is a matter of finalizing the procurement processes and processing payments to expend this remaining amount. Based on the review of project financial reports, it is expected that the GEF grant of USD 1,200,000 will be fully expended by the end of the project.

The review of AWP budgets against the yearly actual expenditures (GEF grant) confirms the good financial management of this project. The table below indicates that for the first year, the project spent 80% of the AWP budgets, followed by 100% and 98% for the peak years of 2016 and 2017. Finally, so far 77% of the 2018 budget has been expended but it is calculated only with disbursement to end of October 2018.




Tag: Global Environment Facility fund Human and Financial resources Project and Programme management

34.

Co-financing

The co-financing commitments at the outset of the project totaled the amount of USD 1,341,938 with 89% in-kind from MEPA and the rest (USD 150,000) from UNDP in cash and in-kind. The review noted that these two commitments were confirmed by official letters at the outset of this project. The table below indicates the breakdown of this co-financing.

According to the co-financing letter from the Ministry of Environment and Natural Resources Protection of Georgia (now MEPA) Legal Entity of Public Law EIEC, the co-financing committed amount was composed of USD 442,795 for development costs and USD 749,143 for capital and operational costs. According to the co-financing letter from UNDP, USD 80,000 was a cash contribution to the project and USD 70,000 was an in-kind contribution to cover project management costs.




Tag: Government Cost-sharing Human and Financial resources Project and Programme management

35.

As of end of October 2018, the UNDP cash co-financing contribution to the project recorded in the UNDP Atlas system was USD 76,406 or 96% of the initial cash co-financing commitment. Regarding the in-kind co-financing contributions from UNDP and MEPA, no reported figures were found by the Evaluation Team. However, despite that no reporting on these co-financing commitments was available, the Evaluation Team confirmed that both Partners have contributed critical in-kind resources to the implementation of this project. The project was actively supported by the senior management of the UNDP CO, Energy and Environment Team leader and Associate as well as the PR office by being involved in project activities such as PEB meetings, workshops, and conferences and also by overseeing the planning and implementation of the project. Moreover, the project used UNDP CO office and equipment for arrangement of PEB meetings, in the process of recruiting experts or procuring the services.

As for the Government's contribution, the project benefitted from advisory support of government representatives through the PEB, and the use of an office space for the project management team. In addition, in parallel to the development of the EIKMS, existing data collection systems on forests, air, wastes as well as energy and agriculture statistics that are essential data providers for the EIKMS were maintained and expended by the EIEC, the Financial Analytical Service, and the National Statistics Office. Associated expenditures from the state budget included the development, operational and capital costs. Furthermore, beyond activities planned within the project, the EIEC staff continuously conducted training activities on how to use the system and met with EIKMS users to adjust/customize the system.




Tag: Government Cost-sharing Human and Financial resources Project and Programme management

36.

As discussed in section 4.1.5, 4.1.7 and 4.1.8, the project has benefited from a strong partnership with MEPA and its subordinate entities, including EIEC who has become the custodian of key project achievements such as the EIKMS system developed to manage environmental information and knowledge. These entities have been fully committed and engaged in the implementation of the project. Despite that no specific figures were available on in-kind contributions to the project, the review conducted by the Evaluation Team indicates that the committed in-kind contributions estimated during the formulation of the project were certainly expended through a good participation in the implementation of the project.



37.

3.2.4. Monitoring & Evaluation (M&E) Approach

A Monitoring Framework and Evaluation Plan was developed during the formulation of the project in accordance with UNDP and GEF procedures. A total indicative cost of USD 40,000 was budgeted, representing about 3.3% of the total GEF grant. This plan listed monitoring and evaluation activities that were to be implemented during the lifetime of the project, including a mid-term evaluation and a terminal evaluation. The plan was based on the Project Logical Framework Matrix that included a set of performance monitoring indicators along with their corresponding sources of verification.




Tag: Monitoring and Evaluation Results-Based Management

38.

The set of indicators to measure the progress of the project was reviewed by the Evaluation Team. The project was approved with a set of 6 indicators, which were presented in the Project Logical Framework Matrix with their respective baselines and 9 related targets to be achieved by the end of the project. These indicators were reviewed during the inception phase, but no changes were made. The list of indicators and their respective targets are presented in the table below:




Tag: Monitoring and Evaluation Results-Based Management

39.

It was also noted that in addition to performance indicators to measure the progress of the project at the objective and outcomes level, a set of 20 indicators was also identified and documented in the project document for monitoring the progress toward the five outputs (see Annex 10). These indicators and their respective targets have been used to monitor the project deliverables (outputs). The review of these indicators and targets indicates that they are progressive and sequential that is they allow the measurement of the project progressively. For instance, to measure how well output 1.1 - that is to improve the system of information exchange among relevant departments - is being delivered, the first indicator measure if a mapping of relevant stakeholders has been done (target by month 6), then if a draft design of an improved information exchange system has been developed (target by month 12), then if consultations of stakeholders have been conducted (target by month 12), then if the system has been approved (target by month 16) and finally if the information exchange system has been developed (target by month 24). The same logic can be found for other outputs. It reflects the good design of this project, including the Project Logical Framework Matrix, which has been as a "blueprint" to guide the implementation of the project (see also Section 4.1.1).




Tag: Monitoring and Evaluation Programme/Project Design Results-Based Management

40.

The indicators presented in the table above have been those used to measure the progress of the project and to report the progress made in the APR/PIR reports. The review of these indicators and their respective targets reveals that they are SMART12 indicators. It is a good set of indicators that has been used to measure how well the project progresses. With clear baselines and targets, it makes them unambiguous indicators that are specific, measurable, available and relevant for the project in a timely manner.




Tag: Monitoring and Evaluation Results-Based Management

41.

The Evaluation Team also noted that the project management team also monitored the overall progress made to develop the related capacities in Georgia using a capacity development scorecard. This scorecard was completed at the outset of the project to establish a baseline and was reviewed near the end of the project (October 2018). It provided another set of performance indicators to measure the progress made in developing the capacities needed for maintaining the environmental information management exchange system developed with the support of the project.




Tag: Monitoring and Evaluation Results-Based Management

42.

The M&E plan – including its set of performance indicators and the capacity development scorecard - provided the project with a good framework to measure its progress/performance with an adequate budget. APR/PIRs were produced timely as well as Quarterly Progress Reports. These reports were presented and endorsed at each PEB meetings. The review of annual PIRs reveals that they are comprehensive reports that provide good monitoring information documenting the project's progress year over year. Additionally, the scorecard was completed as required and provides useful additional information to the government on how effective the management of the environmental information exchange has improved over time.




Tag: Monitoring and Evaluation Results-Based Management

43.

The assessment conducted by the Evaluation Team revealed that the project was well monitored and that this information was used to plan and implement day-to-day activities, including the need to adapt the implementation approach when corrective actions were needed. Reports were endorsed by the PEB and PEB meetings were opportunities to discuss issues and solutions. A good example is the decision to recruit a large legal firm as opposed to individual legal experts to carry out the planned activities to review the related legal aspects of environmental monitoring. This issue was discussed at the PEB meeting of April 7, 2016, including the review of the implementation timeline of the project and the budget, and the decision was taken to go ahead with this approach.




Tag: Monitoring and Evaluation Results-Based Management

44.

Finally, the ratings given in each PIR were reviewed by the Evaluation Team and compared to those given in this terminal evaluation. In both PIR 2017 and 2018, ratings for progress toward the development objective and yearly implementation progress were all rated as Satisfactory. This terminal evaluation was concluded with an overall rating of Highly Satisfactory, which is one step higher than ratings in both PIRs. These ratings toare consistent; the project has been satisfactorily implemented since its outset. As discussed in this report, the project was a response a clear national priority, was very relevant with the context of the Association Agreement with the EU and, despite an ambitious set of expected results, it delivered a good foundation to improve environmental monitoring and the management of environmental information in Georgia. By the end of the project, all expected results came together and Georgia is now well equipped with a good infrastructure in place to better monitor and report on the environment and to give access to environmental information to decision-makers. A satisfactory implementation led to a highly satisfactory set of results.




Tag: Implementation Modality Monitoring and Evaluation Results-Based Management

45.

3.2.5. Contribution of UNDP and Implementing Partner

The quality of UNDP implementation and the quality of execution of the MEPA- as respectively the GEF implementing agency and the national executing agency of the project - to support the implementation of the project was satisfactory. In their respective area of responsibility, they provided good support to the implementation team to ensure an efficient use of GEF resources and an effective implementation of the project. Both institutions participated actively in the design and the implementation of the project.

UNDP provided the required guidance to apply UNDP project management procedures such as procurement, hiring and contracting as well as guidance for reporting project progress. UNDP played a role of quality assurance over the implementation of the project, ensuring that the required qualities for project activities were fulfilled. Overall, UNDP backstopped the project with its own resources, supported the project management team throughout the implementation including the participation in the decision-making process for implementing the project through the PEB.




Tag: Effectiveness Implementation Modality Programme/Project Design Project and Programme management Quality Assurance UNDP Management UNDP management

46.

MEPA, as the national executing agency, played an important role in the implementation of this project as the main government anchor point of the project. The Deputy Minister of the Ministry chaired the PEB; providing good leadership in guiding the implementation of the project. Overall, MEPA and particularly its subordinate agency EIEC played an important facilitator role for the project, providing the government/institutional context for the legitimization of project-supported activities; particularly for reforming the institutional and legislative framework of the environmental information management exchange. It is also worth noting that during the lifetime of this project, Georgia had three different Deputy Ministers and one merger of the Ministry of Environment and Natural Resources Protection with the Ministry of Agriculture following elections. It is worthwhile to note that overall, the project was able to perform well throughout these changes.




Tag: Public administration reform Implementation Modality Project and Programme management Country Government

47.

In addition to the role of EIEC, which played a key role in the implementation of the project, it is also important to note the positive role and engagement played by other agencies of MEPA and other government ministries. They satisfactorily fulfilled their project obligations/responsibilities by collaborating with the project and participated in project activities when appropriate. They also played a major role in legitimatizing the achievements of the project in their respective areas; hence contributing to the long-term sustainability of project achievements.




Tag: Implementation Modality Project and Programme management Country Government

48.

3.3.1. Overall Achievements/Results

As presented in Sections 4.1, the project has been implemented through two (2) components. The implementation progress is measured though a set of 6 indicators, each one with its respective target(s) to be achieved by the end of the project. Below is a table listing key results achieved by the project against each expected outcome, using the corresponding targets to measure the progress made. Additionally, a color "traffic light system" code was used to represent the level of progress achieved by the project.




Tag: Effectiveness

49.

The review of achievements of the project indicates a successful and effective project; it should meet all its targets by December 31, 2018. The project was able to achieve what it was intended to achieve. As discussed in Section 4.2.1 the project used adaptive management extensively to provide flexibility in the project's approach working with partners and related government institutions and adapting to changing conditions. As a result, the project has been seen as a response to national needs and, with stakeholders engaged in all project activities, the project enjoyed a good national ownership.




Tag: Effectiveness Relevance Implementation Modality Ownership Project and Programme management

50.

The implementation of the project has been divided into four main pathways: (1) developing a web-portal and a web-based system to collect, process/analyze, visualize and share environmental monitoring information, including technical solutions for information exchange between agencies and tools for data collection, processing and analysis; (2) preparing the legal framework for this web-portal/web-based system; (3) developing individual and institutional capacities to collect, process and analyze environmental data and information relevant to the implementation of the Rio Conventions in Georgia; and (4) developing an inter-ministerial cooperation mechanism for collaborative decision-making, using environmental information for mainstreaming environmental issues in policies, strategies, plans and programmes.




Tag: Implementation Modality Programme/Project Design

51.

The assessment conducted for this TE identified four critical success factors that explain this effectiveness: (i) the project was well designed, responding to national needs and benefitting from a good engagement and participation of stakeholders. It became part of the government response to improve environmental monitoring and management of environmental information; hence part of national priorities to render this area more effective, including the access to this information; (ii) an excellent implementation team – including highly skilled experts and consultants - to implement this project. They implemented the project with good participative and collaborative principles and provided each activity with the required skills and knowledge. It includes the Georgian IT company (FINA), which was recruited through a tender process and which was able to develop the required IT system to support the objective and expected outcomes of the project; (iii) the existence of the Association Agreement between the EU and Georgia as a key driver to mobilize the government agenda in harmonizing its environmental governance framework with the EU, including the need to develop a shared environmental information system (SEIS) (see Section 4.3.3); and (iv) a good flexibility in allocating project resources and implementing activities to be able to respond to stakeholders needs and changes. It is worth noting here that despite three different Deputy Ministers and a merger of two ministries (MERNP and MOA), the project was still able to deliver its expected results on time and on budget.




Tag: Effectiveness Implementation Modality Programme/Project Design Project and Programme management

52.

As a result of the implementation of activities supported by the project, Georgia is now better equipped to monitor and report on the state of its environment. It now has a web-portal and a web-based system to collect, process/analyze, visualize and share environmental monitoring information. It also has norms and standards for information exchange between agencies and tools for data collection, processing and analysis. Finally, through capacity development activities, skills and knowledge were transferred to staff involved in the maintenance and use of the system and the enabling environment has been strengthened with a soon-to-be approved legislation and also a soon-to-be approved inter-ministerial cooperation mechanism. Considering the list of results presented above, the project certainly delivered the results expected at the outset of the project; on time and on budget. It is also important to note that in addition to these tangible outputs, the project provided numerous assessments, analyses, studies and proposals necessary to develop such a system.



53.

3.3.2. Attainment of Project Objective / Impact

The review of project achievements presented in the previous section 4.3.1 reveals that the implementation was successful and met the expected outcomes planned at the outset of the project. Georgia is now better equipped to monitor and report on the state of its environment. The table below presents the key results of this project against the objective and its performance indicator/target.




Tag: Environmental impact assessment Impact

54.

When comparing key results with the objective, the project certainly contributed "to develop individual and organizational capacities in the MENRP and EIEC for improved monitoring of environmental impacts and trends for elaboration of collaborative environmental management". The project will definitely have a long-term positive impact on strengthening the environmental monitoring and the management of environmental data functions in Georgia. MEPA and its subordinate agency EIEC are now equipped with an infrastructure to collect, process/analyze, visualize and share environmental monitoring information; including norms, standards, procedures, and web-based system to store and share environmental information.




Tag: Environmental impact assessment Natural Resouce management Impact Capacity Building

55.

However, despite the good progress made by the project throughout its three-year duration, the task of addressing the issue of monitoring and information resource management in the field of environmental protection as it was identified during the NCSA (see Section 4.1.3), is only a beginning. The project has been able to make a good contribution toward building some good foundations. As said above, a good infrastructure is now in place to better monitor and report on the environment and to give access to environmental information to decision-makers.




Tag: Environmental impact assessment Knowledge management Data and Statistics

56.

However, more efforts and resources are needed to consolidate these achievements. At the time of this evaluation, the testing of the web-based system was almost completed; the next big step is to populate the system with existing data. In the meantime, it is expected that the legislation drafted with the support of the project will be soon promulgated by the government; it will provide a legal framework for strengthening the management of environmental information, including the list of environmental indicators to be monitored. Relevant staff in government agencies and other stakeholders have acquired skills and knowledge through training; they should be able to collect, process/analyze, visualize and share environmental information. Finally, the concept for an inter-ministerial council has been developed under the leadership of EIEC; a Decree was drafted to define the membership to this council and the regulations of this body (goal, functions, authority, and procedures). It is expected that this Decree formalizing the council be approved in the coming months; it will provide a national coordination mechanism for more collaborative decision-making processes among policy makers. Strengthening monitoring and information resource management in the field of environmental protection is a work in progress. When considering the project resources and its timeline, good "building blocks" have been put in place; however, much more is needed to consolidate these achievements.




Tag: Disaster Risk assessments Sustainability Country Government Data and Statistics

57.

Nevertheless, in addition to the infrastructure that was built, the project has also increased the awareness of Stakeholders on the need for better accessibility to environmental information. In other words, it has been a two-pronged strategy: on one hand the project improved the supply of environmental information and on the other hand it has increased the demand for environmental information, including the need to report progress made against the obligations committed by the government of Georgia when signing/ratifying the multilateral environmental agreements (MEAs). As a result, this approach to develop the supply AND the demand for environmental information should contribute to the long-term sustainability of the achievements of the project. Requirements for environmental information keep coming; Georgia is currently drafting its fourth national communication and second Biennial Update Report (BUR) to UNFCCC; it also committed in 2017 to update its Nationally Determined Contributions (NDCs) report. Georgia will also need to report regularly on forest conservation, biodiversity (CBD, Ramsar, Bern convention/Emerald network) and land degradation. It is just a matter of time for all to recognize the benefits of such system and continue to be active in uploading and/or accessing this environmental information as well as keep the political pressure for allocating sufficient financial resources for the continued development of this system. As stated in the project document it is "assumed that the investments made for knowledge generation and harmonization will also create an appetite with stakeholders for greater consolidated data sets in the long run".




Tag: Biodiversity Environmental impact assessment Natural Resouce management Sustainability Data and Statistics

58.

From a capacity development point of view, a scorecard was used to monitor the progress made in strengthening capacities against a baseline determined at the outset of the project. As part of the GEF CCCD programme, measuring the performance of this type of project does not lend itself readily to programme indicators, such as improving the estimation of greenhouse gas emissions, reducing the percentage of people to the impact of climate change, or percentage increase of protected areas containing endangered endemic species. Instead, CCCD projects are measured by output, process, and performance indicators that are proxies to the framework indicators of improved capacities for the global environment. To this end, a scorecard has been developed by UNDP, UNEP and GEF to measure the progress made in strengthening crosscutting capacities in five major areas: stakeholder engagement; information and knowledge; policy and legislation development; management and implementation; and monitoring and evaluation. The result of this scorecard is presented in the table below.




Tag: Environmental impact assessment Implementation Modality Monitoring and Evaluation Capacity Building

59.

The results show that capacities increased by over 40% (17 to 24) over the lifetime of the project; but much remain to be developed with an overall capacity score of 24 out of a maximum of 45 (53%). Progress was made in capacities to engage stakeholders, to generate, access and use information and knowledge, and in strategy, policy and legislation development.

In addition, in October 2018, the project conducted a survey on the progress made in developing capacities of stakeholders who benefited from project activities. The aim of the survey was to assess how project activities improve the understanding and skills for monitoring global environmental issues: 110 stakeholders completed a questionnaire; 153 stakeholders were interviewed; and 2 focus groups were organized. Through this survey, it was found that, due to project activities, over half of respondents increased their engagement in environmental monitoring and that almost 90% see better the connection between global environmental issues and national priorities. For those who took part previously in activities to demonstrate the new system, between 2/3 and ¾ of respondents found the system flexible, easy to manage and simplifying the management of environmental data. In the meantime, the survey also found some limitations in developing the system, including: some data does not exist yet, no clear parties are responsible to collect some data and some information is paper-based and in written form.




Tag: Environmental impact assessment Effectiveness Monitoring and Evaluation Capacity Building

60.

Remaining barriers to achieve the project objective

As discussed in section 2 of this report, the rationale of this project was based on addressing some key barriers. One barrier that the project has been addressing is "Technical implementation barriers such as lack of financial resources; lack of experienced personnel familiar with sustainable environmental management practices; lack of guidelines or manuals for planning, implementing and monitoring measures on combating land degradation, climate change and effective biodiversity management; etc.". The project has also addressed more specifically a cross-cutting issue identified through the NCSA process that was environmental monitoring and data management issues at systemic, institutional, and individual levels. The NCSA concluded that there was a need to modernize and develop a sustainable national system of environmental monitoring and data collection for global environmental management. Based on this conclusion, specific strategies were proposed such as enhancing the MENRP's coordination role in designing and developing environmental monitoring system countrywide; developing priority indicators for monitoring; developing standardized methodologies for monitoring; developing regulations and assign responsibilities to different institutions based on their competitive advantage; and mobilizing internal and external financial resources and building sustainable financial mechanism for monitoring.




Tag: Climate Change Adaptation Biodiversity Environmental impact assessment Natural Resouce management Challenges Human and Financial resources Data and Statistics

61.

Despite that it is difficult to measure the contribution of the project in removing this key issue, the assessment conducted for this terminal evaluation confirms that project activities contributed in the partial removal of this issue. As discussed above and in the previous section 4.3.1, the project supported the development of an infrastructure to collect, process/analyze, visualize and share environmental monitoring information; including norms, standards, procedures, and web-based system to store and share environmental information. It also developed required capacities to maintain the system, supported the development of legislation to formalize this system and of an inter-ministerial council to provide a national coordination mechanism. Georgia has now a good infrastructure in place to better monitor and report on the environment and to give access to environmental information to decision-makers.




Tag: Environmental impact assessment Knowledge management Data and Statistics

62.

In the meantime, interviews conducted during this evaluation reveal that to move ahead in this area, few barriers may still hinder future progress. It includes the lack of financial and human resources. Few interviewees estimated that to function, one additional person full time would be needed in each agency mandated to collect and upload environmental data. In addition, as indicators are being formally approved by the government, there is still a large gap between an identified list of indicators and a monitoring system to track, collect and record the related data. Currently, lot of environmental reporting is done on an ad-hoc basis, mostly responding to international and national obligations such as the national communications required by UNFCCC. The challenge is to move toward a more systemic approach of monitoring the environment, collecting data, storing it in appropriate databases, analyzing it and sharing it, including the capacity to produce required reports. Finally, despite the good ownership of project achievements, there is still the need to politically "anchor" the subject of environmental information management at a higher level, such as Prime Minister and/or Parliament levels. It would ensure a good political visibility for decision-makers of the need to have access to accurate and timely environmental information.




Tag: Environmental impact assessment Challenges Human and Financial resources

63.

3.3.3. Relevance

As discussed in chapter 4.1, the project has been highly relevant for Georgia. Its timing was excellent; it provided the government with extra resources to develop capacities seeking to improve the monitoring of the environment and to make environmental information available to decision-makers. The project concept emerged from clear national priorities to strengthen this area.

The project was formulated on the basis of a good review of barriers, issues, capacity gaps and priorities, which were identified during the PPG phase. The formulation process also benefited from the NCSA, which was conducted during the period 2003-2005. This assessment found that the monitoring and information resource management in the field of environmental protection was a barrier to the management of natural resources. Furthermore, in the context of international obligations committed by Georgia when signing/ratifying MEAs, it was found that no comprehensive monitoring processes could provide ongoing and historical data on climate change, biodiversity and desertification. The result was the design of a project that was a direct response to national prioritized needs and the participative process to design and implement project activities also contributed to a good stakeholder ownership and made this project all the more relevant.




Tag: Environmental impact assessment Natural Resouce management Relevance Knowledge management

64.

The review also found that the project has been highly relevant for several national policies. Environmental monitoring and information management is a recurring theme to be addressed in the environmental policy framework in Georgia. The National Environmental Action Programme (NEAP) of Georgia 2012-2016 states environmental monitoring as a cross-cutting issue, particularly for water management, air quality, biodiversity conservation, natural hazards, and mineral resources including ground waters. It also states that in the Medium-Term Expenditure Framework (MTEF) 2012-2015 "monitoring ecological balance in the environment" is among priorities in the environmental sector and recognize that environmental monitoring provides essential data for planning purposes. In the most recent NEAP 2017-2021, environmental monitoring is also part of priority actions. It states that monitoring is an essential part of the information system that provides data on the status of the environment and on the potential and existing sources of pollution. Furthermore, it recognizes that monitoring capacity has been increased over the last few years and that monitoring resources are growing steadily. The same areas as in the previous NEAP are still priorities in the current action plan with the addition of forest protection and soil protection.




Tag: Emission Reduction Natural Disaster Biodiversity Environmental impact assessment Natural Resouce management Water resources Relevance Rule of law Capacity Building

65.

Relevance of this project can also be found in the National Biodiversity Strategy and Action Plan of Georgia (NBSAP) 2014-2020, which states that "the national biodiversity monitoring system has been established only recently and is not yet fully operational." The creation of a national biodiversity monitoring system is a priority but also recognizing that the effective implementation of this system is hampered by the lack of capacity and financial resources. Under the third strategic goal, the first national target is that "by 2020, the status of biodiversity has been assessed through the improvement of scientific and baseline knowledge and the establishment of an effective monitoring system". Finally, in the third review of UNECE Environmental Performance Reviews (EPR) of Georgia conducted in 2016, it states that the NEA has succeeded in improving environmental and hydrometeorological monitoring networks, particularly in surface water monitoring; however, it also states that soil and geological surveillance remain very limited and that water quality monitoring has worsened since the second review. The review recommended that efforts should continue to optimize the monitoring network and further enhance the capacity for data analysis.




Tag: Biodiversity Environmental impact assessment Natural Resouce management Relevance Monitoring and Evaluation

66.

The project has also been highly relevant within the context of implementing the "Association Agenda between the European Union and Georgia". Both parties began negotiating an association agreement in 2010, which was signed on June 27, 2014. The aim of this agreement was to create a free trade area and ultimately a political association and economic integration of Georgia within the EU. The first such agreement contained an association agenda for the period 2014-2016. Environment and climate change were part of this agenda stating that the parties will cooperate to prepare the implementation of EU environmental acquis13 and international standards. More related to the project, this agenda stated the need for the "development of a coherent method of environmental data collection across the different ministries under the Shared Environmental Information System (SEIS), and public access to environmental information".




Tag: Environmental impact assessment Relevance Data and Statistics

67.

This relevance was also noted against the new Association Agenda 2016-2020, which updated and refocused the initial agenda. Regarding the environment and climate change, this second agenda kept the focus on the need to "improve the environmental information sharing in line with the principles of the Shared Environmental Information System (SEIS)" and the need for "public access to environmental information" but also added the need for public participation in decision-making, as well as the need to integrate environment into other policy areas. A roadmap was also stated as a priority for the ratification and implementation of multilateral environmental agreements. The review found that these agendas have been a key driver throughout the implementation of the project. Most interviews if not all conducted for this evaluation referred to the Association Agenda as a key driver for implementing the project




Tag: Relevance Data and Statistics

68.

The Evaluation Team also noted that the achievements of the project should also be highly relevant in the context of the soon-to-be established National Spatial Data Infrastructure (NSDI) in Georgia, which will function at government, sectoral and municipal levels. This initiative will support the optimal planning of resource use and efficient management of processes, as well as the increase of the quality of decisions made by state institutions and municipal administrations on the basis of standardized, systematized, valid, reliable and current information. It will also promote the development of electronic governance, which is viewed as another step towards the integration with European structures. The key element of NSDI is data sharing to provide a reduction of costs of spatial data and an increase of data quality.




Tag: Relevance Data and Statistics

69.

Finally, the project is also highly relevant within the GEF Cross-Cutting Capacity Development (CCCD) programme. As discussed in section 4.1.4, the CCCD programme is a flexible mechanism funded by the GEF to address critical capacity issues related to the implementation of MEAs in countries. The concept of this mechanism is to build on existing mechanisms and structures, addressing national priorities, and using a unique inter-sectoral/inter-ministerial approach. This project is part of a set of projects funded by the GEF under the "Strategic Approach to Enhance Capacity Building" policy. Under GEF614, the strategy for this CCCD programme states that "it will facilitate the acquisition, exchange and use of knowledge, skills, good practices, behavior necessary to shape and influence national planning and budgeting processes and implementation in support of global environmental benefits". It had five objectives (a) to integrate global environmental needs into management information systems; (b) to strengthen consultative and management structures and mechanisms; (c) to integrate Multilateral Environmental Agreements' provisions within national policy, legislative, and regulatory frameworks; (d) to pilot innovative economic and financial tools for Convention implementation; and (e) to update NCSAs. The review found that this project, seeking to strengthen the underlying information and knowledge management foundations upon which Georgia can undertake a more holistic and comprehensive approach for analyzing policy interventions from a Rio Convention perspective, is perfectly aligned with the CCCD programme strategy.




Tag: Environment Policy Relevance Global Environment Facility fund Data and Statistics

70.

3.3.4. Efficiency

As discussed in some sections above, the project has been efficiently implemented. The review of the management and the partnership arrangements revealed that the project enjoyed a good collaboration with all key stakeholders with a good participative approach through the PEB, as well as constant informal communications through phone, emails, and visits. The project management team prudently allocated project resources, stretching every single dollar as much as possible to get "more bang for the buck".




Tag: Efficiency Partnership

71.

Furthermore, as discussed in section 4.2.1, the review revealed that the project management team used adaptive management to secure project deliverables while maintaining adherence to the overall project design. Adaptive management have been used regularly to adapt to a constantly changing environment; including the change of leadership for the project with three different Deputy Ministers during the lifetime of the project and one merger of lead ministry with the ministry of agriculture. Through this type of adaptation, the project demonstrated its ability to adapt to changing environment.




Tag: Efficiency Project and Programme management

72.

The efficiency of the project was also the result of a high-quality implementation team, which was confirmed by several interviewees during the field mission. Using a participative approach and a good transparent communication approach, project activities were implemented with a good engagement of stakeholders. The excellent relationship of the implementation team with stakeholders also contributed to an efficient implementation.




Tag: Efficiency Communication Project and Programme management Coordination

73.

In addition to a good project management team, it is worth noting that at the outset of the project, the Deputy Ministry of MERNP as the National Project Director was a driving force/champion for starting the project and particularly for overseeing the process to recruit an IT firm to develop the web-based system. Coming from the Data Exchange Agency at the Ministry of Justice15, the Deputy Minister had a deep knowledge of information system development and provided valuable guidance to the project management team and EIEC in preparing the tender process to recruit the best IT firm to build the required system.




Tag: Efficiency Procurement Project and Programme management Country Government

74.

Finally, external expertise and contractors were hired as needed to ensure the implementation of activities. An emphasis was on hiring national experts and contractors. Based on information received from the implementation team, most expenditures spent on consultants and contractors went to national entities (individuals and contactors); only one contract was signed with an international consultant as a Chief Technical Advisor (CTA) to the project. Considering the complexity of some project activities, the high percentage of national expertise/contractors indicates a good level of expertise and specialization in Georgia, including IT expertise. The project was able to take advantage of that, contributing to its efficiency.




Tag: Efficiency Human and Financial resources Project and Programme management

75.

Despite the fact that it is always difficult to analyze the cost-benefit of such projects, the review of all management elements of the project confirm that the implementation of the project was an efficient operation that created a good value for money. The prudent approach to engage project funds was translated into good value for money and the use of adaptive management allowed for the identification and implementation of activities that were very responsive to immediate needs of stakeholders, and the need to develop a web-based environmental information platform.




Tag: Efficiency Operational Efficiency

76.

3.3.5. Country Ownership

As discussed in other sections of this report, the country ownership is excellent. The project has addressed a key national priority that is to strengthen the monitoring of the environment and to make environmental information available to decision-makers. It was designed on the basis of a good contextual review – including national priorities - and it has been implemented through a good participative approach engaging stakeholders all the way from the design to the implementation of project activities. It became de facto a key project of EIEC to strengthen comprehensive environmental monitoring processes including the sharing of environmental information through a web-based platform.




Tag: Environmental impact assessment Ownership

77.

As discussed in section 4.3.3, the timing of the project was also excellent. The project was designed during the period that Georgia negotiated an Association Agreement with the EU, which acted as a "change agent" to transform the way Georgia has been monitoring the environment and to harmonize its environmental legislation with EU environmental acquis. This agreement became a key driver to put the priority addressed by the project on top of the national environmental agenda. Other national policies were also conducive to the success of the project by setting environmental monitoring and sharing environmental information as priorities such as both NEAPs and the NBSAP. One indicator of this good country ownership is that despite the three changes of Deputy Ministers during the lifetime of this project, the project management team was able to keep stakeholders engaged and overall to develop a good country ownership.




Tag: Environmental impact assessment Ownership

78.

It is expected that this good country ownership will contribute to the long-term sustainability of project achievements. These achievements are already well mainstreamed into the management systems and instruments used by EIEC; they should be sustained over the long-term. The web-based platform was tested and is now ready to be populated with existing environmental data. Based on observations collected during the field mission for this evaluation, the building blocks developed with the support of the project should be sustained over the long term; it has been a successful first phase in developing a new environmental monitoring system in Georgia, which will provide accurate and timely information to decision-makers.




Tag: Sustainability Monitoring and Evaluation Ownership Data and Statistics

79.

3.3.6. Mainstreaming

The review of project achievements indicates that most of them are already institutionalized and mainstreamed within appropriate entities. The key entity is EIEC that is the custodian of the web-based environmental information platform. Pieces of legislation that are currently under review will – once promulgated - reside with the legislative framework of Georgia and the inter-ministerial council will be part of the government instruments to collaborate and coordinate the management of the environment in the country.

Due to the nature of this project, the project would not have succeeded in implementing its activities without a strong engagement and collaboration among stakeholders. Indeed, stakeholders from key organizations fully supported the development of studies, analyses, assessments, etc. and participated in the development of the system and the drafting of legislation.




Tag: Sustainability Rule of law Country Government

80.

This project - as a direct response to national priorities with limited time and resources - was to develop capacities in environmental monitoring and information management within the ministry of environment, including EIEC. It contributed to building the foundations for a national environmental monitoring system. Georgia is now equipped with the building blocks for such as a system; the project has played a catalytic role in developing this first phase. It should now move to the next phase that is the consolidation of the building blocks with the population of the system with existing environmental data and the promotion of this shared information to be used by policy- and decision-makers.

Finally, the project management team ensured a gender balance in all project activities by optimizing the participation of men and women in project activities, and by ensuring that the collect of environmental data be segregated by gender. The project approach to gender equality is also part of the UNDAF 2016-2020 strategy that is to mainstream gender in national laws, policies, budgets and programmes. The project has contributed to develop capacities in gender- and evidence-based policy making by improving access to gender segregated environmental information. This is part of the UNDP Country Programme 2016-2020 that is focusing on gender mainstreaming throughout its programme, including gender considerations to be integrated into some environmental policies such as disaster risks reduction strategy and adaptation strategy.




Tag: Environmental impact assessment Gender Equality Project and Programme management

81.

3.3.7. Sustainability

The sustainability strategy detailed in the project document focuses mostly on the analysis of how environmental, institutional, financial, and social risks should be mitigated by project activities. It details how environmental sustainability will be promoted, and how institutional, financial and social sustainability will be achieved. It is a valid strategy though somewhat passive and relying mostly on the fact that project achievements should be sustained over the long-term if these risks are mitigated.

Before discussing the various risks below, the Evaluation Team noted that overall project achievements are already well institutionalized within the institutions engaged in monitoring the environment in Georgia, particularly EIEC that is already the custodian of the web-based environmental information platform. In addition, as discussed in section 4.3.5, the good participation of stakeholders throughout the implementation of the project led to a good ownership of the results achieved by the project; which will certainly contribute to the long-term sustainability of these achievements. The system and the related norms, standards and procedures are within the institutions engaged in environmental monitoring, the Decrees under review will be part of the national legislative framework once approved and the national coordination mechanism under review should also become part of the strategic government instruments to ensure that the environment is properly monitored, and that accurate and timely environmental information be available to decision-makers.




Tag: Environmental impact assessment Sustainability Ownership Partnership Risk Management

82.

Financial risk to Sustainability

Financial risk is an area where some questions related to the long-term sustainability of project achievements need some attention. As discussed throughout this report, the project has delivered "building blocks" for improving the monitoring of the environment and sharing this information through a web-based platform. This is a good first phase; an infrastructure is now in place to better monitor and report on the environment and to give access to environmental information to decision-makers. However, as discussed in section 4.3.2, much more efforts and resources are needed to consolidate these achievements. The government will need to continue to allocate sufficient budgetary resources to allow the continuation of strengthening this area in Georgia. The good news is that so far, the review confirms the government's commitment to strengthen the monitoring of the environment and the sharing of this information. It has been a priority for the government and all indicators are that this priority will stay on the government agenda for the foreseeable future, including in the MTEF, a critical framework for the allocation of governmental budgetary resources to any government supported activities. In the meantime, it is recommended that the project identified a roadmap for the way forward after the end of the project. This roadmap should particularly focus on the critical milestones to be met in the future and needed for keeping the priority on the government agenda, including in the MTEF.




Tag: Challenges Sustainability Resource mobilization Country Government

83.

Socio-economic risk to Sustainability

The review indicates that there is no socio-economic risk to sustainability. In the worst-case scenario which would be that the project has a limited impact over the long term, no negative effect is anticipated other than the continuation of the "business as usual" scenario, which would keep the priority needs to provide better environmental information at the forefront of the government agenda. Nevertheless, the current scenario is that the project has progressed adequately, and it is expected that project achievements will be sustained over the long term. As discussed in section 4.3.2, the two-pronged approach to strengthen the supply and demand for environmental information should keep the pressure on the government and other non-governmental actors to continue improving the monitoring of the environment and sharing this information, which in turn will be a response to an expected greater "appetite" for environmental data sets from stakeholders.




Tag: Challenges Sustainability Data and Statistics

84.

Institutional framework and governance risk to Sustainability

Similar to above, no institutional framework and governance risk to sustainability are anticipated. As discussed earlier, the project is a direct response to address a set of underlying barriers to environmental management, which hampered the goal of meeting and sustaining global environmental outcomes. Its main focus has been the development of an environmental monitoring and information management system, which was accompanied by capacity development of staff focusing on transfer of skills and knowledge but also of institutions focusing on norms, standards and procedures. The project also contributed to improving the enabling environment for such a system through adequate legislation. It is anticipated that the government will continue in the same direction in the foreseeable future building on the foundations created with the support of the project.




Tag: Sustainability Local Governance Rule of law Risk Management

85.

Environmental risk to Sustainability

The review did not find any environmental risks to the sustainability of project outcomes. The project has supported the development of a better environmental monitoring approach and sharing this information. Ultimately, the achievements of the project that is "to develop individual and organizational capacities in the MENRP and EIEC for improved monitoring of environmental impacts and trends for elaboration of collaborative environmental management", should have medium and long-term positive environmental impacts over the natural resources in Georgia. The monitoring of the environment and the development of a web-based platform to share this information should provide better environmental information and contribute to a more sustainable approach for managing natural resources in Georgia.




Tag: Natural Resouce management Sustainability Risk Management

86.

3.3.8. Catalytic Role

The GEF defines the catalytic role of projects as one of the ten operational principles for the development and implementation of the GEF work program. The GEF hopes to fund projects in such a way so as to attract additional resources, pursue strategies that have a greater result than the project itself, and/or accelerate a process of development or change. The review of the catalytic role of the CCCD project is to consider the extent to which the project has demonstrated: a) production of a public good, b) demonstration, c) replication, and d) scaling up.




Tag: Impact Global Environment Facility fund Programme/Project Design

87.

Considering the GEF definition of the catalytic role, the CCCD project has had a good catalytic role so far. The project produced a public good with the development of a web-based environmental information platform and its related norms, standards and procedures to collect, upload, analyze and share. So far, this public good has been tested and interviews and observations conducted during the mission in Georgia for this evaluation confirm the need for such information. The system was demonstrated to key stakeholders through workshops and available features appreciated. The building blocks developed with the support of the project have demonstrated the usefulness of such an approach. Georgia is now better equipped with instruments to better monitor the environment and share this information. The project is ending but the national agenda to improve the monitoring of the environment and sharing this information will go on and move forward to the next phase, which should be the consolidation of these building blocks.




Tag: Environmental impact assessment Sustainability

88.

Regarding replication and scaling up, since the beginning, the project has collaborated with the government of Germany funded and implemented by GIZ project Integrated Biodiversity Management in the South Caucasus. It is a 21M euros project running from December 2015 to November 2019 and implemented in Armenia, Azerbaijan and Georgia. One component of this project is to develop capacities of Partners to gather, analyze and communicate robust data based on recognized scientific methods in order to develop national environmental information systems focusing on biodiversity monitoring and forest monitoring. Considering the similarity of the two projects' interventions in Georgia, a collaboration was established to avoid overlaps and search for synergies. Overall, the CCCD project focused on developing the web-based environmental information platform and GIZ has been focusing on biodiversity indicators and forest monitoring. This project has one more year to go and will contribute to consolidating the achievements of the CCCD project. It is anticipated that they will finance some costs to upload existing data in the new system, once it will be fully tested.




Tag: Environmental impact assessment Sustainability Programme Synergy Sustainability Data and Statistics

89.

The next steps, following the completion of these two projects will be to scale up this environmental monitoring and information management system. Populating the system with existing data is the next critical step but it should also be followed by regular upload of environmental data collected in the field. Following the promulgation of the legislative pieces under review, more training may be needed to ensure that the new mandates for environmental monitoring are well understood. Finally, once the system is ready to provide accurate and timely environmental information, it should be used by decision and policy-makers. It is anticipated that the international reporting obligations be a strong driver to use the system when drafting these required reports. It is currently happening with the drafting of the fourth National Communications to UNFCCC and the second BUR. Hopefully, more of these reports as well as future environmental policies and development plans will use this information/analyzes in the future.




Tag: Environment Policy Environmental impact assessment Sustainability Sustainability
Recommendations
1

In order to help with the exit of the project, it is recommended to formulate a roadmap as a guide for the way forward after the end of the project. This roadmap should particularly focus on the critical milestones to be met in the future and also the necessary steps for keeping the priority on the government agenda

2

Not all environmental areas have been covered by the project; due mostly to its limited resources and time. It is recommended as part of the roadmap recommended above to insert a brief review to document which environmental areas can now be monitored and the information to be uploaded in the system; AND which areas are not included such as some sub-areas to measure/monitor soil quality and water quality

3

Related to the project, land degradation is an area that is poorly monitored in Georgia including soil conservation and soil quality. Good progress was made under this project to strengthen land degradation monitoring. There are needs to expand what was started under this project to strengthen land degradation monitoring in Georgia, including the consolidation of achievements of this project such as capacities of data producers/collectors, capacities to analyze and visualize environmental information, etc. It is recommended to develop a project concept focusing on land degradation and soil conservation, including a component on monitoring this area in relation to UNCCCD reporting obligations.

4

Considering that Georgia is now equipped with instruments to better monitor the environment and share this information. It is recommended that all funded activities to prepare convention reports use the web-based environmental information platform. It includes the GEF funding for enabling activities and funding from other donors to prepare convention reports in the biodiversity and land degradation areas as well as the National Communications, the Biennial Update Reports (BURs), and the Nationally Determined Contributions (NDC) report to UNFCCC. The use of the system will reinforce/demonstrate the usefulness and consolidate/validate the system.