Mid-term evaluation of the inclusive economic growth pillar of CPD 2016/21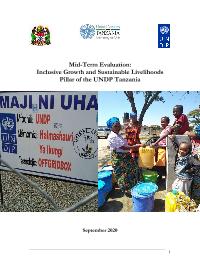 Evaluation Plan:

Evaluation Type:

Outcome

Planned End Date:

12/2019

Completion Date:

09/2020

Status:

Completed

Management Response:

No

Evaluation Budget(US $):

80,000
Title
Mid-term evaluation of the inclusive economic growth pillar of CPD 2016/21
Atlas Project Number:

92476,68928,112905,117721,92478

Evaluation Plan:
2016-2022, Tanzania
Evaluation Type:
Outcome
Status:
Completed
Completion Date:
09/2020
Planned End Date:

12/2019

Management Response:
Yes

Focus Area

:
Corporate Outcome and Output (UNDP Strategic Plan 2018-2021)

1. Output 1.1.2 Marginalised groups, particularly the poor, women, people with disabilities and displaced are empowered to gain universal access to basic services and financial and non-financial assets to build productive capacities and benefit from sustainable livelihoods and jobs
2. Output 1.2.1 Capacities at national and sub-national levels strengthened to promote inclusive local economic development and deliver basic services including HIV and related services
3. Output 1.2.2 Enabling environment strengthened to expand public and private financing for the achievement of the SDGs
4. Output 1.3.1 National capacities and evidence-based assessment and planning tools enable gender-responsive and risk-informed development investments, including for response to and recovery from crisis

Evaluation Budget(US $):

80,000

Source of Funding:
UN, UNDP
Evaluation Expenditure(US $):

35,000

Joint Programme:
No
Joint Evaluation:

No

Evaluation Team members:

| Name | Title | Nationality |
| --- | --- | --- |
| Gaston Gahou | DR | |
| Gaston Gahou | DR | |

GEF Evaluation:

No

Key Stakeholders:
Ministry of Finance and Planning, UN agencies in economic growth and employment pillar
Countries:

TANZANIA (UNITED REPUBLIC OF )

Comments:

This is a mid-term evaluation of Outcome 1 of the CPD to determine progress made towards UNDP's contribution to the Outcome which also corresponds to the UN Development Assistance Plan II Outcome on economic growth and creation of productive employment.
Lessons
1.

Value Chain approach: The 'value-chain approach' has been recognized as critical good practice which enabled the TAHA and RARIs projects to focus on comprehensive transformation, as opposed to addressing challenges in isolation. Stakeholders consulted noted that the approach to identify systemic bottlenecks and develop holistic solutions has been the major highlight for transformation.

Demonstration plot Approach: The demonstration plot approach adopted by some of the projects under IG pillar (i.e. PEA and TAHA) has been instrumental in creating an learn-by-doing environment which has enabled local communities to learn, appreciate and adopt the various technologies. This approach is considered effective given the long-held 'wait and see' tendency of some people (Many) who would only adopt new ideas after seeing how others have benefitted. This has been the case for the TAHA project in the Lake zone where over 134 predominantly fisherman communities have started to engage in farming practices using modern technologies after witnessing success of their colleagues through demonstration/pilot projects. The evaluation observed a 70% uptake rate among smallholder farmers, as well as improved yields ranging from 20 – 35 percent for horticultural produce.

Agri-finance fair is instrumental in mobilizing resources for Addressing financial barriers impeding adoption of technologies: Access to finance is one of the factors hindering adoption of new technologies and best practices by farmers and other entrepreneurs thereby limiting their growth and job creation. To address this, TAHA organized an Agri- finance fair in November, 2019 in Mwanza city to help raise awareness of farmers on available Agri-finance products, but also enlighten financial institutions and government regulatory bodies on the needs and challenges faced by farmers. Attended by various stakeholders (i.e. government officials, private sector-input suppliers and financial and micro-finance institutions including NMB, TIB, PASS, NBC, CRDB and AMANA Bank attended the event.

Participation in exhibition/trade fair Presents crucial opportunities business linkages and Market creation. TAHA experience shows that supporting entrepreneurs to attend trade fair helps to expand knowledge base (i.e. exposure) and create networks that are critical in opening up access to markets and other financial opportunities. For instance, through project, TAHA supported some of its members to Participate in the Fruit Logistica Fair in February 2020 in Berlin, Germany Germany. Through this fair, TAHA secured a market in the UK worth 4 Million pounds which will directly translate to market opportunities for farmers who will supply the market as out growers, aggregating their produce through the collection centers

High level dialogues are important. Dialogues and engagement with the Top Government Executives are vital in influencing decisions and facilitate rapid chances on critical changes. They help inform the Government and enhance information sharing and communication. For instance, through the RARIS project a number of high-level dialogues were held on various issues requiring deliberate and timely decision. As a result, relevant decisions were made which will benefit the entire sector throughout the country thus befitting a large segment of the population way beyond the numbers targeted and reported by the project. The crop index insurance is one of the crucial decisions that was under this arrangement, leading to the launch of this insurance scheme during Nane-Nane Exhibition in August 2019. The Ministry of Agriculture (MoA) is currently working with Simiyu Region Secretariat and the National Insurance Corporation (NIC) to mobilize private insurance companies and enroll cotton farmers in the region and enable them to start using the scheme in the next crop season for the cotton.

Similarly, the consultative meeting between National Bureau of Statistics (NBS) and MoA is another important dialogue which aimed at discussing the reasons for a drastic change of agriculture growth rate from 4% to 7% and understand more about drivers of agricultural growth in Tanzania. Through thus dialogue, a consensus was eventually reached between NBS and Actors in the agriculture sector on the calculations of the new rate of growth whereby the main reason which led to an increase of agricultural growth rate is a re-base where the base year was changed from 2007 to 2015.

Role of technology: OGB project has sensitized Ikungi DC and respective rural communities in Makotea, Mungaa and Mtavira to appreciate the power of technology through the OGB initiative. They now have full confidence on the potential of solar power in facilitating access to clean and sustainable water and power supply and have fully realized that the means to help them fight poverty (e.g. access to power and water) exist within their local environment. As a result, the Ikungi DC has made a resolution to set aside relevant budget in the 2021/22 budget to support replication of this technologies in other villages that are yet to access such services

Employment income and job creation: Some of the projects supported by UNDP under this pillar have had immediate impacts on jobs, employment and income generation thereby contribution to the overall objectives of supporting achievement of SDG. OGB is one of those projects that have immediately created full time employment to over 24 villagers and facilitated some communities' members to establish vegetable gardens. Moreover, the has facilitated reliable access to safe and clean water and power to over 20,000 villagers and helped improve health and wellbeing of communities in project areas through reduced waterborne disease that was being caused by consumption of unsafe water from shallow bore holes in the past.

The role of exposure visit: Seeing is believing in facilitating adaption of new practices and technologies: TAHA experience that that exposure visit of target stakeholders could have positive immediate outcome. For instances in order to sensitive and raise interests on horticulture value chain, TAHA organized an exposure visit to the Northern Zone (Arusha and Kilimanjaro) and Lake Zone (Mwanza) for the Local Government Authorities from the six (6) Districts under the project to give them a full understanding of the value chain activities from production to marketing and relationships amongst the actors. The exposure learning has given the Officials a richer appreciation of the entire horticulture industry, leading to the horticulture being included in their District Agricultural Development Plans (DADPs).

Demand-driven projects ensure sustainability. All the activities approved for implementation are demand driven which is useful in terms of ownership, effectiveness and efficiency. Methodology of the RARIS project, especially the project instruments such as Annual Work Plans, Quarterly Work Plans, Results Framework and Tracker, has been useful as it ensures a desirable implementation performance as well as avoiding business as usual tendencies. The partnership between ESRF, MoA and UNDP has worked very well to ensure delivery of the project. These arrangements need to be sustained and enhanced.

Benefits beyond project area: While targets of many projects were set with focus on beneficiaries within the project vicinities, some interventions have benefitted stakeholders beyond project areas. This has been the case under the TAHA project whereby, farmers from different geographical locations have received trainings through demonstration plots established by the project. Examples are 68 farmers from Magu and Bariadi districts in and Simiyu respectively, 23 farmers from Hai and 34 farmers from Arusha Municipal have received practical trainings on application of GAPs from the project's demonstration plots.

Positive Influence of COVID-19: Despite its rampant and devastating socio-economic consequences on peoples of all kinds COVID-19 is reported to have influenced positively the demand and market for horticultural products leading to increased revenues among various players in this value chain. This resulted from increased calls and urge by the government and other medical specialists to the public for increasing consumption of fruits and vegetables as a crucial mechanism for enhancing body immunities against COVID-19 and other infections. As an example, in some places (e.g. Moshi and Arusha), price of lemon is reported to have increased from TsH 50 to between TsH 150 and 200 which is an increase of up to 150%, owing to increase in demand of such products both in urban and rural areas.



Findings
1.



Recommendations
1

Reducing delay to begin implementing projects

Due to delays in commencing implementation there are a good number of projects that have are still in their early stages of implementation including PEA, Accelerator Lab, GCLN that needs further follow up and support to ensure achievement of desired outcomes, This include follow up on the PRODOC for the National Youth Empowerment developed under the YEEVACE project

2

Reduction of project duration:

Some projects have had very short duration which could have somehow affected smooth implementation and realization of the intended results. This particularly the case of the RARIS and TAHA projects which were one 1-year project. Based on discussion with both project implementing team and project beneficiaries (farmers) it became apparent one year is too short to see the needed results due to a number of reasons including the time needed for planning (e.g. stakeholder engagement and mobilization but also because most farmers are practicing seasonal farming. As consequence, many of supported beneficiaries were yet to experience benefits from project interventions as they were waiting for the new seasons to practice what they had been learned from the project. Similarly, some farmers under the TAHA project had to undergo GAP certification in order to secure markets from Europe and Middle East. Therefore, such challenges should be considered and used to inform determination of project duration based on available financial resources.

3

Need to scale up the successful sample projects with donors' support. Most of the agriculture projects implemented under the IG pillar have successfully established demonstration plots in few pilot areas: For example the TAHA project established demo plots for commercial horticultural production in six project districts while the PEA project established pilots for commercial cage-fishing, irrigation farming and, hydroponic folder. However, given the importance of the agriculture sector on employment and poverty reduction, UNDP and other partners should consider further support for expanding of the initiative to many more regions and districts in the country in order to ensure a leave no one behind. Similarly, the OGB pilots established in Ikungi, Busega, and Bunda needs to be replicated to several other rural communities currently living without sustainable access to clean water and energy services for lighting and powering their livelihood. Further, the non-incineration technologies piloted by the UPOPs in 5 health facilities in Dar es Salaam will need to be followed up for replication and scaling up

4

Supporting local SME to make feedstock

Lack of locally made food stock for cage fishing is one of the challenges facing many entrepreneurs interested in engaging in cage-fishing. Currently such food is being imported from abroad a process which in addition to being expensive has been severely challenged during COVID-19 pandemic. Therefore, given the potential for scaling up this business (i.e. its demand/profit and availability adequate environment) (i.e. extensive lake shore) it is recommended that UNDP and other partners consider supporting government to establish a local industry for making feedstock.

5

While all projects and beneficiaries have been affected by COVID-19, some have been affected more than others. Because of its nature of operations which depends on members' contribution to performs some of its operation, the UNGC has been affected by COVIDI-19 whereby some member businesses have not been able to make their contribution while others have failed to comply with the requirements and therefore deregistered. It is therefore recommended that a No cost extension be considered for such projects in order to allow the project to readjust accordingly.

6

Public Private Partnership:

Projects supported by the IG pillar have established a number of important Public Private Partnership (PPP) (e.g. Between producers and consumers,) which are not only best placed to sustain results of UNDP investment but also contributing significantly to creating jobs and addressing critical challenges poverty, unemployment and sentimental degradation. Such projects include the PEA, TAHA, GCLN and Accelerator lab. It is therefore recommended that these partnerships be natured to facilitate achievement of these goals.