Mainstreaming global environment commitments for effective national environmental management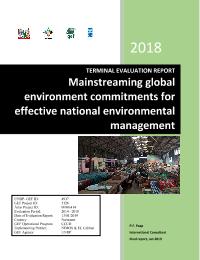 Evaluation Plan:

Evaluation Type:

Final Project

Planned End Date:

10/2018

Completion Date:

04/2019

Status:

Completed

Management Response:

Yes

Evaluation Budget(US $):

15,000
Title
Mainstreaming global environment commitments for effective national environmental management
Atlas Project Number:

00083414

Evaluation Plan:
2017-2021, Suriname
Evaluation Type:
Final Project
Status:
Completed
Completion Date:
04/2019
Planned End Date:

10/2018

Management Response:
Yes

Focus Area

:
Corporate Outcome and Output (UNDP Strategic Plan 2018-2021)

1. Output 2.1.1 Low emission and climate resilient objectives addressed in national, sub-national and sectoral development plans and policies to promote economic diversification and green growth

SDG Goal

Goal 12. Ensure sustainable consumption and production patterns
Goal 15. Protect, restore and promote sustainable use of terrestrial ecosystems, sustainably manage forests, combat desertification, and halt and reverse land degradation and halt biodiversity loss

SDG Target

12.4 By 2020, achieve the environmentally sound management of chemicals and all wastes throughout their life cycle, in accordance with agreed international frameworks, and significantly reduce their release to air, water and soil in order to minimize their adverse impacts on human health and the environment
15.1 By 2020, ensure the conservation, restoration and sustainable use of terrestrial and inland freshwater ecosystems and their services, in particular forests, wetlands, mountains and drylands, in line with obligations under international agreements
15.2 By 2020, promote the implementation of sustainable management of all types of forests, halt deforestation, restore degraded forests and substantially increase afforestation and reforestation globally

Evaluation Budget(US $):

15,000

Source of Funding:
Project Budget
Evaluation Expenditure(US $):

15,000

Joint Programme:
No
Joint Evaluation:

No

Evaluation Team members:

| Name | Title | Nationality |
| --- | --- | --- |
| P.F. Paap | International Consultant | |

GEF Evaluation:

Yes

| | |
| --- | --- |
| GEF Project Title: | Mainstreaming global environment commitments for effective national environmental management |
| Evaluation Type: | Terminal Evaluation |
| Focal Area: | Multifocal Areas |
| Project Type: | MSP |
| GEF Phase: | GEF-5 |
| GEF Project ID: | 5126 |
| PIMS Number: | 4937 |

Key Stakeholders:
NIMOS; Government of Suriname
Countries:

SURINAME
Lessons
1.

The project demonstrated several good practices which resulted in the successful implementation of the project that may be adopted for the formulation of other projects. It also provided some points that future projects and projects elsewhere should try to avoid.

Some of the best practices are:

i. Training of local stakeholders on the use of the Land Use/Land Cover map for local development planning. This has been indicated by several respondents as being very useful as an anchor for overall capacity building. The national and district maps are now already being used for planning purposes.

ii. Digitalization efforts for data and information that is available in written or printed format. In this, SuriCorp has been important, providing young volunteers to do the actual digitization (and herewith making these volunteers more employable), but the CCCD project has provided several organizations with the necessary hardware to make the transfer. This will help in gaining more insight in time lapses of environmental phenomena.

iii. Clearly linking the project to an institution with a mandate to continue the path set out by the project. NIMOS' Environmental Planning and Information Management bureau (EPI) was at the heart of the project, offering opportunity to explore its mandate in the matter. This ensures sustainability of the project results.

iv. Tendering packages of project implementation to a consortium of national and international consultants. To create more efficiency of use of funding and time, project outcomes and outputs were combined into packages for which tenders were elaborated. The time lost on the tendering procedure can be gained by providing clear TORs to the consortia of consultants that are recruited for the different packages and with appropriate oversight, these can produce more in-depth and detailed products during a required participatory process. Training and communication can be part of their portfolio.

Some of the worst practices:

i. Confusion about the role and responsibilities of the two executing agencies, NIMOS and EC Cabinet. After the dismantling of the ATM, the execution befell NIMOS and the EC Cabinet, but no clear division of tasks was outlined. NIMOS was supposed to do the execution and EC Cabinet the oversight, but this did not materialize. So, clarity of roles and responsibilities should have been formally agreed upon in a type of MoU before the project execution.

ii. Detailed planning of certain crucial aspects in project coordination: stakeholder involvement, communication, capacity development and M&E. A number of necessary elements of project execution were not formalized, but executed haphazardly without a clear action plan and without clear capitalization of results. That makes evaluating these elements very difficult and provides lack of transparency.

iii. Allotting all packages of work to only one consortium. Initially, all project activities were meant to be tendered to one consortium of consultants only. This is only a good idea if oversight is stringent and adjustments can be made with authority. Both were not the case in this project. Fortunately, one of the elements – the elaboration of judicial instruments for the Environmental Framework Act – was drawn out of the tender on strong advice from UNDP.



Findings
1.

3.1. PROJECT DESIGN / FORMULATION

The project design / formulation for this CCCD project was a lengthy process. After receiving endorsement from the GEF OFP (GEF OFP Endorsement Letter –3 August2012), the Project Inception Form (PIF)was first submitted to the GEFSec on 29 August2012. The PIF/PPG approval by the GEFSec arrived on the 8th of April2013. The Request for MSP approval/Prodoc was submitted to the GEFSec on the10th of April 2014. Subsequently, the GEF CEO provided MSP Approval on the7thof July2014and the UNDP-GEF Executive Coordinator gave DoA clearance/signature on the24thSeptember2014. The ProDoc signature was finally done on the 30thofOct 2015. As indicated earlier,the project end was foreseen for 30th of October 2018, but an extension has been granted until the 17thof June 2019. This would give this 3-year Medium-Size Project a total time span fromthe formulation of the project ideai to delivery of more than 7 year.




Tag: Programme/Project Design

2.

ANALYSIS OF LFA/RESULTS FRAMEWORK (PROJECT LOGIC /STRATEGY; INDICATORS)

The GEF Project Results Framework is a key planning tool with detailed activities under the implementation framework that were defined in the Project Document. It can and should be used as a basis for reporting on the progress towards achievement of objectives and implementation progress to the GEF in the middle of the calendar year in a combined Annual Project Review/Project Implementation Report (APR/PIR), together with the UNDP format for internal project management and reporting done on a quarterly basis. Hence, the logframe (LFA) shall serve to monitor & evaluate the overall project achievements –based on defined targets and indicators to measure these targets. Indicative activities are related to each output and output target.




Tag: Programme/Project Design Project and Programme management Results-Based Management

3.

ASSUMPTIONS AND RISKS

Assumptions have been made at the project start about the project context: elements that were beyond full control of the project but were nevertheless of influence should they come to change. The critical assumptions in this project are included in Table 5. The Evaluation will analyze the way the project has worked on basis of these assumptions and how mitigation has taken place in case assumptions have proven inadequate or faulty.

The ProDoc acknowledges as most significant risk which could impact the implementation of this project to be political instability, fluctuations in the institutional make-up of the government, and the resulting lack of coordination among government structures, as well as challenging financial situations and conflicting mandates. The presidential election scheduled for 2015 has fostered some unpredictability and uncertainty for the public sector. Some significant changes could be expected from the election, impacting mandates, structures and budgets. The project proposed to mitigate this risk by ensuring that there be good cross-collaboration and coordination from the project preparation to the implementation, and that regardless of who has the final responsibility of implementing particular actions, the project is supported cross-governmentally, so that if there are any transitions, collaborating partners can step in with the knowledge of project direction. Additional risks and mitigation strategies were highlighted in C.3.a. of the ProDoc; see table 6. The evaluation will gauge if risks have turned into threats to the project and the actual mitigation measures taken. The project Risk Logs will need to provide more information on these developments.




Tag: Election Change Management Human and Financial resources Risk Management Country Government

4.

LESSONS FROM OTHER RELEVANT PROJECTS (E.G., SAME FOCAL AREA) INCORPORATED INTO PROJECT DESIGN

Since the CCCD portfolio is relatively young, it is not obvious to find other relevant projects in the same focal area. Nevertheless, the Evaluator has been involved in the Cambodia CCCD project, which tackled to large extent the same topic: Environmental Knowledge and Information System for better environmental governance and easier reporting to the conventions. Undoubtedly, there are other similar projects within the CCCD or Enabling Activities portfolios that could have provided supportive documentation and lessons learned. However, this has not become evident from the documents reviewed and the interviews held.

Nevertheless, since the project was housed within NIMOS, who is currently also implementing the REDD+ project, cross-fertilization between the two projects is evident. As noted earlier, the REDD+ process has been able to develop a Communication Strategy and a Stakeholder Engagement Strategy, which have been loosely followed by the CCCD project as well.




Tag: Environment Policy Programme/Project Design National Institutions

5.

PLANNED STAKEHOLDER PARTICIPATION

Due to the project's multi-sectoral nature, the ProDoc stated that the project would be working in a multi-stakeholder situation where numerous authorities and responsibilities are responsible to implement the Rio Conventions. Therefore, partnership strategies were critical for the success of the project. Main project stakeholders (including ministries, private sectors, and development partners) identified in the project design (ProDoc; p. 46) that were to be actively involved in projectimplementation and their foreseen roles have been outlined in Par. 2.5.The following progress was noted on the specific roles of stakeholders(table 8).

Planned stakeholder participation was mainly focused on having national custodians of environmental information take seat in the SMIN Knowledge Platform and obtaining information from them to load the Environmental Atlas and Information Catalog. Local stakeholders were engaged mostly through the work by SBB on the district and resort level Land Use/Land Cover maps, in which they provided map calibrations and were trained in the use of the maps for their planning purposes.




Tag: Country Support Platform Oversight Partnership

6.

REPLICATION APPROACH

The ProDoc(part C.3, p. 43) indicates the following aspects of the project which lend itself to replication(table 9).

The project would have benefited from a Capacity Development Strategy, that would have outlined all capacity building activities undertaken, capitalized on their processes and findings, and outlined the replication potential.




Tag: Project and Programme management Capacity Building

7.

UNDP COMPARATIVE ADVANTAGE

The PIF provided information on the comparative advantage of UNDP as Executing Agency for this GEF project. UNDP was selected as the GEF Implementing Agency for this project based on their experience and expertise in supporting capacity development efforts in Suriname, and the lessons learned and best practices that it could bring to bear from their experience in other countries. UNDP and the Government have previously worked jointly on implementing the NCSA, which made UNDP a knowledgeable partner in implementing the follow-up to this process.

CB2 projects are complex due to their multi-sectoral, multi-stakeholders' nature. In general, UNDP comparative advantage lies in its experience in integrated policy in different national processes, policies, and frameworks. UNDP's assistance in designing and implementing activities is consistent with both the GEF mandate and national sustainable development plans. UNDP has indeed partnered with many NGOs and CBOs during its work in Suriname and has been the administrative kingp in in many projects and programmes financed by the GEF and other funding mechanism, on which the current project could build. However, due to the full NIM modality of the project, the available capacity within the UNDP network may not have been fully exploited.




Tag: Implementation Modality Oversight Policies & Procedures Project and Programme management Capacity Building Coordination

8.

LINKAGES BETWEEN PROJECT AND OTHER INTERVENTIONS WITHIN THE SECTOR

In Section E.1. (page 61) of the ProDoc, the linkages of the current project are discussed with other relevant ongoing interventions and projectsin the country. These are:

Development of Renewable Energy, Energy Efficiency & Electrification of Suriname(IADB)
Conservation of the Guianas Shield (UNDP)
Integrated and Sustainable Management of Trans-boundary Water Resources in the Amazon River Basin Considering Climate Variability and Climate Change (ACTO)
Formulation of a Code of Practice for Sustainable Forest Management (TropenbosInternational).
Coastal Protected Area Management (UNDP)




Tag: National Regional Knowledge management

9.

MANAGEMENT ARRANGEMENTS

Management arrangements have already been explained under Par. 2.5., including the organigramme. The project isimplemented according to UNDP's National Implementation Modality (NIM)as per NIM guidelines agreed by UNDP and the Government of Suriname. UNDP is the GEF Agency for this project, with the UNDP CO in Suriname responsible for transparent practices,appropriate conduct and professional auditing. The Executing Agency/Implementing Partner isthe Office of the President and National Institute for Environment and Development (NIMOS).The arrangements, as explained in the ProDoc covered:

a) Project Board: meet at least twice times per year at the UNDP Country Office Headquarters;

b) National Project Director(NPD): designated senior government official;

c) Project Management Unit: full-time National Project Manager (NPM) and supported by a part-timeassistant(Technical Coordinating Officer TCO);

d) Pool of national consultants(14 national experts);

e) Technical Working Groups (TWGs): One on knowledge production, data generation and sharing with mandate to supportthe development of the knowledge platform; one on environmental governance and legislation.

In the Annexes of the ProDoc, draft TORs were included for the Project Board, the NPD and the NPM.




Tag: Anti-corruption Country Support Platform Implementation Modality Oversight Project and Programme management Civil Societies and NGOs

10.

ADAPTIVE MANAGEMENT (CHANGES TO THE PROJECT DESIGN AND PROJECT OUTPUTS DURING IMPLEMENTATION)

According to the ProDoc (p.14 & 65), the project would take an adaptive collaborative management(ACM) approach to implementation, which calls for stakeholders to take an early and proactive role in the mainstreaming exercises, as well asto help identify and solve unexpected implementation barriers and challenges. By taking an ACMapproach, project activities and outputs can be more legitimately modified and adapted to maintaintimely and cost-effective project performance and delivery.That is, UNDP and NIMOS should manage project activities with early involvement ofstakeholders and throughout project implementation, providingregular input onthe performance of project activities: this would help signal unforeseen risks and contribute to the timely modification and realignment of activities within the boundaries of theproject's goal and objectives.

According to the procedures outlined in the ProDoc, the PMU would have prepared annual work plans (AWP), based on which theactivities and outputs are related to proposed project components and outcomes. Theevaluator hasn't received these AWP for evaluation, hence the application of ACM could not be properly evaluated.




Tag: Programme/Project Design Project and Programme management

11.

Project management must constantly keep referring to the goal and objectives and critically assessing how the activities are contributing to the outputs and how those outputs are leading to the objective. Threeadaptatively management measures were taken by the CCCDProject:

A.Move the project from ATM to NIMOS(operational) & EC of the Cabinet of the President (oversight).

Practically, this move could have influenced the project positively, since the oversight of the project would now be in the hands of the Cabinet of the President and therefore overarching the mandates of individual ministries (as would have been the case with the Ministry for the Environment). Unfortunately, strong involvement of the EC fell away during implementation and left in the hands of NIMOS. The latter institutions may not have been recognized as having the clout of a Ministry and therefore may not have been as effective in mainstreaming as it could have been. In this sense, the move has not had the positive desired effect.




Tag: Oversight Project and Programme management

12.

B.Restructure the project management.

The restructuring of the project management mostly had to do with not installing a formal Project Board for guidance and decision making or Technical WorkingGroups (TWG) for technical backup and review of outputs. In absence of alternative structures to take the place of the TWG, the PMU was mostly responsible for the evaluation of the technical outputs of the project and stakeholders were practically only involved to validate those outputs. Another restructuring had to do with the decision to not hire a PMU from outside, but allocate a NIMOS staff member as project manager and M&E expert and NIMOS administrative staff as support. The only person within the PMU hired specifically for this project was the Technical Officer, but her contract terminated long before project end. These decisions have not worked out positively for the project execution, seeing that the allocated NIMOS staff continued to be responsible for certain normal NIMOS tasks, and they could not rely on the support of TWGto provide technical assistance.




Tag: Change Management Project and Programme management

13.

C.Hirea consortium of international and national consultants under lead of Kaplan Consultants to provide the outcomes.

This decision was probably taken with the notion of speeding up the process and obtaining a good grip on the outputs. Serious delays had already occurred and speed was of the essence. The difficulty of managing a consortium of consultants has been underestimated. Although the outputs provided by the Consortium are of considerable quality, they are not fully owned by the stakeholders (having beenproduced by an outsider).




Tag: Challenges Human and Financial resources Project and Programme management

14.

PARTNERSHIP ARRANGEMENTS

As NIMOS was officially appointedto be Suriname'scentral hub fortechnical, management and political issues concerning environmental matters, the Project was able to coordinate the involvement of the government counterparts, NGOs and CBOs, representatives of the Indigenous and Tribal People of Suriname, and R&D institutions, like ADEK, CELOS and Tropenbos. The fact that with the dismantling of the ATM, NIMOS is now the central body for the preparation of environmental decision-making and their efforts in operationalizing an Environmental Planning and Information Management office(EPI). This office had already been foreseen in the IADB proposal (Buursink, 1997), that outlined a new Suriname institutional framework for Environmental Governance. According to EPI's description of tasks, it has the general responsibility for the national environmental planning in two ways: (1) by spatial mapping and zoning of the country on basis of modern GIS-methods, field data and information entry/management; and (2) support and promotion of economic planning by means of the process of national environmental action planning (NEAP). Moreover, EPI also hosts the automatized environmental data bases of NIMOS for spatial and non-spatial information. Placing the project in EPI has been the obvious choice as it has been an important tool in operationalization of the office to fulfil its mandate. All partnerships already established by NIMOS in the course of its existence can contribute to the success of EPI.




Tag: Partnership Coordination Civil Societies and NGOs Indigenous people National Institutions

15.

FEEDBACK FROM M&E ACTIVITIES USED FOR ADAPTIVE MANAGEMENT

The project seems to be only really implemented effectively as of early 2017. The changes proposed during the PPG phase contributed to set up acorrect management structure for the Suriname circumstances of having many projects and only limited capacity from institutions to take seat in Steering Committees. The steering of the project through informal meetings with representatives of the key stakeholders should have provided a good way of quickly reacting to changing circumstances.

The PPG report did include a number of changes that were applied on the PIF to come to a full proposal, which were integrated well into the ProDoc. During the project implementation, the project management unit and UNDP have incorporated several changes in the project set up and implementation arrangements, that have been discussed earlier. These decisions were made to expedite the project implementation process; unfortunately, in view of the fact that the project has requested and been granted a no-cost extension, this has not proven to be successful.




Tag: Change Management Oversight Project and Programme management

16.

According to information available to the evaluator, the official Inception Workshop would be held on the 13thof December 2016 (see Annex G). However, the evaluator was provided with a report of a workshop that was identified by NIMOS as the report of the Inception Workshop. This workshop was held on the 14thof March 2017in the Torarica Hotel in Paramaribo. During this workshop a number of recommendations were made that would have consequences for the current project and hence, for the evaluation. Some examples:i.

UNDP representative Drakenstein acknowledged two components for the project that were deemed important:

internal, focused on the government institutions to provide the pieces of information that are available within the government apparatus, among which important institutions like NIMOS and SBB.
Civil Society, within which the indigenous and tribal people also have access to information and should be given a voice to be heard by policy makers with intention to influence policy processes.

. Acting Director NIMOS, CEDRIC NELOM acknowledged two preliminary results of the CCCD Project that contribute to environmental planning and information management:

publication of the 7thEdition of Environmental Statistic ("Milieu Statistieken") produced by the General Bureau for Statistics (Algemeen Bureau voor Statistiek /ABS) and
the 'Tourism Exit Survey' by Suriname Tourism Foundation (Stichting Toerisme Suriname/ STS) and ABS. These should be listed as tangible results of the project.

. Next to providing environmental planning a place within national environmental management, NIMOS is also executing the CCCD project to provide support to the national planning under authority of the Suriname Planning Bureau Foundation (Stichting Planbureau Suriname). The evaluation will see how this has been given form.
Presentation by Mr. Donovan: the Climate Output Forum is also a Knowledge Platform, which mostly deals with exchange of weather data for certain stakeholders. Connection should be sought.
Request by Mrs. Crabbeof the Forest Management and Surveillance Foundation (Stichting Bosbeheer en Bostoezicht) about to connect to the existing forest monitoring system on geo-portal of the Forest Cover Monitoring Unit (FCMU) (the National Forest Monitoring System);
Mr Salomon Emanuels discusses the need for involvement of communities, professionals and stakeholders in the implementation of the project and the need to build on previous workshops –in following workshops, the findings, conclusions, insights and recommendations should be collected and discussed. It is not the intention to create new things everywhere, but we will have to work with the existing data as much as possible.
Results from the working groups: mostly relating to the question: who owns the data and how can liberal exchange be ensured and under what conditions.
Wrap up: Mr. Emanuels indicates that there is local knowledge available among the indigenous communities, which should also receive attention under the project. Participants are asked to send a GIS questionnaire to NIMOS. The inception report did not capture all necessary adaptive management measurements including the formulation of the project's technical working groups, the project management structure, and the first-year work plan. What it did capture was interesting non-the-less. It gave an overview of what had been noted during previous workshops pertaining to the subject.One discussion centered around the use of findings of previous workshops. One example was the construction of the Road Map (Policy Formulation), during which it was recommended to use initial zoning suggestions, as a basis for a national spatial planning system. Zoning would be benefitted by the formulation of a coastal protection policy paper and policy papers regarding biodiversity preservation and the contribution of forests in Suriname to carbon stocks, and the reduction of the greenhouse effect, as well as allocation of areas for the development of urban areas, transportation, infrastructure, sewage treatment.

With regards to M&E, the foreseen annual, quarterly, and day-to-day M&E instruments such as the Annual andQuarterly Progress Reports were more or less neglected. QPR's are no longer required according to UNDP procedures, having been replaced by another tool. The only APR/PIR that was available is the one from 2017.According to the project document, the Project Boardwas to meet twice a year with atotal 6 meetings during the project lifetime; as discussed earlier –this did not happen in a formal way. M&Ecapacity of NIMOS built via recruitment of M&E officer, who unfortunately resigned from her post in Sept/Oct 2017and was not replaced.




Tag: Civil Societies and NGOs Indigenous people Communication Monitoring and Evaluation

17.

PROJECT FINANCE

The Evaluation assessed the key financial aspects of the project, including the extent of co-financing planned and realized. Variations between planned and actual expenditures were assessed and explained. Results from recent financial audits, as available, have beentaken into consideration. The evaluator(s) receivedassistance from the UNDP CO and Project Team to obtain financial data in order to complete the co-financing table below.

The actual expenditure and the leveraged co-financing have been assessed during the TEmission. The differences between planned and actual expenditures per components per yearhave been assessed and presented in Table 10. Project Budget and Expenditures (US$) Thetable provides an overview of the budgeted expenditures of the GEF Project of US$ 980,000. As of October 2018(planned project end), US$ 834,099or about 85% of the project total budget, hasbeen expended. Thus, about US$ 145,900remain in the Project budget for technicalassistance, implementation public awareness activities and capacity development activitiesfor the extension period.




Tag: Efficiency Global Environment Facility fund Government Cost-sharing Human and Financial resources

18.

MONITORING AND EVALUATION: DESIGN AT ENTRY AND IMPLEMENTATION (*)

The TE considers that the UNDP project assurance role has not been appropriately applied to thisproject, due to the following evidences:

-There have been a number of monitoring and review exercises conductedby the UNDP Country Office including field monitoring visits, participation in theinformal steeringmeetings, preparation of the 2017 APR/PIR.Annex Gprovides evidence of these interactions.

-Preparation of the first APR depends on the ProDocsignature date. All projects signed before 30 June in year X, are supposed to prepare the first APR in the year X+1. Projects signed after 30 June X, should prepare the first APR in year X+2. The ProDoc of the Suriname CCCD projectwas signed in October 2015, hence the first APR was correctly issued in 2017.

-Since no quarterly progress reports were deemed necessary, the UNDP Country Office wasinformally active in reviewing and following up on the project'sfinancial reports and project work plans.Only one set ofminutes of such meetings have been provided to the Evaluator, but Annex G provides some examples ofUNDP's request for progress reporting.

-The UNDP/GEF Regional Unit and UNDP Suriname's provisions of financial resourceshave also been in accordance with project norms and in a timeframe, which issupportive of covering the costs of project activities.

-The Project's staff and consultants were contracted according to the established Rulesand Regulations of the United Nations and the financial transactions and procurementactivities similarly followed due process and the same Rules and Regulations.

-The Evaluator was unable to fully assess if the project's monitoring and evaluation activities were conducted in accordance with established UNDP and GEF procedures.The initial M&E paragraph in the ProDoc should have been followed during the implementation of the project. Although the Implementation and Monitoring Stage Quality AssuranceReport of February 2017 states that: "the project has a costed M&E Plan, and most baselines and targets are populated. Progress data against indicators in the project'sRRF is collected on a regular basis, although there may be some slippage in following the frequency stated in the Plan and data sources are notalways reliable. Any evaluations conducted, if relevant, meet most decentralized evaluation standards. Lessons learned have been captured butmay not have been used to take corrective actions yet. (all must be true to select this option)", the absence of the true Inception Report (of 13thof December 2016) didn't provide the Evaluator with the evidence that the M&E plan had been reconfirmed and tightened up during the Inception Workshop.The absenceof the narrative to the AWPs could not remedy this assessment: it is not clear how the outputs of the M&E have led to changes in the project implementation set-up.




Tag: Monitoring and Evaluation Policies & Procedures Quality Assurance

19.

Despite these shortcomings, the Project has implemented the project's foreseen outputs.This might be due to several reasons: production of the outputs was tasked to a consortium of consultants with payment upon delivery and day-to-day monitoring by the Technical Coordination Expert and oversight from the Senior Advisor. The production process is still ongoing, but well developed drafts of the foreseen outputs are available. Also, since NIMOS is working on EPI operationalization, this latter office having exactly the tasks foreseen in the project, motivation for reaching the required results washigh.

The following elements are identified in the project document as the principal components of monitoring and evaluation:

1. As discussed earlier, aproject inception workshop was held to introduce an understanding and ownership of the project's goals and objectives among the project stakeholder groups. The inception phase should have beenutilized as an opportunity to refine the project log frame, putin place the necessary logistics, and develop the first Annual Work Plan (AWP); apparently, this has happened on the 13thof December 2016, but the evaluator was not provided with a Report of this event. Instead, the report of the 14thof March2017was introduced as the Inception Report. The TE considers that the quality of the Inception Phase and corresponding Report representa weakness in the Suriname project cycle.




Tag: Human and Financial resources Monitoring and Evaluation Quality Assurance

20.

9. Capacity Development Score

Card The CCCD Score Card is a tool that attempts to meet this balance, serving to quantify a qualitative process of capacity change through the use of appropriate indicators and their corresponding ratings. The scorecards present descriptive sentences for each capacity development indicator with 4 numerical ratings (0 to 3). Although the framework presents a set of indicators, the tool is flexible enough to add indicators specific to each focal area. The ProDoccontains a project scorecard that was adapted from the standard scorecards used by UNDP to fit the context of cross-cutting capacity development and measure the priority areas that were noted in the NCSA. To establish the baseline capacity, stakeholders were asked to score their understanding of the existing institutional capacities for cross-cutting capacity development, where they would like to move the capacity to in the three-year timeframe, and how they would prioritize each capacity. The scorecard was filled collaboratively through a participatory process atthe validation workshop(see paragraph 3.1. for participants).




Tag: Monitoring and Evaluation

21.

UNDP AND IMPLEMENTING PARTNER IMPLEMENTATION / EXECUTION (*) COORDINATION, AND OPERATIONAL ISSUES

Under this heading, the evaluator evaluates UNDP, NIMOS and the Environmental Coordination of the Cabinet of the Presidenton their implementation efforts.UNDP (Implementing Agency) implementationThe key aspects of the UNDP implementation are as follows:

-UNDP was permanently looking whether the CCCD Project was being implemented basedon the Results Based Management with appropriate focus on established targets. Informal discussions with the project management unit were frequently held and UNDP was part of the informal 'board' to decide on progress of the project.

-The UNDP support to the Executing Agency is rated as appropriate and adequate, with the notation that M&E could have been better arranged.It was also clear that UNDP has undertaken several attempts to steer the project implementation towards improvement (as evidenced by the M&E activities outlined in Annex F), but under the NIM modality such efforts are not always successful.-The UNDP support to the project team is regarded as adequate and timely:

•The management structure of the Project has been modified during the project preparation grant period and execution(application of an 'informal' board concept that reflects better the possible time investment by an already overburdened institutional framework; hiring of a Technical Coordination Expert to support the Project Manager)
Facilitate the recruitment and engagement of a consortium of National andInternational consultants to provide dedicated services during the implementation.
Providing necessary guidance for and approval of AWPs and their revisions.




Tag: Human and Financial resources Implementation Modality Partnership Project and Programme management Results-Based Management Coordination Operational Services

22.

NIMOS (Executing Agency/Implementing Agency) execution

As stated earlier, after the Ministry of Labor, Technological Development and Environment (ATM) was dissolved with all environment related task and project responsibilities having beentransferred technically to the Office of the President and the National Institute for Environment and Development (NIMOS), overall project implementation role was entrusted to NIMOS, which has therefore been considered as implementing partner for the project in the course of this evaluation.NIMOS was engaged as Executing Agency for the project after theMinistry of ATM was dismantled. The project purpose and outcomes fit perfectly with NIMOS' mandate. It was decided by NIMOS to outsource a huge part of the work to a consortium of international and national consultants, led by Kaplan Consultants, that were tasked toeffectively implementmost of the project's activities. NIMOS role was limited toproviding management oversight, quality control of the results, and mobilizing the needed high-level support.NIMOS has also provided the project with the needed co-financing, for a large part in-kind by providing offices and detaching staff to manage the project and provide adviceand administrative and logistic support.For a limited time, a dedicated M&E officer was assigned by NIMOS to the project. The fact that NIMOS is also running other environmental projects withclear linkages to the CCCD project has proven beneficial to the implementation of the former. Especially the REDD+ project, that shared the Senior Advisor with the CCCD, was of great influence on the CCCD, with respect to communication and stakeholder involvement efforts.




Tag: Human and Financial resources Oversight Project and Programme management Operational Services

23.

Focus on Results and Timeliness: During implementation, NIMOS displayedan appropriate focus on results by requiring the Consortium of consultants to produce a number of tangible outputs of the project (as has been outlined in Table 11 above). Nevertheless, a number of tangible outputs were also missing from the overall execution of the project, notably a communication strategy, a capacity building strategy and a stakeholder involvement strategy. Moreover, the timing of the project has not been respected (although in the absence of narrated Annual Work Plans, the timeliness of delivery of outputs under the 2 main outcomes could not be properly gauged).

Adequacy of management inputs and processes, including budgeting and procurement:the project management unit has executed the project within budget and procured according to the guidelines provided. Adherence to other processes could not be assessed by the Evaluator due to lack of project progress reports.




Tag: Operational Efficiency

24.

Quality of risk management: no evidence of risk management could be obtained from NIMOS. UNDP CO has requested updating the risk logs, but the evaluator could not assess the follow up by NIMOS due to lack of reporting.




Tag: Risk Management

25.

Candor and realism in reporting: the Report of the Workshop of the 14thof March portrayed a candid discussion and minute making. No other reports could be assessed. The Project Manager did share the technical outputs by the Consortium of consultants, which included the comments made by him and the Project Technical Officer. This leads the Evaluator to conclude that the reporting has been done with candor and realism.




Tag: Project and Programme management

26.

Government ownership: NIMOS did display ownership of the project. As will be discussed below, there was a clear interest by NIMOS in the project in that it offered the possibility to operationalize its new Department of Environmental Planning and Information management (DEPI). But as stated in the following text about the CE of the Cabinet, unfortunately the strong collaboration between NIMOS and CE on the project was lost along the way.




Tag: Ownership

27.

Environmental Coordination (EC) of the Cabinet of the President (Executing Agency) execution

The ProDoc indicated that forefficiency the editing of ATM throughout thetext to reflect the updated Environmental and project management situation has been kept to a minimum, however in moving ahead where ATM is mentionedshould be read as Office of the President and NIMOS, with overall project implementation role beingen trusted to NIMOS.The EC was cited as the second Executing Entity/Implementing Partnerin most initial documents.However, this division of tasks was never officially worked out during the inception nor implementation phase. As stated during the interview with the EC, initially, the EC was strongly involved in the project implementation. But this involvement gradually diminished. It would have been logical to employ the CE as main vehicle for lobbying and advocacy within parliament and other political arenas, as well as chairing the Board.




Tag: Oversight Ownership

28.

OVERALL RESULTS (ATTAINMENT OF OBJECTIVES) (*)

The achievements of expected results were evaluated in terms of attainment of overallobjective as well as identified outcomes and outputs. For this the performance by componentsis analyzed by looking at: (i) general progress towards the established baseline level of theindicators; (ii) actual values of indicators by the end of the CCCDProject vs. designed ones; (iii)evidences of relevance, effectiveness, and efficiency of the results as well as how these evidences were documented.

In paragraph 2.3 Box 2, the overarching goals of the project were discussed. Box 4estimates the project's contribution to achievement of these goals.




Tag: Environment Policy Anti-corruption Communication

29.

3.3. PROJECT RESULTS

RELEVANCE (*)

As indicated in the first chapter (Box 1), relevancepertains to13:

•The extent to which the activity is suited to local and national development priorities and organizational policies, including changes over time.
•The extent to which the project is in line with the GEF Operational Programs or the strategic priorities under which the project was funded.During the mission, the evaluator interviewed a great number of stakeholders with regards to this topic. All evidence showed that the project is very relevant to the government and addressed highly regarded topic. Practically all indicated that the project tackled a number of barriers that hindered the achievement of national development priorities. The stakeholders interviewed during the mission expressed the added value of the project,and emphasized that a new phase to operationalize the SNIM, implement the two Roadmaps and valorize the Environmental Atlas and Catalog are extremely necessary.




Tag: Relevance Partnership

30.

The project will aid Suriname in generating global environmental benefits through improved decision-support mechanisms and improved local planning and development processes in the country. The harmonization of environmental information systems is seen by all respondents in the interviews as very relevant.Also the production of the Land Use/ Land Cover map has been applauded by the respondents as a potential planning instrument on the national and local level and has been identified as an important instrument for measuring Land Degradation Neutrality. Infact, one of the major achievements attributed to the Project was the roll out of the Land Use/Land Cover Map towards the Districts of Suriname. The visualization of environmental issues is an strong instrument for communication and decision-making. This relevance is evidenced by the fact that maps producedby the project were used in presentations of land related topics in Parliament.

As indicated earlier, the project contributes adequately to the achievement of the GEF5 Cross-cutting Capacity Development Strategy. The project has also been highly relevant to UNDP activities in Suriname. As noted earlier, the project contributed to the fulfilment of UNDP UNDP Strategic Plan 2014 –2017 and Suriname's Country Programme, as well as the Multi-country Strategic Development Programme MSDF Caribbean.Provision of an indicator framework, M&E system and Environmental Knowledge and Information Management System will help in showing progress in the country with regards to Environmental Governance.




Tag: Environment Policy Relevance National Regional Harmonization

31.

EFFECTIVENESS & EFFICIENCY (*)

Effectiveness

The Project has achieved its Objective to support Suriname in harmonizing existing information systems that deal with the Rio Conventions, integrating internationally accepted measurement standards and methodologies. It also put in place the necessary preliminary conditions for a liberal exchange and effective gatherings, storage and transformation of data and information for improved decision making on environmental governance: the Knowledge Platform (SMIN) and the Roadmap to arrive at harmonization of data bases and standardization of data gathering and the Roadmap for improved environmental governance. Hence, theProject Objective and Outcomes have been achievedto certain extent, as well as most of foreseen tangible outputs.




Tag: Effectiveness Country Support Platform Harmonization

32.

Efficiency

In the eye of the evaluator, the project results have not been delivered with the least costly resources possible.The following points can be made to corroborate this:•no-cost extension –which already gives the idea that the project has run into delays. •

Use of 1 consortium with international and local consultants that were responsible for a large part of the components and outputs: project management had been warned about the risks of using only one consortium on the ease of management of the project intime and in quality –this risk has materialized.
Project manager was detached from NIMOS as a full-time project manager for the project. However, as often happens with such constructions, this person was expected to continue to perform certain tasks for the organization, which may have caused some delay in the execution of the project.




Tag: Efficiency Project and Programme management Risk Management

33.

Accomplishment of results

A third factor is accomplishment of results: the positive and negative, foreseen and unforeseen changes to and effects produced by a development intervention. In GEF terms, results include direct project outputs, short to medium-term outcomes, and longer term impact including global environmental benefits, replication effects and other local effects. Most of the foreseen tangible direct project outputs of the project have been achieved to large extent:o

SMIN: draft TOR and Kaplan report –these need some additional work, since only few respondents were knowledgeable about this platform. o
Roadmap: a cover document is necessary in order to interpret and validate the Kaplan report; only some of the respondents (outside of NIMOS) were aware of the existence of this roadmap, but most could not recall its purpose.oEnvironmental Framework Act and Decrees: the Environmental Framework Act has not been altered due to the project; focus was on the decrees for its operationalization. Only a few partners were aware of the decrees and fewer have been included in their formulation. The decrees will provide good opportunities for further operationalization of project results –particularly the two on EIA and the one on the Trust Fund.
Environment Atlas: final concept has been developed; most of the respondents are aware of its existence and have been approached for data and information provision. Several also indicated to have received the draft product. The Catalog of information sources also has been identified as an important instrument in harmonization of information sources;
LU/LC map: this product seems to be the most advanced of all project outputs; has also been identified by most respondents as an important context for capacity development –workshops and trainings, particularly executed by SBB.In this endeavor, the SBB webportal GONINI has been pivotal and will probably remain so for the time to come. It should be a central part of the SMIN webportal. o
Capacity Development: See LU/LC. Capacity development within the project context mostly had to do with providing the ICT equipment to several partners that host knowledge and information systems in Suriname. According to the interviews, NIMOS was supposed to organize 2 sets of trainings: remote sensing and satellite imagery.A number of interviews suggestthat such trainings have been providedby Kaplan though not all interviewees acknowledged them –leaving the question on how broad participation has been. A Gender training was organized in Brokopondounder CCCD budget, but as yet, no environment incorporated in it.
Sustainable Financing Plan: most partners indicate not to be aware of this document or to have been involved in the process to arrive at the document. Seems to be the least developed product, next to the SMIN.Development of a Financial plan for continuation of cross-cutting capacity development. Preliminary interviews and work sessions have been held. The main conclusions werea need for : i) Creation of Environmental funds; ii) Adjustments to National Accounting (green-national accounting); iii) Benefits Sharing (reallocation of funds to communities).




Tag: Environment Policy Harmonization Human and Financial resources Technology Capacity Building

34.

With regards to short to medium-term outcomes, and longer term impact including global environmental benefits, the evaluator feels that the project is not yet implemented to a stage where this can be evaluated. The project extension will prove project worth on these topics. Nevertheless, the clear linkage of the SMIN to the various international efforts underway, such as Land Degradation Neutrality, the UNFCCC Paris agreement, GBIF and the New York Declaration on Forests will prove beneficial for attainment of global environmental benefits, as well as contribution to the SDGs. One important point of attention is tomake sure that information management segregates the information with regards to women, youth, landless, elderly, children, fugitives and internally displaced groups. This is usually important information for partners of international cooperation.

As to replication effects and other local effects: the local development planning in Districts and Resorts will now be possible on basis of the LU/LC maps that have been produced for each, offering the possibility to better plan the landscape interventions and their impacts on land degradation, biodiversity and climate change adaptation and mitigation.




Tag: Natural Resouce management SDG Integration Vulnerable

35.

COUNTRY OWNERSHIP

As per ProDoc, "The Republic of Suriname has demonstrated its commitment to sustainable development throughits involvement in several initiatives. The government has signed and ratified international conventions andregional agreements in order to support global environmental objectives, such as the Rio-Conventions onbiodiversity (UNCBD), climate change (UNFCCC) and land degradation/sustainable landmanagement (UNCCD). The GoS participates in the three Conferences of the Parties (COPs), has National Focal Points on the three Rio Conventions and undertakes enabling activities in supportof convention objectives.In addition to being aparty to the three Rio Conventions, Suriname has ratified several other international conventions which address environmental issues. For instance, Suriname is a Party to the Convention onControlling Trans-boundary Movements of Hazardous Wastes and their Disposal; Convention onInternational Trade of Endangered Species of Wild Flora and Fauna; International Tropical TimberAgreement and the Convention for the Protection and Development of the Marine Environment ofthe Wider Caribbean Region, among others".




Tag: Climate change governance Environment Policy Natural Resouce management Ownership

36.

The country ownership is also evident in the strong interest and participation of stakeholders. The project was considered strategic and timely-at the development stage-as the Parliament had at the time of the project development, been debating about the Environmental Framework Act, which was and still a top priority of the President. The approval and operationalization of this Act was and is a prominent contribution of the project to the country's environmental governance system. The Act and the Decrees that operationalize it should be approved early 2019, after a lengthy process of development and amendment (the process started in 2002). With the elaboration of a number of Decrees, among which Decrees on interventions that require EIA or SEA and the procedures involved, a Decree on the establishment of an Environment Fund and a Decree on control of pollution.




Tag: Parliament Ownership Policies & Procedures Programme/Project Design Capacity Building Indigenous people National Institutions Private Sector

37.

MAINSTREAMING

Mainstreaming is mostly done via the OP2017. The EC of the Cabinet evaluates sectoral plans on their environmental impact. NIMOS is involved in many initiatives as advisory partner. Projects with external financing are evaluated by the Ministry of Finance on environmental relevance; overarching sustainable development planning is done by the Planning Bureau, that also works on scenario building to visualize the future. Interview respondents indicated that there is no specific Sustainable Development Plan or Strategy, although the ProDocclearly identifies one (p. 25); but that sustainability is an important element in the OP.

Especially important in mainstreaming is the elaboration of a clear Communication strategy. This communication strategy for the project was lacking, causing the project to be scarcely known (there was only one informercial, that hadn't been shown in public yet:

https://www.youtube.com/watch?v=lO2kzz2fpls&t=1s).The project addresses the UNDP priorities of developing the Government's capacity tomainstream Rio Convention implementation and obligations in national plans. The Projectwas able to successfully mainstream several UNDP priorities, as can be witnessed from the contribution to the Country Programme and the UNDP strategic plan and UNDAP goals.




Tag: Communication

38.

SUSTAINABILITY (*)

Sustainability has to do with the likely ability of an intervention to continue to deliver benefits for an extended period of time after completion. According to UNDP guidelines, projects need to be environmentally, as well as financially and socially sustainable.To make the results of the project sustainable, validation of guidance provided by the Consortium of consultants will be needed. The Roadmaps from the Kaplan reports need to be officialized via official Cover Documents by the government, indicating how the reports will be used.




Tag: Sustainability

39.

Financial

There is a strong need for review, validation and operationalization of the Sustainable Financing Plan, in order to ensure enough resources for a continuous functioning of the platform. It isuncertain that the GoS will be able to support NIMOS in capitalizing on the results of the project on government budget alone, so the Sustainable Financing Plan needs to foresee various way of auto-financing the latter. The elaboration of the Decree on the Environment Fund is already a good opportunity to start sourcing for alternative ways of replenishing the operational budget of the SMIN and the web-portal.If NIMOS succeeds to put in place an operational Sustainable Financing Plan for the continuation of the results achieved, there aremoderate risks, but expectations that at least some outcomes will be sustained. Especially when the results are being incorporated into the core work of the EPI.




Tag: Sustainability Human and Financial resources Operational Efficiency

40.

Socio-political

Of course, approval form Parliament on the Environmental Framework Act and the Decrees is a necessary prerequisite for good information management and decision making on basis of itin the years to come. The EFA is the basis for legitimacy of information gathering on different topics, not in the least environmental permitting, and the Decrees on EIA and SEA are necessary to place requirements on the information gathering for application of these instruments.

Another important issue for better Environmental Governance is the formalization of Tenure and Ecosystem Services rights, also for tribal and indigenous peoples. Without these, insecurity about who has the right to exploit which areas and reap the benefits of investments will lead to continuation of the focus on short term gains, which are often detrimental to the environment, leading to land degradation, loss of biodiversity and neglect of the risks of climate change and increased emissions of GHG. Hence, sustainable development is on the line.

Therefore, the evaluator foresees moderate risks, but expectations are that at least some outcomes will be sustained.




Tag: Biodiversity Ecosystem services Environment Policy Sustainability Indigenous people

41.

Institutional framework and governance

In the case of Suriname, where outputs of the current CCCD project are inherent to the mandate of NIMOS' department for Environmental Planning and Information Management, this ensures sustainability of the results of the project, including the knowledge platforms for the conventions (CHM)

A particular element was noted by the evaluator while reading the draft Environmental Framework Act. Where the Act spoke about establishment of an Environment Authority, it also outlined that this Authority would integrate NIMOS. Nevertheless, continuity of an autonomous NIMOS for a period after establishment of the Environment Authority should be ensuredto avoid loss of institutional memory.

The installment of the SMIN is still in its early stages. Formalization of SMIN is necessary for continuity of the project, hence theTOR has to be validatedand the SMIN has to be established according to that TOR. This would also need agreement on the MOUs between the various database and information holders among the Suriname institutions, both in the public, the non-governmental and the private spheres. And the SMIN will have to be offered a virtual space for discussions and exchange of information and experiences between the official meetings to be held. This is where a web-portal will be necessary, including a Community of Practice, rules, regulations and procedures for gathering, storage, validation, transformation of data and information, etc.

If SMIN can be installed as an operational platform for exchange of data and information and improvement of the M&E capacity of the Suriname institutional framework, the evaluator assesses the risks as moderate, but expectations are that at least some outcomes will be sustained.




Tag: Country Support Platform Country Government Data and Statistics National Institutions Regional Institutions

42.

Environmental

The project outcomes should lead to harmonization of environmental knowledge and information management systems that will be used in improved decision making, planning, monitoring and evaluation processes about natural resources management and combat of land-and forest degradation, negative effects of climate change and GHG emissions and loss of biodiversity.

If SMIN can be incorporated into the core functioning of EPI and long-term MOUs can be formalized with other data-and information holders, the continuous collection of M&E data will have a positive influence on the environmental governance in the country. Hence, the evaluator assesses the risks as Moderately Likely, carryingexpectations that at least some outcomes will be sustained




Tag: Emission Reduction Natural Resouce management Sustainability Knowledge management

43.

IMPACT

Impact entails the actual or anticipated, positive or negative changes in global environmental benefit, asverified by environmental stress and/or status change, and also taking into account sustainable development impacts, including changed livelihoods.

Impact of the current project cannot be estimated as yet: it'stoo early in the process. However, signals have been received: for instance the use of the maps during presentations for decision making in parliament and at district level with regards to land use and management of natural resources.

Particularly the elaboration of the Decrees on the Environmental Impact Assessment and the Strategic Environmental Assessment will help Suriname in better estimating the impacts of both project and policy interventions on the environment and the country's natural resources. And hopefully, the harmonization of environmental information systems, including DRR, will allow for a quicker response to potential hazards, climatic anomalies and illegal incursions on the landscape and its biodiversity, offering a better protection and conservation of the Global Environmental Benefits these may represent.




Tag: Environmental impact assessment Impact Harmonization
Recommendations
1

Hold a meeting with the project partners to discuss the current state of the Capacity Development Score Card and present the outcomes of the TE

2

Set up a specific meeting with the CM of the Cabinet to discuss progress and continuation; Portfolio meeting between UNDP and NIMOS can be option to establish technical information flow between 2nd layer NIMOS and CM, mirroring info and contact between management of NIMOS and CM. Need for systematic review of optimization of information flows within and between organizations.

3

Finalize draft Roadmap for Change, Environment Atlas, Catalogue, Decrees for the Environment Framework Act, Sustainable Financing Plan

4

Produce cover documents by NIMOS to officialize its interpretation of the Kaplan documents as official government documents with decision making implications. This can be done either as a cover document discussing all of the document or a cover document for each report/document produced.

5

Present documents to the foreseen partners in the SMIN and ask for their feedback

6

Establish TOR for web-portal SMIN and hire company to design and make accessible the Portal to SMIN partners and general public

7

Formalize SMIN – TOR and organize first meeting to outline the way of working together, MOUs, standardization of data/information and the use of the web-portal

8

Elaborate a Capacity Development Strategy that will incorporate all capacity development achievements during the project, as well as a roadmap for further capacity development after the project closes. This should include the HR Transition Plan as outlined as an important indicator of success in the PRODOC

9

Adapt the REDD+ Communication Strategy and the Stakeholder Engagement Plan to suit the needs of continuity of the CCCD project

10

Outline how the CCCD project will put special attention on the gender aspects of the project, as well as the specificities of vulnerable groups, such as youth, children, elderly, IDPs, refugees. Also put particular attention to the involvement of Indigenous and Tribal People and how to ensure their FPIC with regards to use of Indigenous Knowledge (Nagoya Protocol).
Management Response Documents