Final Evaluation: Conserving Habitats for Globally Important Flora and Fauna in Production Landscapes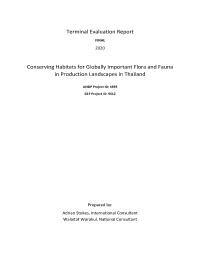 Evaluation Plan:

Evaluation Type:

Final Project

Planned End Date:

01/2020

Completion Date:

01/2020

Status:

Completed

Management Response:

No

Evaluation Budget(US $):

35,000
Title
Final Evaluation: Conserving Habitats for Globally Important Flora and Fauna in Production Landscapes
Atlas Project Number:

00083158

Evaluation Plan:
2017-2021, Thailand
Evaluation Type:
Final Project
Status:
Completed
Completion Date:
01/2020
Planned End Date:

01/2020

Management Response:
Yes

Focus Area

:

1. Environment & Sustainable Development
2. Others

Corporate Outcome and Output (UNDP Strategic Plan 2014-2017)

1. Output 1.4. Scaled up action on climate change adaptation and mitigation across sectors which is funded and implemented

SDG Goal

Goal 11. Make cities and human settlements inclusive, safe, resilient and sustainable
Goal 12. Ensure sustainable consumption and production patterns
Goal 15. Protect, restore and promote sustainable use of terrestrial ecosystems, sustainably manage forests, combat desertification, and halt and reverse land degradation and halt biodiversity loss

SDG Target

11.a Support positive economic, social and environmental links between urban, peri-urban and rural areas by strengthening national and regional development planning
12.b Develop and implement tools to monitor sustainable development impacts for sustainable tourism that creates jobs and promotes local culture and products
15.1 By 2020, ensure the conservation, restoration and sustainable use of terrestrial and inland freshwater ecosystems and their services, in particular forests, wetlands, mountains and drylands, in line with obligations under international agreements

Evaluation Budget(US $):

35,000

Source of Funding:
GEF
Evaluation Expenditure(US $):

24,878

Joint Programme:
No
Joint Evaluation:

No

Evaluation Team members:

| Name | Title | Email | Nationality |
| --- | --- | --- | --- |
| Adrian Stokes | Lead Consultant | stokesenvironmental@outlook.com | |
| Walaitat Worakul | National Consultant | walaitat@hotmail.com | THAILAND |

GEF Evaluation:

Yes

| | |
| --- | --- |
| GEF Project Title: | Conserving Habitats for Globally Important Flora and Fauna in Production Landscapes |
| Evaluation Type: | Terminal Evaluation |
| Focal Area: | Biodiversity |
| Project Type: | MSP |
| GEF Phase: | GEF-5 |
| GEF Project ID: | |
| PIMS Number: | 4839 |

Key Stakeholders:
Countries:

THAILAND
Lessons
1.

Effective planning for endangered species conservation must work with provincial and local planning

Effective engagement with local planning authorities is very important to species conservation. Even in projects with motivated and highly skilled on-ground personnel, results can be compromised and not sustained if local authorities are not aware and if local planning does not protect habitat and manage threats. This is often neglected in ES projects. In this project, the land use planning and provincial engagement was of high quality. Also, the level of understanding of ES conservation among local authorities is highly variable, and this project was very effective at using different methodologies to work with local authorities in different areas.

The Eastern Sarus Crane project provides an excellent example of effective result-based management

ZPO described how the ESC project in Buriram has benefited from the use by ZPO and other partners of a result-based management approach. Having a log frame with clear targets and goals for the species, planning work according to these targets, monitoring against those and following up on actions and targets, provided a framework for delivering outstanding results which has seen the ESC change in status from Extinct in the Wild to Critically Endangered.




Tag: Sustainability UNDP management

Findings
1.

Results framework changes should be made following a clear process that is understood by all relevant parties

There was confusion regarding changes to some indicators and targets in the results framework, with the result that there was a lack of clarity towards project closure about what targets should be reported against. The evaluation team found a low level of understanding among project parties of the process involved in proposing and approving results framework changes. Consequently, in the final project implementation report in 2019 and in the 'Project Review Report' prepared to inform the terminal evaluation, some reporting was provided against new or changed indicators that had not been formally approved.

Clear communication to relevant project parties regarding the processes and criteria for making changes to the results framework would avoid such issues arising. Also, a mechanism to provide the current results framework in a consistent and easily understood format would assist.

Specialist input should be obtained to ensure that gender mainstreaming occurs throughout the project cycle

Despite a strong framework for gender mainstreaming in the project document, this project was not systematic in this regard. If a gender analysis is not done early then project activities, including monitoring and evaluation, are likely to proceed without specific attention to gender issues. Gender mainstreaming requires both attitudinal changes and the application of specific tools and skills. Involvement of a gender mainstreaming specialist to provide early guidance and technical advice would assist in embedding gender throughout the project cycle.

Effective integration of biodiversity conservation with production and sustainable livelihoods requires working strategically with local communities

The examples from this project, especially the ESC in Buriram, demonstrate that achieving effective integration of biodiversity conservation with production and sustainable livelihoods requires:

building on existing local capacity, interests and aspirations
bringing in targeted external expertise (e.g. product development, marketing and sales, conservation planning and practice) at the right times
coordination.

Legislative development activities in projects should be flexible and responsive to changing government priorities

The aim of this project, to influence legislative and policy change through pilot projects, empowerment of local communities and partnering with national agencies, is appropriate and consistent with the aims of the GEF. In this project, the project document was very detailed and prescriptive about the legislation and land use planning framework that was to be developed, and specifically committed to a bill being approved by Cabinet. This created immediate implementation challenges when ONEP determined early that such a bill was no longer a priority. Further, the project assessed the likelihood of approval of the ES legislation being delayed as 'Low', which is an unrealistic assessment. Care should be taken in project development that legislative development components are flexible and realistic.

Long-term involvement delivers robust results

ZPO were involved in this project during development and from inception to completion. The work on ESC in Buriram province shows the benefits of such long-term involvement: strong community support, innovative rice product development with local farmers, coordination across agencies and groups, and financial commitment from local businesses. This means that the results are deep-rooted and likely to be sustainable, and all ESC targets were met.

Another benefit of this long-term involvement in a community-based project lies in the culture of ZPO. The evaluation team heard that the organization has learned the importance of working with local communities: 'We used to work with animals, now we work with people'.

Engagement of a Responsible Party for project delivery can result in efficient achievement of results

When this project commenced, a project manager was engaged by and reported to UNDP. This project manager departed a short time into the project and there were then long delays in trying to fill this role, during which time little progress occurred in the project. UNDP and ONEP decided to instead engage an organization as a Responsible Party (RP) to deliver large components of the project. IUCN were engaged as RP, and they appointed project staff who sat in ONEP and reported to IUCN. The result was that the project made good progress in its final year and went from being off track in 2018 to being on track in 2019 and achieving significant results by project completion.

There were pros and cons to this arrangement.

The main pro is that engagement of the RP led to a sharp focus on timely delivery of project outputs. The RP engaged (IUCN) has solid knowledge about global and national ES and extensive experience in implementing ES and critical habitat conservation projects. They provided experienced staff who focused on project delivery under great time pressure. IUCN is also well connected with other conservation organizations and technical institutes, which brought diversity and depth of knowledge to the project. They also had well-developed management and financial control systems that were assessed by independent auditors as posing low risk to the project.

There were some cons to the RP arrangement. In particular, a PM engaged through UNDP will have a good understanding of UNDP and GEF requirements and processes (such as financial, procurement, reporting and making changes to projects) and can work within these to efficiently implement a project; in contrast, an RP usually has its own organizational requirements and processes that may not align with those of UNDP, and this can create inefficiencies and/or delays in some processes and project activities. Also, when a project manager is engaged by UNDP, they have a broader role as a UNDP team member, which brings added value to the team and to the individual; this added value is not achieved with an RP.

On balance, the evaluation team considers that the approach of engaging an RP was beneficial for delivery of this project under significant pressure.



Recommendations
1

Technical and other support should continue to be provided to the communities with endangered species learning centers in Samut Sakhon, Ranong and Phang Nga

2

Communication channels that have been established between the three species components of the project should be maintained for learning and mutual support

3

The provincial committees in each province that have been guiding this project should continue and be strengthened beyond the project, to ensure integration of the species' requirements into provincial plans

4

ONEP and PONRE should provide awareness-raising and training in the provinces to facilitate consideration of endangered species in provincial planning, using the learnings of this project

5

The policy recommendations that have been developed by the Chief Technical Advisor should be presented to the wetlands management subcommittee

6

The recommendations and knowledge from this project should be considered when developing the Draft Biodiversity Act

7

Ensure that the 'legal framework and policy recommendations' consider whether listing ES and critical habitats should become a legislative 'trigger' to influence other statutory processes, such as planning at provincial and local levels and environmental impact assessment (EIA) mechanisms, as described in the project document.

8

Establish a standard approach to endangered species conservation and recovery planning

9

The community-based tourism management plan by Silpakorn University should be presented to the Provincial Advisory Committees and relevant sectoral agencies, such as the Provincial Office of Tourism and Sports and the Community Development Office, for consideration regarding support to the communities involved in the project